A slice of bread and a bowl of soup after more than 40 hours and uncertainty about how long they will have to remain stranded in a war-ravaged country — a group of Indian students in Ukraine sounded both desperate and helpless on Friday.
The students of Kharkiv National Medical University, stuck in a hotel in Pisochyn, on the outskirts of Kharkiv in eastern Ukraine since Wednesday evening (local time), have made a short video narrating their ordeal and are circulating it on social media.
Excerpts from their conversations with The Telegraph and the video
Call to embassy
"We called the Indian embassy in Kyiv on Friday morning (Ukraine time). They told us 'wait karo, hum kar rahe hai (wait, we are making arrangements)'", said a student whose home is in central India.
"There is no clear instruction from the embassy," said another student.
"We do not know how long this will continue… for two days we are stuck here… and it is getting colder," he said.
(The students reached the building on the outskirts of Kharkiv on Wednesday evening, Ukraine evening).
Contractor's persuasion
"A local contractor has been telling us a bus would drop us at Lviv (a city in western Ukraine) if we could pay $500-700 each," said the student from central India.
"But travelling by bus is risky as there is constant bombing. We asked the contractor to take responsibility for our safe transit but they refused. They told us that if we did not want to take the bus, we could walk to (Kharkiv) railway station. But when we contacted the embassy, we were told it would be unsafe to walk to the station," the student.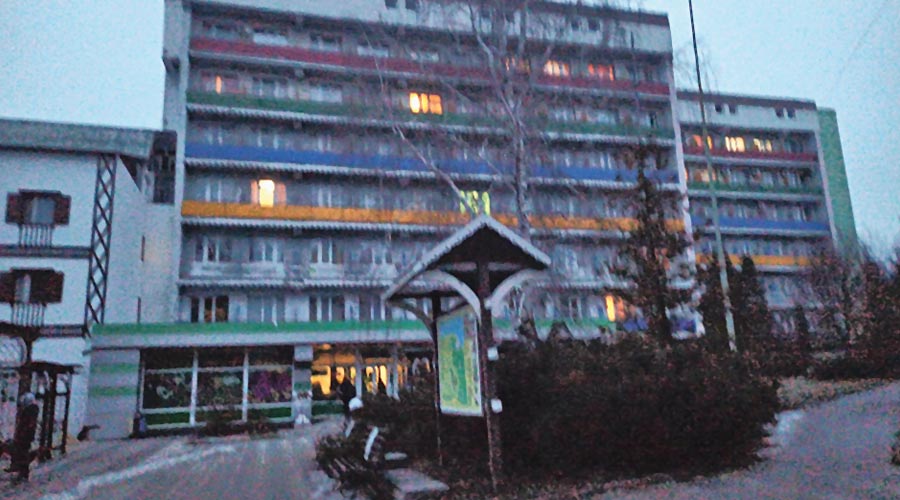 The hotel in Pisochyn near Kharkiv where the Indian students have taken refuge
"We have been told that the building where we are staying belongs to the embassy and we don't have to pay for food and stay." (On Wednesday, the students had failed to board a train and also heard a blast at the station).
Food barely enough
"The food we are being served is barely enough. We were given a slice of bread and some soup this afternoon. That came after almost over 40 hours of our stay here. We do not expect any dinner. Perhaps they will give us food only once a day," the student said.
"Please take us to India, anyhow," a third-year student said in the video.