Vamos Argentina. Vamos Messi.
Doha has been filled with chanting by Argentina fans since late on Sunday. 
Two Kolkatans, who were at the Lusail stadium in Qatar to watch the roller coaster final that ended Lionel Messi's wait for the World Cup, felt Doha had turned into Buenos Aires much before the match had started. Both said the deafening noise and the electrifying energy of Argentina fans were something they had not experienced in any other match.
The celebrations continued through Monday.
"It seemed like an invasion by the blue and white. I was a part of that invasion, wearing the number 10 jersey of Argentina. Inside the Lusail stadium, outside it, on the streets, inside Metro coaches and at the airport, one could only see football fans wearing the Argentine jersey and waving the country's flags, shouting, singing and beating drums. I felt like being in the Argentine capital," Avijeet Das said.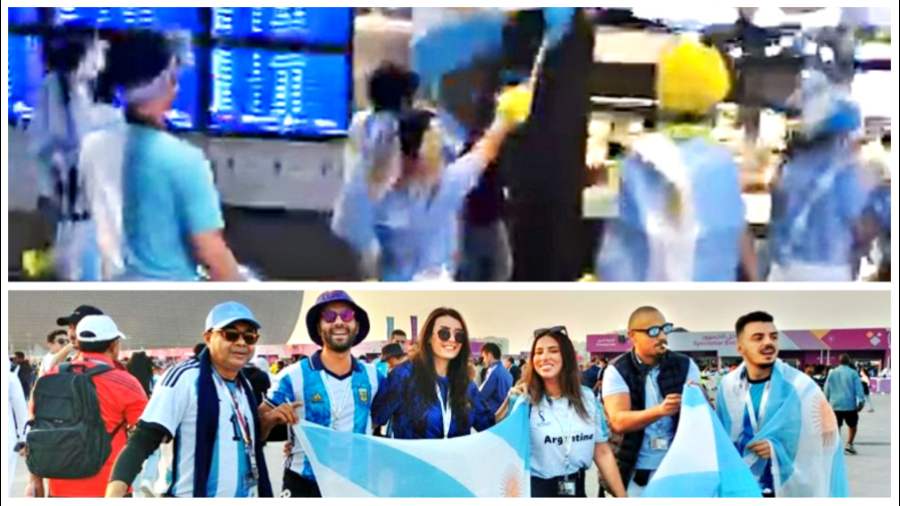 Fans celebrate at the Doha airport on Monday; (below) Avijit Das (left) with Argentina fans
Das, a resident of Palm Avenue in south Kolkata's Ballygunge, was out on the streets of Doha till 3.30am on Monday. A diehard Messi fan, he was also at Maracana Stadium in Rio de Janeiro, Brazil, in 2014, when Argentina lost to Germany in the World Cup final.
"There, too, Argentina fans had a high level of energy. But in Doha, the noise and energy were on a much higher scale," Das said.
At Luasil, he said, French supporters were hard to find till Mbappe scored the two goals in quick succession. "At Maracana, German supporters were matching the Argentina fans in decibel. But in Doha, the French were muted compared with the Argentines," he said.
After the tie-breaker, Das recounted, complete strangers were hugging him. "They (Argentines in Doha) were hugging anyone sporting their country's jersey," he said.
"In Metro, Argentina fans were singing and shouting 'Vamos Messi, Vamos Argentina' so loud that it was impossible to speak. We were just soaking in the excitement," said Das.
His group went to Doha Convention Centre at 2.30am for dinner. "We were having paratha and kebab. There were hundreds of Argentina fans, eating, dancing and singing," he said.
Another Kolkatan, Rajdeep Chakraborty, who, too, is a Messi and Argentina fan, shared a never-before experience with The Telegraph.
"A group of eight Qatari women was behind us in the stand. They were shouting 'Messi, the prince'. They stayed back at the stadium even after the award presentations. A group of Messi fans from Cyprus was seating in front of us," said Chakraborty, a Ballygunge resident.
"Many Arabs had come to watch the match and they, too, were shouting for Argentina and LM10."
After the match, he saw around 20 men carrying a blue-and-white flag with the words "Argentina fans from Kerala" written on it and running around joyously.
"Doha was a confluence of Messi fans which I had never seen," said Chakraborty, who had watched the 2014 final at Maracana.
The noise inside Lusail stadium was also unmatched, he felt.
"I remember a similar noise when Sachin Tendulkar would come out to bat. But at Lusail, the shouting was on non-stop for 120 minutes, accompanied by song and dance," Chakraborty said.
There were moments of stunned silence, too.
"We were at the opposite end of the goal where France got their third goal. From that far, we initially could not understand how the penalty happened. There was stunned disbelief," he said.
The decibel again shot up through the stadium's roof during the tie-breaker and after that.
"We had a long walk from the stadium to the Metro station. There was only celebration. The Bangladeshi driver of the cab in which we were returning to the cruise ship where we were staying was in a celebratory mood. He had heard the commentary of the match on radio," Das said.