Lionel Andres Messi has at last done what he was destined to do. He has, 16 years after his World Cup debut, won the one competition that had separated him from his spiritual predecessor, Diego Armando Maradona. Back when Maradona had become a world champion, Messi was yet to be born. Now that Messi is on top of the world, Maradona is no more. But that is where we invite our imagination, to help simulate a conversation between two of the most imaginative footballers in history.
In reality, were Maradona to be alive, few of us would have had access to the words he exchanged with Messi following Argentina's third World Cup triumph. After all, there is little to no precedent for two GOATs having a fireside chat about their greatness in front of the entire world. Unless we are talking about Roger Federer and Rafael Nadal. From the public record of their previous conversations, Messi is invariably reverential of Maradona. Diego, for his part, was rather eccentric about Messi (though never to the latter's face), as he was about most things in life. From calling Messi "my successor" to chiding him for "going to the toilet too often before matches", Maradona's estimation of Messi frequently fluctuated. But for the purpose of our hypothetical conversation, we assume only one overwhelming emotion between the two Argentine icons: gratitude. From Messi towards Maradona for the original inspiration and from Maradona towards Messi for the ultimate deliverance.
Without further ado, let us get listening (for the convenience of our imagination and your comprehension, we shall believe that both Maradona and Messi are fully conversant in English).
Before the World Cup final: 'Forget about being Maradona… just be Messi'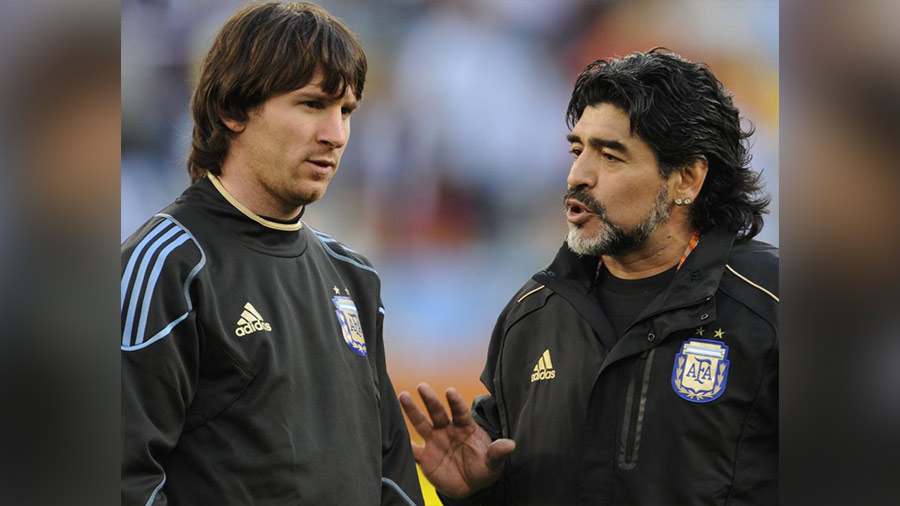 Maradona was Messi's coach during the 2010 World Cup in South Africa
Getty Images
Maradona: Hi, Leo. Come, sit down. And breathe. Don't worry about the final. You'll win, and we'll still love you even if you don't.
Messi: (smiles) Thanks, Diego. I'm actually quite calm before the final.
Maradona: (excited) Calm, no! Who asked you to be calm? Be animated, be furious (at whoever), be wild. We need you to show character tomorrow. We need you to shout, scream, sledge, do whatever it takes to win.
Messi: Ah, so basically you from 1990?
Maradona: (mildly irritated) Yes, that and more. Get under the skin of the French, particularly [Kylian] Mbappe.
Messi: (sighs) But that's not how I operate, Diego. I let my feet do the talking.
Maradona: Well, they don't seem to talk as fluently as mine (winks). Anyway, I liked what you did against the Dutch. No Dutch player can play football these days, they can only head the ball. [Johan] Cruyff must be ashamed.
Messi: I was worked up against the Dutch. But I cooled myself down for Croatia. It helped me with creating the third goal.
Maradona: (excited) Oh, what a goal it was! Though I did that about five times in 1986. Doesn't matter. Defenders were worse then!
Messi: (softly) You are the greatest, Diego. I don't doubt that. I don't want to beat you or your legacy. I just want to live my own story. Ever since I was born, all I have heard is that I have to be better than you. But why? Why can't I be who I'm supposed to be? I don't have your edge or your aggression, maybe not even your skill. But I have my own personality, my own style of leadership.
Maradona: (loudly) At least you sing the national anthem now! But look, Leo, you're right, you don't have to be me. You don't have to prove anything to anyone. Go out there and be yourself. Forget about being Maradona in the final. Just be Messi. And, oh, don't warm up with your laces open. Only I get to do that. Good luck!
After the World Cup final: 'I knew that we'll find a way to win… we had your blessings'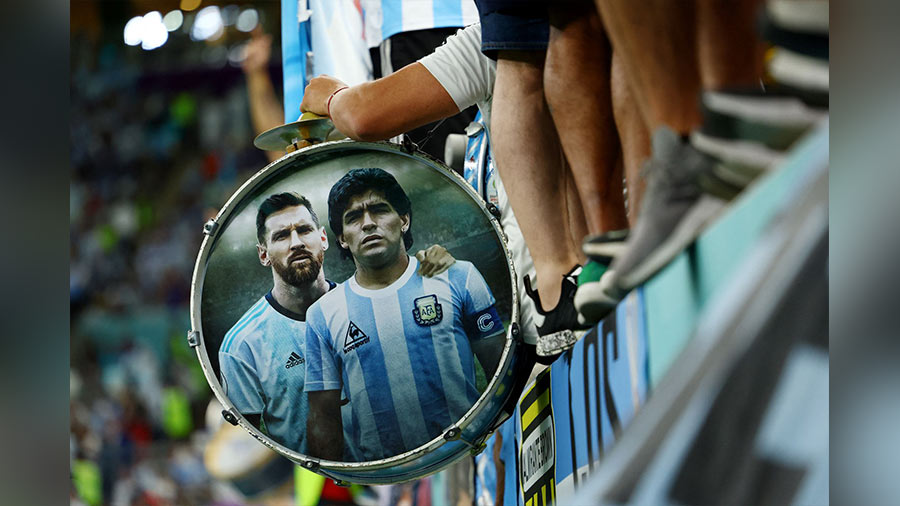 The Messi-Maradona drum that became one of the most iconic symbols of the World Cup in Qatar
Catherine Ivill/Getty Images
Maradona: (elated) Leoooooooo!!!!!! You've done it. You're an immortal now. Welcome to football's paradise.
Messi: (almost tearing up) I can't believe it. This is for you, Diego. This is for all of Argentina.
Maradona: (firmly) No, captain. This one's for you, most of all. For all those years of fears and tears. For all those losses. For all the fight you showed to keep coming back. To keep taking the pain. This is a fitting reward for all that.
Messi: I don't know how to process this all. But I knew that we'll find a way to win. Because we had your blessings.
Maradona: (laughs) Ah, you had so much more. Including my abuses, when your defenders couldn't protect a 2-0 lead! Tell [Nicolas] Otamendi that he can go to hell. Who gives away such a foul at such a stage! But Emi, my God! Emi, Emi, Emi [Martinez]! What a keeper, what a man! The boy has got some pluck, I loved what he did in the shootout. I loved what he did with his Golden Glove even more (winks)!
Messi: We all played like one large family. Everyone was outstanding. It was a team effort.
Maradona: Indeed, that's true. What was [Emmanuel] Macron telling you after the final?
Messi: He speaks too fast and I'm still honing my French. I couldn't keep up.
Maradona: And what about [Gianni] Infantino? How, or rather what, was he feeling today?
Messi: Haha, I don't know. I couldn't care.
Maradona: (raising an eyebrow) And what on earth did they drape on you before giving you the trophy? You looked like you were going to model for Victoria's Secret! I have seen that kind of a gown before. Somewhere deep inside Naples. But in a different context.
Messi: (confused) What context?
Maradona: Never mind, none of your business! But tell me, how do you plan to celebrate?
Messi: (smiles) I'll party all night. With my family and teammates.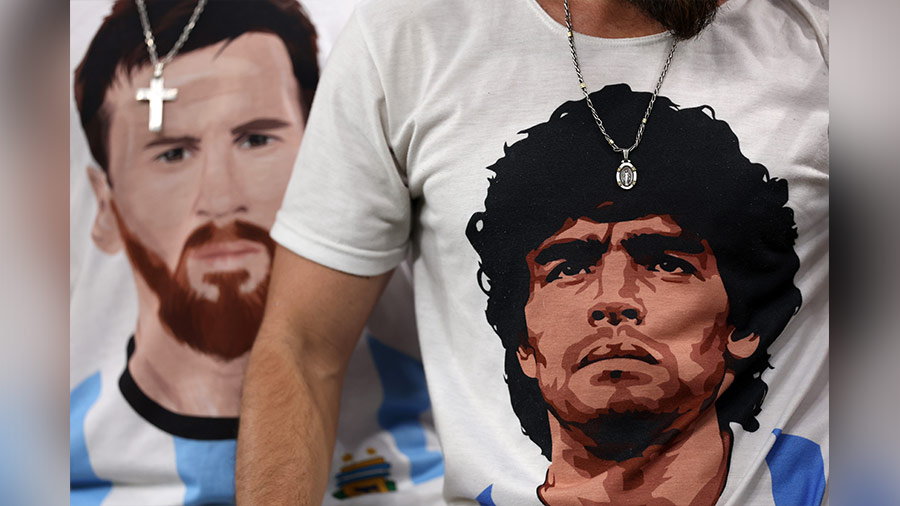 Fans wear t-shirts with the faces of Messi and Maradona in Doha
Clive Brunskill/Getty Images
Maradona: Good boy, good boy (nods his head furiously). Keep them close, they'll save you when it gets tough.
Messi: What do you mean?
Maradona: (sighs) You see, Leo, winning a World Cup doesn't mean you win at life. For that, you need to know how to build relationships with people. I could only have a relationship with the ball. And I'm glad that no matter my vices, the ball never got stained.
Messi: (firmly) You have a relationship with each one of us, Diego. No matter what they make of me or whoever is to come next for Argentina, nobody will make people feel like you did. There will only ever be one Diego!
Maradona: And just one Leo, too!
Messi: Actually, we needed two Leos to win the World Cup again (both laugh).
Maradona: [Lionel] Scaloni, the caretaker! Guess he took good enough care! Enough for the chatter. Let the champagne flow. Where is it?
Messi: I think I'll just have a mate (a traditional South American tea) for now.