Parks run by Kolkata Municipal Corporation (KMC) have been ordered to remain open from 5 in the morning till 8 in the evening without any break, officials in the civic body said.
Earlier, most parks opened at 5am and closed their gates by 11am. They would open again at 4pm for three hours.
The decision, which has already come into effect, will not benefit visitors to two of the largest parks in Kolkata — Rabindra Sarobar and Subhas Sarobar. Like before, the two parks, which are run by the Kolkata Metropolitan Development Authority (KMDA), will remain open from 5am till 10am, and again from 4pm to 7pm.
"We will speak to the urban development minister (Firhad Hakim) and ask him whether Rabindra Sarobar and Subhas Sarobar, too, should remain open for longer hours," said a KMDA official.
KMDA functions under the urban development department and Hakim, who is also mayor of Kolkata, is chairperson of the KMDA.
Debasish Kumar, mayoral council member of the KMC in charge of parks and squares, said he had asked the department's officials to keep all KMC parks open from 5am to 8pm without any break.
The civic body has about 700 parks.
On Tuesday, The Telegraph found Jagat Mukherjee Park in Sovabazar, Deshapriya Park on Rashbehari Avenue and Maddox Square in Ballygunge open in the afternoon.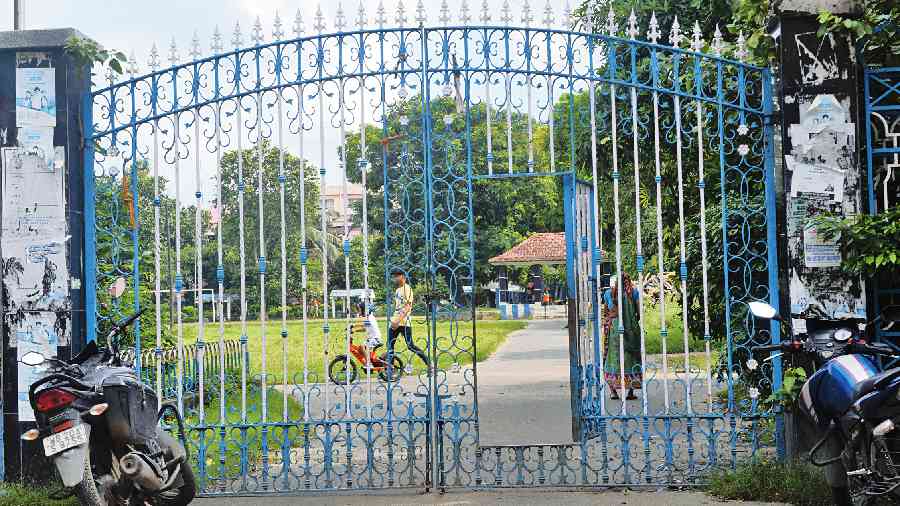 Maddox Square in Ballygunge open on Tuesday afternoon.
Sanat Kr Sinha
Allen Park on Park Street and Rawdon Square on Rawdon Street, however, were closed.
The Telegraph visited Jagat Mukherjee Park at 1.20pm, Allen Park at 2pm, Rawdon Square at 2.25pm, Maddox Square at 2.40pm and Rabindra Sarobar at 3pm. 
"I will find out why Allen Park was closed. Some work is underway in Rawdon Square. It might be closed because of that. I have asked officials to ensure that the parks open at 5am and do not close before 8pm," Kumar said.
A KMC official said the security of some of the parks was managed by private agencies. Gardeners look after the security of some other parks, while in a few, the gates are opened and closed by people hired under the "100 days' work scheme".
"We have asked our gardeners, private security agencies and the workers hired under the '100 days' work scheme' to keep the parks open from 5am till 8pm. Most parks are following the revised schedule, while the rest will do so over the next few days," the official said.
Kolkata has very little open space, and keeping the existing open spaces closed for much of the day meant denying many people the opportunity to use them, urban designers have said.
An urban designer had told The Telegraph that the idea that parks were only meant for walking, exercising and jogging was flawed. These are also spaces for people to sit and chat.
Architect Abin Chaudhuri welcomed the decision to keep the parks open for longer durations. He said parks were a truly democratic space in a society ridden with divisions based on class, caste and gender.
"In a park, no one can ask poor people why they are sitting on a bench. It is a truly democratic space where rich and poor can avail themselves of the same resources and enjoy the same environment. Such a space should remain open for as long a period as possible," said Chaudhuri.