If you opened Google today, chances are that you have come across an adorable hand-drawn doodle about India. Titled 'India on the center stage', the artwork is the brainchild of nine-year-old Shlok Mukherjee.
My Kolkata spoke to Shlok and his parents about how he took his art to the homepage of the world's largest search engine.
Shlok's artwork was picked as the winning entry in 'Doodle for Google 2022' competition that saw 1,15,000 students from Classes I to X from across 100 Indian cities taking part.
"Right before Durga Puja, we got to know about a Children's Day competition by Google with the theme, 'India after 25 years'. Shlok decided to participate just to see what would happen," said Suman Mukherjee, Shlok's father.
The concept
Upon receiving the topic, Shlok quickly got down to work. "I took a notebook and drew up a list of topics I wanted to depict, including ayurveda, space travel and nature. For each topic, I wrote down ideas. My vision was to show India on a stage, with people applauding our country," said the Class IV student of DPS Newtown.
Shlok's parents then helped him shortlist the ideas and structure his thoughts. "Of the six days he spent working on his doodle, a majority of time was spent on ideation. However, the biggest challenge was executing the ideas," Suman said.
Letter by letter
Shlok thought out how he wanted to represent each letter of Google with painstaking detail. "The first thing that came to my mind was the introductory G. I was doing yoga with my mother, following instructions on YouTube, and saw a man holding a posture where his feet were touching his head. I instantly knew that it had to represent my G. The two Os after it were initially supposed to be two gears, but then I decided to make it a scientist and a robot's heads, and intertwined their hands in friendship. The second G proved to be very difficult and I spent a lot of time trying to figure out what to draw. It then struck me to create it with wisps of smoke left by a speeding rocket, surrounding the Earth, symbolising our space programme. After that, I knew that I wanted my L to be a tree. The final letter, E also proved tough. While browsing the internet, I decided to choose ayurveda as the theme, depicting a leaf being churned in a bowl." And thus, he managed to incorporate his vision for a country with eco-friendly scientific advancements, a thriving space programme and strong indigenous practices into one word.
The wait and the result
Twenty days after submitting the entry, Shlok came to know that his doodle had been selected in the top 20. The boy and his family were invited to Delhi for a ceremony with the other finalists. "We were asked to check the Google homepage at 12am on November 14 to find out the winner, but we only managed to do so in the morning. The amount of talent all the finalists had was amazing, and everyone was equally deserving. It came as a huge surprise because we weren't even expecting it!" Suman said.
Happy winner
Shlok couldn't contain his joy while describing how Google awarded him. "People from Google came to our house playing dhakis and created a very festive atmosphere. I showed them my drawings and they were very appreciative. They also gave me a beautiful certificate and award!" While accolades have been pouring in all day, Shlok was clear about his favourite gift. "The people from Google brought this suitcase which has a pack of 174 colours!"
Shlok's mother, Paramita Chatterjee, echoed his happiness. "He is mature beyond his years, and does most of his studies himself. The themes he included in this doodle blended the artistic inclination of his father (Suman is a fashion and advertising photographer) and my spiritual interests (Paramita works in the field of ayurveda and astrology). He has imbibed our interests himself, and has a habit of keenly observing things around him. This maturity has really helped him, and is evident in how he keeps trying to go into details with his art," she said.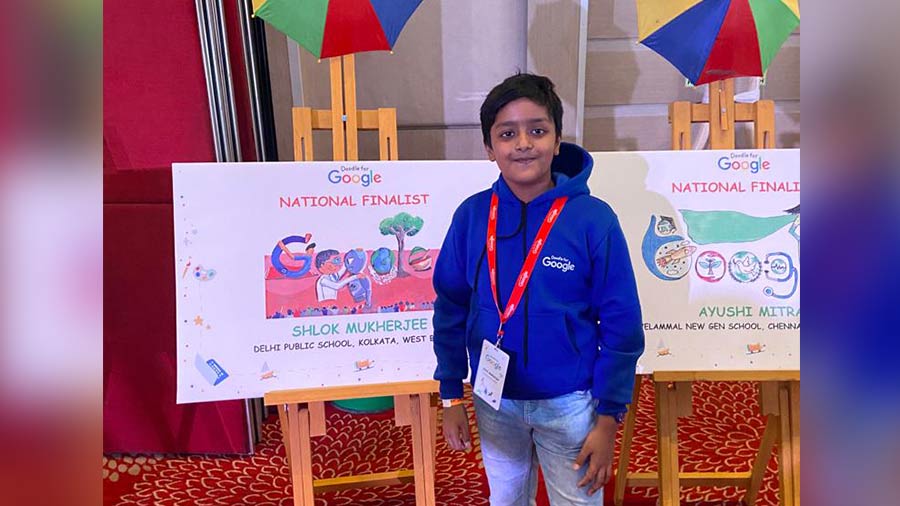 Shlok with his doodle at the finalist event in Delhi
Thank you note
Suman also spoke about his brother, artist Saayan Mukherjee's mentorship. "Shlok's interest in art is directly inspired by my brother, who is an illustrator and painter. Saayan's art was also featured on Google as a doodle a few years ago, so even while creating his doodle, Shlok would share his ideas and artwork with him every day, and Saayan would guide him on the right path."
What's next?
But what's next for Shlok? He confesses a fondness for drawing supernatural elements and hopes to create small cards with such drawings for people around him. The Kankurgachi resident also expresses his desire to keep participating in such competitions. His big dream? "I want to be a scientist, guitarist and artist!"