The wall is his canvas and illustrator Sayan Mukherjee is making Kolkata beautiful street by street. Since 2017, he has created graffiti at many local venues, such as Wykiki cafe at Swissotel and a dilapidated clubhouse in his Kankurgachhi neighbourhood. But it is his murals at Eden Gardens that have brought him most attention. With international cricket set to return to the stadium after a hiatus of two years this winter, his work is likely to find new admirers across borders.
In 2017, Mukherjee got a call from the venue, among the most hallowed in international sport. "Until then, I had worked only on a few murals in Bangalore. An agency reached out to me, asking to create art for a wall at the Clubhouse entrance. I visualised the perspective of a child, who was visiting Eden Gardens for the first time and was mesmerised to see these players from a different dimension. The experience was special, and will stay with me forever," he said.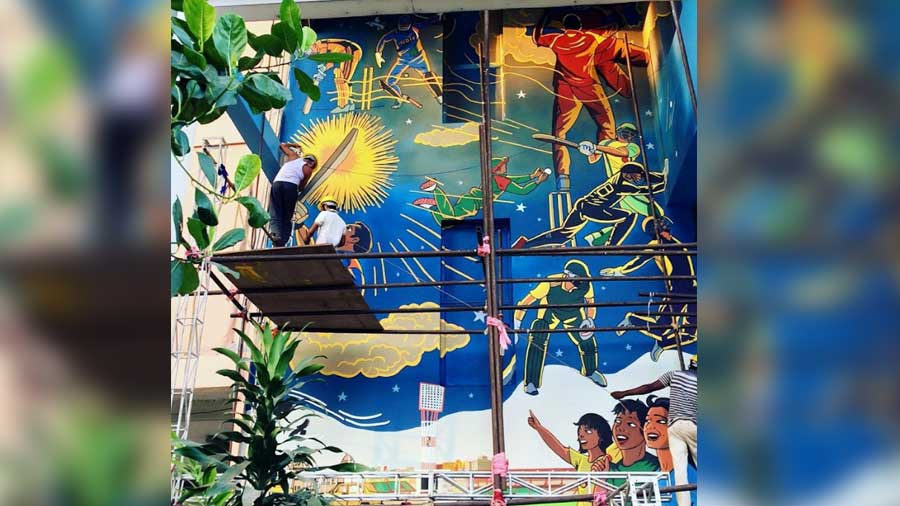 Mukherjee's first mural at Eden visualised a child's first experience at the stadium.
www.sayanart.net
This turned out to be just the start. Mukherjee went on to create another mural for Eden Gardens in 2019, right before India's inaugural pink ball test match. "While I only got one vertical wall for the first project, I got two horizontal ones for the second. This time, we decided to chronicle the journey of a batsman on one wall, and a bowler on another. On each of them, the player went from their para to the Ranji level, to finally playing for India," he added. The ground will see India face off against NZ on November 21 in the final T20I of the series. The Windies will also meet India at the venue in the final ODI on February 12, 2022.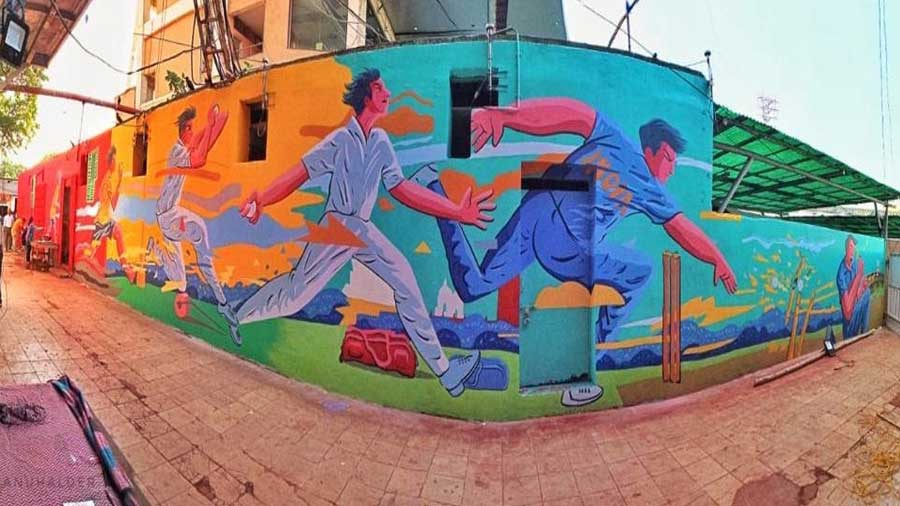 His second mural at the venue traced a cricketer's journey from the streets to the stadium.
www.sayanart.net
There was something about taking his work to a public place that fascinated him. "I work mostly at a desk or on canvas, and, sometimes, digitally. A lot of people can't see my art, and neither can I see them react to it. However, what makes murals stand out is getting to see a passer-by react to it," he said. Working on walls also stretched his craft. "I have to play around with a space that is larger than any canvas. I try to experiment with bolder colours to make the art pop. I want to work on even more murals, precisely because of how little control I have over them," he added.
Mukherjee was passionate about art from early in his life, when he was a student at Kendriya Vidyalaya Salt Lake. He did his undergraduate studies at The Indian College of Arts & Draftsmanship. After that, he was employed in the advertising industry for a long time. "I have done rounds of many advertising agencies in Kolkata, and my work took me to Bangalore," said Mukherjee. But he never gave up his passion for art.
In 2017, he decided to take the plunge. He quit his full-time job at creative agency, JWT, and moved to New York to pursue a residency programme for illustrators at the prestigious School of Visual Arts. This decision helped him begin an independent career in art and illustration.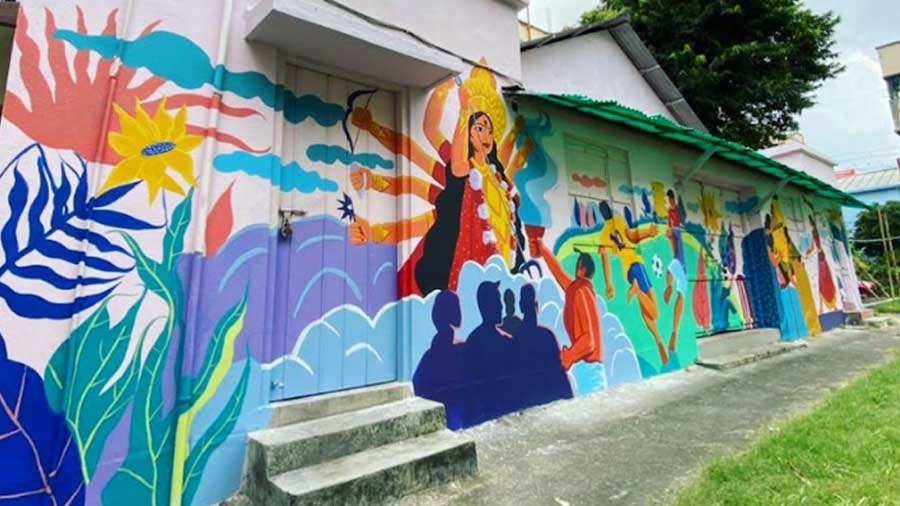 Mukherjee took up the task of beautifying a dilapidated clubhouse in his Kankurgachhi neighbourhood.
www.sayanart.net
Mukherjee is a master in multitasking, and doesn't just identify as a muralist. He has done illustrations for books, advertising campaigns, designs, and animation. He has worked with Ruskin Bond and Rajdeep Sardesai (Democracy's XI: The Great Indian Cricket Story). He has no plans of slowing down, with both local and international projects in his pipeline. However, he makes sure to devote a few hours to murals every evening.
To celebrate India's 75th Independence Day, he also created a Google Doodle, that featured on the search engine's homepage. The doodle was shared by Google CEO, Sundar Pichai on Instagram.
Mukherjee's latest mural, spread across a 240 foot subway in Newtown is an ode to the city that has shaped him. It blends the aspects that Kolkata owes its rich history to, like the iconic yellow cab and trams, with the motifs of modernity that will guide Kolkata into the future, like Biswa Bangla Gate and the new Coffee House.
He is inspired by legendary artists such as Pablo Picasso, Irish visual artist Oliver Jeffers and Mumbai -based Sameer Kulavoor. But his hometown is his biggest inspiration. "I adore the murals outside Phoolbagan Metro Station, and the one at Sonagachi. My work reflects the people and places around me, my culture, and what I consume," he said.