Manisha Majumder, who attended Krishnakumar Kunnath (KK)'s shows on consecutive nights, was in the wings when the singer performed for the last time on Tuesday
I was in the team of organisers for Monday's event. I got the opportunity to meet the five musicians and KK in person. The musicians invited me for Tuesday's show.
On Tuesday, I got a chance to be with the team in the green room. When KK came a few minutes later and saw me in the green room, he remembered me and said with a wide smile: "You today also? Great." There was warmth in how he spoke.
Then he went on stage. KK was so full of energy when he started the show. But after some time, he started sweating profusely and was drinking water after almost every antara (stanza in a song).
The one thing that was distinctly different on Tuesday compared to Monday was the lights.
On Monday, the lights over the audience were switched off once the show started.
On Tuesday, I don't know why, all the lights were on. It made the place hotter. Once or twice during his performance, KK asked for the auditorium lights to be switched off. But the lights were on till the end.
They had prepared a list of 19 songs (for the evening). But KK was too exhausted and concluded the show with 15.
The last time I saw him was when he was waving at the crowd and leaving the compound, still smiling. He looked exhausted but he was smiling.
Less than an hour later, I learned from one of his musicians that KK was being taken to hospital. We rushed to CMRI.
No one knew about him at that time. I just asked his secretary if "sir" was alright.
He could not respond. He just hugged the musician I was standing with and started crying.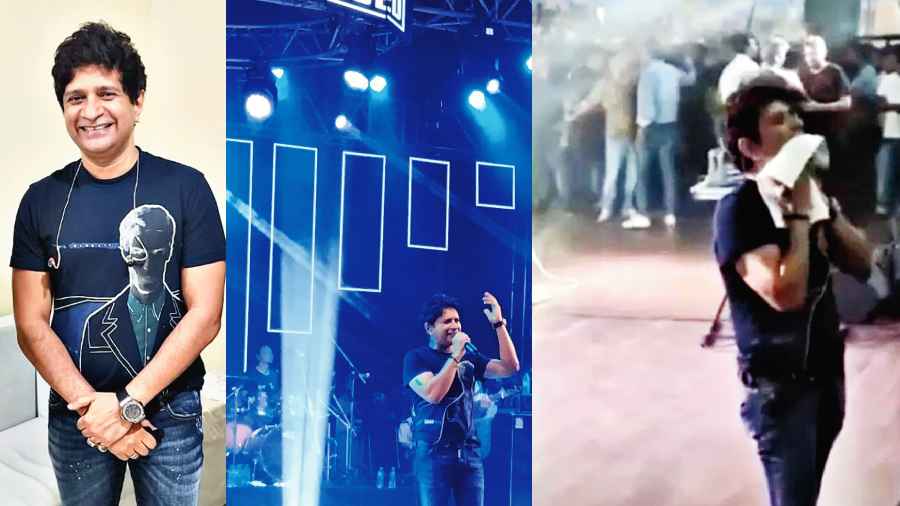 (From left) KK in the green room before his last concert on Tuesday. KK performs at Nazrul Mancha. Picture taken by schoolteacher Joeeta Basu who was in the front row. KK wipes himself in the auditorium where he complained of excessive heat while performing on Tuesday.
Sudipta Mitra, who, with his wife, was anchoring the show at Nazrul Mancha on Tuesday
My wife Shilpi and I were anchoring the show. Our daughter, who was in the first row, was feeling breathless because of the crowd. The AC was on but it was still very stuffy. So, we called her to the wings.
When KK arrived, he went to the green room. The three of us went there to meet him. We said we were anchoring the event. He was very polite. He said: "Very good."
My daughter said she was a big fan and cited a few of his songs that she wanted to listen to. KK very politely said that the list was more or less prepared but he would try to include those, too.
We returned to the wings. He came on stage when we announced his name, holding the mic and singing. We were standing near the wings.
He glanced at us as he walked past. I could not imagine what he was going to do next.
He dragged two white plastic chairs towards us. "Aap log bhi artiste hai. Please baithiye (You people are artistes, too. Please sit)."
We were stunned for a few seconds. This may be a very small thing but this is what I am going to remember for the rest of my life — his humility.
He gave a power-packed performance. I did not see anything unusual except the crowd. We left around 8.30pm.
An hour later, my driver told me KK was dead.
Hitesh Bhatt, KK's secretary, who was the only person in the hotel room when he collapsed
It's devastating. I cannot speak. Please understand… When he opened the door and entered the hotel room, he barely took a few steps forward and then fell. And could not get up again. I could not lift him alone. I called for the hotel staff.
(A police officer said: "Just after entering the room, KK tried to sit on a sofa when he collapsed and fell. As he fell, his face smashed against the floor. There was a cut on his forehead from the fall. He was unconscious after that."
(At least four hotel staff came with a trolley that is kept in the hotel to carry guests who are unwell. They took him to the car at the portico. He did not regain consciousness after that, the officer said.)