A day after the Joka-Taratala Metro route was opened to passengers, autorickshaw drivers on the Diamond Harbour Road had already chalked out alternate shorter routes to stay in business.
My Kolkata spoke to some of the autorickshaw drivers about the impact of the new Metro route on their business.
Minimum impact
Since there's a Metro train only every hour on the route, auto drivers are not too worried. "We might face problems when the entire Joka-BBD Bag stretch is operational," said Chhoton Mondal, an auto driver.
Station placement not to affect business
Unlike the Sealdah-Salt Lake and the Tollygunge-Garia routes, most of the stations on the Joka-Taratala route are not situated at popular destinations. According to auto drivers, Sakher Bazar, Chowrasta, Behala tram depot, 14 No. bus stand, Taratala, Thakurpur and 3A bus stand are the most busy stops.
"Except Chowrasta and Behala tram depot, none of the stations is situated at these hotspots. The Sakher Bazar station is at Silpara, state garage, while the Taratala station is at Ajanta. Passengers have to walk 700 metres to a km from the nearest Metro station to reach their destination," said auto driver Akhtar Ali.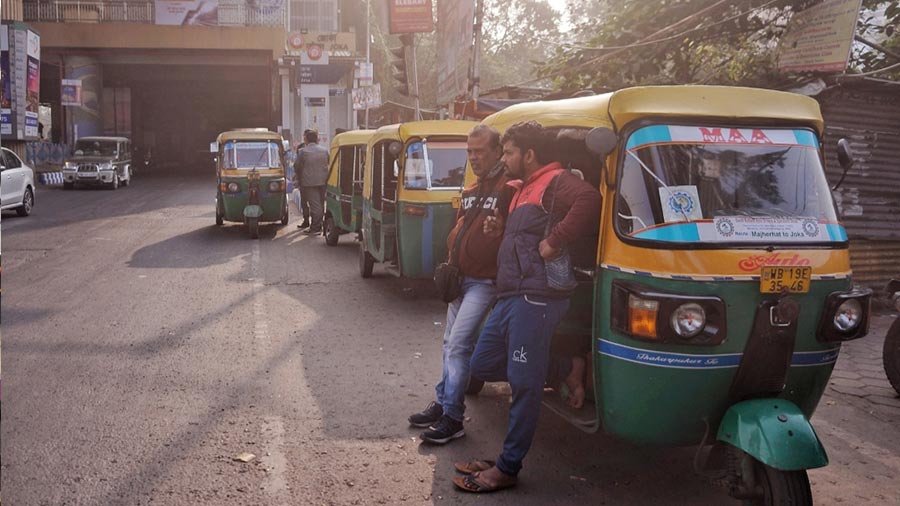 After Joka-Taratala Metro service became operational, autos in the area now plan to take shorter and profitable routes
Soumyajit Dey/My Kolkata
Similarly, those who want to reach 14 No. bus stand will have to get down at Behala tram depot or at the Ajanta station and walk the remaining distance. "During rush hour, passengers would rather opt for an auto to save time," said Mondal, adding that from now on they would concentrate on shorter distances like Sakher Bazar to Behala and Manton to Taratala instead of Taratala to Joka.
On the other hand, the existing bus routes from Palta, Pailan, and Amta are likely to suffer in future as most passengers board buses to reach Esplanade.
More populated soon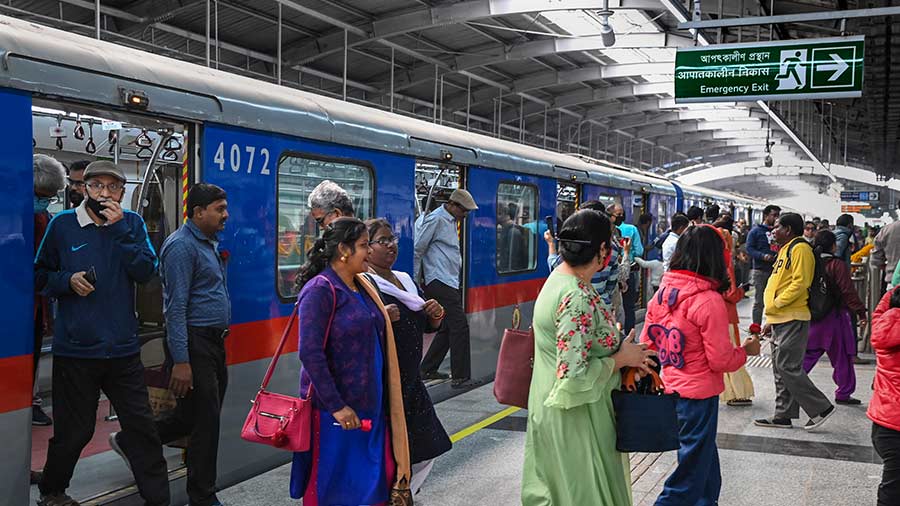 People board and deboard a Metro train on the newly inaugurated Joka-Taratala route
PTI
Ever since the Metro project was announced, the cost of plots has skyrocketed.
"A number of residential projects and numerous apartments are coming up in the area and 80% of these may be ready by 2025. By then, the area will become densely populated and there will be no dearth of passengers," said Sukanta Saha, an auto driver.