The 28th Kolkata International Film Festival concluded on Thursday, drawing a bigger audience at Nazrul Tirtha than the last edition at the venue in April, when the 27th edition had taken place. But occupancy at its two halls remained far lower than at Nandan, the hub of the festival. This is the sixth time that Nazrul Tirtha hosted the festival.
The question of paucity of footfall at Nazrul Tirtha was raised at the inauguration of the venue last Friday by filmmaker Premendu Bikash Chaki, a member of the festival's executive and technical committee. "This festival is accredited by FIAPF (International Federation of Film Producers Associations), which makes it a major film festival of the country. To organize such a film festival, it takes a lot of hard work by a lot of people. The films that have been chosen for screening are not easy to access. Here at Nazrul Tirtha, we are showing the same slate of titles as is being shown at Nandan. It is lucky that there is a hall in New Town with such quality infrastructure. More people need to come here to see films at the festival," he said.
Festival chairman Raj Chakraborty spoke of long queues at Nandan. "If such is the scene at Nandan, why should it be any different at Nazrul Tirtha? The same two exhibitions put up there (on Jean-Luc Godard and Amitabh Bachchan) are on view here as well. They are so good that they deserve to be permanent exhibits. We must reach out to more people. In near future, Calcutta and Rajarhat will be parallel cities competing with each other on every aspect. So we are happy to host a leg of the film festival here," he said.
"We may think about ways to increase excitement at the venues spread across the city next year," he added later, in response to a query from The Telegraph Salt Lake about plans to draw footfall at Nazrul Tirtha and other satellite venues.
Indeed, as they spoke, there were less than 60 people in the auditorium with a capacity to sit around 250 on the ground floor (450 with balcony), watching a Syrian film, The Wedding Parade, in the 1.30pm show. The day's first and the venue's opening film, One Fine Morning, had fared no better.
But as the festival progressed, average footfall did pick up to around 60 per cent. Subrata Sen's film Samaresh Basur Projapoti drew a full house on Tuesday afternoon. More than 200 viewers also turned up for Close, a Belgian film, that evening. The Bengali Panorama films, screened at the 100-seater Nazrul Tirtha II in the evenings, also drew a packed house daily, officials said.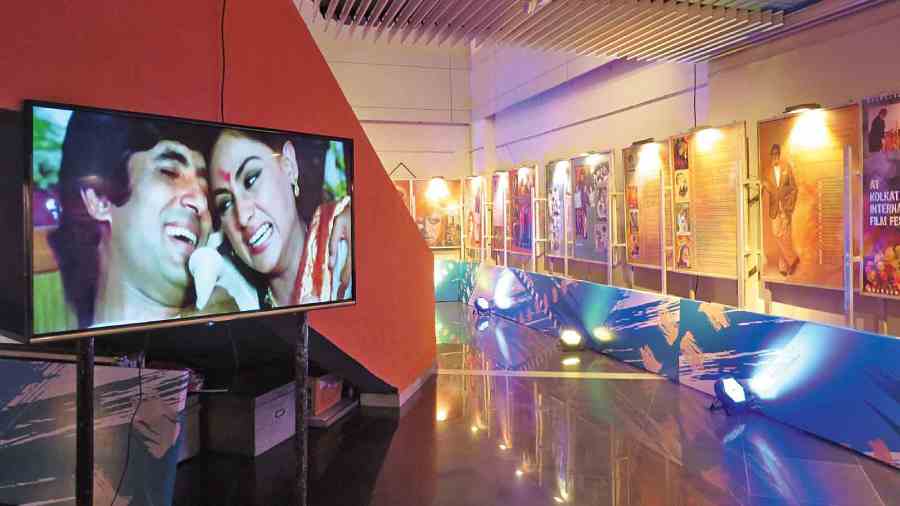 The Amitabh Bachchan exhibition at Nazrul Tirtha.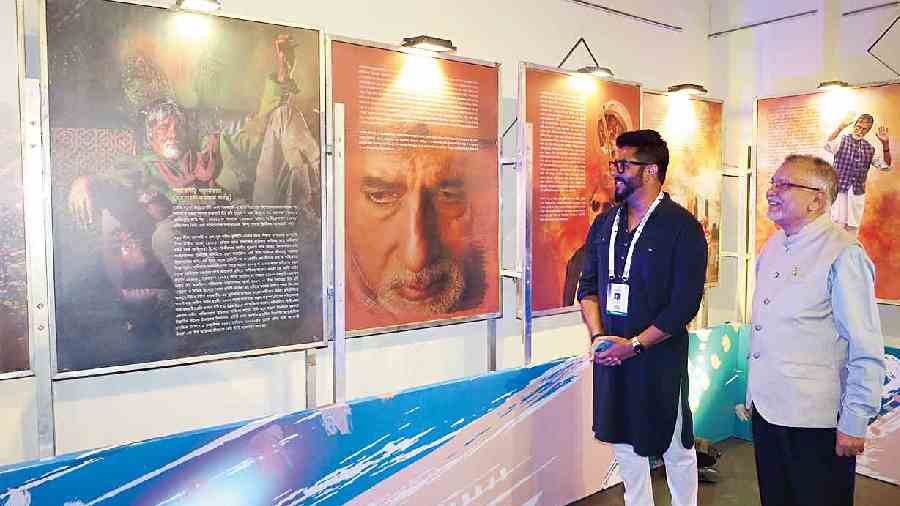 Festival chairman Raj Chakraborty with Nazrul Tirtha curator Anup Matilal
Jury speak
The international film competition jury watched several films at the New Town venue, including the Syrian film on the first day. Actress-filmmaker Tannishtha Chatterjee, one of the jury members, pointed to a far higher turnout on Saturday compared to Friday. "The 11am show had a queue. Of course, it will take some years (for Nazrul Tirtha) to match Nandan but it will happen."
She pointed out that it took them an hour and a half to reach Nandan from Nazrul Tirtha on Friday evening. "Traffic is so bad in a lot of Indian cities. If satellite areas have their own cultural venues, not just cinema halls, it will actually promote culture. It is sad that Bombay doesn't have facilities like this. Everything is in town. As suburbians, we only have Prithvi Theatre, which hosts some plays. The pandemic has made us even lazier. People prefer not to travel if they don't have to. Those who stay here don't need to travel to Nandan when they have such a beautiful venue with state-of-the-art technical features in their midst," she said.
Godard & Big B on view
Visitors to Nazrul Tirtha over the festival period were treated to two wonderful exhibitions, which were also on view at Nandan. The one on Bachchan, occasioned by his turning 80, traced his career right from his start in Calcutta, to the rise of the angry young man, the birth of the superstar, his adventure in politics, fluctuation in stock and the grand return - every chapter was dealt with through a narrative of 40 visually rich frames. "We also made a three-and-half minute collage of his films. It was wonderful to have people stand in front of the screen, guessing and discussing which films they were from," said filmmaker Sudeshna Roy, who curated the show.
The other show on Godard too was edifying, underlining the filmmaker as a trailblazer in New Wave cinema, with as many as three frames on his masterpiece Breathless, a film critic who wrote under the pen name Hans Lucas, his work for television, his contribution to film education... There were also frames on his collaboration with stars like Jean-Paul Belmondo and Brigitte Bardot as also his first wife cum cinematic muse Anna Karina and his second wife Anne Wiazemsky. There were also comments on him by others. "Godard did abstract work in later life, like his adaptation of King Lear. But we emphasized on the early classics like Breathless and Pierrot le Fou, which he is popularly known for, to connect with more people," said Ipsita Barat, head of mass communication and videography deparment, St. Xavier's College, the curator of the show.
Did you watch any film at Nazrul Tirtha during KIFF? Write to saltlake@abp.in