Chicken tikka biryani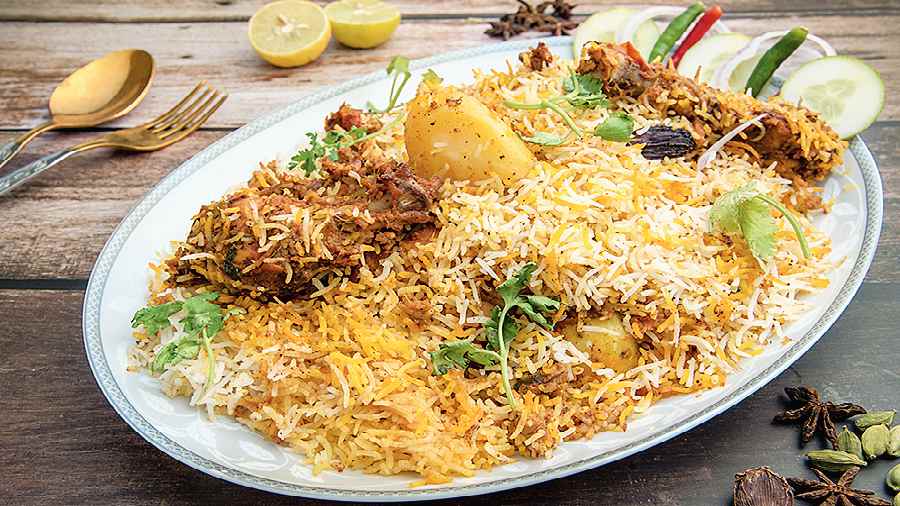 Ingredients (for tikka)
• Chicken 1kg
• Ginger paste 1tbsp
• Garlic paste 1tbsp
• Salt 1tsp or as per taste
• Red chilli powder 1tsp
• Cumin powder 2tsp
• Turmeric powder ½tsp
• Food colour 2 pinches (optional)
• Chaat masala 2 tsp
• Coriander powder 2tsp
• Pepper powder 1tsp
• Thick yogurt ½cup
• Lemon juice 1tbsp
• Melted butter 2tbsp
For gravy
• Oil 1 cup
• Sliced onion 2 (medium-sized)
• Tomato 3-4 pieces
• Salt 1tsp or as per taste
• Chilli powder 1tbsp
• Kashmiri chilli powder 1tsp
• Youghurt 2tbsp
• Cumin powder 1tsp
• Coriander powder 1tbsp
• Ginger paste 1tbsp
• Garlic paste 1tbsp
• Green chilli paste 1tbsp
• Cumin seeds 1tsp
• Clove 7-8
• Black pepper 10-12
• Green cardamom 7-8)
• Black cardamom 2pieces
• Cinnamon stick 2 inches
For rice
• Basmati rice 1 kg (soaked for 30-40 minutes)
• Water 4l
• Salt 3tbsp
• Caraway seed (shah jeera) 1tsp
• Cinnamon stick 2inches
• Bay leaves 2 pieces
• Oil 1tbsp
• Fried onions 2-3 pieces (brista)
• Coriander leaves a handful
• Milk inclusive of 1tbsp kewra water 1 cup
• Ghee or butter 3-4tbsp
• Food colour 4-5 pinches
Method
• Mix all ingredients (for tikka). Marinate and keep in the fridge for two to three hours and for best results, overnight.
• Now, bring the marination to room temperature.
• Heat a tawa or kadai. Grease it with oil and butter.
• Cook both sides on high flame for three minutes each till grill marks appear on each side.
• Keep aside.
• Heat a deep pan.
• Add oil then cumin seeds, black pepper and all garam masala items.
• Add sliced onions, garlic paste and ginger paste.
• Add tomato, green chilli paste, yogurt and all other spices once the raw smell fades.
• Cook till the oil separates.
• Add tikka to this masala.
• Add water (½cup) if necessary. 
• Cover the lid and cook for 10-15 minutes on low flame till soft.
Take a vessel and boil water. Add the rice and whole spices when water reaches boiling point. Cook the rice 80  to 90 per cent and drain it.
Place a layer of rice in the vessel. Place a layer of chicken and put coriander leaves and fried onions on top. Place another layer of rice. Put fried onions on top and the milk that includes kewra water.
Add the food colour in two to three tablespoons of water. Pour this from the top. Pour ghee/butter.
Cover the lid and furthermore cover with a sheet of foil or cloth.
Place something heavy on top of the vessel.
Let it cook for five minutes on high flame and 10 minutes on exceedingly low flame. The dish is ready.
Khasta naan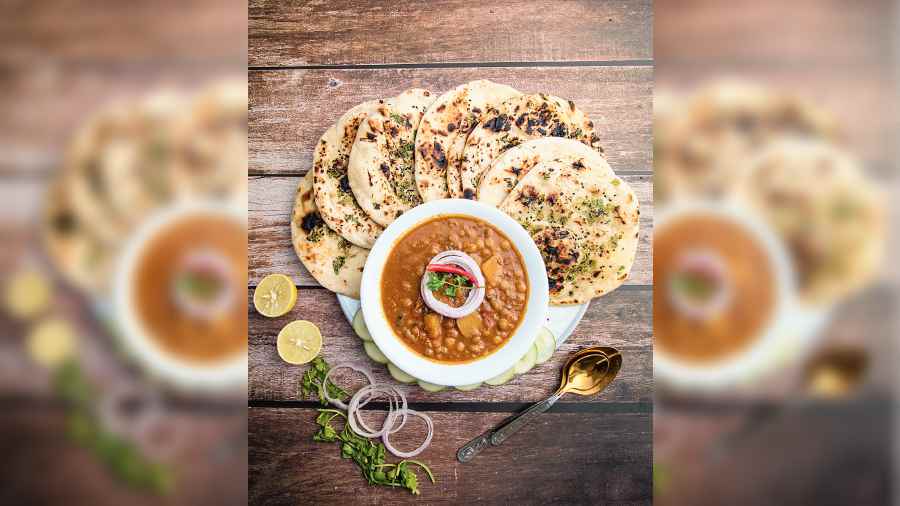 Ingredients
• Self-raising flour 250g
• Baking powder 1tsp
• Salt ½tsp or 2 pinches
• Kalonji (Nigella seed) ½tsp or 2 pinch
• Granulated sugar 1½tbsp
• Milk 100ml
• Egg 1
• Ghee/ oil 1tbsp
Method
• Place the flour, baking powder, salt and kalonji into a bowl and mix. Keep aside.
• Pour the milk in a bowl. Add the egg and sugar. Mix and keep aside for five to six minutes.
• Now, mix the dry ingredients with the wet ingredients and make a dough out of it.
• Grease the dough with oil and keep in a bowl greased with oil.
• Let it rest for a minimum of ½ hour to two hours.
• Divide the dough into four pieces and roll them into equal balls.
• Cover and let it rest for another two hours.
• Roll out the dough balls with the help of a rolling pin.
• Apply water on one side of the naan.
• Heat the tawa on medium high flame.
• Place the wet side of the naan over the tawa when hot enough. Wait for the naan to puff up.
• You can now flip the tawa to the other side and place it five or six inches above the flame(as the naan will be stuck to the tawa due to the greasing of water underneath).
• Circulate the tawa above the flame to make sure all sides are evenly heated.
• Toast till light brown.
• Turn off the flame.
• Serve with a drizzle of ghee.
Special ghugni
Ingredients (For peas)
• Peas soaked overnight 200g
• Turmeric powder 1 pinch
• Salt ½tsp or as per taste
• Pierced green chilli 4 pieces
• Water 3 cups
• Skinned off boiled potato 1 (medium-sized and cut into small pieces)
For Bhuna Masala
• Red chilli 3
• Cinnamon stick 1 piece or 1 inch
• Green cardamom 3
• Coriander seed 2tsp
• Cumin seed 2tsp
• Fenugreek seed 6-7 (optional)
• Black pepper 5-6 pieces
Roast all ingredients for 1-2 minutes on low flame and grind into a fine powder.
For Gravy
• Mustard Oil 3tbsp
• Chopped onion 1 medium sized
• Chopped tomato 1 medium sized
• Green chilli paste 1tsp
• Ginger paste 1tsp
• Garlic paste ½tsp
• Cumin powder ½tsp
• Coriander powder 1tsp
• Kashmiri red chilli powder 2tsp
• Coriander whole (for garnishing)
Procedure
• Boil peas in a pressure cooker after adding salt, Turmeric powder, green chilli, and water.
• After one whistle on high flame, wait for two whistles on low flame.
• Let the pressure cooker cool down.
• Add oil in a deep pan or kadai.
• Add onions and cook till slightly light brown. Add the ginger, garlic and green chilli paste.
• Cook thoroughly and add chopped tomato and salt. Once the tomato turns soft, add cumin powder, coriander powder and Kashmiri red chilli powder.
• Cook thoroughly till the oil separates from the mixture.
• Add peas and cook till five minutes of medium flame.
• Add bhuna masala. Cook for 2-3 minutes then add coriander.
Shahi nawabi sewai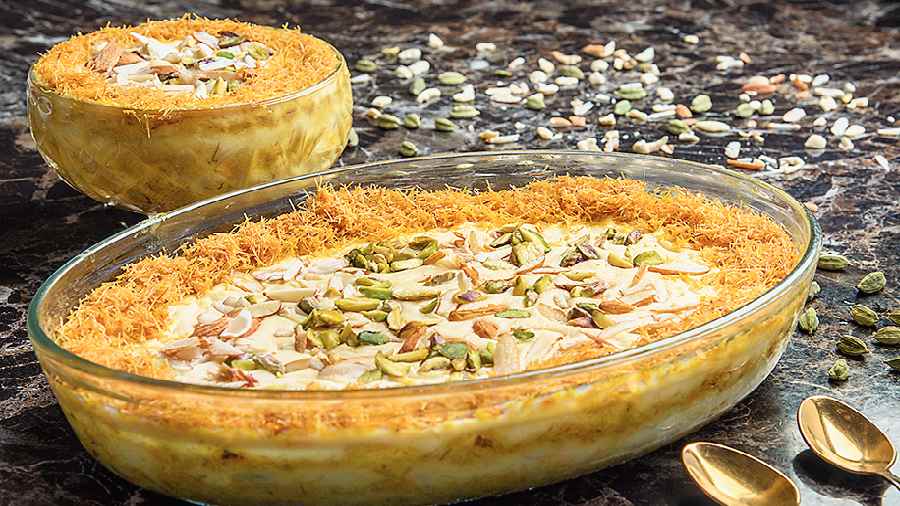 Ingredients (For sewai mixture)
• Sewai 500g
• Dry milk powder 6tbsp
• Granulated sugar 6 tbsp
• Ghee 6tbsp
• Orange food colour 4-5 pinch (optional)
For milk mixture
• Milk 3l
• Whole sugar 4tbsp or as per taste
• Custard powder 6tbsp
• Cornflour 4tbsp
• Condensed milk 200ml
For Garnishing
• Cashew nut chopped 20-25 pieces
• Pistachios chopped 10-15
• Almonds chopped 10-15
Method
• Pour ghee into a deep pot. Add sewai, granulated sugar and dry milk powder into it.
• Stir the ingredients on low flame for 4-5 minutes till light brown and aromatic.
Keep aside.
• Boil the milk till it decreases to 2l and is thick. Add sugar.
• Add cornflour and custard powder into 50ml of room temperature milk in a bowl.
• Keep stirring the boiled milk with one hand while adding the 50ml mixture of milk with the other. Keep stirring to avoid any lumps for the next 5-6 minutes till it is enough to cover the spatula mildly.
• Now, pour half of the sewai mixture to form a layer of mixture into the serving bowl and flatten it evenly.
• Add the wet mixture on top as the second layer.
• Now add the rest of the sewai mixture to the bowl to create a third layer. Spare some for garnishing.
• Finally, pour in the milk mixture into the bowl to form the final layer.
• Lastly, garnish the borders of the bowl with the leftover sewai mixture. Add chopped dry fruit nuts to the centre of the dish.
Chicken malai kebab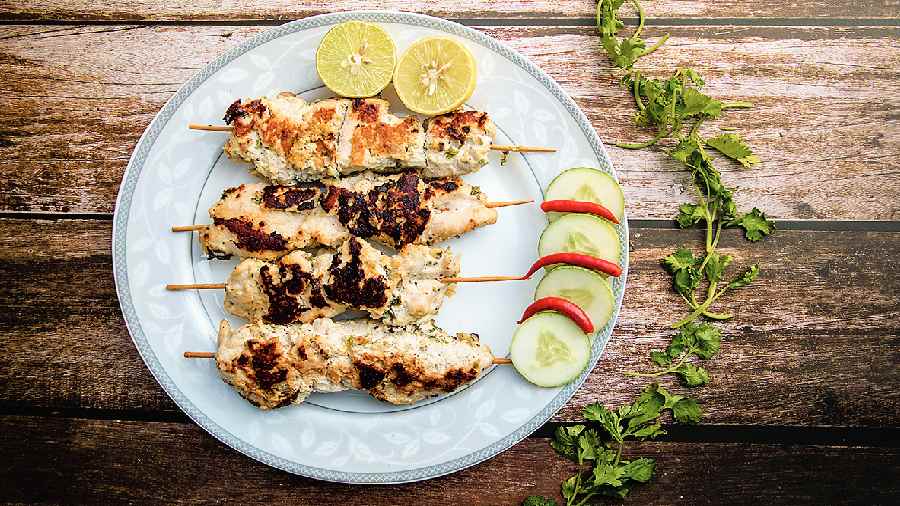 Ingredients
• Boneless chicken 600g
• Ginger paste 1tbsp
• Garlic paste 1tbsp
• Salt 1tsp or as per taste
• White/ black pepper powder 1tsp
• Cashew paste 2tbs
• Chaat masala 1tsp
• Hung curd (thick) ½cup
• Lemon juice 1tbsp
• Cream 4-5 tbsp
• Grated cheese 2tbsp (optional)
• Green chilli paste 1tsp
Method
• Marinate the chicken by adding all the ingredients. Keep in the fridge for 2-3 hours or overnight for best results.
• Place a frying pan on the stove. Assemble 4-5 marinated chicken pieces in a wooden skewer. Enjoy your meal.