Cricket returned to Eden Gardens on Sunday but Covid norms went for a toss.
Unmasked spectators came in thousands and social distancing seemed an alien concept. Many had their masks hanging from their ears.
Some spectators said they could not wear a mask because they had just got their faces painted. Some others said they were fully vaccinated.
Most of the spectators carried a mask but the only time they wore it was while producing the ticket at the gates. On the road leading to the gates, they chose to give masks a miss. Ditto in the stands, which were brimming with spectators.
Police were seen using hailers, urging people to wear masks. But the sheer number of unmasked people made it virtually impossible for the cops to ensure Covid compliance at places other than the gates.
A man from Kasba in south Kolkata had come with his wife and seven-year-old son. The central government employee, who hails from Bihar, has been posted in Kolkata for the past seven years. All three were without masks.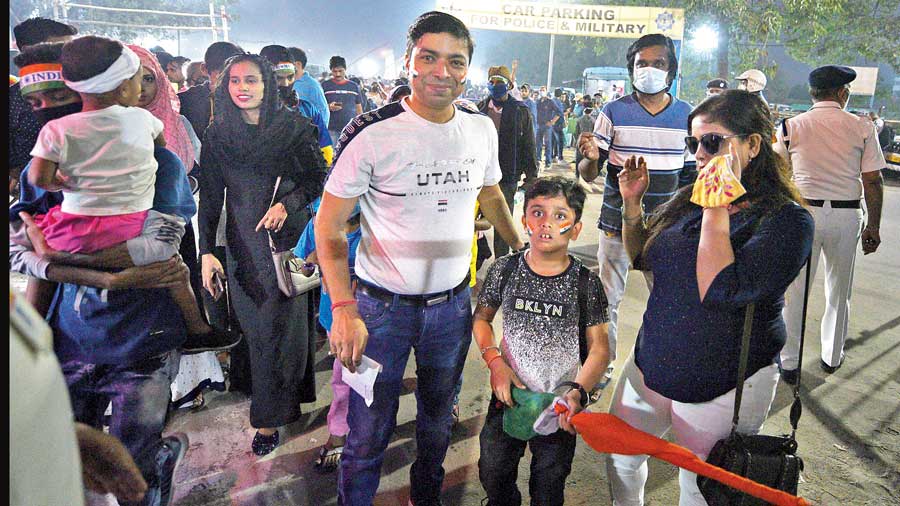 The father and son had their face painted in the Tricolour.
"The paint is still fresh. We have masks and will put them on as soon as the colours get dry. It is our first visit to Eden. We are too excited," the man said.
Three friends had come from Naktala on the southern fringes of Kolkata. None of them wore a mask. "We have taken both shots of the vaccine," said one of them.
An unmasked couple from Baghjatin were busy taking pictures of the illuminated façade of the stadium. "We have masks but putting them on constantly is suffocating. Anyway, Covid numbers are going down," said the woman.
The road leading to the Club House was bursting with spectators. A face painter was having a busy time. He was also unmasked.
"People need to take off masks to paint their faces. If I keep wearing a mask, it might turn people away from me. The earnings have anyway plummeted because of Covid. Now that cricket is back at Eden, I don't want to spoil my business. My livelihood is more important than my health," said the man from Habra in North 24-Parganas district, the sole earning member of his family.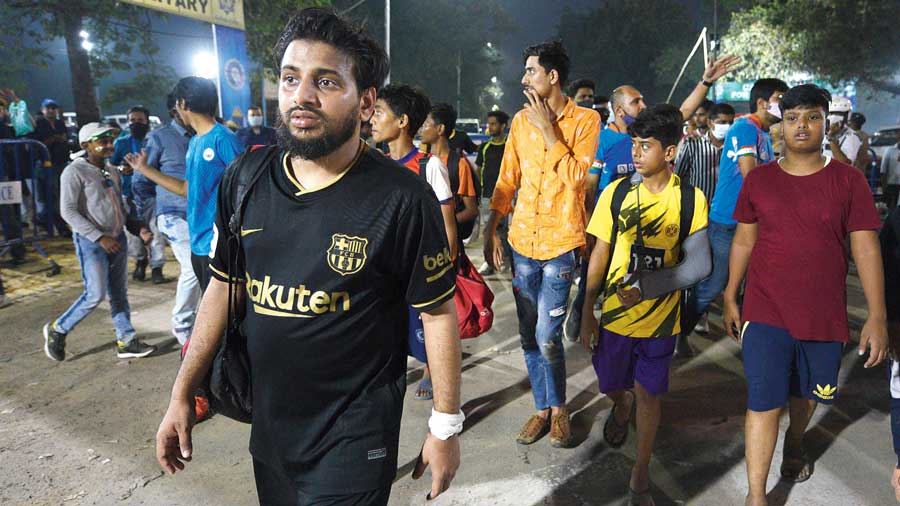 He takes Rs 20 for painting both sides of the face. On match days, he makes around Rs 500.
Every now and then, a cop pulled up a person for not wearing a mask. 
The cops were more stringent at the gates. Outside Gates 3 and 4, a policeman was making non-stop announcements on a hailer, urging people to wear a mask.
Three unmasked persons were stopped at Gate 3 for being without masks. One of them pulled one out of his pocket. The two others looked lost. "We cannot let you in like this. Please buy a mask and come," said a cop, pointing them towards a man selling masks.
Things were no different in the stands. Despite a reduced capacity in keeping with a government directive, the galleries looked packed. Social distancing norms were not followed.
Typical of Eden, the faces went through myriad emotions — joy, disbelief and despair — in the course of the match but all without the mask.
"We were masked all through the match. But seeing so many people without masks in the stands was scary," said a spectator who came from Baguiati in northeast Kolkata.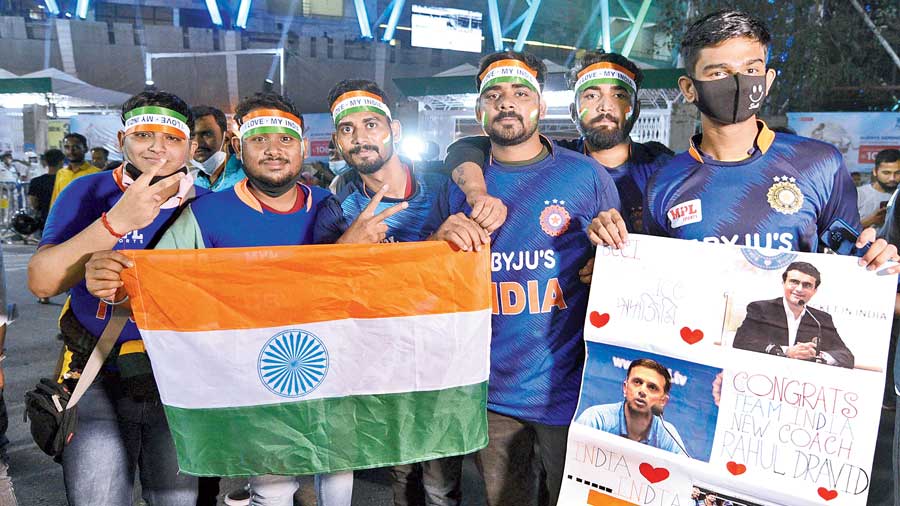 Covid cases are continuing to rise in the city along with other parts of Bengal after Durga Puja. But many people still lack awareness, said government officials.
Many people were seen gathering outside pandals without maintaining protocol like wearing masks or not entering the pandals. Even after Puja, many people are found on the streets without masks. Doctors have found family members of Covid patients stepping out the house.