Government and government-aided schools split the classes into multiple sections to avoid crowding as offline classes started on Tuesday. 
Colleges and universities decided against calling the students of all the years to avoid any large assembly. 
Officials in the education department said, universities, colleges and government schools reopened with average 85 per cent, 78 per cent and 72 per cent attendance, respectively. 
Jadavpur Vidyapith, a government-aided school, split the classes in as many as nine sections so students of classes IX and XII, who were called on the day of reopening, could maintain physical distancing norms.
The same number of students used to attend the classes in three sections before the pre-pandemic time.   
Students of classes X and XI will come on Wednesday.
"Students of the four classes will take turns while attending offline classes on alternate days for the sake of avoiding crowding," said Parimal Bhattacharya, the headmaster of the school. 
Each room in Class IX that earlier had accommodated 60-odd students on Tuesday contained 20-odd students. 
Students of Class XI were called primarily for attending the practical classes.
Practical classes for physics, chemistry and biology were held through the day.
At Hindu School in College Street students of all the four classes were called and each class was split to maintain physical distance, said Suvrajit Dutta, the head of the institution.
Three practical classes were conducted for the students of XII.
"One theory class was held for Class XII," said Dutta.
The school recorded over 95 per cent attendance.
At Hare School across the road, students of all the classes were called.
The head of the institution Jayanta Bhattacharya said, each class had been split into two sections.
Students of the four classes with odd roll numbers were called at Alipore Multipurpose Girls school on the first day.
"We recorded more than 60 per cent attendance," said head mistress Shampa Nayek.
Classes at Jadavpur University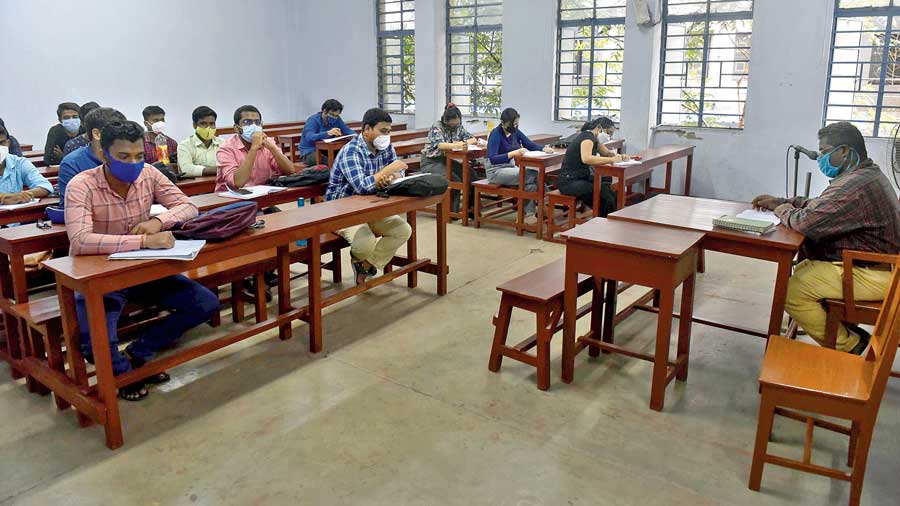 A class in progress at Jadavpur University after it reopened on Tuesday.
Bishwarup Dutta
At Jadavpur University, classes were held in a staggered manner.
At the international relations department, classes were held for the outgoing batch at the undergraduate and postgraduate level. Classes for the second-year students at the undergraduate and postgraduate level were held in the English department.
Students of the outgoing batch at the undergraduate and postgraduate level attended classes at the physical education department. JU recorded about sixty per cent attendance, said registrar Snehamanju Basu.