Some schools resumed in-person classes on Tuesday but the experience of being back on the familiar campus was far from what it used to be, said some of the students who attended school after a gap of 20 months.
The usual "hangout zones" during break were out of bounds, the spontaneous hug to a friend had to be restrained and the teacher was always keeping an eye on what the children were up to, lest they come too close.
The Telegraph spoke to some students across schools to get a hang of the changes that the girls and boys noticed
Restricted movement
As soon as the students entered the campus they were told about the protocol that had to be followed and they could not "roam around in their own school". 
The students were separated into groups and in a single file had to move to different classrooms.
"It was very methodical but not as free-flowing as it used to be. We had to enter through particular gates and were sent separately to different rooms. We could not move about on the premises," said Ishir Narayan, a Class X student of Indus Valley World School.
Teacher's gaze
There was barely a moment when the teacher's eye was not on them and the children were left unattended.
"The teachers were also not passive spectators but we were being reminded of what all we were not supposed to do. Even during the break, a teacher was watching us," said a Class XI student.
No hugs, just a wave
Class XI student Naqiyyah Fakhruddin Calcuttawala wanted to hug her friend but the posters in the school reminded her that she could not. "I just waved at her," said the student of Sushila Birla Girls' School. 
"When we go to school after a long vacation, we always do that but this time was different. We had to control ourselves because we could not violate and it was difficult," she said.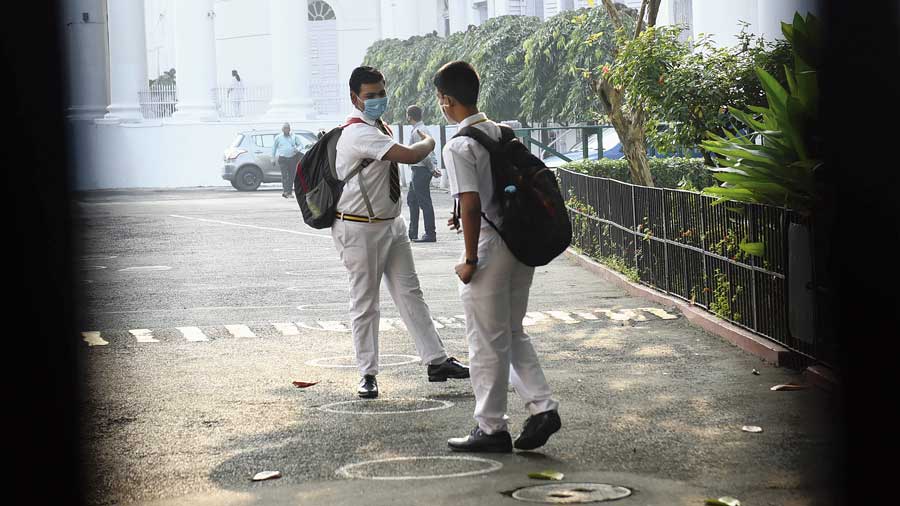 Students of La Martiniere for Boys greet each other on Day 1 of resumption of on-campus classes on Tuesday.
Masked smile
The smiles at each other and to the teacher was only from behind the mask.
Some of the students said that they were so far apart from each other that they could not even hear each other. "Because of the masks, my friends were barely audible," said Ishir.
A silent school
The girls and boys missed sitting on window sills or fighting over the ball in the basketball court, some of them said.
"When you enter school you are also greeted by noise before the bell rings for the assembly. But it was silent today," said a student.
Naqiyyah said she was happy to be back on the campus but there was also an awkward feeling. "When you come back to something you expect it to be the same... today I was happy but there was also an emptiness," she said.
Another student said she missed the huddle around the canteen. "There was no crowd," she lamented.
Sanitisation
At every two steps there was a sanitiser dispenser or posters to remind of Covid safety protocol.
Entry to school was only allowed after a temperature check. "As soon as I stepped on to campus, I was sprayed with sanitiser and my body temperature was checked," said Debangshi Banerjee of La Martiniere for Girls.
Pictures by Bishwarup Dutta and Sanat Kr Sinha
Darjeeling Hills University admissions begin in six subjects
Senior officials of the Darjeeling Hills University at Mungpoo on Tuesday.
Telegraph photo
The state government on Tuesday decided to operationalise the Darjeeling Hills University (DHU).
Subires Bhattacharya, the North Bengal University vice-chancellor who has been given additional charge of DHU, on Tuesday visited Mungpoo where the university will be set up.
 "Today, we have decided to start classes (of DHU) with six subjects. The admission process will start from tomorrow (Wednesday) and we hope to start classes by December-end," Bhattacharya said.
The six subjects are English, political science, history, Nepali, mass communication and mathematics. For the first six-odd months, classes will be held online with the help of the faculty from NBU.
The state government has approved Rs 33 crore for the DHU infrastructure.