The expressway that connects large parts of north Kolkata with the airport is riddled with craters and deep potholes.
The 8km-long stretch of Belgharia Expressway between Dakshineswar and the Jessore Road crossing has turned into a nightmare for motorists.
In several sections, the craters span the entire flank of the expressway, forcing commuters to come to a nearstop before trying to negotiate them.
One of the worst stretches is close to the Baranagar Metro station.
The area in front of the Prafulla Nagar bus stand, where thousands of office goers converge from different areas like Konnagar, Uttarpara and Baranagar to catch buses and shuttles taxis bound for Sector V and the airport, has craters so deep that vehicles are forced to crawl to negotiate them.
The approach to the Belgharia Expressway flyover, too, is dotted with craters of various sizes on both flanks. On the airport-bound flank, there are deep craters that span the entire width of the expressway leaving no option for motorists other than to drive over them.
Driving or riding down Belgharia Expressway becomes riskier after showers as the craters get filled up with water.
Several residents of Belgharia and Dakshineswar this newspaper spoke to said that although the expressway is the shortest route to the airport, Sector V and New Town it has also turned out to be the riskiest.
I had to rebuild the front suspension of my car after I drove into a pothole that I failed to spot while driving back from work last week. I have decided not to drive to office till the expressway is repaired properly," said Anirban Ghosh, a resident of Dakshineswar who works at an IT firm in Sector V.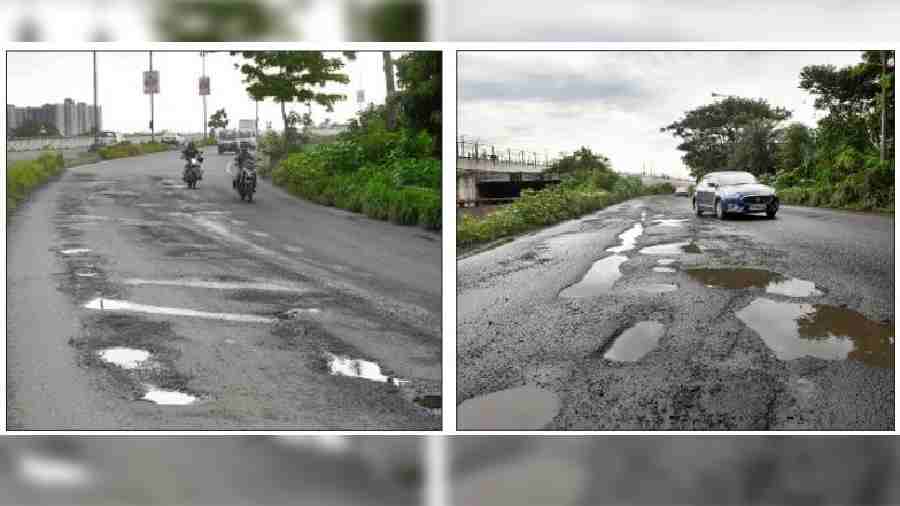 Potholes on the expressway near the dumping ground outside Belgharia; Another damaged stretch of the expressway near Prafullanagar
Subhadeep Halder, a resident of Mathkal, was flung off his scooter while riding home two weeks back.
"The front wheel of my scooter skidded while I was trying to negotiate a pothole. I fell and was lucky to escape with cuts and bruises," Halder said.
An officer of Barrackpore Commissionerate's traffic wing said that accidents were taking place on a near-daily basis on the battered expressway because of the potholes.  "We are anticipating a manifold increase in the number of vehicles during Puja. These craters need to be repaired on an urgent basis," said the officer.
Officials of the National Highways Authority of India (NHAI), which maintains the road, admitted that the condition of the expressway was bad. Engineers said the settlement of the ground underneath was resulting in craters.
"We are planning to engage an IIT to do a study and identify the reason for such subsidence of the soil. We had strengthened the soil recently but it hasn't helped," R.P. Singh, chief general manager, NHAI, told The Telegraph.
"For the time being, we will repair the damaged pockets of Belgharia Expressway. We need a few days of clear weather for the work to be completed," Singh said