Crater-ridden roads and dysfunctional street lights of Salt Lake, Kestopur and Rajarhat have prompted several Durga Puja committees to ask the Bidhannagar Municipal Corporation to repair them.
With Durga Puja around the corner, several puja committee members have either approached councillors or raised their concerns with officials at the Poura Bhavan, the civic body headquarters in Salt Lake, about the state of roads and broken and dysfunctional street lights.
Chief minister Mamata Banerjee is likely to inaugurate two crowd-pulling Durga Puja pandals, including the FD Block puja in Salt Lake and the Sreebhumi Sporting Club's puja pandal, on Thursday.
The civic body, however, has failed to complete even patchwork repairs on major arteries and thoroughfares that lead to crowd-pulling pandals in Salt Lake, Baguiati and Kestopur.
"We have asked the civic body to carry out urgent repairs as our pandal attracts a lot of people and the broken roads and street lights will be a cause of trouble for our visitors," said Manojit Guha, a member of the AK Block Durgotsav Committee. Similar complaints have come in from organisers of pujas in Kestopur, Baguiati and Rajarhat.
The stretch of Third Avenue in front of City Centre Salt Lake that leads to the FD Block Durga Puja pandal is riddled with potholes on the FD block-bound and the Bidhannagar Municipal College-bound flanks.
Some of the potholes are so large and deep that traffic policemen have placed guardrails in front of them to prevent vehicles from driving over them.
The situation is similar on parts of Second Avenue that leads to the AK Block Durga Puja pandal from Tank number 9. Despite patchwork repairs being carried out a few weeks ago, huge craters have resurfaced.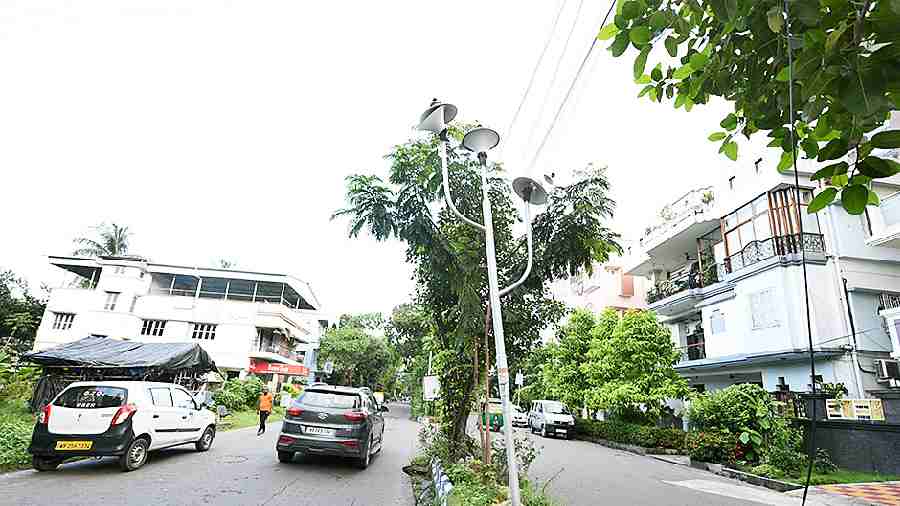 A broken lamp post in Salt Lake's AE Block on Wednesday
Apart from broken roads, bent street light poles and dysfunctional lights dot the entire township.
Bimal Naskar of the Krishnapur Sobujuday Sangha Sarbojanin Durgotsav Committee said that they had asked their councillor to undertake urgent repair of roads leading to their Durga Puja pandal.
Krishna Chakraborty, mayor of the Bidhannagar Municipal Corporation, said that the intermittent spells of rain had hampered road repair initiatives.
"We could not carry out the repairs because of the intermittent rains," said Chakraborty.