The rising graph of Covid cases and the threat of the onset of a third wave have not take the sheen off the annual Pous Parbon O Christmas Utsav on the service lane off VIP Road at Sreebhumi in northeast Kolkata which was inaugurated with much fanfare on Christmas Eve.
A rally of 15 motorbikes with riders in Santa Claus costumes provided a ceremonial start to the festival followed by a band and dancers. Then there was Santa Claus on a chariot, handing out treats like party hats and candies to children.
"Christmas is a popular festival here now just like Durga Puja. People used to visit Park Street to celebrate the period in the past but now this is a hub for local people to head to. We, as a club, in co-operation with the South Dum Dum Municipality, arrange this festival every year so that people can enjoy food from well-known outlets in one place, listen to music from Bengal's best singers and enjoy themselves during this festive season," said local MLA Sujit Bose who is the president of Sreebhumi Sporting Club.
Since the start, the visitor count at the festival has been steady every evening. After the footfall fiasco earlier this year at Sreebhumi's Durga puja, which had to be closed to visitors from Ashtami when the situation went out of hand, the police are handling the situation with care. Traffic around the area has so far been smooth. "We have installed three watch towers at prime points to monitor everything so that we can prevent any case of assault, harassment or pickpocketing and provide visitors a safe atmosphere," said a police officer on duty.
But the police is unable to do much against the multitude going around maskless. "We have put up posters on Covid protocol to raise awareness," is all that a lawman in uniform would say. And the flouting of protocol is there not just at the food stalls. The Telegraph spotted several in front of the stage, enjoying the concert. When confronted, they either were evasive in their replies or quickly put a mask on.
Bose chose to play down the  presence of the maskless. "Awareness among people is high about the virus and we want people to stay healthy and happy. Everyone is wearing mask and they are enjoying their visit here. That is all that we want," he said.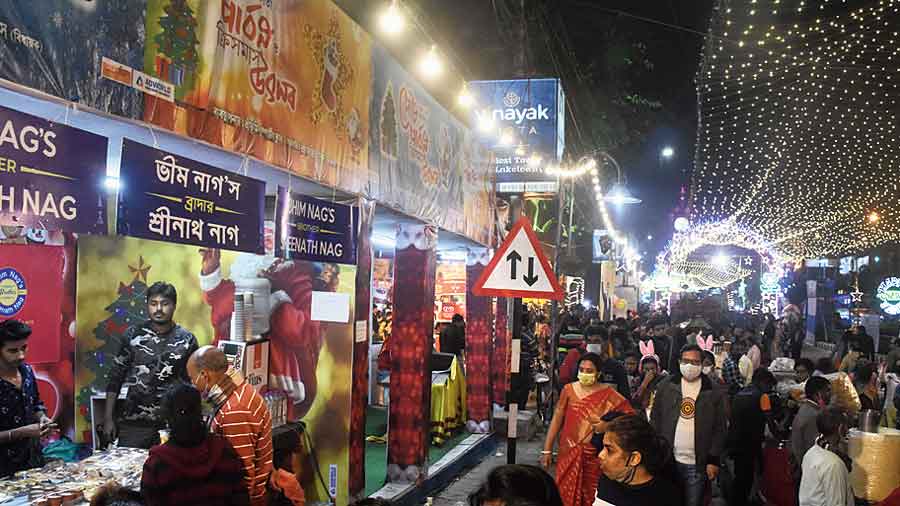 Visitors throng Pous Parbon O Christmas Utsav.
Rushil Sengupta
Treat for taste buds
Food and music are the two pillars of entertainment at the festival. Traditional favourites like biryani from Aminia to seasonal delights like pithe puli are all on offer at the 70-odd food stalls.
Manish Agarwal, a Lake Town resident whose wife is from Bihar, is providing a taste of his in-laws' land with a litti chokha stall. "I am doing this just to enjoy the occasion; I won't call it a business venture. My family is struggling to keep up with the demand as the orders keep pouring in," said the second-time participant at the festival.
For the uninitiated, litti is a wheat flour dough ball stuffed with gram flour, pulses and mixed with herbs and spices. It is then roasted over coal or wood and tossed with ghee. It is served with chokha, a vegetable preparation of roasted and mashed eggplant, tomato, and potato.
Sreeja Mukherjee has put up a handmade chocolate stall. "New year and Christmas are almost synonymous with chocolate. So despite our product not being as traditional as pithe puli, we have got great response from the crowd. We made everything from scratch, including the packaging," she smiled.
Some came from afar, like Uden Tamang from Chuikhim village in Kalimpong. He has brought delicacies from his village like rhododendron wine, momo, oranges, tea and locally grown rice and ghee. But he is disappointed with the reception so far. "We brought our food here so that people can taste our fresh fruits and vegetables which would be beneficial to their health and we can also showcase our village where we offer homestays. I have been to different events in Calcutta before, like the Orange Festival in Salt Lake which I visited twice, in 2019 and 2021. But in contrast to Salt Lake, curiosity in visitors to this festival seems to be much less."
Not all the stalls are selling food. Krishna Pradhan is selling succulent plants from his nursery in Mirik. "People are showing a lot of interest and buying my plants," he said.
There is a star-studded line-up of artists taking the stage every evening from 7pm. Raghav Chatterjee and Emon Chakraborty are the artistes to feature on New year's day, followed by Jeet Ganguly, Indranil Sen and Poushali Banerjee the day after.