Yet another fair has come up on the Clock Tower ground in New Town and it shall stay anchored till March 7. Named New Town Utsab O Mela, the fair has stalls, rides, food options as well as a host of cultural programmes every evening.
"Unlike most other fairs in the twin townships, we are not inviting star performers. We are giving opportunities to local artistes from Salt Lake, New Town, Lake Town, Bangur, Kestopur and Baguiati to perform here," said Saikat Ali Molla, a resident of Utsa apartments and one of the organisers.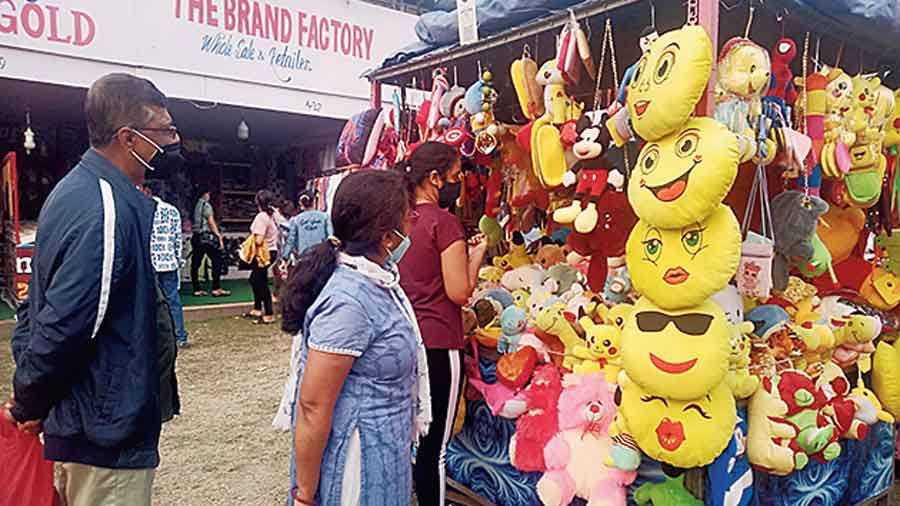 Soft toys on offer.
Showli Chakraborty
They celebrated International Mother Language Day with great pomp and on February 27 will hold a programme dedicated to Bangladeshi poet and singer Bijoy Sarkar. "After Lalan Fakir, he is probably the only artiste to have delved so deeply into baul philosophy. His lyrics are taught at several universities in Bangladesh." On other days, there will be music, dance, plays and dance drama by local artistes and troupes.
The fair has clothes, jewellery, toys and food stalls selling Indian, Chinese and Mughlai cuisines. But stall owners are ruing the loss of pre-Covid sale figures. "I have been to several other fairs across town and even to north Bengal but sales have been low. Also, people are bargaining a lot more than they used to before. I am already giving a 10 per cent discount on every item, but they want more," said Aditi Banerjee of sari store, Aditi's Collection.
Anjana Sahi, a resident of Bengal Ambuja, had come to the fair with her sister-in-law and two children. "I am here only for the rides. Since I live close by, I come down every evening to gorge on phuchkas and jilipi while the kids enjoy their rides. We spend a couple of happy hours before I drag them home for their studies."
Here is a glimpse of the items available at the fair:
Dhakai jamdani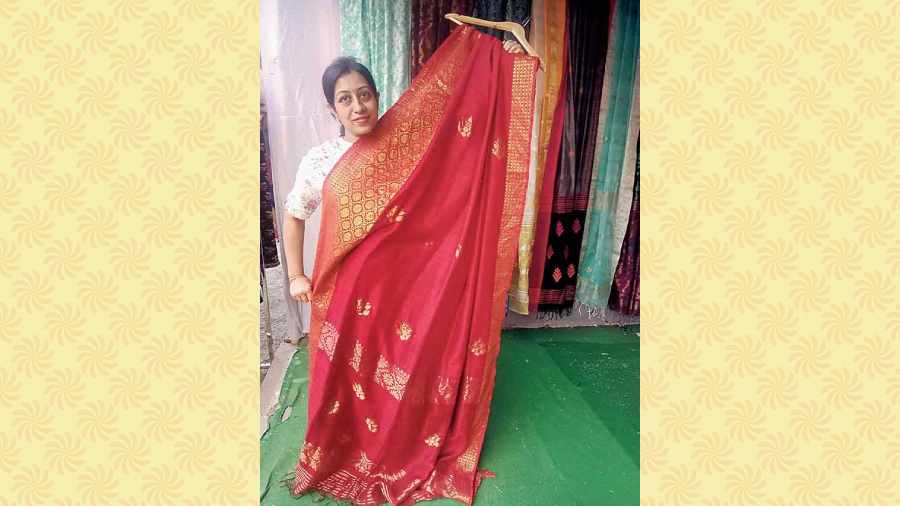 Stall: A-1
About: Sari stalls from Bangladesh are brimming with Dhakai jamdani, Rajshahi silks, Dhakai silk and Muslins. Jayanti Saha and Shantilal Saha, a senior citizen couple from New Town, said: "We are regulars at different fairs in New Town and Salt Lake. I love buying saris from the Bangladeshi stalls. I'm planning to pick up a few saris for gifts and if I happen to like something, I might buy one or two for myself as well. We are retired people and we have a lot of time in the evenings. We also get access to a lot of new things at the same place. That is why we visit fairs in the area because we get to meet a lot of people and the time ends up being well spent."
Price: Rs 1,000 to Rs 20,000.
Crockery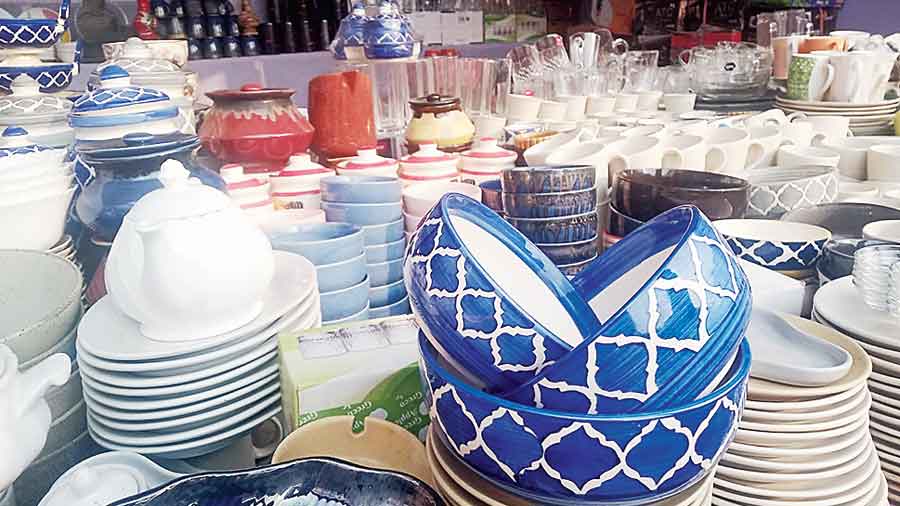 Stall: A-15
About: Sets of three bowls large, small and medium are available in bright shades of indigo and grey. "We have all kinds of exquisite ceramic crockery for both regular use as well as special occasions," said Md. Akram, who has come from Moradabad in Uttar Pradesh.
Price: Rs 750
Dry fruits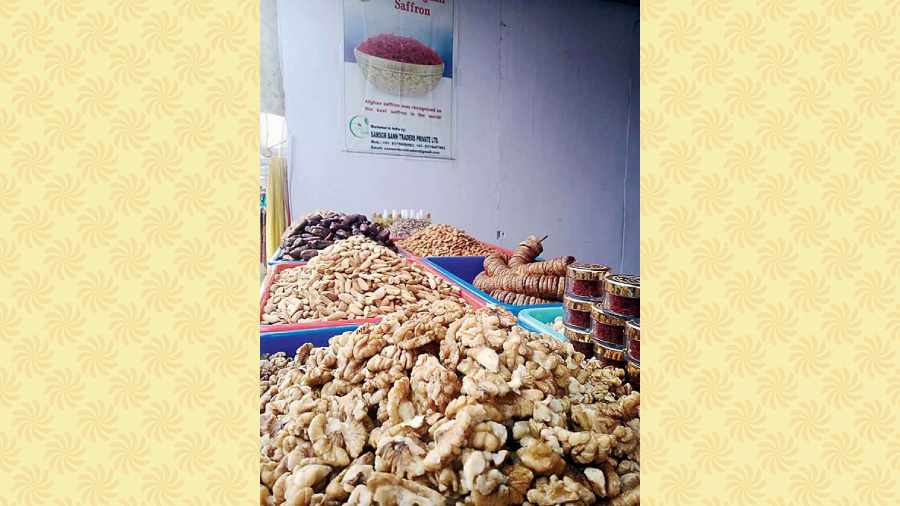 Stall: A-29
About: The dry fruit outlet called Afghanistan Natural Dry Fruits has quite a few takers. "We have fresh almonds, pistachios, dates, anjeer, mamra nuts, walnut, raisins, cherries, blueberries and apricots. We also have a fresh stock of badam tel (nut-based oil) which is very healthy to consume," said Abdul Sahi, manager of the stall who is a native of Safdarjung in New Delhi.
The vendors travel to fairs across the country but this is their first time in New Town. "Since the nuts have to be displayed in open baskets, we are not allowing customers to touch them owing to Covid norms. In the lockdown we accepted orders online and exchanged pictures of the products with the client," said Sahi.
Price: Rs 300 onwards
Books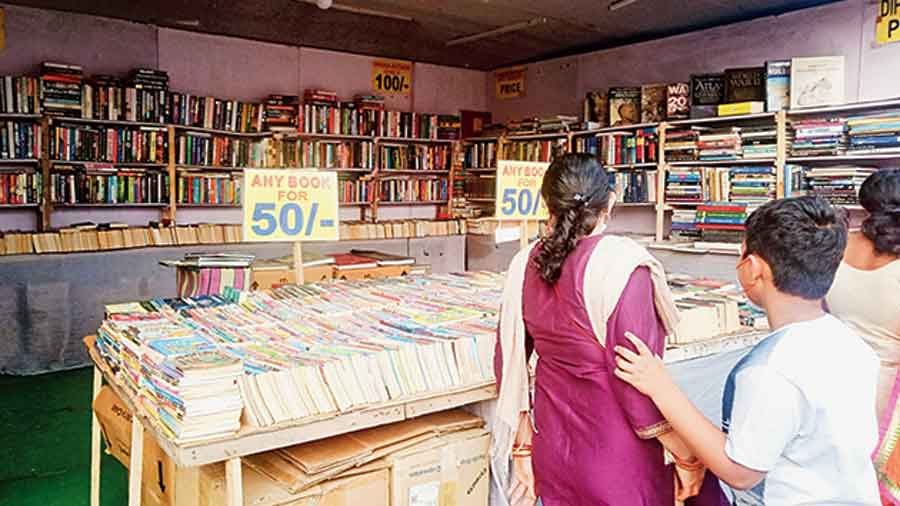 Stall: A-12
About: All books sold at uniform rates, buying in bulk will be extremely profitable. These include classics and best sellers. From Jane Austens and Roald Dahls to David Attenboroughs, there is something for everybody! Music lovers will find rare collections such as Elvis: Life in Pictures published by Paragon Books. "We have a store in College Street, right next to the Presidency University lane. We are happy that people are still buying books for children and for gifting purposes," said Md. Aziz, owner of the stall.
Price: Rs 50-Rs 100
Junk jewellery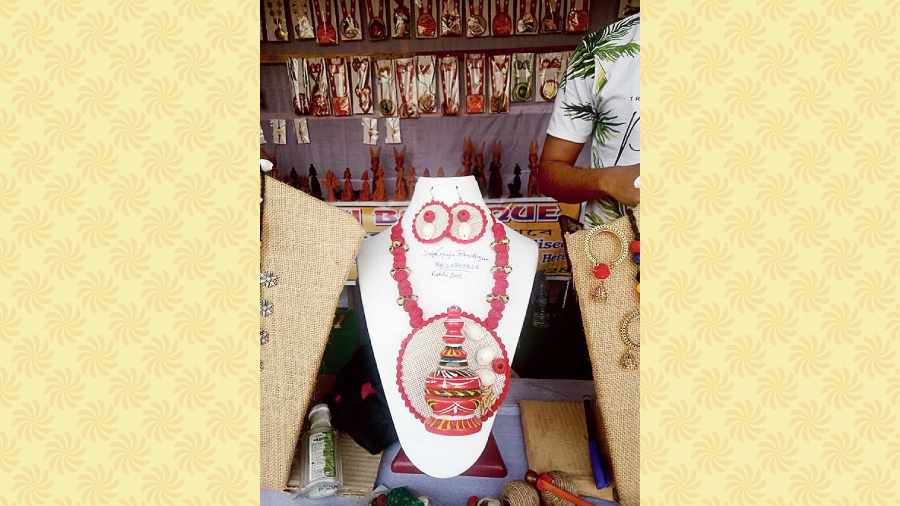 Stall: E-12
About: Jewellery made of recycled goods such as cloth, cardboard, coconut fibre strings are up for grabs. A set of multi-coloured earrings including two neck pieces (one long and another a choker) could be a good buy. "We have come from Agarpara and have a shop in Sodepur. We now want to spread our market base which is why we are here," said Rakhi Das, owner of the stall.
Price: Rs 50-Rs 350