The city is ready to get smeared with festival colours on Friday, inside homes and outside. However, those who do not wish to play have the right to say NO.
This is also going to be the first Holi in two years where the Covid threat perception is really low. The state government has lifted the night curfew on Thursday and Friday for Holi. But doctors have still advised caution.
Here's what else you should know before saying Holi Hai.
What constitutes an offence during Holi?
Sprinkling colours on someone unwilling to play
Touching someone inappropriately while playing Holi
Throwing colours from windows or terraces
Is it all right to throw balloons filled with coloured water on people?
No. It is illegal to throw balloons because revellers do not take the consent of those being targeted. Also, throwing balloons at passers-by can result in injuries.
Is it alright to drink and drive on Holi?
No. Police will undertake special drives to curb drink and reckless driving. The cops will also look out for those riding bikes without helmets. Three riders on a bike will draw the police's attention.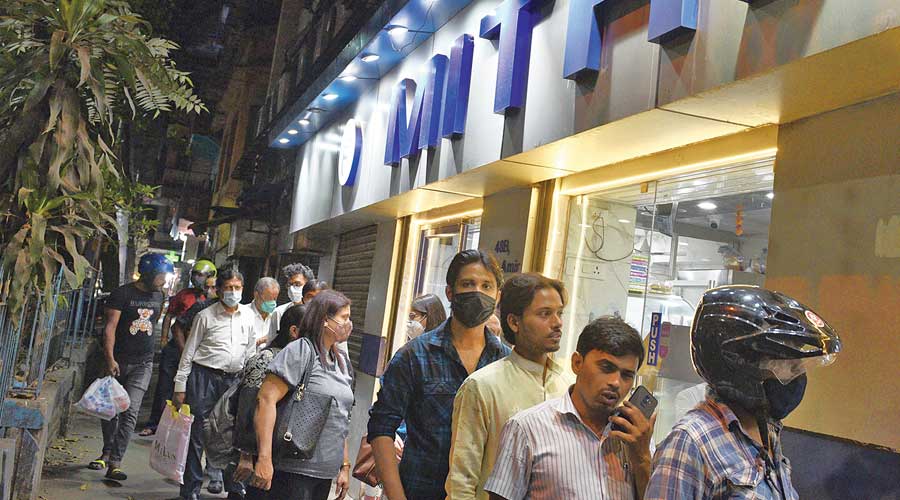 Customers queue up outside Mithai in Beckbagan on Thursday evening
What to do if someone forcibly tries to play Holi with me or stalks me on bikes?
Immediately call the emergency police helplines — 100, and 22143230 — in case of any harassment. Senior officers said "elaborate arrangements" have been made to secure the roads and ensure no one is harassed.
Can I step out to buy alcohol?
Friday is going to be a dry day till 2pm. While most bars are expected to serve liquor after 2pm, off-shops are unlikely to open before evening.
Can I visit a mall?
Quest, South City, Acropolis and City Centre Salt Lake will open at 4pm
Can I plan a lunch with friends or family?
Most restaurants, other than those in malls, should open for lunch.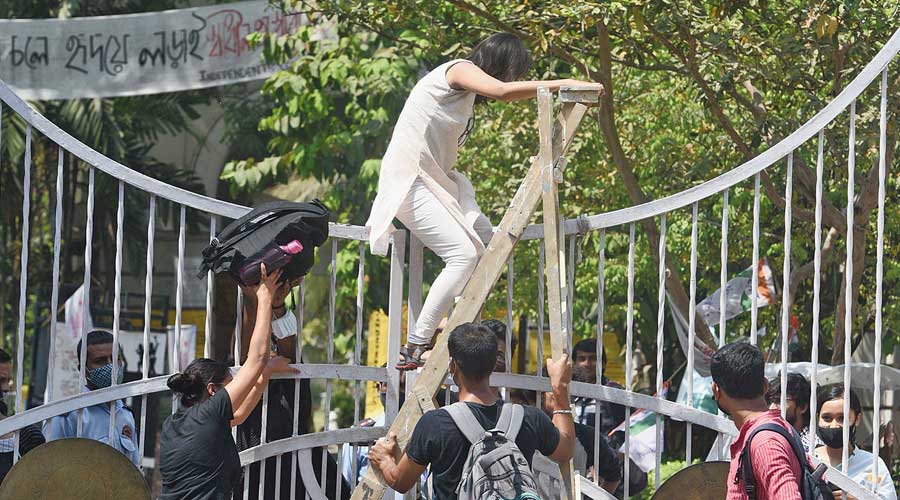 A student scales the Presidency University main gate to play Holi on campus
What about public transport and app cabs?
Buses will be there early in the morning and again from late afternoon. There will be a few metered taxis till afternoon, after which their count will increase.
App cab operators said they would keep their services normal. But expect fewer cars and brace for a surge in fares.
Metro Railway will run 58 trains (29 in each direction) on Friday. The first trains will leave the terminal stations at 2.30pm, instead of 7am. The last train will leave Dakshineswar at 9.18pm. The last trains will leave Dum Dum and New Garia at 9.30pm.
What's in this year?
Caps resembling Rajasthani turbans were in demand at Holi markets in Burrabazar. Gulaal poppers and colourful wigs also flew off the shelves.
What about Covid threat?
Doctors said the threat of Covid has not disappeared. "People should continue wearing masks and practise social distancing in the foreseeable future. Small parties should be preferred over large gatherings. Have fun, but bear in mind that precautions are still needed," said Chandramouli Bhattacharya, a consultant in tropical medicine and infectious diseases.
How will the weather be?
Expect a hot, sunny and dry day. The Met office has ruled out rain.