Sunday was hot and humid, and rainy in parts, but nothing deterred tens of thousands of Puja shoppers who swarmed malls and markets.
Less than a month left for the Puja, even people from nearby districts travelled to Kolkata to make the most of the Sunday. 
Many people stepped out early on Sunday because they wanted to return home in time to watch the Asia Cup encounter between India and Pakistan. 
The Telegraph travelled throughout the day to gauge the mood of the city. 
Markets
Around 1pm, streams of people kept moving in and out of a sprawling shoe store on Lindsay Street.
Among them was Chandan Pradhan who had come with his son Milton from Chandipur in East Midnapore. They came on a bus to Esplanade. The journey took close to three hours. The two had stepped out of the Lindsay Street store and were headed towards New Market. 
"Coming to Esplanade for Puja shopping has been a custom. We missed it in the last two years because of Covid," said Pradhan, a high school teacher.
The day was sultry and carts selling ice creams and cold beverages did brisk business. When it started raining in central Kolkata around 2.30pm, a sea of umbrellas took over Lindsay Street and New Market.
Around 5.45pm, the Gariahat intersection suggested that the city's biggest festival was not far away. Stalls selling trinkets were busy. So were big sari stores. 
Parag Dutta, a Behala resident, had come with wife Sohini. "We had lunch at a restaurant before coming here. She has to buy a couple of saris. I want to reach home in time to watch the India-Pakistan match," said Dutta, an LIC agent.
Malls
South City Mall had around 70,000 visitors by 6pm. The parking lot, which can accommodate around 1,200 cars, was full around 2pm. As more cars started arriving, they were sent to the ground of the adjacent South City International School. Retailers said business was picking up steadily.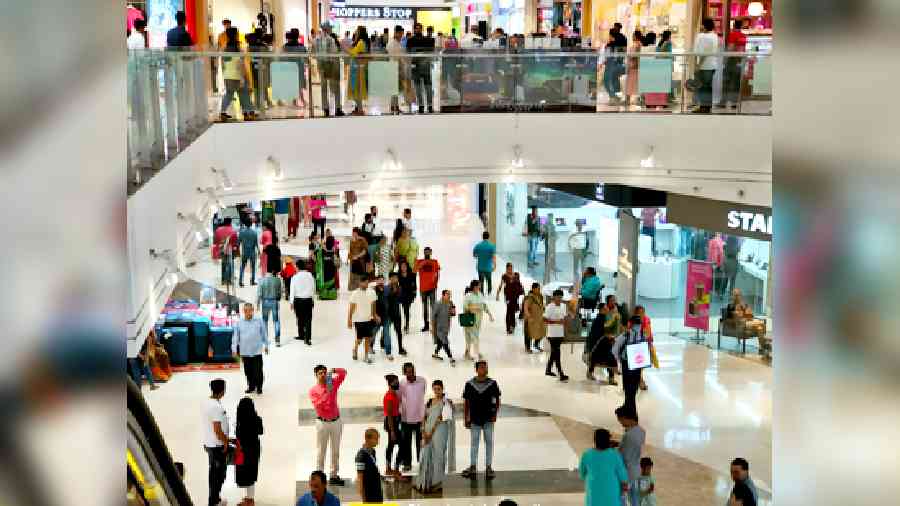 Puja shoppers at Acropolis Mall on Sunday
The Telegraph
"There is a jump of around 30 per cent from September last year, when the fear of Covid was palpable. But if you compare the volume with September 2019, it is slightly better this time, at least what we have seen so far," said an official of a department store chain.
An executive of a denim store said till two weeks ago, "one in three" persons walking in would end up buying something.
"Now, one in every two persons entering the store is buying something," he said.
Many people who came shopping went to the food court for a quick bite. Acropolis Mall was also busy throughout the day.
"In August, we saw over 5 lakh visitors. This year, Puja shopping started in full swing a tad earlier because Puja is in early October. Shoppers first made the most of the end of season sale and the revenge shopping has continued into September. Ethnic wear, denim and jewellery were the top picks," said K.M. Vijayan, general manager of Acropolis Mall.
Metro Railway
Starting Saturday, the carrier has been running additional trains on weekends to tackle the rush of Puja shoppers.
There were 282 trains on Saturday, instead of 234. On Sunday, there were 164 trains instead of 130. The trains were packed on Sunday.
Esplanade and Rashbehari Avenue were the destination of most shoppers who chose the carrier. Saturday's footfall was over 5.2 lakh, around 45,000 more than that of last Saturday, said an official.
"We expect the numbers to go up over the next few weekends," the official said.
Restaurants
Food was part of the agenda of many shoppers. From a fancy restaurant in a mall to a roll outlet in Gariahat, eateries were busy throughout the day.
Restaurateurs said they were banking on a bullish consumer sentiment for brisk business in the festive season.
"Both lunch and dinner were very busy and a significant section of the diners were Puja shoppers," said a Park Street restaurateur.