A large team of officials from the Bidhannagar Municipal Corporation (BMC), led by mayor Krishna Chakraborty, visited Ramkrishnapalli in Kestopur — a neighbourhood reeling under dengue — on Thursday.
The move came after the North 24-Parganas district magistrate held a dengue review meeting at the civic headquarters on Wednesday and urged councillors and officials to regularly visit wards to check up on vector-control measures.
Chakraborty and the team of officials, including municipal commissioner Sujay Sarkar and Bidhannagar sub-divisional officer Biswajit Panda, reviewed vector-control measures in Ramkrishnapalli, which is in Ward 26 of the BMC.
They spoke with local conservancy and vector-control teams and interacted with residents.
"We requested the residents to ensure that their houses and compounds are clean and no water accumulates anywhere, even in flower vases," Chakraborty said.
The mayor spoke to several dengue patients over video call and enquired about their health before listing dos and don'ts for them.
Several residents who spoke to The Telegraph after the mayor left said such enthusiasm would have served them better had it been there a few weeks ago.
The civic body had tried to give the impression that everything was fine even when residents had been complaining about heaps of garbage and lack of conservancy efforts.
In the area that the mayor visited on Thursday, almost every household has someone down with fever or who has tested positive for dengue.
Somnath Dey, a 36-year-old resident of the area, died of dengue a couple of days ago.
Rathindranath Mondal, 67, a retired schoolteacher, said the civic officials should have visited the place earlier.
"We had garbage strewn and stagnant water everywhere. They seriously started a clean-up only after a dengue patient from the area had died. Had senior officials of the administration visited this place earlier, such a huge spread could have been avoided," said Mondal.
Ward 26 is among seven wards of the civic body that have been marked as dengue-prone zones, a BMC official said.
Banibrata Banerjee, mayoral council member in charge of the BMC's health department, said on Thursday the civic body had "started an aggressive larvicide spraying campaign".
"We have asked our vector-control teams to spray larvicide liberally wherever there is water. Conservancy workers had been asked to ensure that there is no pile of garbage and the drains don't get clogged," said Banerjee.
JOKA-TARATALA METRO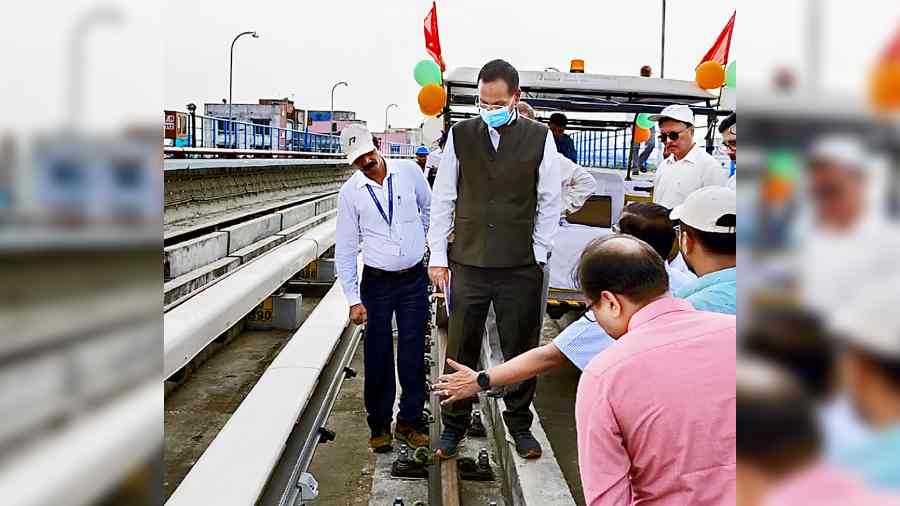 The commissioner of railway safety (North Frontier circle) inspected the Joka-Taratala stretch of the under-construction Joka-Esplanade Metro corridor on Thursday. A CRS inspection is the final lap before the commercial run starts.
Mohd. Latief Khan, the commissioner, inspected the station control panel, fire-detection system, sub-stations, platforms, tracks, escalators and passenger amenities at Joka, Sakher Bazaar, Behala Bazar and Taratala stations. He undertook a trolley inspection from Joka to Taratala. He also inspected the Metro viaduct on Diamond Harbour Road.
In his presence, a Metro rake undertook a speed trial on the corridor. "He has done a detailed inspection and will now give a report. The date of the start of the commercial run will depend on the report. If he asks for some tweaks, we will have to do them," said a Metro official. The first trial run on the 9km stretch happened on September 15.
Metro officials are looking forward to a November-end target to start commercial services on the truncated corridor. The stretch between Taratala and Esplanade is far from ready. Construction is underway on the Majerhat-Mominpore stretch.
The project goes underground from Mominpore. But the work on underground tunnelling from Mominpore has yet to start, said Metro officials. Since the truncated corridor is yet to get an advanced signalling system, only one train will be used at a time even when commercial services start. "Until the signalling system is ready, one train will leave Joka and reach Taratala andthen come back to Joka," the official said.