After a gap of two years, Bidhannagar Mela (Utsav) will be inaugurated on Tuesday at Central Park fairgrounds. It will continue till January 4.
The fair, the most popular event in the cultural calendar of Salt Lake, was last held in 2019-20.
"We were getting enquiries from people who were deprived of the fair due to Covid. People like coming here to get saplings for their garden or crockery or dress materials or simply to hang out. The fair is a happy occasion for everyone," said mayor Krishna Chakraborty, who is the president of the mela committee.
"The fair is usually held over 21 days but this time we will have it for 23 days as there is a window to stretch it," said mayor-in-council Rajesh Chirimar, the committee secretary. "The Book Fair will start on January 28. They will take over once our mela finishes."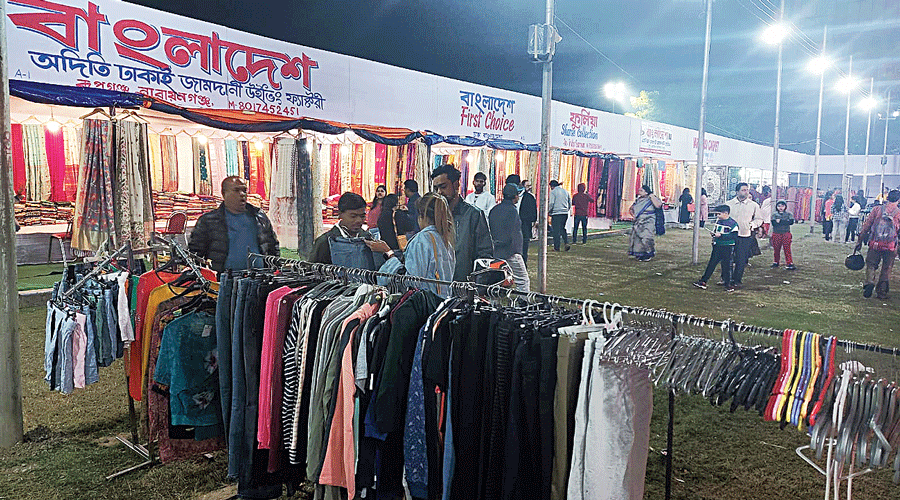 Stalls at the first New Town Carnival at City Square. The event with 150 stalls will be on till December 18.
Sudeshna Banerjee
According to an official at the Bidhannagar Municipal Corporation, which is organising the event, there will be 260 stalls, 18 pavillions, 36 kiosks, 71 tables and 88 dalas. There will be two amusement zones including joy rides for children. There will also be a food park, with stalls deliberately situated away from the rest of the fair to prevent a fire hazard.
"We have increased the number of tables to help underprivileged youth," said Rajesh Chirimar. "We will give a table each to our 41 councillors to let them help the needy in their areas," the mayor added.
Online booking for stalls had started on November 25. "We wanted to avoid the harassment that stall-seekers used tio face for over-the-counter booking. The queue used to start forming the night before. Imagine the frustration of those who stayed in queue all night, yet lost out on a stall by a whisker!' This is the second time that online booking is being done. "Last time, there were some glitches. This time we are trying out a new vendor and software. There have been no complaints so far. We had a helpdesk on the first day ," the official said.
The stalls earmarked for Bangladeshi traders sold out on the first day. "This time too we checked if their visa had business permit. That way we can ensure authenticity of their products," Chirimar said. There is also a lot of interest from Kashmiri traders and local boutiques. Traders from around 10 foreign countries have booked stalls.
The inauguration will be done by minister Firhad Hakim. Talks are on with the information and cultural affairs department to bring a chhou dance troupe and tribal dancers for the inauguration. There will be cultural performances every day, with Babul Supriyo, Swagatalaksmi Dasgupta, Sriradha Bandyopadhyay and Sourendro-Soumyajit being the star artistes, though their dates have not yet been finalised.
Write to saltlake@abp.in