Bidhannagar Mela (Utsav) is back after a two-year break because of the pandemic and participants are upbeat about this turning out to be a good year for business.
The Kashmir corner, the fair officials had said, had filled out among the fastest when online booking opened.
Abbas Ali has come from Srinagar to set up a stall at the fair for the first time. "This is my first time here. A lot of my friends have been coming to this fair and other parts of Bengal for several years. I have always heard good things about West Bengal from them. This is why I decided to come this year. We are a team of 10-12 traders who will sell winter garments, shawls, pashmina kurtas, etc at the fair," he said.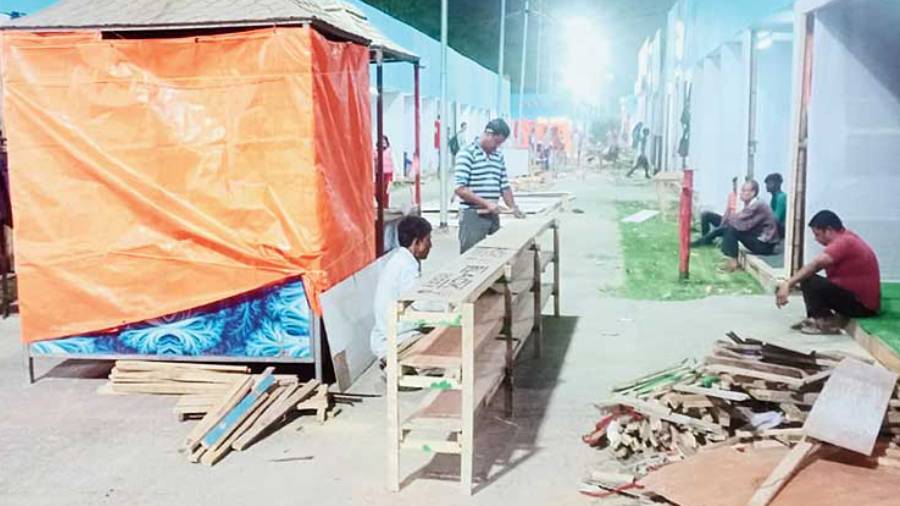 Stalls being set up on the opening day.
Showli Chakraborty
Several weavers from Fulia in Nadia have also set up stalls across the fair. "We keep travelling to many fairs around the country. But Bidhannagar Mela is very different from other fairs. The crowd that comes here is always looks for quality over quantity. They don't mind paying more for something, but the quality has to match the price. We have the latest edition of handloom saris from Fulia and are hoping to make good sales, especially for wholesale markets."
Mohammed Zafar from Sufia Jamdani Weaving Factory has come to the fair from Narayanganj in Bangladesh. He is delighted to be here again after a two-year gap. "Most of our customers are from Salt Lake. There is a good market for Bangladeshi weaves here, especially muslin and other jamdani saris. This year we have a new collection with colour combinations that have never been seen before. We also have kurtas and dress materials in cotton that come from Pakistan. The dress material is very unique with Pakistani embroidery and lace work," he added.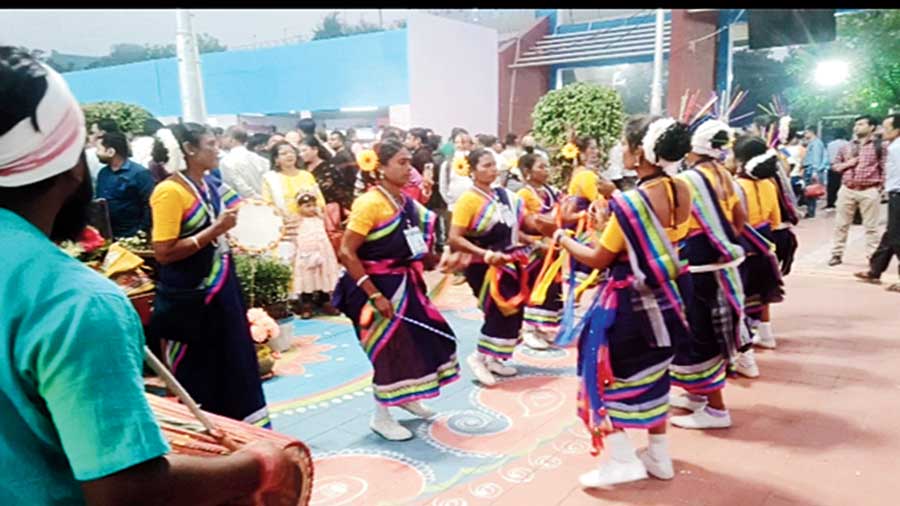 Tribal performers present a dance routine.
Showli Chakraborty
Few traders have also come from Chhattisgarh and Madhya Pradesh. "We are here with Maheshwari silk and Bhagalpur silk collections. Our silk is widely appreciated all over the country and definitely Bengal. We also have bags made of silk and batuas which are a new attraction this season," said Rajesh Pant, a trader from Raipur.
The opening
Bidhannagar Mela was inaugurated on Tuesday by urban development and municipal affairs minister Firhad Hakim along with mayor of Bidhannagar Municipal Corporation (BMC) Krishna Chakraborty, minister and local MLA Sujit Bose, minister Shashi Panja, BMC chairman Sabyasachi Dutta, deputy mayor Anita Mondal, among others.
Mayor Chakraborty cut the inaugural ribbon along with Bose and other dignitaries. Hakim arrived a little later.
Before getting on stage, the guests took a stroll around the fair at Central Park, taking stock of the situation. While few shops had been set up, most others were still a work in progress. "Most of the stalls and kiosks are ready. Others will be ready in a couple of days. By the time the weekend sets in, all the stalls will be fully functional and ready for business," said the mayor.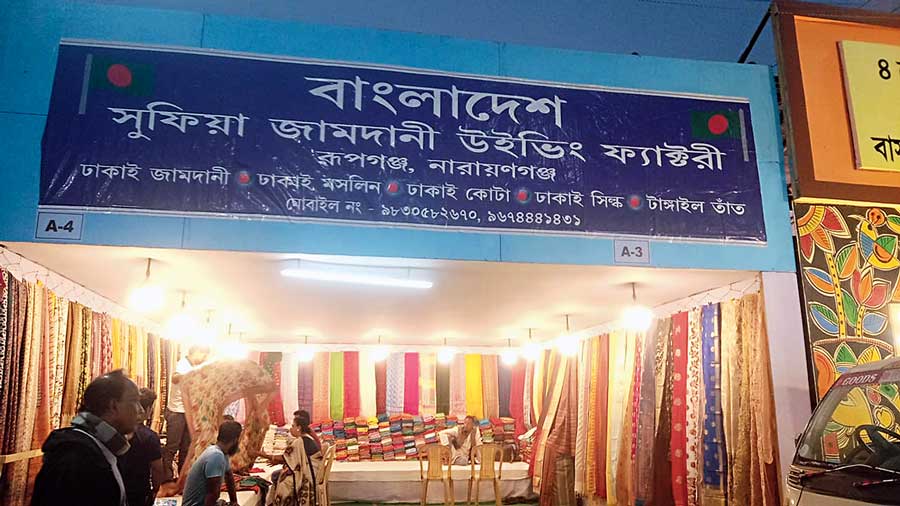 A stall selling Bangladeshi saris.
Showli Chakraborty
As more and more people poured in to watch the inaugural function hosted by the Bidhannagar Municipal Corporation, the leaders lit the inaugural lamp. After this, the fair was declared open to all.
"We have organised the fair after a two-year break. This has never happened in the history of Salt Lake before. But the pandemic made us do a lot of things that we did not imagine we would ever have to do. There are a total of 260 stalls, 18 pavillions, 36 kiosks, 71 tables and 88 dalas. There will be two amusement zones, including joy rides for children. There will also be a food park, serving winter delicacies like gokul pithe, patishapta, notun gurer mishti, etc," she added.
Chairman Dutta said: "This fair is like a winter ritual in Salt Lake. In fact, it is the most important cultural event in the township. However, we couldn't have the fair on account of the pandemic. But this time we are back with all the local attractions. This fair is something for which we do not have to ask for money from the government. We organise it with the funds of the BMC and the profits have been channelled towards construction of Rabindra Bhavan. The piling work for Rabindra Bhavan is done. Now the pillars and castings are getting made."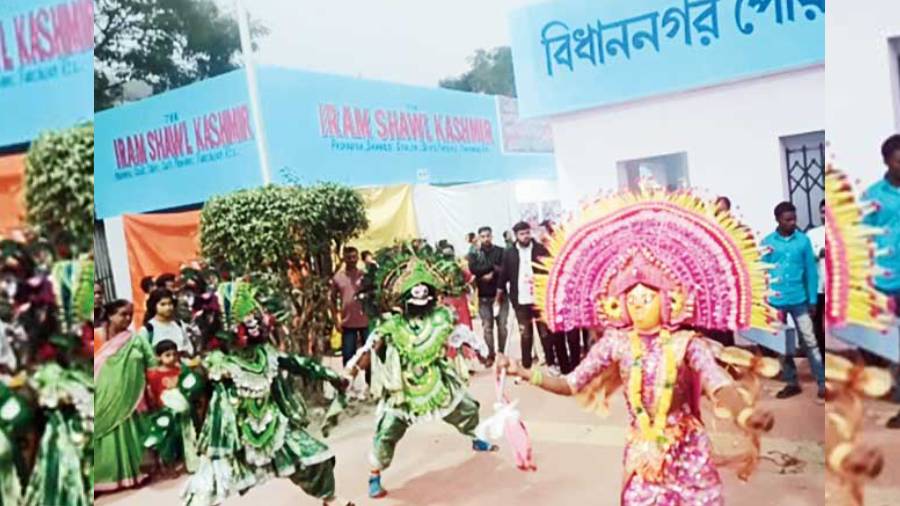 Chhau dance at the opening ceremony.
Showli Chakraborty
Hakim said: "A lot of people have accused us (our government) of indulging in mela-khela throughout the year. They think of our policies as frivolous exercises. But what they fail to realise is the fact these are the policies that keep the rural economies alive. Each and every fair is contributing towards making the rural economy stronger. The cottage industries are self-sufficient and creating a wider market for small scale industries all over Bengal. This is why we have fairs all over Bengal, in all the districts."
saltlake@abp.in