When Ishita Dasgupta graduated from Institute of Hotel Management Mumbai she wanted to start her own culinary venture. She tied up with her friend Suchismita Roy who had some experience as a restaurateur.
"There is no other theme-based cafe in New Town to our knowledge. And we chose this property keeping our theme in mind," said Ishita of the cosy BE Block address where L'Ray Treat has opened a fortnight ago.
But to convince her parents to let her voyage in uncharted waters, her trump card was her chosen theme that she knew they could not reject - Satyajit Ray.
The Dasguptas had been on the streets at different places for Ray's last journey that fateful April day in 1992. "That was before we met each other." It was raining cats and dogs. She was standing at Exide more while he was in front of Kalighat Metro station en route to Keoratala. "I had seen Soumitra Chatterjee walking in front of the cortege completely drenched, lost in a world of his own," said Ishita's father Subrata Dasgupta, a resident of Alaktika Housing complex in Action Area IID. Of course, when their daughter informed them of the theme she had chosen, they not only agreed to support her venture but they also guided the research for the décor.
Walking into the 25-seater café, the visitor comes face to face with a photograph of Ray with a cigarette stick in hand and the words "No smoking" underneath. The walls are a visual feast for Ray fans, with standalone framed photographs of the auteur at work on the sets of his films, mentioning the location and his thoughts on that film in his own words. The curtain blinds, drawn through the day, have a collage of shots from his films zebra printed on them, with translucent panels alternating with opaque ones to ensure some sunlight. There are several books by and on Roy on the racks for customers to browse. The tables too have large photographs underneath the glass top. There is Feluda on coffee cups and Pather Panchali on coasters as well.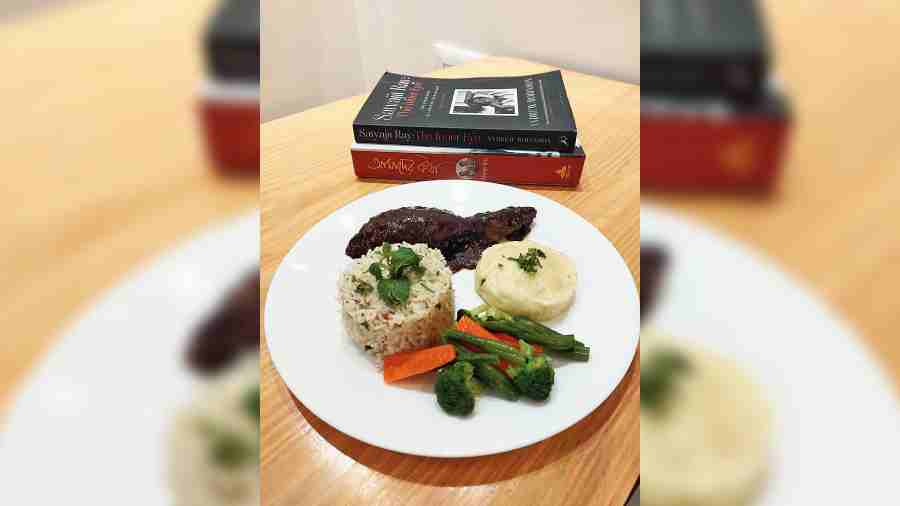 Grilled chicken platter.
Picture by Sudeshna Banerjee
"We are loving the reactions of people on walking into the café. More items are ready and the decor will be slightly changed from time to time," said Suchismita, a resident of CB Block who had met Ishita at a blood donation camp in New Town in 2020. "She was a student then but was already planning a café. I joined her once she returned after graduation."
Ishita, a trained baker, is eager to make food the reason for people to revisit the café. The menu is strictly continental with pizza being the USP. "We make the base for our hand-tossed pizzas in-house," she says. Ishita especially recommends Elo Melo, which is half chicken barbecue and half paneer (priced Rs 400-600, depending on size). Another pizza she expects to be a fast mover is Four Cheese Please, a sinful affair with mozzarella, cheddar, parmesan and processed cheese (priced Rs 340-460, depending on size).
There are choices in soups, wraps, burgers, sandwiches and pastas. Fish and Chips (Rs 400) is also proving to be popular from the main course options. And there are cakes, slice cakes and cup cakes baked by Ishita herself.
Despite it being a café, the young entrepreneurs have stressed more on tea than on coffee. "We have a tie-up in place with a new brand who are providing us with a variety of leaves, from matured Darjeeling First Flush and Single Estate Classic First Flush to Mountain Cherry Blossom and Kashmiri Kahwa. Only the coffee we are grinding fresh," said Suchismita.
Since the café is at the end of the blind lane leading to the canal, a few chairs have been laid out outside also.