Bidhannagar Mela at Central Park seems to be drawing more footfall than any other fair that has taken place at Central Park in the last couple of pandemic-hit years. Most visitors are revelling at the idea of walking into the fair after a two-year gap. The fair will continue till January 4."Bidhannagar Mela is an emotion for the people of Salt Lake. It is like a cultural amalgamation of people from all walks of life, an annual festival that we all look forward to. It is a melting pot of artistes and tradesmen," mayor Krishna Chakraborty said.Saris & moreThe sari stalls from Phulia stayed busy through the first weekend of the fair as people looked for handloom and cotton weaves. Others made a go for Dhakai saris from Bangladesh. Muslins from Dhaka, silk from Mirpur and tussar from Narayanganj in Bangladesh are big draws this year. Also popular are Benarasi saris from Varanasi, alongside carpets and wooden furniture from Uttar Pradesh.Like every year, the food stalls and the children's corner are drawing huge footfall. This year there is proper seating arrangement at the fair, with tables and chairs in place. The food stalls are also more organised with bigger space and more storage units. The first weekend saw several parents taking their little ones for rides on the giant wheel and serpent wheel. Subarna Mitra, a teacher, had come from College Street. "I used to visit the fair every year before the pandemic. In the last two years, I have missed coming here. For me, the stalls from Bangladesh and Kashmir are a big draw. I have bought a couple of scarves, shawls from the Kashmiri stalls and also some Dhakai saris from the Bangladeshi stalls. It's a lovely ambience here at the fair," she pointed out. Here are some popular items:
Carpets from Uttar Pradesh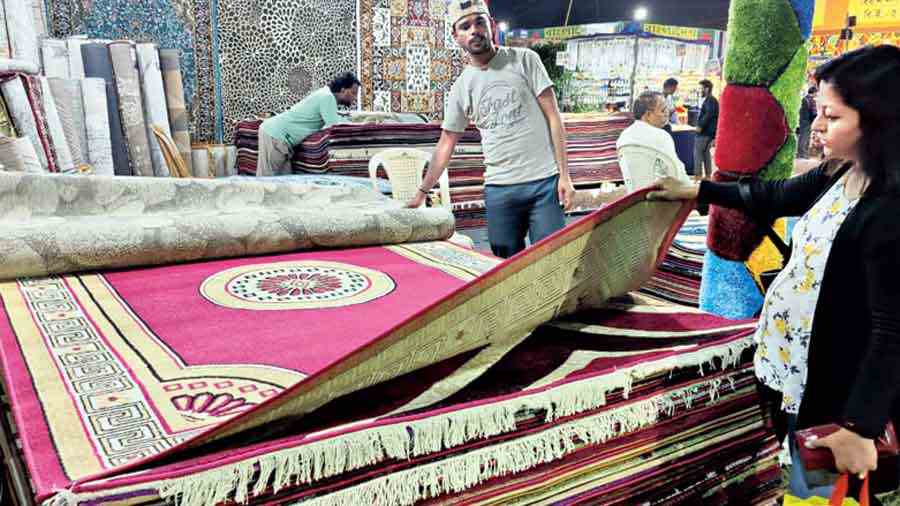 Almost 5-6 stalls from Uttar Pradesh have set up stalls selling carpets of various types. Prices vary from Rs 3,500-45,000. Hot buys are Kashmiri carpets from Srinagar.
Dhakai saris from Bangladesh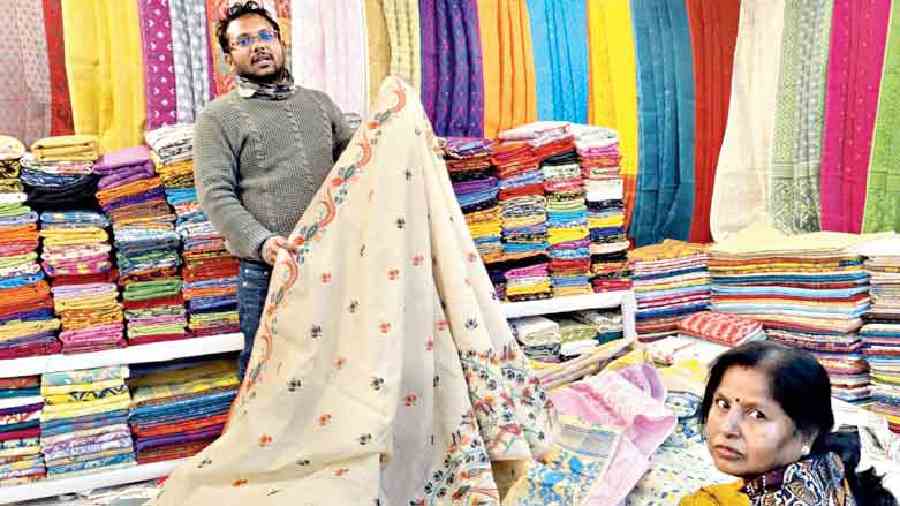 Most women who visit the fair make it a point to check out the latest collection of jamdani saris from Bangladesh. This year there are more traders from Narayanganj than Dhaka who have set up shop. Selling like hot cakes are jamdani saris, jamdani salwar kameez, dupattas, jamdani than, muslin jamdani, etc. "Narayanganj is the hub of the textile industry in Dhaka. More of the manufacturing work is done in this region, especially in places like Rupganj in Narayanganj. This is why this year we have more stalls from Narayanganj than Dhaka," said Rafiqul Islam, proprietor Sufia Jamdani Weaving Factory. Prices vary from Rs 3000-40,000.
Patali gur from Bangladesh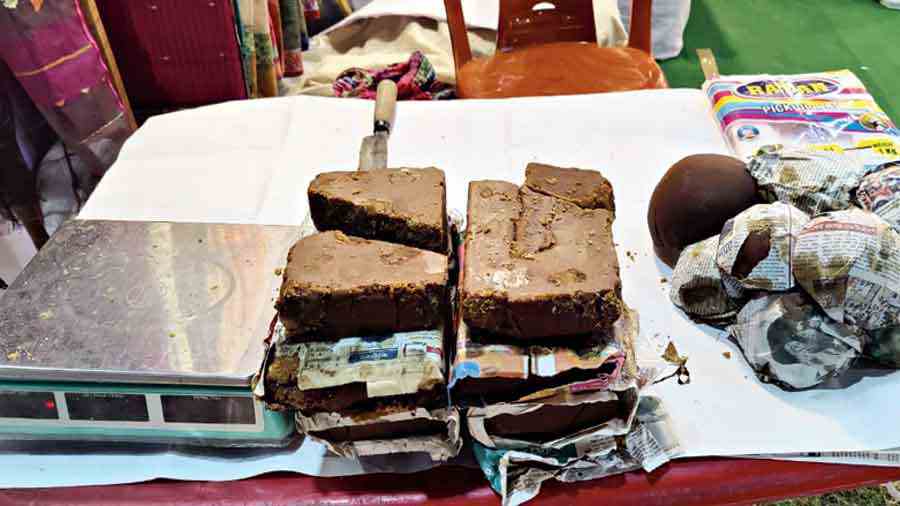 A couple of sari stalls from Bangladesh are also selling patali gur, acquired from rural areas in Faridpur district of Bangladesh. The difference between the gur from Bangladesh and the ones found in local markets, the stall-owners claim, is the ones from Bangladesh no preservatives. They also have jhola gur which they are selling in sealed earthen pots. The cost is Rs 600 and upwards.
Jutis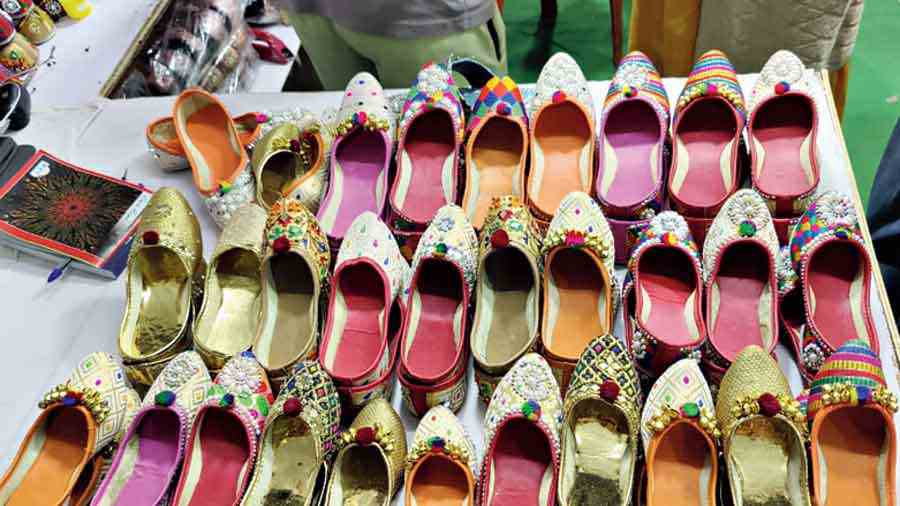 If you are looking for ethnic footwear look no further than the delightful stalls selling Jaipuri, Jodhpuri and Punjabi jutis for both men and women. There are a plethora of colours and designs. While some are embedded with embroidery, others are studded with metal ornamentations.
Crockery stalls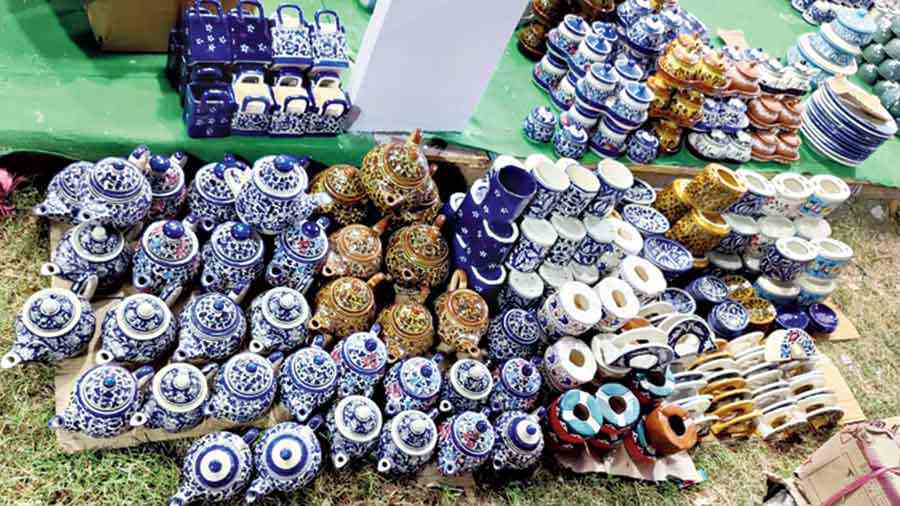 About half a dozen stalls selling ornate crockery are also a big draw for visitors. Most people are looking to buy microwave-proof or heat-proof crockery. Timeless colour combinations such as blue and white, yellow and black, gold and black are popular. The pocket pinch is upwards of Rs 500.
Dry fruits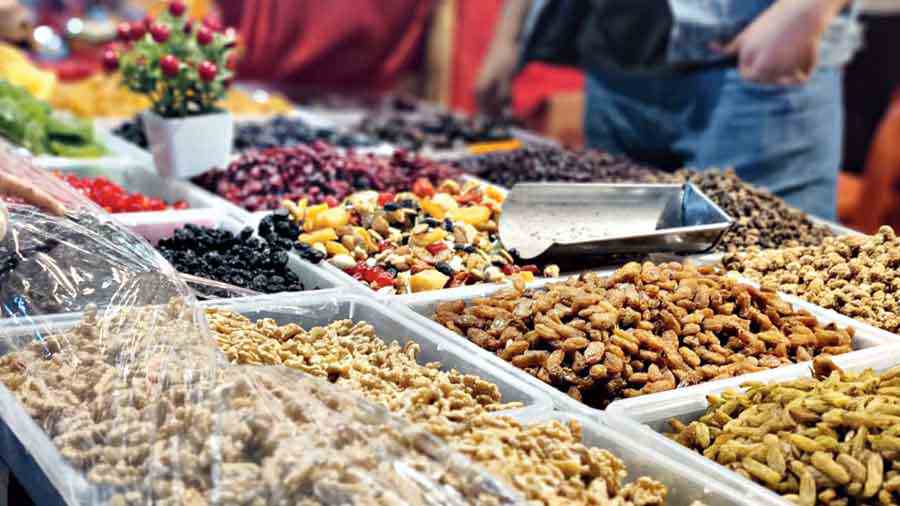 Dry fruits from Afghanistan and Pakistan, which saw prices skyrocket during the Taliban takeover, are a big draw for regulars at the fair. There is anjeer, almond, pistachio, dates, walnuts, hazelnuts, corn nuts, apricots, etc. They cost Rs 500 upwards.
Textile bags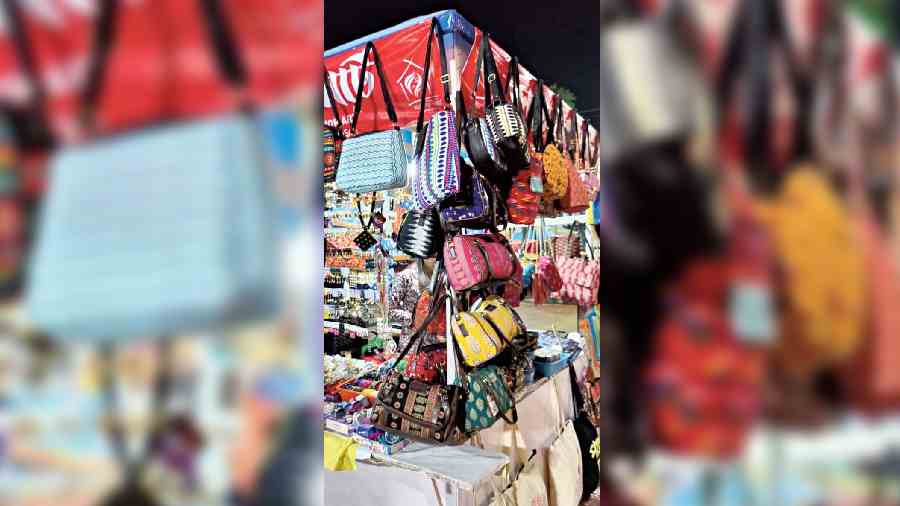 Textile bags with leather handles are quite in vogue this season. These bags are available in all sizes, shapes and colours. Prices begin at Rs 350 and rise.
Lamps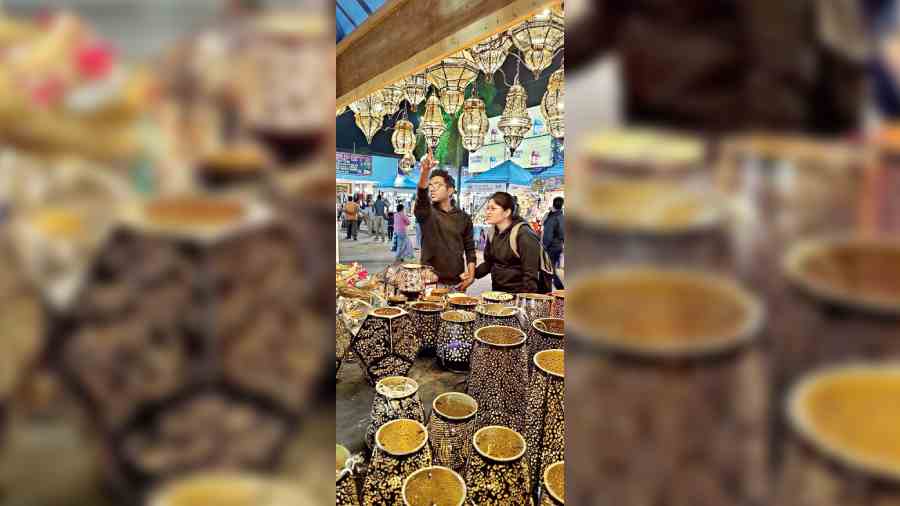 Bronze lamps with patchwork design are also quite popular at the fair this year. Come Diwali and Kali puja, these could be an economical way to light up your home. Price: Rs 200 onwards
Ceramic wonders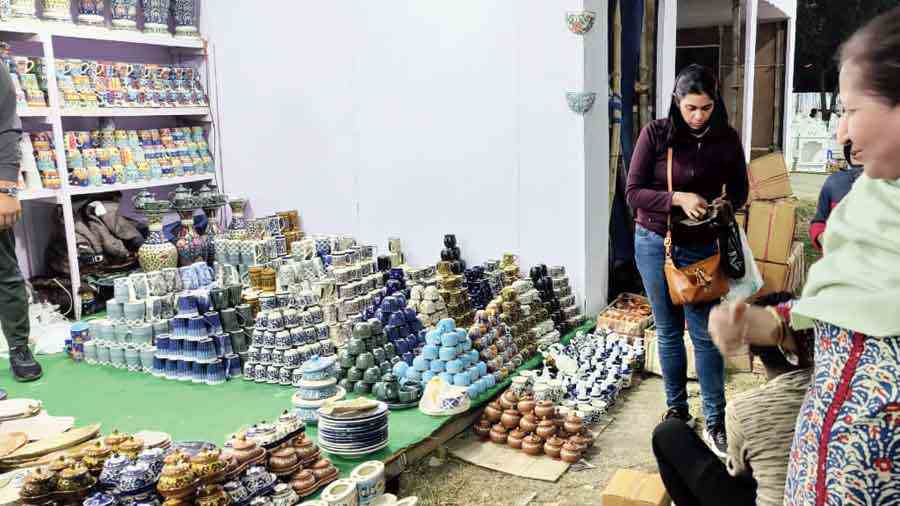 Ceramic wonders in the form of Turkish lamps, evil eye, mementoes, bowls, showpieces, etc are immensely popular. The stall with Turkish lamps is probably the most beautiful owing to its décor and hence draws buyers as also people eager to take pictures. Price range for lamps: Rs 30,000 onwards, porcelain mementoes Rs 1,000 onwards, evil eye Rs 600 onwards.