Kalyan Dhar — the man whose name has emerged as one of the joint directors of at least three companies owned by Arpita Mukherjee, is a Class IX dropout and had been engaged by Arpita for a salary of Rs 10,000.
His job was to drive her car and carry cosmetics and tissue paper boxes to her nail-parlours across the city, Dhar told The Telegraph on Wednesday. Dhar is also Arpita's brother-in-law.
According to sources, the Enforcement Directorate (ED) has got documents related to the three companies in which Arpita and Dhar's names appear as joint directors.
Dhar was the first person Arpita had asked the ED officers to contact after her arrest on Saturday evening.
According to protocol, any person, who is arrested, has to inform about his / her arrest to a person of his / her choice. When Dhar did not take the calls, Arpita contacted her cook.
"I am a professional driver. I used to get Rs 8,000 a month for driving private vehicles. In 2011, my wife's elder sister, Arpita, offered me a job for Rs 10,000 a month. I have two sons and an ailing mother. I accepted the offer," Dhar told The Telegraph. 
Dhar claimed he was not aware that he was a "joint director" of any company.
"I used to drive Arpita's Tata Indica. Later, she hired two more drivers and my job profile changed. I used pay her maid and dog trainers at Diamond City South. I also carried cosmetics and products to her nail parlours," Dhar said.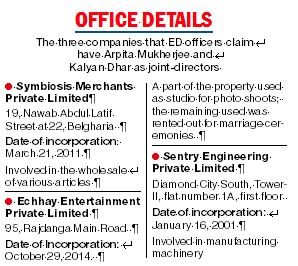 ED officers said till on Wednesday they had found three branches of Arpita's nail salon, named "The Nail Place", at Tobin Road, Patuli and Lake View Road.
Dhar, a resident of Dewanpara in Belgharia on the northeaetern fringes of Kolkata, lives in the same neighbourhood where Arpita has her ancestral home. Dhar claimed that he left his job in 2018 after Aprita refused to increase his salary. "A few months later, she re-hired, today my salary is Rs 18,900," he said.
Dhar said he was yet to be contacted by ED officers. "I will cooperate with them. But I had no clue that there was so much money in those flats," he said.
ED officers said interrogation of all the people whose names have emerged, would be part of the probe.