Argentina's 3-0 win against Croatia on Wednesday morning and the vintage Messi's magical footwork mesmerised football fans across West Bengal.
Throughout the match, Argentina fans were sitting on the edge and now they want the legendary Messi to lift the trophy!
Even as Argentina fans have already started preparing for the "win" in the final on December 18, 2022, Brazil fans have also joined the party!
After Wednesday's victory, Kolkata is now dressing up for Argentina's "win" in the final. Celebrations in the city started even before the match against Croatia ended.
Midnight party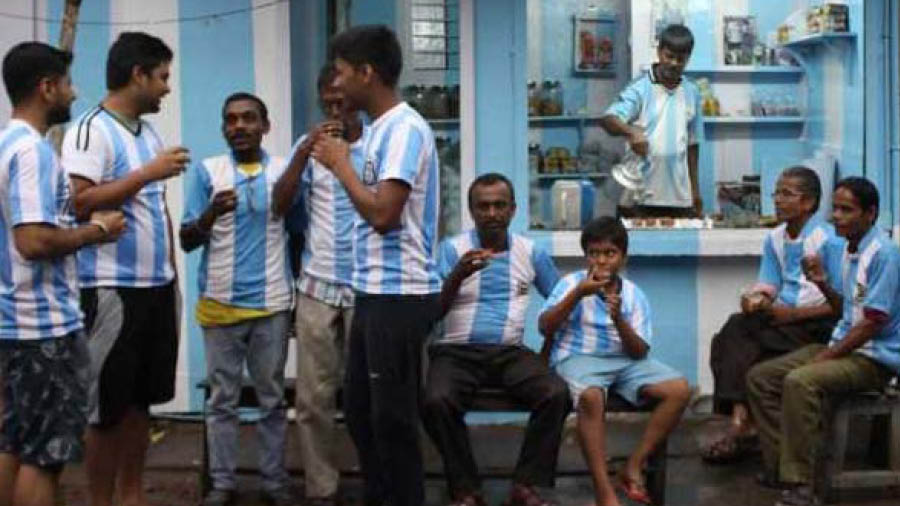 Argentina fans crowd fellow fan Shib Shankar Patra's tea shop in Ichapur
Shib Shankar Patra
Tea-seller and diehard fan of Argentina, Shib Shankar Patra from Ichapur, has been serving tea free to all Argentina fans since the beginning of the tournament. On Wednesday morning, after the second goal was scored against Croatia, Patra was sure that the matchless Messi would be playing in the final. "I am superstitious and have decided to continue with my routine and not try anything new so that Argentina can maintain its winning-spree. I will keep serving tea to fans and would welcome fans to watch the match with me," said Patra, who had painted his house 'blue & white' in 2018. He also said if Argentina lifts the cup, he will spearhead a rally in the area.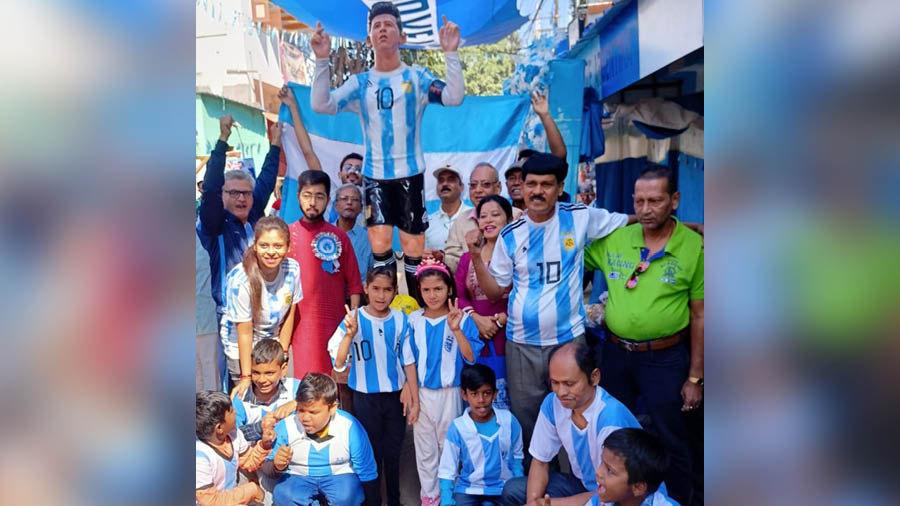 Argentina fans pose with a huge Messi model and the team's national flag near Shib Shankar Patra tea shop
Shib Shankar Patra
Meanwhile, elderly residents of an old age home at Kestopur for whom Lionel Messi is more than a ghorer chhele, the win was celebrated with a cake. Actress Payel Sarkar was present at the home on Wednesday afternoon to be a part of the party. "We were waiting for this win. Now, no one can question his (Messi's) ability. He is the world's best footballer," said 80-year-old Bina Baruli.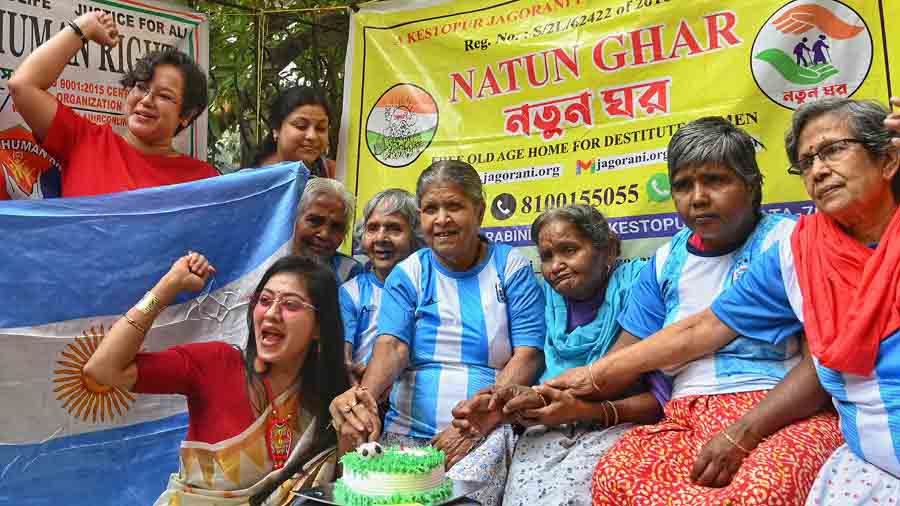 Elderly residents of the old-age home cut a cake to celebrate the team's win
Amit Datta
High demand for Argentina jersey
Since the beginning of the FIFA World Cup in Qatar, there has been huge demand for Argentina and Brazil jerseys. After the quarter-final stage, the demand for Brazil jerseys nosedived, but the demand for the blue and white jerseys has gone up manifold. "Since Wednesday afternoon, I have sold nine Messi Jerseys. There is a sudden demand for Julian Alvarez's jersey, but I am afraid I don't have much in stock," said Md Shamim, a vendor. Looking at the final, fans have already started procuring flags and jerseys. Tollygunge Friends' Association purchased 100 small flags on Wednesday afternoon. "Now, we are sure that Argentina will lift the trophy and so we need to decorate and cover a lot more area," said Suman Mondal, a member of the club.
Huge turnout at sports bars
Football fans made a beeline for the sports bars in the city and almost all seats were occupied at least an hour before the match started.
Clad in blue and white jerseys and holding aloft the flag, Argentina supporters in Kolkata cheered for the Messi brigade. "We also had a group of Argentines at the club on Tuesday night. The scene was electrifying and we had goosebumps thinking about the final. The Messi magic against Croatia was simply an ethereal treat. Argentina, it seems, is just one match away from winning the trophy," said Bunty Vishnani, owner of BJs Sports Lounge.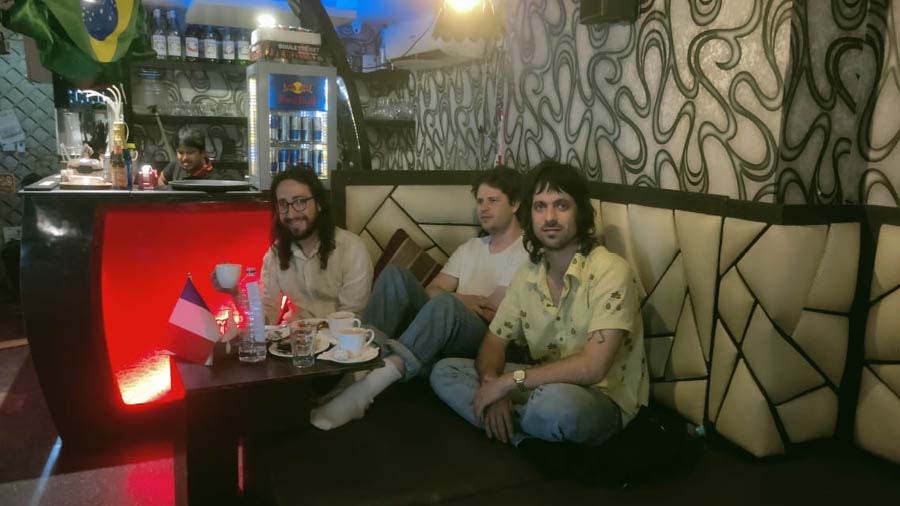 Fans from Argentina enjoy the match at BJ's Sports Lounge
BJ's Sports Lounge
Brazil fans hail Argentina
Brazil supporters too had gathered at the sports bars to enjoy the match. "Messi was simply superb. He was picture perfect. It's such a delight to watch him play," said Soumyajyoti Sarkar, a student and a Brazil fan.