Around 4,000km away from Qatar, a different kind of football World Cup concluded recently. Just like FIFA's version in 2006, Italy beat France in the final to become champions. The losing semi-finalists were Germany and — hold your breath — India. Argentina, Senegal and the Korea Republic were the other teams that played well. What seems like a parallel multi-nation tournament was actually a three-touch role-playing football competition for underprivileged kids in the village of Binpur, in the Jhargram district of West Bengal.
"I wanted my players to understand the importance of close control and passing in football, where the idea is to play on the ground without hitting aimless long passes or giving the ball to the best dribbler and waiting for them to win you games," says Debjan Sengupta, 28, the football coach of StarKid Football Academy in Binpur and the man who designed a mini World Cup for his young players. Sengupta credits legendary Indian football manager Syed Abdul Rahim — "The man who used the 4-2-4 formation before it produced two World Cup titles for Brazil" — for the invention of three-touch football, where each player can take a maximum of three touches of the ball before passing or shooting. No pass can be received above the waistline, and an infringement of the rules results in a foul, or in Sengupta's case, "a penalty from the centre circle (in a mini-field)". Players who excelled at the tournament were awarded new boots, shin guards, even whey protein supplements. "I wanted them to be extra motivated to win the things they can't afford to buy. It gives them even more reason to do well," says Sengupta.
'Where is Senegal? I want to know more about them and their country'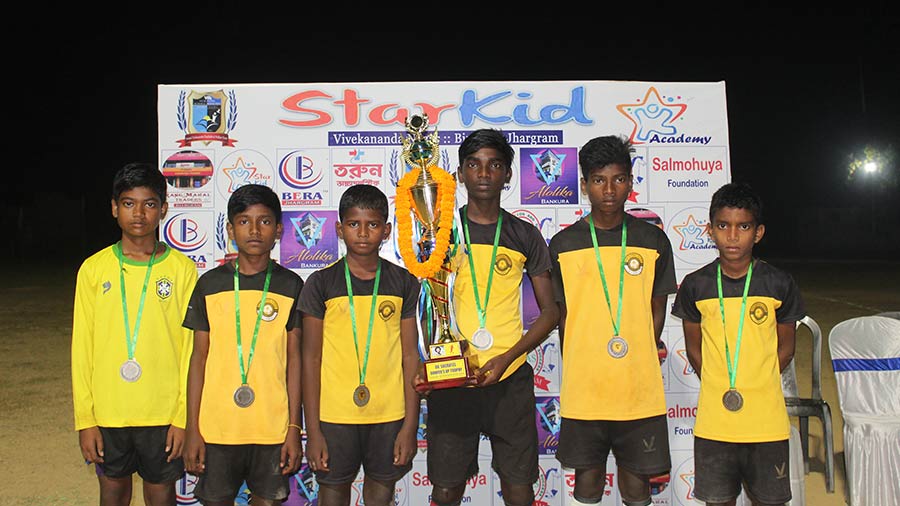 The winners of the three-touch football tournament, representing Italy
Debjan Sengupta
Not only did Sengupta's players, aged mostly between 13 and 17 (though some are as young as eight or nine), show immaculate composure on the ball, but the tournament catalysed their minds into asking much larger questions. "Where is Senegal? I want to know more about them and their country," asked the player who was assigned to be the captain of Jhargram's Senegal contingent. "I opened my laptop and started showing him videos about Senegal and Africa," recollects Sengupta. Players representing the Korea Republic were slightly bemused when they saw their real-life counterparts on the computer. "They're not from Korea, we've seen them here in India, in the Northeast," said some of them, leading Sengupta to give them a brief geography lesson. "Most of these kids have never been on the other side of the Howrah bridge. For them to be talking about international football and learning the basics of nations thousands of miles away is encouraging," said Sengupta, who has an unshakeable belief in the universal appeal of the beautiful game.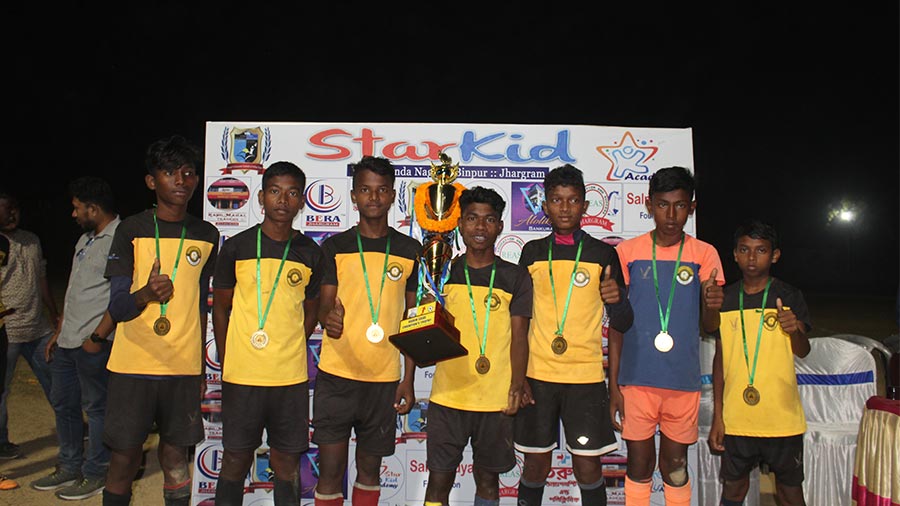 The runners-up, representing France
A combination of injuries and personal circumstances prevented Sengupta from playing football at the highest level, though he is quick to add that "I was, at best, a six-out-of-10 player. On some days, I was an eight". Having played consistently in his school days, which involved breaking his left leg on the same ground in Taltala on two separate occasions, Sengupta, an Italy and Carlo Ancelotti fan, was all set to captain the Jadavpur University team during his college days. Then 'Hok Kolorob' happened and Sengupta's football aspirations fell silent for the time being. After his degree, Sengupta briefly worked with a sports agency, before taking up a series of assignments in social work that took him across the country, from Arunachal Pradesh to Uttarakhand. A few football coaching stints in schools and the Calcutta Cricket and Football Club followed, before the offer to coach 80 kids in Binpur was presented to him earlier this year.
Many do not get two square meals everyday… but their passion to play remains unaffected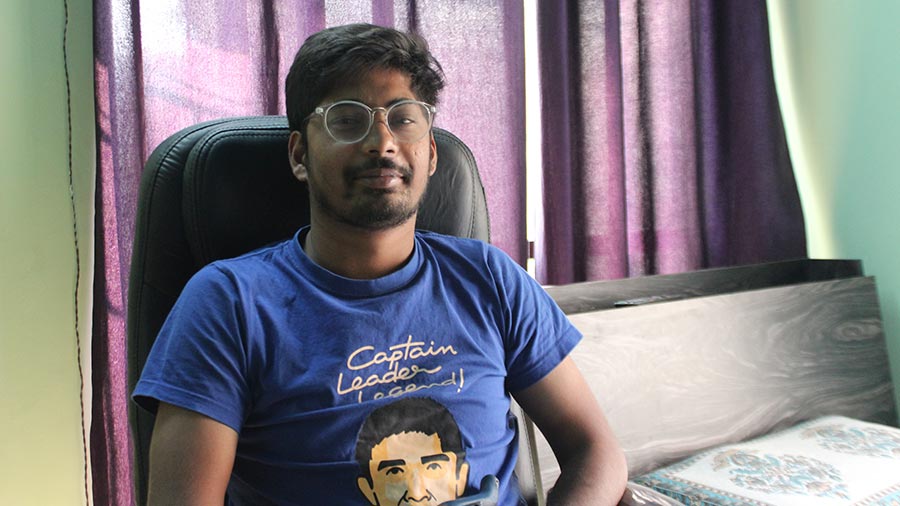 Sengupta feels that his players cannot dream big in football if they do not see the best players in the world in action
Sourav Nandy
A far cry from the urbane, bustling neighbourhood of Kolkata's Golf Green, where Sengupta stays, the StarKid Football Academy in Binpur acts as a refuge for children who barely have any leisure in their lives. Belonging mostly to Adivasi families, many of them do not get to have two square meals daily and only one from Sengupta's present group of players seems to have a Body Mass Index (BMI) appropriate for an aspiring athlete. And yet, when Sengupta opened the football equipment room of the academy for his first look, he found no less than 50 footballs. "That was the moment I knew I was going to take up this job," smiles Sengupta.
Having started with "my boys" in September, Sengupta has made three major changes to their training and lifestyle so far. First, the players staying in the nearby hostel have been put on a regimented diet with adequate meat intake besides being monitored regularly for nutrition. For the rest, many of whom cycle long distances in the early hours of the morning to make it to practice, Sengupta needs much more than a cook willing to cook meat and a few friends willing to chip in with financial assistance. Second, Sengupta has incorporated a proactive, passing-oriented style of football that involves "playing with the mind as much as playing with the body". Third, he has taken it upon himself to make his youngsters watch the best footballing talents from across the world, with match screenings every weekend.
'Everyone is supporting teams that win, leaving poor Qatar alone, so I decided to root for them'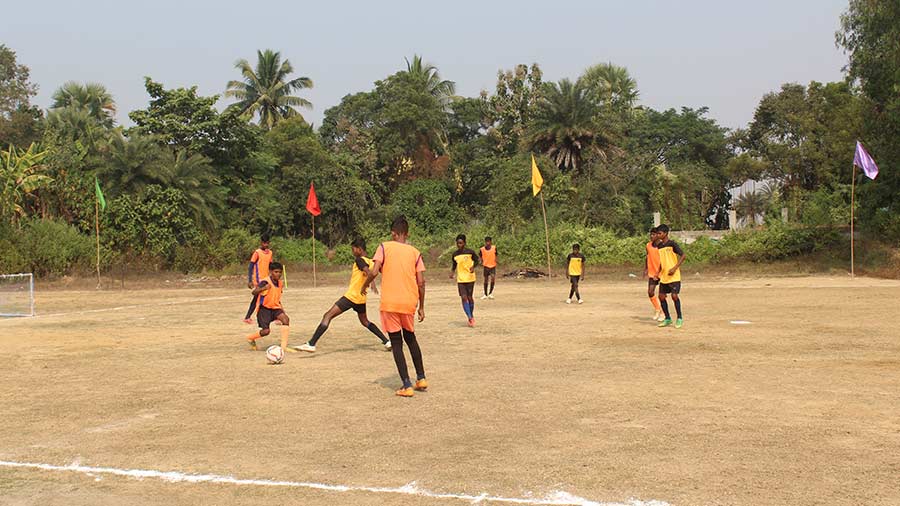 Sengupta's students during a passage of quick, intense passing in a match
Debjan Sengupta
"I started by showing them Barcelona's 5-0 win over Real Madrid in November 2010. For 90 minutes, there was pin-drop silence," says Sengupta, trying to convey the sense of awe the kids felt with his facial expressions. "We moved on to watching several other European club games, before the World Cup kicked off in Qatar. The first World Cup match I screened was Japan's shock win over Germany. Even though these kids had never seen either of the teams play, they quickly chose their camps and even drew flags for their new favourite nations," chuckles Sengupta. Over the coming weeks, each of Sengupta's players picked a team from Qatar, including the hosts themselves. "I asked one of the kids why he was supporting Qatar, to which he replied: 'Everyone is supporting teams that win, leaving poor Qatar alone, so I decided to root for them.'"
A severe injury (due to a nasty fall from the stairs) in Binpur means that Sengupta will not be able to join his players to take in the knockout action from Qatar, though he has made arrangements to let them watch the climactic weeks of "the greatest show on earth". "If you can't see it, you can't dream it. For young players to know what they want to do, they have to know what is possible. We don't just watch the best matches, but also dissect them in detail later on. Players come up to me and pick my brains on tactics, passing and positioning. There's nothing more satisfying than when they try to challenge my way of looking at the game. That makes me a better coach," explains Sengupta.
Every morning, training at StarKid begins at 7am, with Sengupta taking charge of two separate batches. Warm-ups, fitness routines and tactics make way for practice matches till around 9.15am, with many of the players reassembling for specific skills and positioning sessions in the evening. The field they use for training is shared with young cricketers and karate students. While bibs, cones and sticks are in ample supply, some improvisations have to be made from time to time, such as using bamboo poles with jerseys as makeshift mannequins and asking the local ice factory for drums of ice for cryotherapy. Vivekananda Memorial Institution, an adjacent school run by the same trust that built the academy, also shares its classrooms for tactical discussions every once in a while.
'I hope that football is able to teach them that we all have to cover up for each other in life'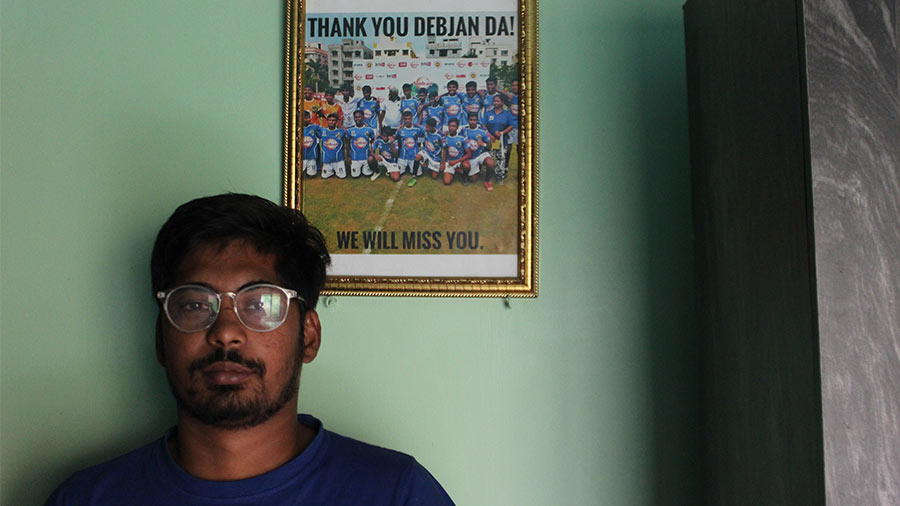 In his own way, Sengupta is helping kids in Binpur learn life lessons through football
Sourav Nandy
"We make the most out of what we have. Most people think an academy is just a place to produce players. I want our academy to produce teams. But to do that we must play more matches, close to 50 per year, so that they know what frequent competitive football is like," says Sengupta.
During one such match, Sengupta noticed that one of his star players, 16-year-old midfielder Arun, was late. "It was highly unusual since Arun is one of the most punctual boys we have," says Sengupta, who did not follow his initial instinct of berating Arun for failing to show up on time. "After the match was won and we were coming back, I found out that Arun's mother was bitten by a snake in the fields that morning. While he was rushing to get her to the hospital, she told him not to panic and go play football instead. And boy, did he play like a boss!"
Habu, a 13-year-old striker, also showed similar resolve in another of the games under the coaching of Sengupta. "A defender lunged in and made the kind of challenge that leads to one of two things for the victim. Either you decide you're done or you take the next step and become tougher. Once I saw the look in Habu's eyes after the tackle, I knew he had taken the next step," says Sengupta, who points out that Habu mostly gets to have one meal a day. If he is lucky, Habu's parents will be able to give him rice, dal and 200gm of chhola.
"You can't expect a country that is below most of its neighbours in the World Hunger Index to dream of playing football at the highest level," laments Sengupta. He is the first one to acknowledge that a decade down the line, most of his current students will not be mastering his favourite 3-4-3 formation for India, hoping to mastermind a win against Brazil. Even though he has a three-year plan that should see many of these kids transition to Maidan and division football in Kolkata, Sengupta can only go so far without active collaboration from all stakeholders.
What, then, is Sengupta's long-term goal when it comes to these kids? With a pause and a characteristic zeal in his eyes, he says: "I hope they become happy, that football is able to teach them how we all have to cover for each other in life. If you know that someone behind you or ahead of you is there to protect you, you aren't afraid of trying new things and making new mistakes."