By next year's monsoon, New Town Action Area III should be better equipped to deal with drainage of rainwater. On May 17, work began on three pumping stations in the area and the projects should take eight to nine months to complete. To tackle the monsoon showers before that, temporary pumps would be installed too.
The work was inaugurated by minister of public health engineering Pulak Roy, Debashis Sen, managing director of Housing and Infrastructure Development Corporation (Hidco) and chairman of New Town Kolkata Development Authority (NKDA), local MLA Tapas Chatterjee and panchayat leader of South 24-Parganas, Jahanara Bibi.
"All the water accumulated due to heavy rainfall will be sucked in by these three new pumps and transferred to Bagjola Canal," said Sen. "This problem of water-logging came to our notice last September. Engineers at NKDA, PHE and Hidco have worked together to excavate new canals across almost 150km to divert the flow into bigger canals to avoid inundating residential areas and roads. The peripheral canals have been dredged to maintain water outflow."
Action Area III includes complexes like Uniworld City and Shukhobrishti. While the drainage pumping stations will take eight to nine months to build, he promised temporary pumps to handle excess rainwater this year during the monsoon.
MLA Chatterjee said waterlogging was a major problem in the area. "We have been working for the development of New Town and have come a long way though more needs to be done. We can see an end to the water logging issue now," he said.
The pumping stations will cover 22m while the pumps will be 40m deep. As much as 723 cusec water will be sent to Bagjola via the three pumping stations. Three new canals have also been dug up in the region to channel the water into the Bagjola Canal. The project cost has been pegged at Rs 65 crore and is being funded by Hidco and the engineering department of PHE. A video film on the project was also played.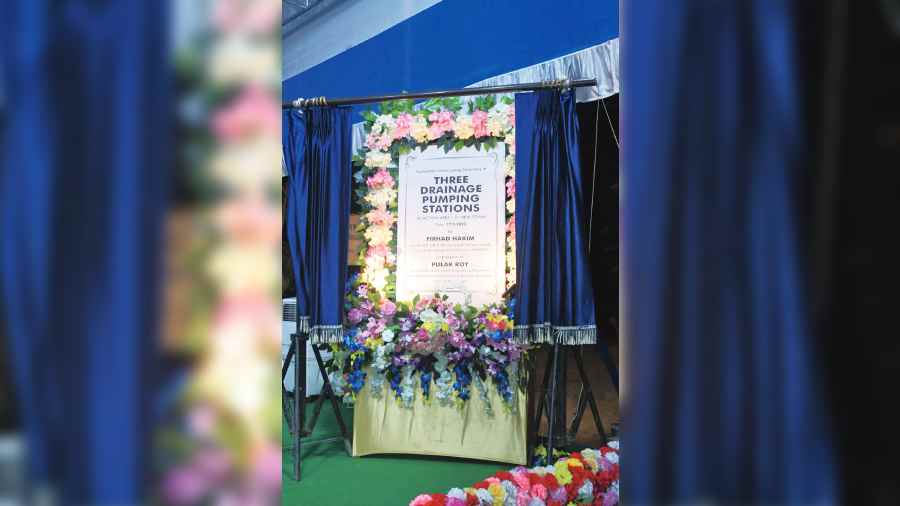 The foundation stone for the pumping stations unveiled by the authorities.
Sourced by The Telegraph
More stations coming up
Another pumping station is being built just behind City Centre II, near Jatragachhi. "Work is almost complete there and this station will handle water accumulation near the airport, Haldiram-VIP Road and Chinar Park. The water from there will get redirected to the Bagjola Canal," Sen said.
Also, in December 2021, the foundation stone for the construction of the Cantonment pump house was laid in Harichand Pally, Kestopur, within Ward 17 of the Bidhannagar Municipal Corporation (BMC). The pumphouse is being built on the Cantonment Canal along with a sluice gate with six vents. This too will drain into Bagjola Canal which in turn drains into Vidyadhari river. The Kestopur project is set to cost Rs 18.77 crore.
Trinamul leaders from adjoining gram panchayats were present at the event and were vocal about water woes and bad road conditions that they have to negotiate on a daily basis.
"I request Hidco officials to also look into the development of adjoining villages in New Town. You cannot have one side of the road look glimmering with lights and the other engulfed in darkness," said panchayat leader Jahanara Bibi. "I request Hidco to repair roads, install street lights and dig drains in these villages."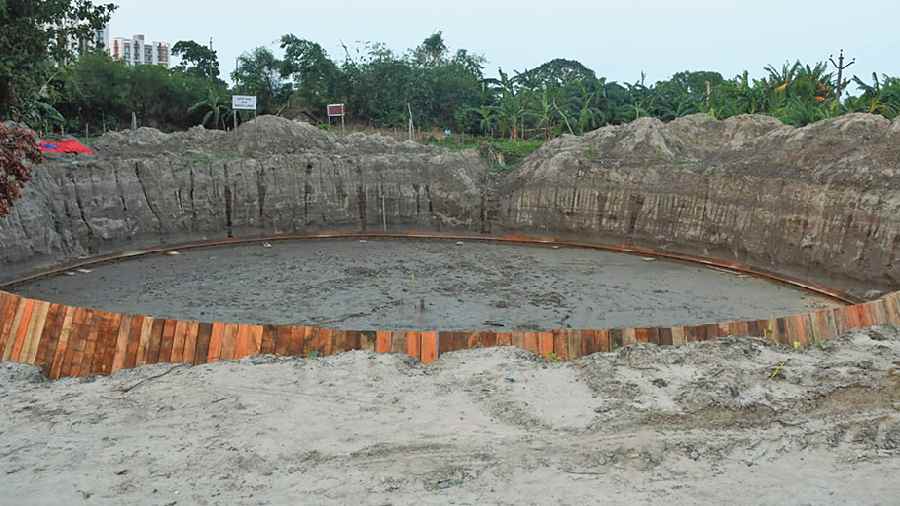 The site near Rosedale Gardens where one of the pumping stations is coming up
Sourced by The Telegraph
Swimming pool manual
The officials also took the opportunity to release a safety manual for swimming pools across New Town. This follows the death of an eight-year-old girl in the swimming pool of Millennium Towers earlier this year.
The manual specifies the rules pools should follow and what security measures they should take. For instance, security guards must be present at all hours and safety kits should be at hand. It also carries steps on life-saving techniques in case someone is drowning.