A stormwater drainage pumping station is being built near City Centre II, close to Chinar Park, to ease the waterlogging woes of areas like Chinar Park, Haldiram and Kaikhali off VIP Road and parts of New Town.
The start of the project was marked last Friday by Bidhannagar Municipal Corporation chief Krishna Chakraborty by breaking a coconut ceremonially in presence of local MLA Tapash Chatterjee, Rajarhat Gopalpur MLA Aditi Munshi and Housing Infrastructure Development Corporation (Hidco) managing director Debashis Sen.
The pumping station will be equipped with at least two 25 horsepower pumps and a network of pipes will be laid in these places to drain out rainwater, said an official of Hidco which is building the station, along with the public health department (PHE).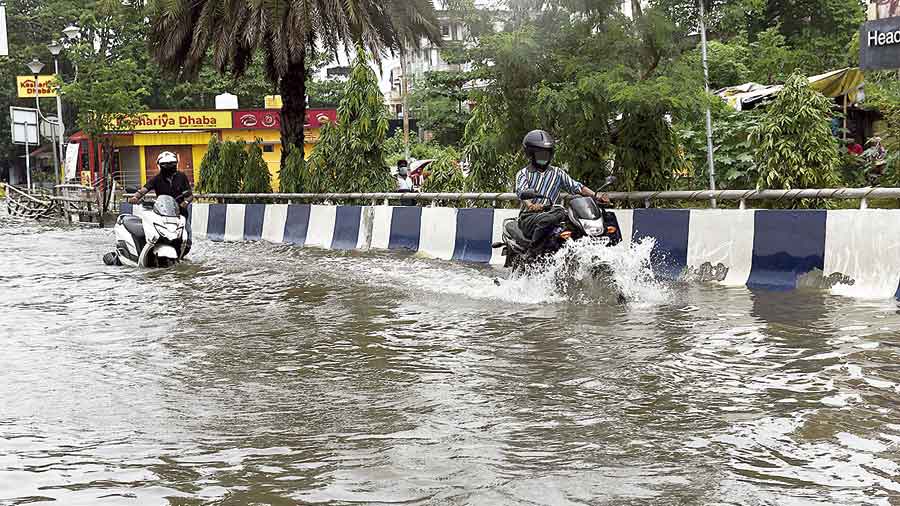 An inundated street at Chinar Park this monsoon
A number of places in New Town remained waterlogged for at least a week that eventually even led to road cave-ins at several places when the city was lashed with heavy showers in September.
Some of the worst-affected parts were in Action Area III where housing complexes like Elita Garden Vista and Sukhobrishti Housing Complex were completely inundated.
The situation was similar in Action Area II where the main roads leading to complexes like Greenwood Elements behind City Centre II saw heavy waterlogging.
Stretches of the VIP Road including its service lanes get inundated nearly every time during showers near the Haldiram's bus stop and Kaikhali intersection among others.
A section of the Major Arterial Road that cuts across Chinar Park also been getting inundated due to waterlogging for the past several years.
According to a Hidco engineer, the pumping station will have the capability to drain out 1 million litre of water per hour.
Apart from this at least four new pumping stations will come up in New Town, the official added.
"We expect to commission the pumping station before next year," the official said.
The total cost of the station has has pegged at Rs 3 crore.
What other steps need to be taken to stop New Town's water-logging? Write to The Telegraph Salt Lake, 6 Prafulla Sarkar Street, Calcutta 700001 or email to saltlake@abp.in