After two days of intense competitive junior golf in the sweltering April heat at the Tollygunge Club, Ahaan Gupta and Anaahat Bindra emerged as the big winners of the second edition of the West Bengal Junior State Championship, organised by the Bengal Golf Association (BGA) between April 7 and 8.
Featuring 55 aspiring golfers, the tournament was contested over two rounds of individual stroke play, with a total of 36 holes used to decide the winners. A part of the Protouch Junior Tour, the championship comprised five different categories for both boys and girls. 
The first two categories for boys, A (for boys over 15 years) and B (for boys between 13 and 15 years) were both won by Ahaan Gupta, who fired 158 in both rounds. His tally was six strokes clear of Armaan Tekriwal and Garv Lakhmani, though it was Armaan who came second in both categories due to a superior back nine in round two. 
In the C category (boys between 12 and 13 years), a thrilling playoff saw Shloke Guha Mazumdar beat Andrew Baid, both of whom finished tied on their day two scores of 186. Aryaveer Agarwal won the D category (boys between 9 and 12 years) with a score of 175, followed by Darshit Chaurasia in second place with a score of 184. In the E category (boys under 9 years), Akshansh Modi emerged victorious with a score of 96, two points better off than Hrian Khem in second place.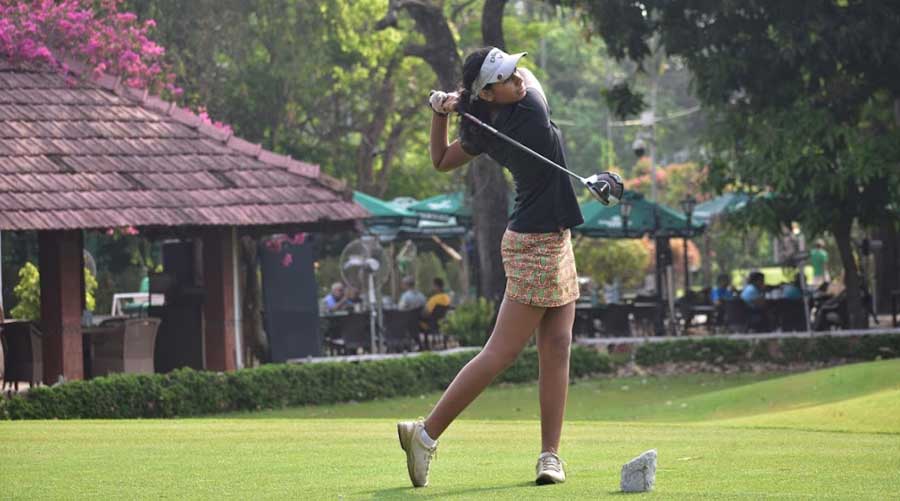 Anaahat Bindra finished first across the A and B categories of the girls' section
Protouch Sports
In the girls' section, it was Anaahat Bindra who came up trumps, winning both the A and B categories (same age division as the boys) with a score of 163 in both rounds. Fizza Ali, at 168, finished second.
The C and D categories for the girls also saw a combined champion in the form of Julinka Roy Chowdhury whose score of 197 was more than enough to see off Ishikha Bansal, who ended on 208. Vaanya Rustagi comfortably won the E category with a score of 100, which was a considerable 22 strokes less than second-placed Myra Kaur Chandok.