Parsee cuisine comprises a variety of dishes that are as vivid as the culture itself. The Parsees migrated from Persia and settled on the west coast of Gujarat during the seventh to 10th centuries. Their food has evolved into a unique regional cuisine resulting from an amalgamation of Persian, Indian and British influences over a period of time. The Persian Zoroastrians were among the last of an imperial dynasty that, at its height, is said to have commanded as much as 44 per cent of the world's then population, reaching from the Indus Valley in the East to Northern Africa in the west.
The Parsees are known for their charity. Their religion encourages both the creation of wealth and its righteous distribution. Unfortunately, with iconic Irani cafes slowly shutting down, only a handful of restaurants still serve authentic Parsee food. It is one of the hardest foods to find. If you want to taste good Parsee food, you will typically have to get yourself invited to someone's home.
I was lucky to be brought up in Mumbai. We had lots of Parsee neighbours in Cuffe Parade. So we attended lavish Parsee weddings and Navjotes. Parsees love their eggs (edu). They can have it on anything at any time of the day. And no mention of Parsee cuisine can be complete without the famous Dhansakh, traditionally served with brown rice and round kebabs. Here's how you can get Parsee food on the table, even if you can't order it in.
AKOORI
Akoori is a very popular Parsee breakfast dish. It is a version of scrambled eggs but creamier and delicious.
INGREDIENTS
Eggs: 4, whisked
Onions: 1 cup, chopped fine
Oil: 2tbsp
Garlic paste: 1½tsp
Green chillies:1tbsp, chopped very fine
Tomatoes: ¾ cup, chopped very fine
Coriander leaves: 2tbsp, finely chopped, and some for garnish
Turmeric: ¼tsp
Red chilli powder: ½tsp
Sambhar masala (optional): 1tsp
Butter: 1tbsp, chilled
METHOD
Heat oil, add onions, garlic and green chillies. Saute till the onions become translucent.
Add tomatoes, turmeric, red chilli powder and salt. Cook for 3 minutes till the tomatoes get mushy. You can mash them with the back of your spoon while cooking it.
Add the coriander leaves and mix well.
Now add the eggs on low heat slowly. Stir continuously before it starts getting solid. When it is still runny and creamy turn off the heat.
Now add the cold butter. Mix lightly till the butter melts and turns creamy.
Garnish with coriander leaves.
Best had with pav or bread.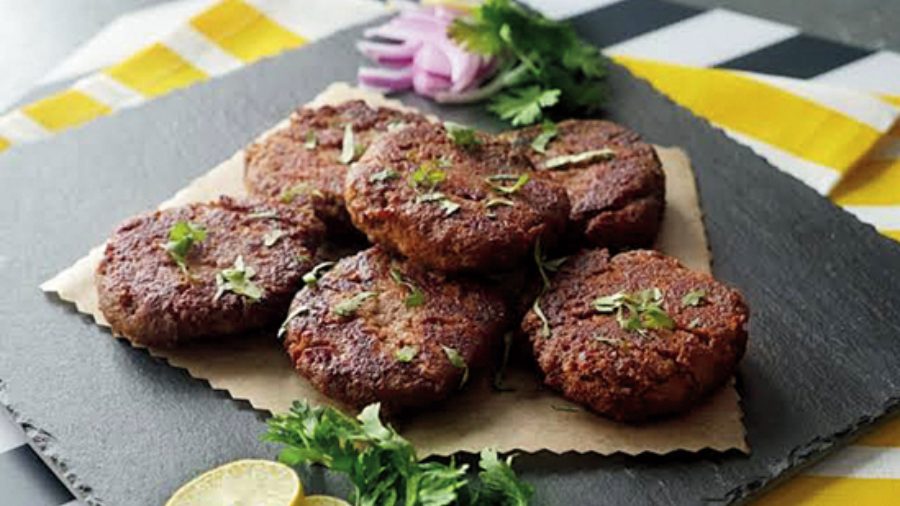 PARSEE-STYLE MUTTON KEBABS
These are usually had with Dhansakh as an accompanying dish.
INGREDIENTS
#For the kebabs
Mutton mince: 250g
Onion: 1, fried
Coriander leaves: ½ cup, finely chopped
Mint leaves: ¼ cup, finely chopped
Green chillies: 3, very finely chopped
Potatoes: 2, boiled and mashed nicely
Turmeric: ½tsp
Cumin powder: ½tsp
Coriander powder: ½tsp
Garam masala powder: ½tsp
Red Kashmiri chilli powder: 1tsp
Ginger garlic paste: 1tsp
Salt: 1tsp
#For dredging
Eggs: 2, whisked
Flour seasoned with salt and pepper
Oil: For shallow frying
METHOD
Mix all the ingredients for the kebabs well. Shape them into round balls. Flatten them very slightly. Refrigerate for 30 minutes.
Dredge each kebab in flour and then in egg and immediately fry on medium heat till it is browned on both sides. It will take 3 minutes on each side.
These delicious kebabs can be had along with the Dhansakh or even standalone as a snack.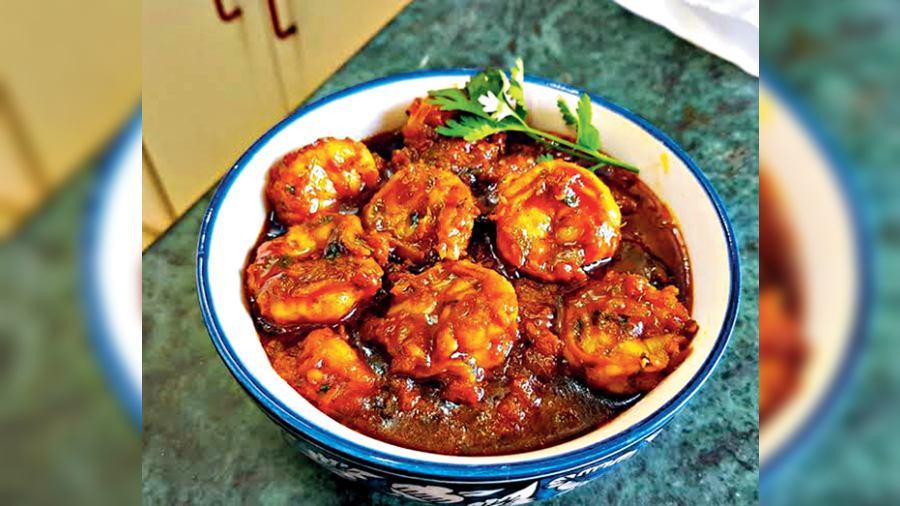 PRAWN PATIO
This is a very famous Parsee dish that is usually had with yellow dal and rice. This combination is called Dhandaar Kolmi nu Patio (dhan means rice, daar is yellow lentils and Kolmi nu Patio is the Prawn Patio).
INGREDIENTS
Prawns: 500g
Onions: 2, chopped fine
Tomatoes: 2, chopped fine
Garlic paste: 1tsp
Green chillies: 3, finely chopped
Kashmiri red chilli powder: 2tsp
Turmeric powder: 1tsp
Cumin powder: ¾tsp
Salt: To taste
Sugar: 1tsp or according to taste
Lemon juice: 1tbsp or according to taste.
Coriander leaves: 3tbsp, chopped
Oil: 4tbsp
METHOD
Marinate the prawns with turmeric, salt and lemon juice. Keep aside for 15 minutes.
Heat oil in a pan on medium heat and add onions. Saute till transluscent.
Add garlic, green chillies and saute for 1 minute.
Add tomatoes and cook for 3 minutes till the onions
and tomatoes are well combined to a smooth texture.
Now add red chilli powder, salt and sugar and saute for 1 minute.
Cover and cook for another minute.
Now add the prawns and coriander leaves and cook for 5-6 minutes.
Garnish with more coriander leaves and serve on its own, or with dal and chawal.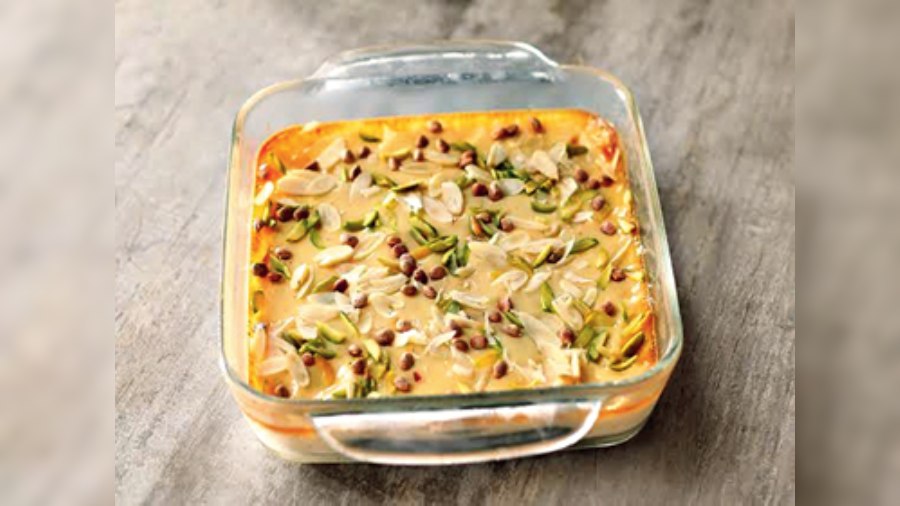 LAGAN NU CUSTARD
This baked custard Parsee sweet dish is very popular and exotic too. In most Parsee weddings you will definitely be served Lagan Nu Custard at the end of the meal. It is said that the first thing a Parsee bride has to learn is Lagan Nu Custard. It is somewhat like our caramel custard but without the caramel.
INGREDIENTS
Milk: 3 cups
Sugar: 3tbsp
Condensed milk: ½ cup
Eggs: 5
Vanilla essence: 1½tsp
Cardamom powder: ¼tsp
Nutmeg: A pinch
Almonds: 10-12, slivered
Raisins: 1tbsp
Charoli (chironji): 2tbsp (This is an absolute must in this dish.)
METHOD
Heat milk in a non-stick pan. Add sugar and condensed milk. Mix well and simmer till the sugar dissolves, stirring at intervals. Then remove from the stove and pour in another bowl to let it cool.
Break the eggs in a bowl. Add the vanilla essence and beat the eggs well.
Pour the egg mixture into the milk. Mix well. Now add green cardamom powder and nutmeg powder. Mix well.
Strain the entire mixture into a bowl. This is a very important step in having a smooth custard.
Pour the mixture in a baking dish. Don't fill it up to the brim. Leave some space. (You can even pour in individual baking bowls).
Put the almonds, raisins and charoli.
Put some water in the tray. Put your bowls or bowl on the tray. Then put in a pre-heated oven for 45-50 minutes at 180 degrees Celsius. If you feel that the custard is looking too brown, cover with foil and keep cooking.
To know that your custard is fully baked, stick a knife inside it. If it comes out clean, it is fully cooked.
You can serve this warm or chilled according to taste.
PATRANI MACHCHHI
This dish of fish in banana leaves is a celebratory one which is generally served at all Parsee weddings and Navjotes (thread ceremonies). Here, I am making it with pomfret, but you can also use Bhekti fillets or any other fish you prefer.
INGREDIENTS
Pomfrets: 2 (you can cut into large pieces or leave it whole with 3 gashes each on either side)
Banana leaves: Cut into large squares with the middle stem removed
#For the green chutney
Coconut: 1½ cups, fresh grated
Fresh coriander leaves: 1½ cups
Fresh mint leaves: ½ cup
Green chillies: 5-6
Garlic: 5 cloves
Cumin powder: 1½tsp
Sugar: 1tsp
Lemon juice: 2tbsp
Salt: To taste
METHOD
Grind all the ingredients for the green chutney into a smooth paste. Refrigerate it for 15 minutes so that it becomes slightly thick.
Lightly heat the banana leaf on the stove to make it soft and pliable.
Put some chutney on the leaf. Place the fish on it. Put some more chutney over the fish.
Wrap the fish with banana leaf like a packet. Secure with thread or twine.
Place the packets in a steamer tray. Then, only when the water in the pot comes to a boil place the tray on it. Cover and cook for 15 minutes.
Remove and serve with a wedge of line and vinegar onions.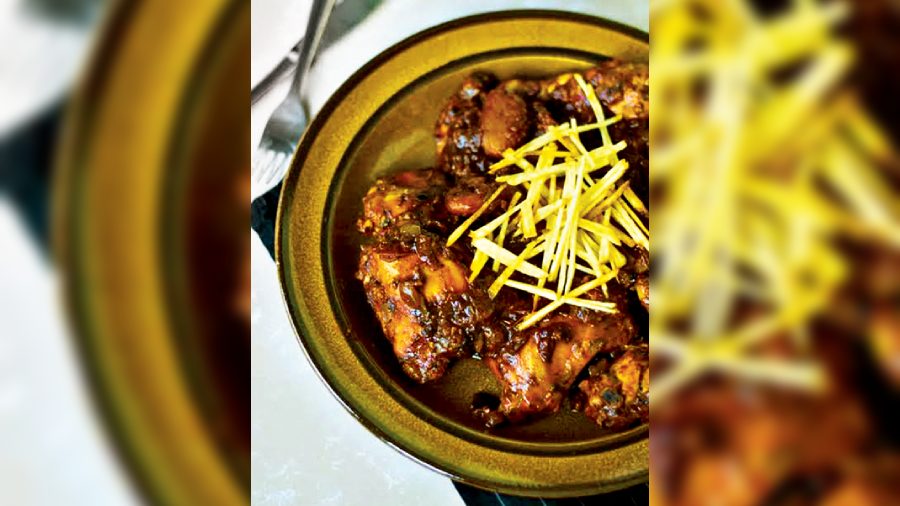 JARDALOO SALLI BOTI
This is a chicken dish with apricots and potato wafer sticks. With strong Persian touches of dried apricot, red vinegar and a blend of spices, it is served on auspicious occasions. Jardaloo means dry apricots, which are soaked in water for a few hours and gently folded in at the end of the dish before serving.
INGREDIENTS
Chicken: 1kg, with bone or boneless pieces
Apricots: 10, soaked in water for an hour or so (If they are big, cut in halves.)
Onions: 1 cup, fried
Oil: ½ cup
Ginger garlic paste: 1tbsp
Tomato puree: 150g (or fresh tomatoes)
Sugar: 2tbsp, or to taste
Vinegar: 2tbsp
Green cardamoms: 4
Cloves: 6
Black peppercorns: 10
Garam masala powder: 1½tsp
Kashmiri red chilli powder: 1tbsp
Tandoori red masala: 1tbsp
Turmeric: ½tsp
Red chilli powder: 1tsp
Fresh coriander leaves: 3tbsp, chopped
METHOD
Heat oil in a pressure cooker. Add onions, tandoori red masala, garam masala, turmeric powder, red chilli powder, cardamom, cloves, black pepper and saute for 2 minutes.
Add tomatoes and saute for 2 minutes more.
Add 1½ cups water and cook for 3 minutes.
Add salt, sugar and vinegar. Let it come to a boil. Specks of oil will be seen. Taste the gravy. Check for sweetness, sour seasoning, etc.
Now add the chicken. Cover and cook on medium to low flame. Stir occasionally so that it does not stick.
When chicken is half-done, add the apricots. Cook for another 5 minutes till the chicken is tender and the gravy is slightly thick.
Garnish with coriander leaves and potato salli (grated potatoes fried till crisp or bought readymade).
Enjoy with rotis or rice.
NOTE: You can also make this dish without apricots.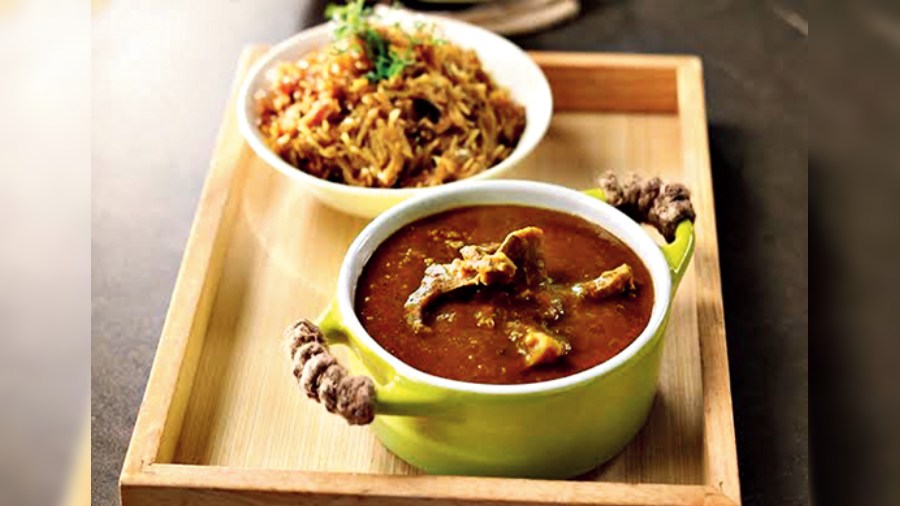 DHANSAKH WITH CARAMELISED WHITE RICE
Dhansakh is a popular Parsee Zoroastrian dish. It combines elements of Persian and Gujarati cuisine. It is made by cooking mutton or chicken with a mixture of lentils and vegetables. This is served with caramelised white rice.
In Parsee homes, Dhansakh is traditionally cooked on Sundays. It is also made on the fourth day after the death of a near one. There is no meat consumed for three days after the death and the dish is used to break this abstinence. Hence Dhansakh is never prepared on auspicious occasions like festivals and weddings.
INGREDIENTS
Mutton with bones: 750g
Onion: 1, chopped
Ginger paste: 1tbsp
Garlic paste: 1tbsp
Green chillies: 2, paste
Tomatoes: 2, chopped
Toor dal (arhar dal): ½ cup
Lal masoor dal (red lentils): ¼ cup
Chana dal (gram dal): ¼ cup
Fresh fenugreek leaves: 1 cup (or Kasuri methi 1tbsp crushed)
Brinjals: ½ cup, chopped
Red pumpkin chopped:½ cup
Turmeric powder: 2tsp
Water: 4 cups, or as required
Bay leaves: 2
Salt: To taste
#For the tadka
Ghee: 1tbsp
Dried red chillies: 3
Dhansakh masala: 2-3tbsp
#For Dhansakh masala (also available readymade)
Coriander powder: 2tsp
Cumin powder: 1½tsp
Red chilli powder: 1½tsp
Garam masala powder: 1½tsp
Nutmeg powder: 2 pinches
Sambhar masala powder: 1tsp
#For the brown/caramelised rice
Basmati rice: 2 cups, washed and soaked
Butter: 3tbsp
Onion: 1 sliced
Sugar: 2tsp
Bay leaf: 1
Shahi jeera: ¼tsp
Water: 1¼ cup
Salt: 1tsp
Cinnamon sticks: 2
Cardamoms: 4
Cloves: 5
METHOD
#For the Dhansakh
Heat oil in a pressure cooker. Add onions. To this add ginger, garlic and green chilli paste. Saute for 1-2 minutes.
Add mutton and sear it well for a minute or so.
Add tomatoes saute till mushy.
Add the 3 dals which have been soaked for 10 minutes.
Now add chopped fenugreek (methi) leaves, pumpkin and brinjal. Mix well.
It is time to add the Dhansakh masala. Add turmeric and salt. Mix well.
Add water and bay leaves. Pressure cook for about 5-6 whistles.
When the meat is tender, remove the pieces from the dal and keep aside.
Blend the dal in a blender. The consistency of the dal should neither be very thick, nor too runny. In case it is too thick add about ½ cup of hot water.
Put the mutton pieces back in the dal. Heat ghee in a tadka spoon and add dry red chillies. Pour the hot ghee into the dal.
Cook on low flame for 5 minutes covered. Garnish with coriander leaves.
#For the caramelised rice
In a pan heat butter. Add onions and saute till light golden. Then add sugar for caramelisation. Stir well. You will see that the onions have turned golden brown.
Add bay leaves, shahi jeera and the rice. Then add water. Add cinnamon, cardamom, cloves and salt.
Cover and cook on medium flame till the rice is cooked. Fluff out the rice a little.
Serve the Dhansakh with Rice. Parsees also have round mince kebabs with this.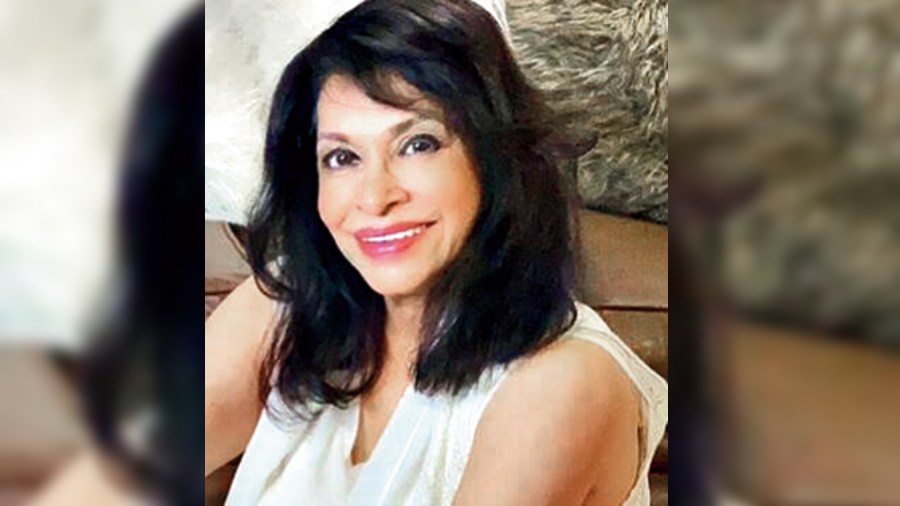 Durri Bhalla is a cookery expert and author of Indian Bohra Cuisine and Inner Truth To Good Health And Weight Loss. You can find her at @DurriBhallaKitchen on Instagram, @Durribhallakitchen on Facebook and Durri Bhalla on YouTube