For sports lovers in Kolkata, Esplanade's Maidan Market equals paradise, albeit a pocket-friendly one. Set up in 1950 as a business hub for cloth merchants who migrated from across the border shortly after Independence, the B.C. Roy Market, far better known as Maidan Market, has long been taken over by all things sports — bats, balls, sporting accessories and, er, football kits of the biggest clubs in the world.
With the new football season in full swing, My Kolkata headed over to Maidan Market to take stock of the latest kits, their quirks and why you should (or should not) add them to your sports wardrobe.
The most colourful PSG kit you are likely to see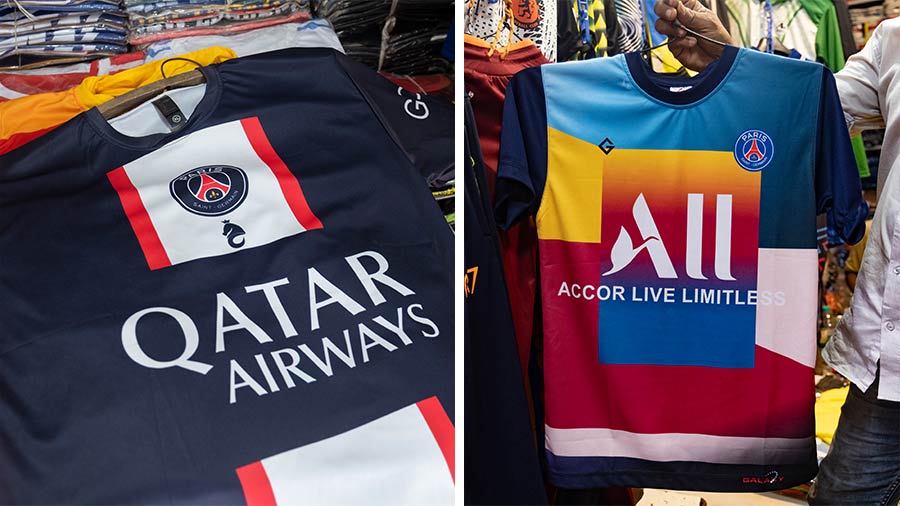 PSG's home kit in its original design along with a unique PSG t-shirt that one can only find in Maidan Market
Ritagnik Bhattacharya
Shopkeeper after shopkeeper told us that PSG kits have skyrocketed in demand ever since Lionel Messi sealed a move to the Parisian side last summer. According to most, PSG sales are second only to Manchester United, with some shops relegating the attire of the French champions to third, just behind Barcelona. While PSG's newest home jersey is available in all its glory — barring the replacement of the Nike logo with a Maidan Market variety of the Ferrari trademark — for Rs 350 (Rs 450 in some stores), there is a special PSG tee-shirt we discovered that appears more colourful than the club's present footballing fortunes. 
A combination of three shades of blue (with another shade on the sleeves), orange, yellow and white, this is somewhat of a collector's item, very much conceived in Kolkata, and available for just Rs 150. For some context for your wallet, an original Nike PSG kit will set you back by Rs 4,000 (same for any jersey originally manufactured by Adidas; rates dip slightly for the Puma ones).
Our recommendation is that you wait for a Nike edition of the PSG home kit to hit Maidan Market's shelves (should happen before Neymar and Kylian Mbappe settle on who takes penalties!) while snapping up the most colourful PSG kit you are likely to see for what is by all means a steal.
Barcelona playing in the Premier League!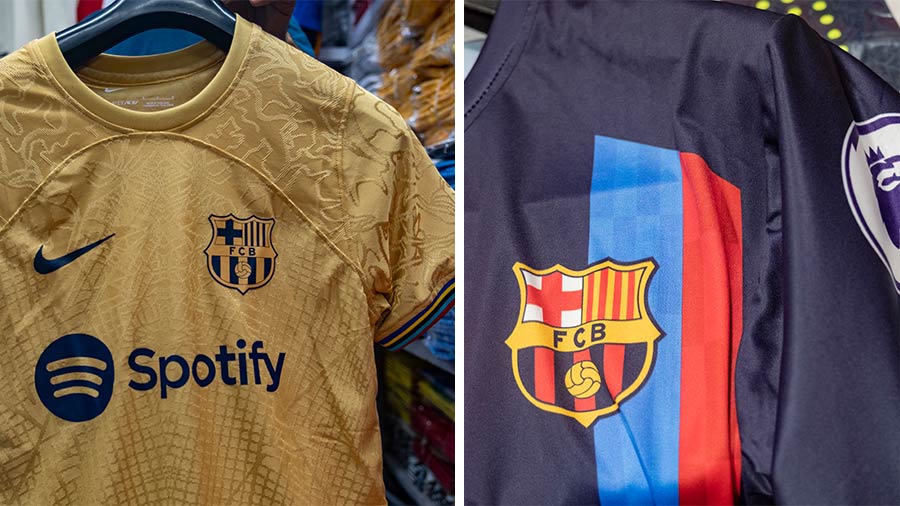 Barcelona's scintillating gold away jersey along with their home kit with a Premier League stamp!
Ritagnik Bhattacharya
By the modest standards of football aestheticism, Barcelona's gold away kit is a winner. Even more so when you can get it for under Rs 500 from a series of shops at Maidan Market. Elastic and comfortable, you can even wear it for a non-sporting outing, as the Spotify sponsor logo lends it an eclectic appeal. The home kit, which mixes the traditional Blaugrana stripes with dark blue bars, is less of a visual treat but a must-have for the few true Barcelona fans that remain in the post-Messi era. However, before you grab this, keep an eye out for the left sleeve, as some of these kits come printed with the Premier League's "No Room for Racism" badge! Looks like the Maidan designers are just as desperate as some football purists to see if Barca could really get the job done on a cold, wet Tuesday night on English soil.
Manchester United kit looks dapper, but no collar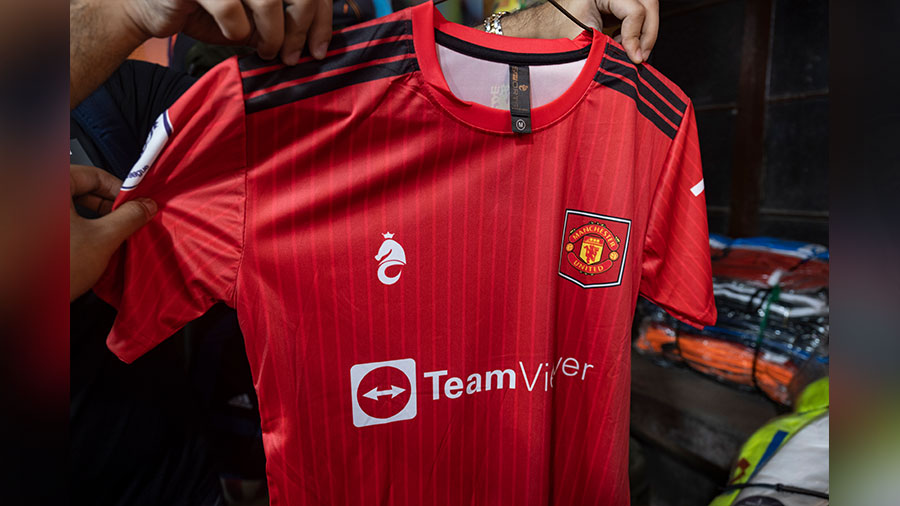 Manchester United's home tee without the white collar with red triangles that features in the original
Ritagnik Bhattacharya
Manchester United's home tee-shirt this season is a throwback to the late '90s, when Europa League football was as far from Old Trafford as the Glazers. Although Maidan Market has faithfully copied most elements of the iconic red strip — no Adidas logo but — there is no sign of the intricate white collar with small red triangles that United players will be modelling this season. To be fair, getting rid of the collar and keeping the black shoulder stripes have not done any harm to the look, and if you are not too meticulous about your kits, you should definitely consider giving Man United a chance, starting at Rs 350.
Bayern, Man City, Juve and Real kits nail the brief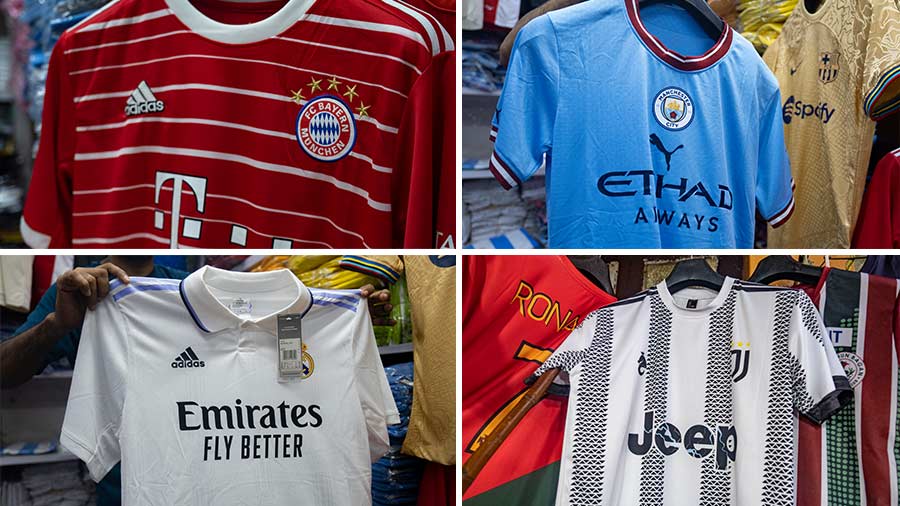 Replica kits of European giants that are almost as good as the real thing
Ritagnik Bhattacharya
How do you tell a replica from an original when pretty much everything is identical? This might be a quandary for those of you who support one (or more) of Bayern Munich, Manchester City, Juventus and Real Madrid. Apart from the obvious difference in price, the easiest way to separate the kits is to touch the club's crest. "All the local products that you'll see here have the crest printed on them, while the authentic ones have the crest stitched in, so you can feel the texture," explains one of the sellers. Maidan Market has close-to-perfect replicas of these four European giants, with prices ranging between Rs 350 and Rs 1,200 (for the full set, complete with shorts). Higher the amount, more is the comfort as well as the chance that you can wear what you buy on every matchday.
If you are a neutral confused over which one of these four to grab, we recommend the Juventus home tee because of its innovative pattern (Juve generally go with drab monochrome stripes justifying their tag as the Old Lady), followed by the immaculate white of Real Madrid, the one club that has failed to produce a single disappointing home jersey.
Chelsea, Arsenal and Liverpool still very much last season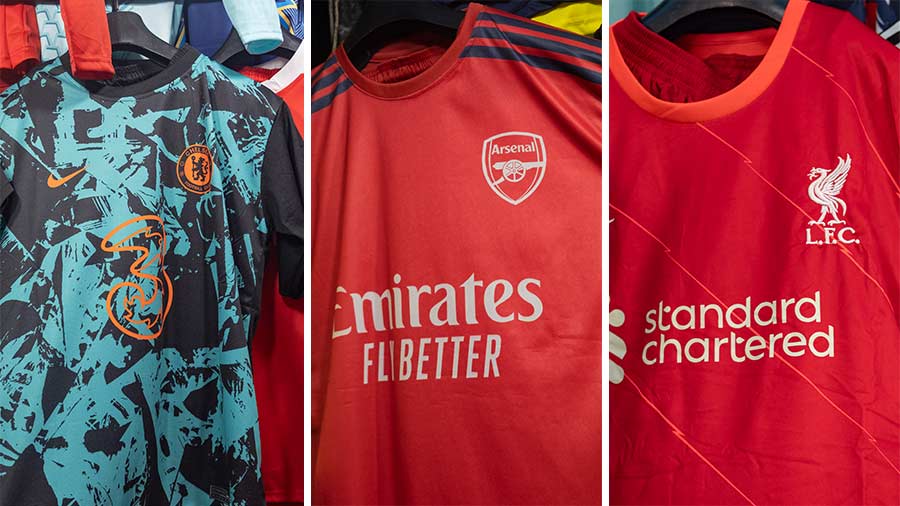 Three Premier League mainstays whose 2021/22 kits are still widely available at Maidan Market
Ritagnik Bhattacharya
Arsenal and Liverpool's home kits from 2021/22 and Chelsea's away and third kits from last season dominate Maidan Market, and it was not before we came to our last stop that we found this season's home uniforms for both Arsenal and Chelsea (no such luck for Liverpool), also priced between Rs 350 and Rs 1,200. Ironically, on seeing the latest iterations, we actually found last season's kits to be much more attractive, especially the jazzy feel in Chelsea's away look. Whatever you pick, you cannot really go wrong with any of these Premier League clubs, which is much more than can be said for Chelsea's football right now.
Ronaldo unmatched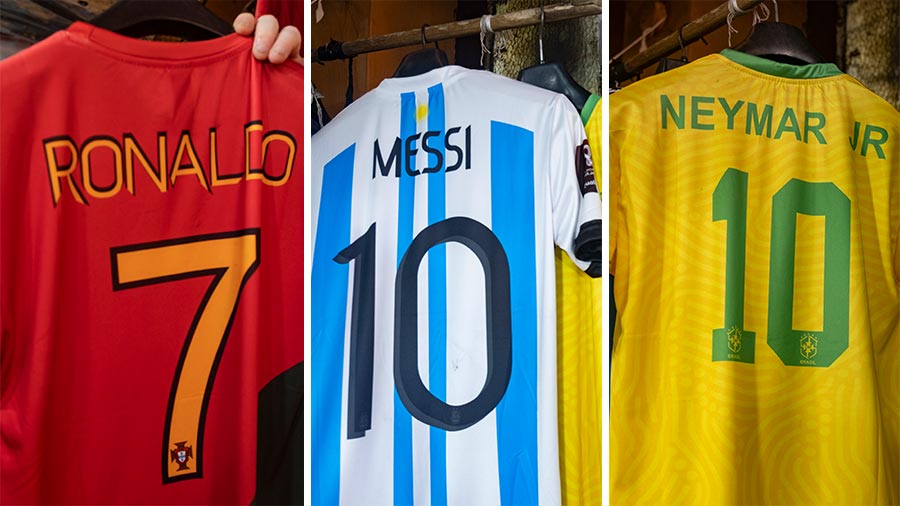 Ronaldo is head and shoulders above the Parisian duo of Messi and Neymar when it comes to being inscribed on the back of kits
Ritagnik Bhattacharya
Even though national team tees for November's World Cup in Qatar have not yet arrived en masse, three jerseys inevitably grabbed our attention at Maidan Market. "Portugal, Argentina and Brazil have the highest demand when it comes to international football. There's also a fair bit of clamour for Germany and Spain," said one of the shopkeepers. While most shoppers prefer to have their own names printed on the back of club tee (@Rs 8 per letter and Rs 20 per number), international kits are largely bought with the names of established superstars. In this, Cristiano Ronaldo has virtually no competition, with Messi and Neymar a distant second and third.