While veganism had been simmering in the city for a long time, accessibility to vegan ingredients has always been a significant challenge. But thanks to homegrown brands and vegan stores, stocking a vegan pantry is much easier now. Moreover, there's a new crop of chefs who are whipping up vegan variations of classic non-vegetarian dishes.
My Kolkata spoke to two vegan chefs in the city and got the inside scoop on everything that's cooking in their kitchens.
Hachi & Reggie
For Sandra Hendricks (known as Alexandra Gade on Instagram), turning vegan had never been on the cards. 
And then came Hachiko. 
Not the movie (although that did inspire the name), but Sandra's first rescue dog. As she bonded with Hachiko, she slowly found herself growing sensitive towards the animals around her, often drawing mental parallels between them and her own dog, which started affecting her. 
Sandra started Hachi & Reggie with an aim to 'veganise' traditional meat and dairy dishes. "If I brought the same food to somebody in a vegan form, which is equally tasty and nutritional, then that person would be attracted to the idea," she notes. And indeed there is much to be attracted to because Sandra can whip up a staggering variety of dishes with vegan meat and fish including shorshe bhapa maach, Golbari-style kosha mangsho, Goan xacuti, Anglo-Indian style meat vindaloo… the list goes on.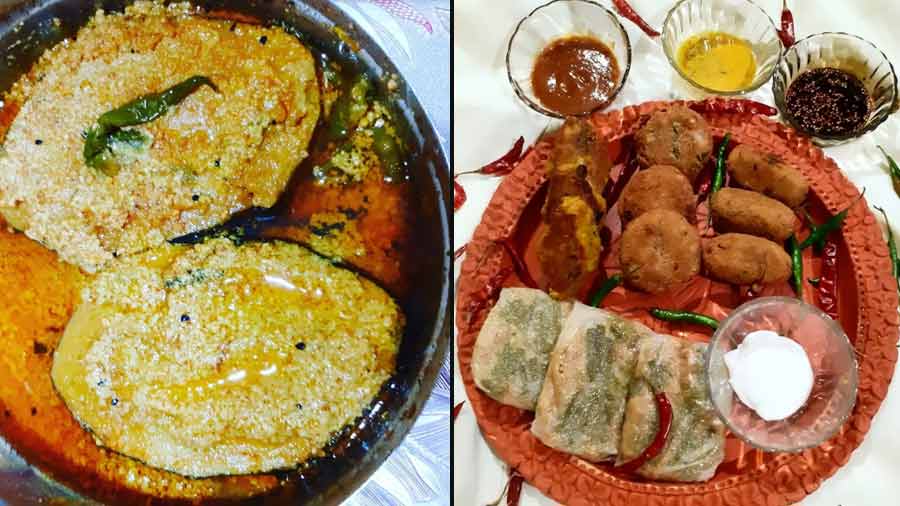 (L to R) Shorshe bhaapa maach; a thali comprising vegan fish and meat cutlets, veg cutlets and rice paper stuffed fries with homemade dips
Courtesy: Sandra Hendricks
Sandra's personal favourite, however, is the Kolkata-style biryani, "All my spices are homemade, as they enhance the flavours. I study the traditional recipes first and then bring out my own version of it." And if you're the sort that insists on polishing off a Mughlai meal with the good ol' firni, you absolutely cannot miss out on the rich, decadent version that Sandra makes using plant-based milk, Gobindobhog rice and nuts.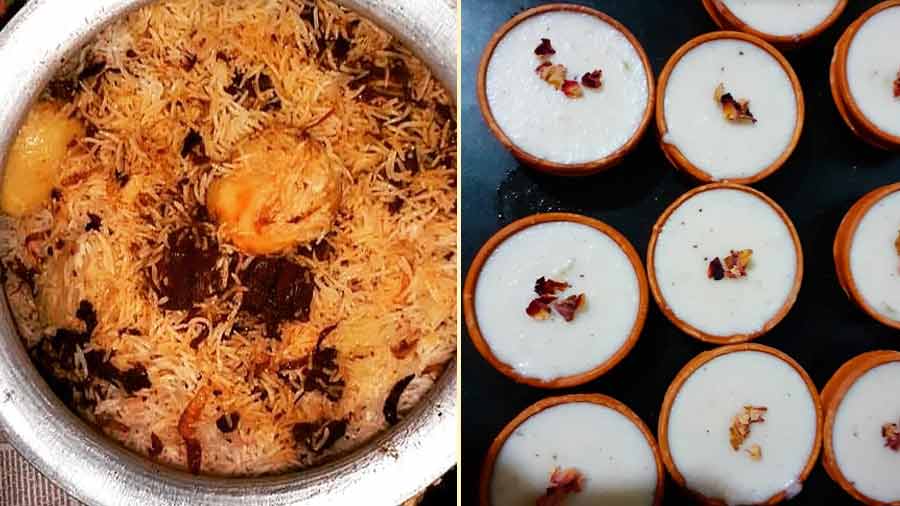 Kolkata-style biryani, and firni
Courtesy: Sandra Hendricks
For those of you who revel in the magic of Christmas and the assortment of season's specials, you'll love the Anglo Indian-style rum-soaked rich fruit and nut Christmas cake. Abounding with flavour, this cake has been a top-seller among her clients and makes for a great tea cake (even when it's not Christmas!)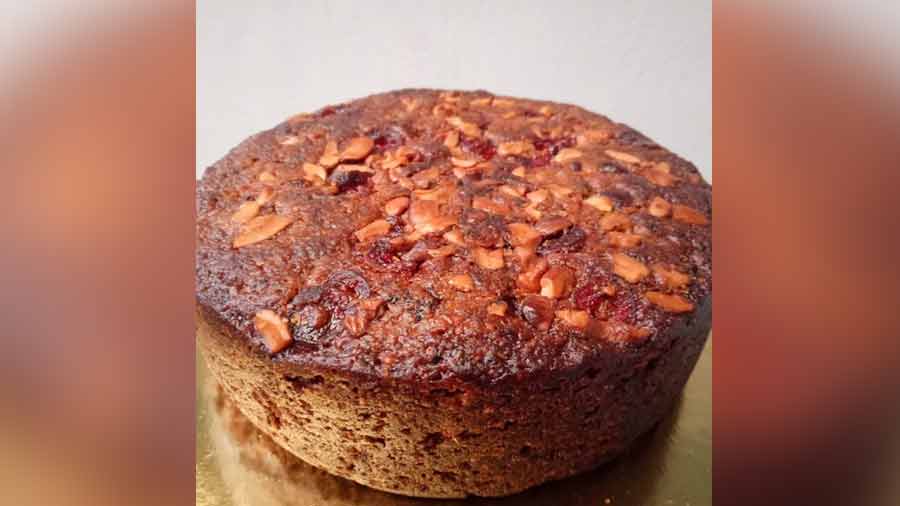 Rum-soaked rich fruit and nut Christmas cake
Courtesy: Sandra Hendricks
Sandra notes that with more and more Kolkatans turning to a plant-based diet for health and ethical reasons, the city has undergone a considerable shift over the last few years. With mushrooming plant-based food brands, vegan ingredients are now priced more reasonably, encouraging chefs to experiment with them and catering to a broader customer base. 
Orders can be placed via Whatsapp at (+91) 9831851150
Don't forget to check out the Facebook page of Hachi & Reggie
Mia'z Grill
Mitali Banerjee's foray into vegan cooking began when she realised that her niece's newly-turned vegan friends were missing their favourite non-vegetarian dishes. Banerjee had always enjoyed cooking and experimenting with ingredients and decided to try her hand at creating vegan variants of popular non-vegetarian food items. 
"Plant-based eating is more prevalent among youngsters of today, who are switching due to ethical reasons. This reflects their compassion towards animals and how deeply they care about the environment," says Mitali. For her, making vegan food is a way of supporting this cause. Currently, the range of offerings at Mia'z Grill boasts of everything – from sausage rolls and mutton patties to chocolates and icecreams.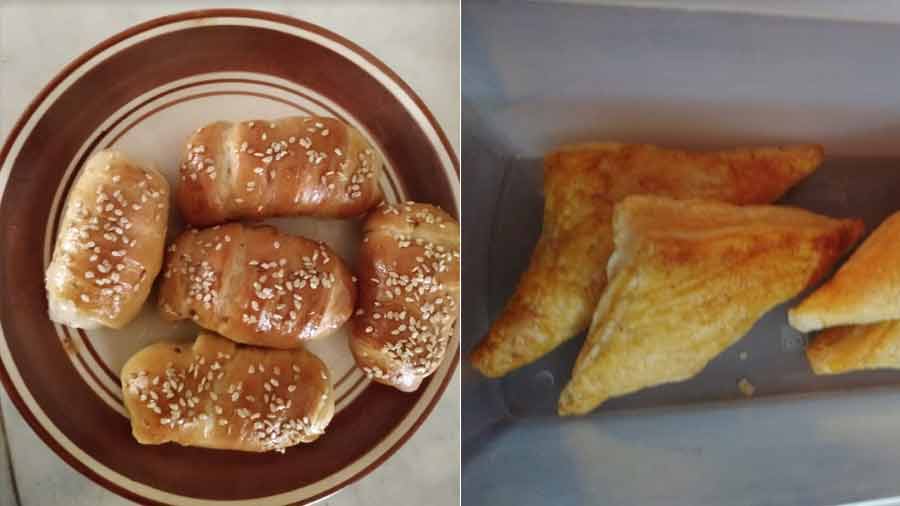 (L to R) Sausage rolls; Mutton patties
Courtesy: Mitali Banerjee
The mushroom pies, for example, hit the sweet spot – wrapped in the softest, flakiest phyllo crust, the patties are oozing with delicious mushrooms. Her boutique vegan cakes frequently take centre stage at parties and are among her bestsellers. And if you're looking for healthy, guilt-free indulgences, the vegan Kit-Kats, Ferrero Rochers and chocolate bars (often loaded with nuts), definitely deserve a place in your fridge!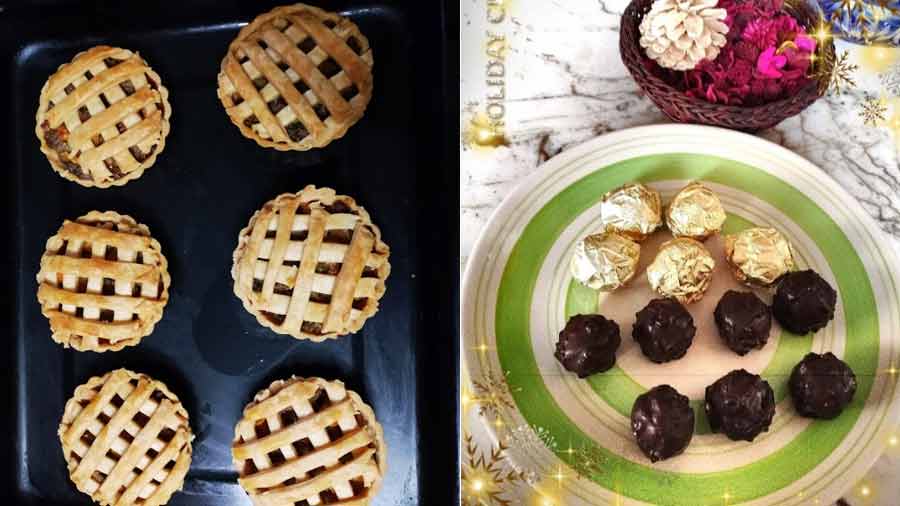 (L to R) Mushroom pies; Ferrero Rochers
Courtesy: Mitali Banerjee
"My niece's husband is vegan, and a lot of my recipes are a result of the various challenges he often throws my way," laughs Mitali. She shares an anecdote about how he asked her to make a combination of donuts and malpua (a traditional Bengali sweet fried in ghee). The end-product – yes, a donut malpua! – turned out to be delicious. Apart from fusion numbers, Mia'z Grill also serves vegan variants of well-loved Bengali dishes like chingri malaikari and mutton kosha.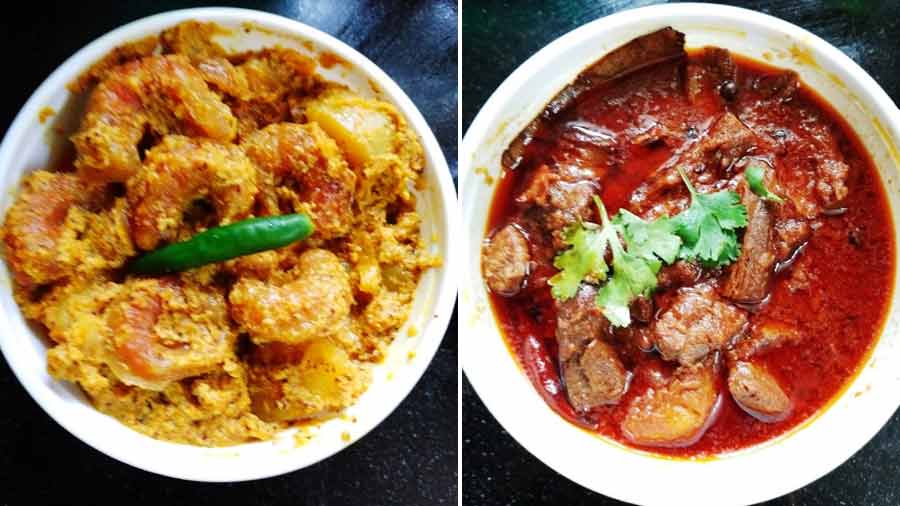 (L to R) Chingri Malaikari; Kosha Mangsho
Courtesy: Mitali Banerjee
Owing to the growth in veganism, the increasing availability of vegan substitutes in the market has made it easier to create meat and fish dishes. "People are not comfortable with the idea of giving up the kind of food they have grown up eating, but if we can continue to create vegan substitutes for those dishes, they have no reason to hesitate when making the switch," observes Mitali.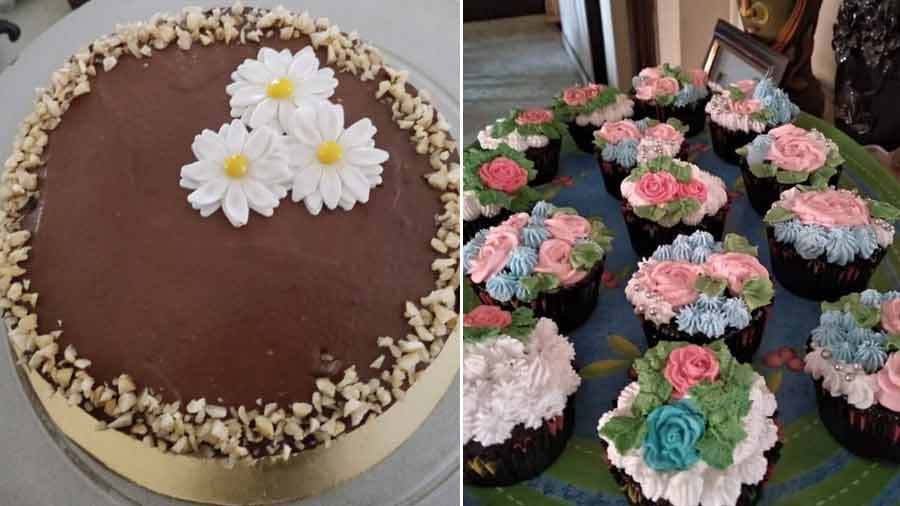 (L to R) Boutique cake and cupcakes for special occasions
Courtesy: Mitali Banerjee
Place your orders on Whatsapp at (+91) 9903958841