Her large, bulging eyes inspire both awe and affection. The surface of her face glistens against the bright white light that envelopes her figure. With her arms outstretched, her body decked in jewellery, and her golden tongue stuck out in embarrassment, she commands the instant attention of every onlooker, in spite of being tucked away at one end of the footpath.
She is Maa Joy Kali, residing less than a stone's throw away from the Netaji statue at Shyambazar's iconic five-point crossing. When My Kolkata had gone gallivanting around Shyambazar earlier this year, the temple of Maa Joy Kali was shut, which it customarily is during the day.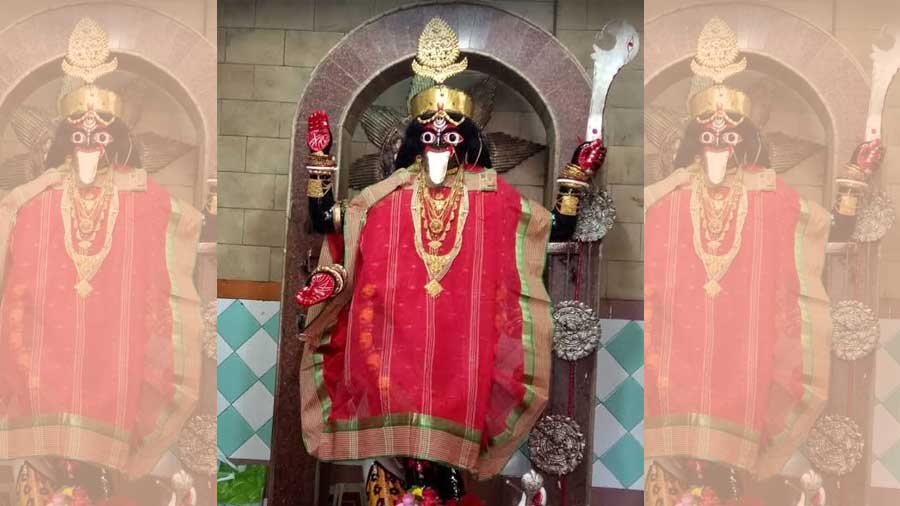 The idol inside the temple of Maa Joy Kali
After sunset, however, devotees flock from far and wide to pray at this 350-year-old temple, which belongs to the Chowdhuri family. One such devotee, more than a decade ago, had come with the intention of worshipping the goddess with hen eggs as an offering. To nobody's surprise, the priests and the Chowdhuri family were outraged. The devotee in question, a gentleman who happened to sell eggs for a living, persisted that he be allowed to offer eggs to the idol, and eventually, his request was granted. This one instance has rustled up the rumour that Maa Joy Kali is inundated with eggs as part of the daily prayer rituals.
We are exactly how we used to be: Golbari
Hen eggs for Kali Puja is not the only rumour wafting around in the vicinity. Golbari, a 99-year-old eatery, which is less than an average football field away from the temple, has also been gripped by speculation over the last year.  Many on social media have wondered if the popular restaurant is no more or whether it has been revamped following the first two waves of Covid-19 in Kolkata.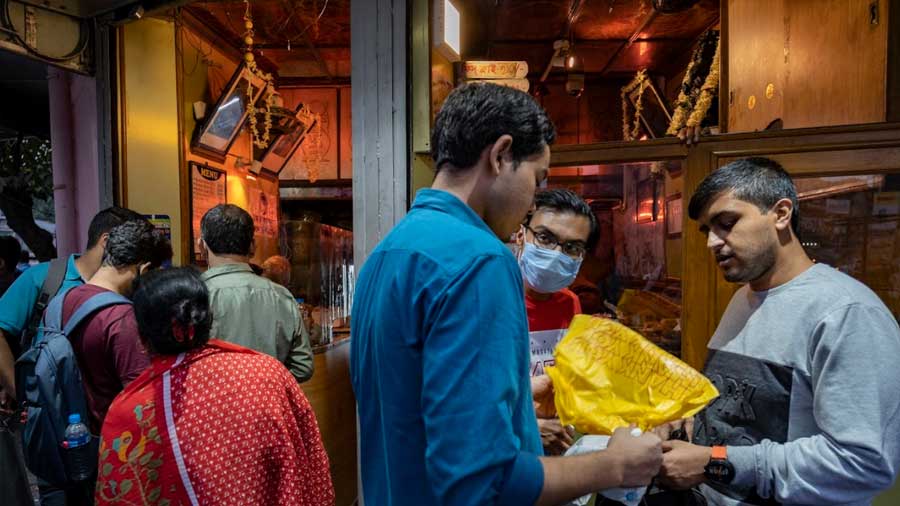 Customers queue up outside Golbari
The current owner of Golbari says it as it is: "We did not close down. Nor did we get any facelift. We are exactly how we used to be. Of course, our doors were not open, like any other restaurant, when the pandemic was at its peak. But apart from that, we have been functioning normally."
Famous for its smouldering Kosha Mangsho, usually served with tender parathas, Golbari was set up in the early part of the previous century by the Arora family, who run the place even today. Back in the day, it was the New Punjabi Restaurant (the Aroras are Punjabis), but loyalists soon began calling it Golbari due to the semi-circular facade of the building at the bottom of which it is housed. In due course, the word Golbari got added to the official identity of the restaurant, which still accommodates roughly the same number of people it did during the initial days — about a score.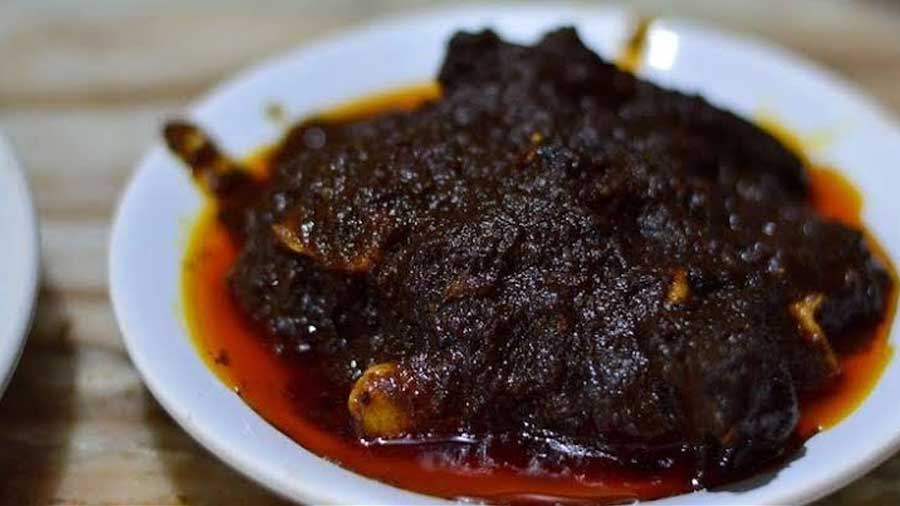 The smouldering Kosha Mangsho, a Golbari classic
With no provision for Swiggy or Zomato, credit or debit cards, Golbari is a portal into a slice of old Kolkata that has remained frozen in certain corners of Shyambazar. 
Chhanar toast calling at Haridas Modak
At Golbari's opposite end of the five-point crossing is another such corner, distinguished by the presence of Adi Haridas Modak. Wooden tables, benches, and plates of banana leaves are still very much the norm here, part of a tradition that has retained the paraphernalia of the Bengali breakfast as vigorously as it has retained its protagonists, luchi and aloor tarkari.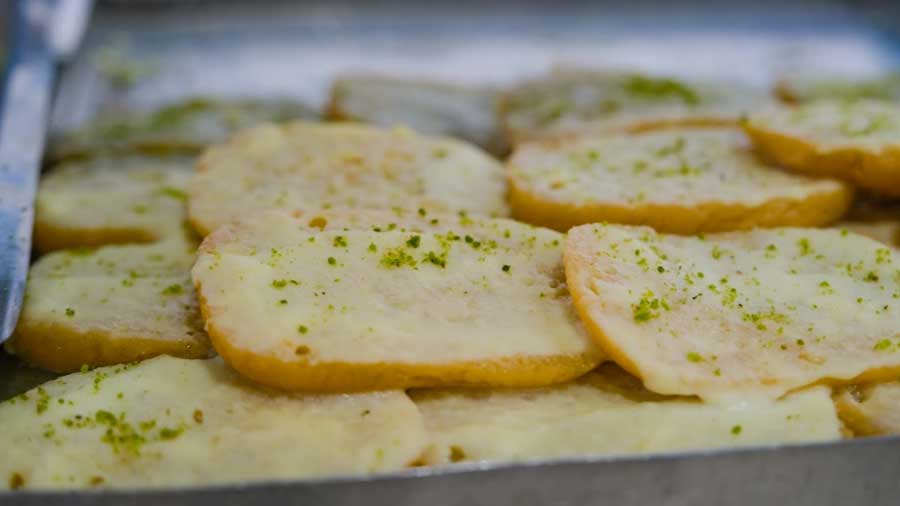 Chhanar toast at Adi Haridas Modak
More than two and a half centuries old, Haridas Modak also has a spate of sweet delights for customers. Available at Rs 20 a piece is the succulent Malai Chom Chom, although the shopkeepers themselves point to the item right next to it, the chhanar toast (priced at Rs 15) as the finest of their delicacies. For those in the perennial quest of the bliss point between ice cream and mishti, there is the Butterscotch Sandesh, available for Rs 15.
Mango shake at Five Point Juice Centre
Be it an early breakfast or an evening snack, a quick meal at Haridas Modak is best gulped down with the help of some refreshing juice. While juice shops abound in the heart of Shyambazar, one stands out more than most. Around two hundred yards away from gate one of the Shyambazar Metro is Five Point Juice Centre, where a certain Samaresh will take care of one's juice cravings by churning out a dense and delicious drink in no time.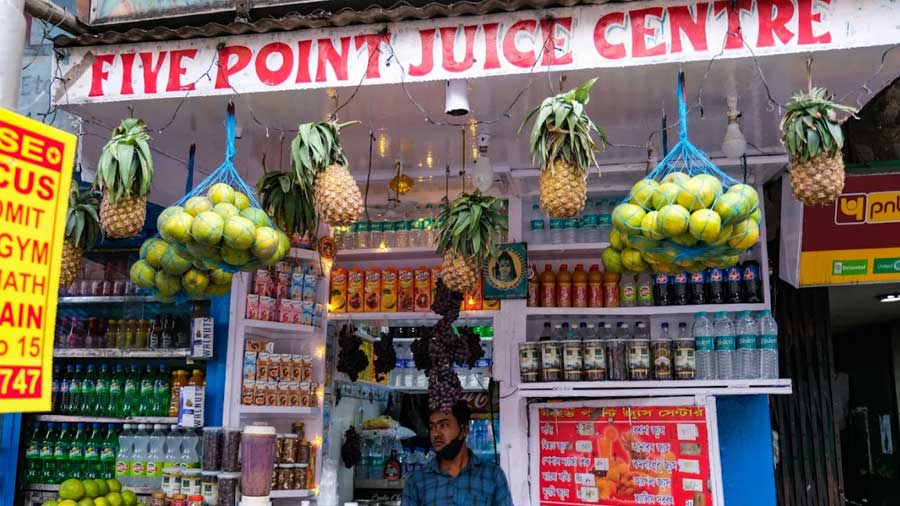 Just another busy evening for Samaresh at Five Point Juice Centre
"Most people like our Mango shake (Rs 50), because it has the richest flavours and is also very filling. But we have loads of other options — pineapple, orange, apple, sweet lime, and pomegranate. We also have lassi, which is frequently ordered by slightly older customers," says Samaresh, by now an expert at using his dexterous hands to prepare three or more drinks simultaneously.
Timeless charm and ravages of time...
With a full stomach and a fair few calories to burn, Shyambazar is an intriguing place to go for an evening stroll. Even if one is in search of nothing in particular, things pop up, like clues in a detective novel, all part of a grander narrative, which in this case is one of charming decadence.
If one begins to walk towards Fariapukur from the five-point crossing, both the charm and the decadence wrestle for attention.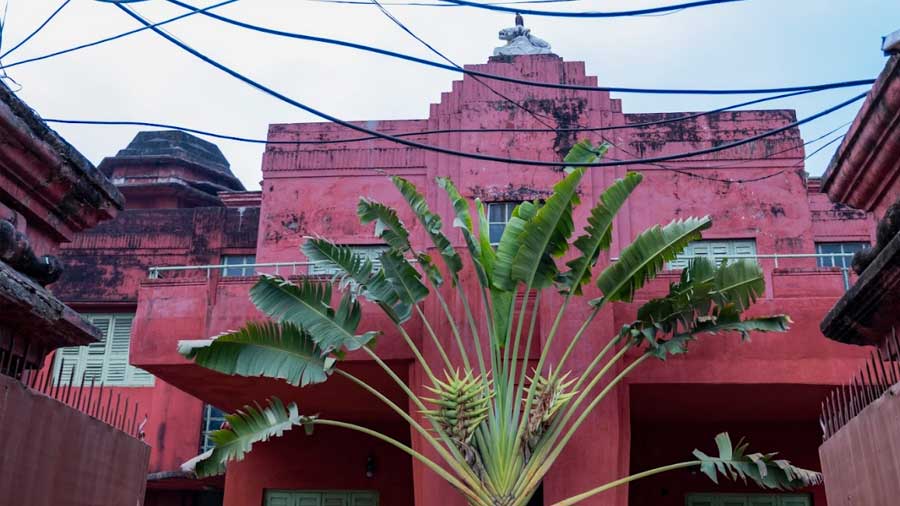 Mullickbari on Bidhan Sarani
Ancient buildings like the elegant Mullickbari, bathed in a faded red, appear timeless, whereas cinema halls and theatres like Darpana and Mitra reveal the ravages of time. While Darpana has been closed for more than three years, 90-year-old Mitra — unveiled with the screening of Dena Paona in 1931 — lies in tatters, presumably (according to para lore) on its way to becoming a shopping complex.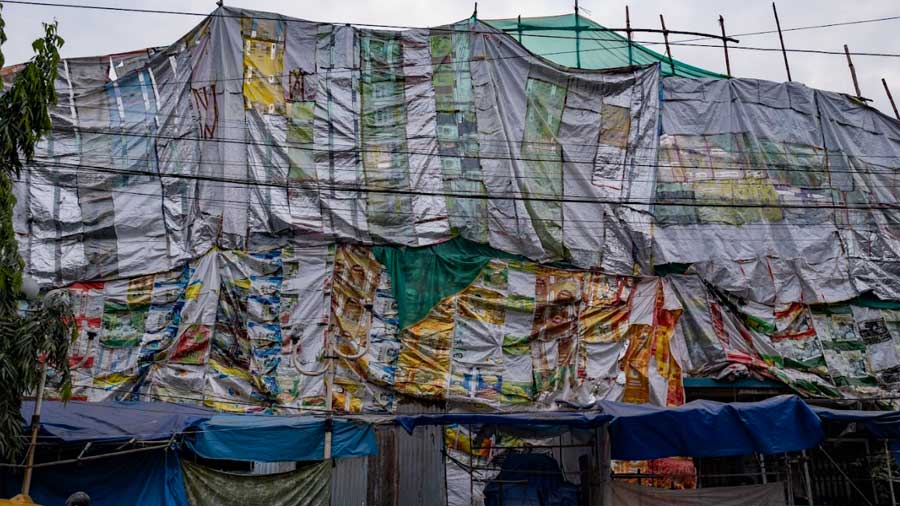 A decrepit Mitra Cinema has long lost its glory days
If one prolongs the walk, the early winter smog might induce some fatigue, at which point it is a wise option (assuming one is not running against the clock) to savour a tram ride, an experience that is quintessentially Kolkata.
… and the philosopher's car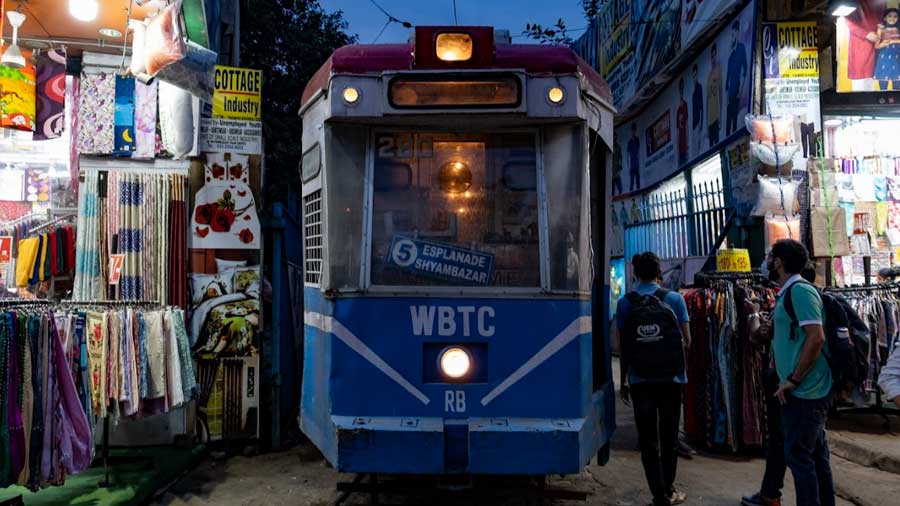 At dusk, Kolkata's trams acquire a charm of their own
My Kolkata hopped onto one such tram, which kick-started its journey at five in the evening, following route number five to take us from Shyambazar to Esplanade via Bidhan Sarani, College Street, Nirmal Chandra Street, and Lenin Sarani. 
Sitting in a tram is akin to getting a live demonstration of Einstein's theory of special relativity. Outside, the bustling traffic is ticking along at a furious pace. Inside, every second hangs in the air, before stretching the next one in what feels like an endless crawl towards eternity. No wonder the 45-minute ride feels like forever.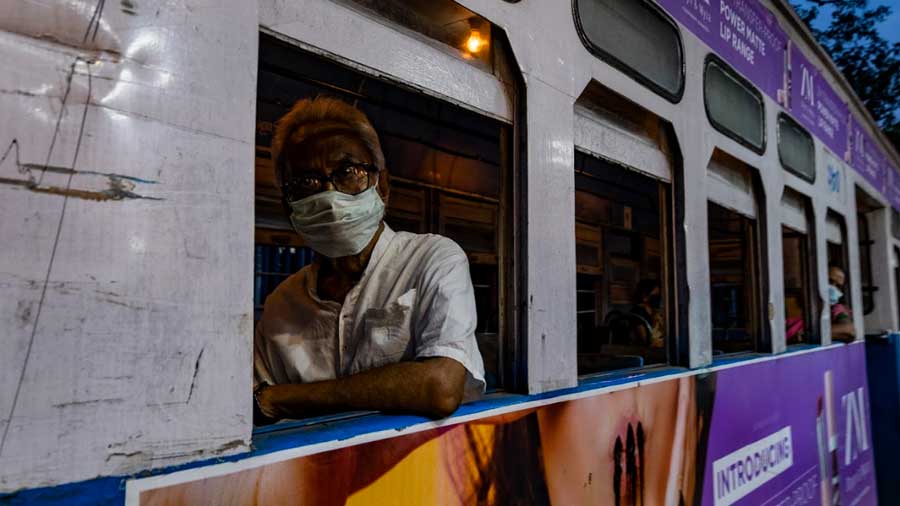 Trams still retain their popularity in Shyambazar among senior citizens
But that is not necessarily a bad thing, especially when the tram comes equipped with WiFi (yes, so much for trams being old-fashioned!). The twilight hues blend with the blue and the black of the tram's interiors to create a compelling array of colours, which undoubtedly makes one's fellow travellers look more enigmatic.
"The 600V overhead lines may have been developed and the trams may have been upgraded, but they still remain, in many ways, what Jibanananda Das called the 'philosopher's car'. They slither around the city, carrying the age-old agitation of the multitude, even as the decrepit buildings that pass by stand like war veterans, witnessing the politics of speed," notes Subham Mukherjee, 24, a resident of Dum Dum, who has made countless visits to Shyambazar over the years.
Tantuja's appeal here has endured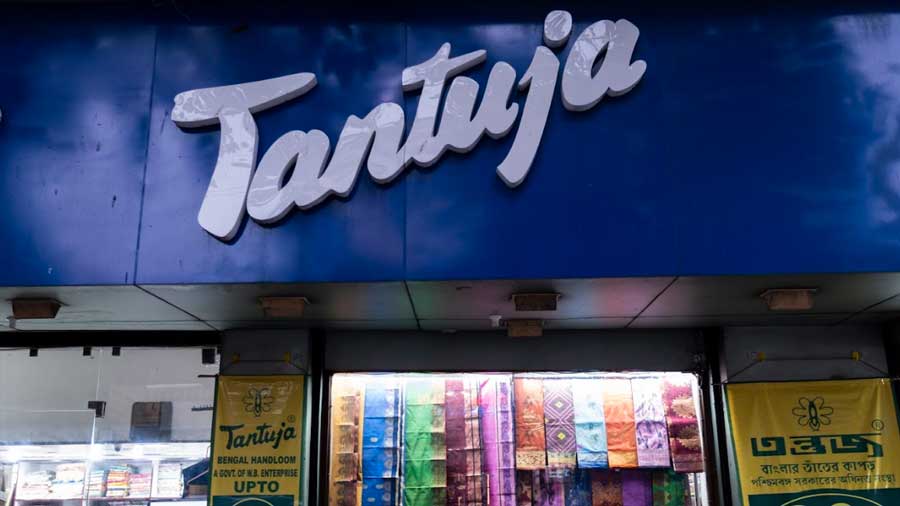 Tantuja, more than most, has come to define the excellence of the indigenous industry in Bengal
Just as intrinsic as the trams in Shyambazar is Tantuja, West Bengal's indigenous handloom brand that was established in 1954 for marketing handloom products representing the primary co-op weavers of the state. After more than two decades of not turning a profit, Tantuja had a resurgence in the late '80s, after which it has never looked back.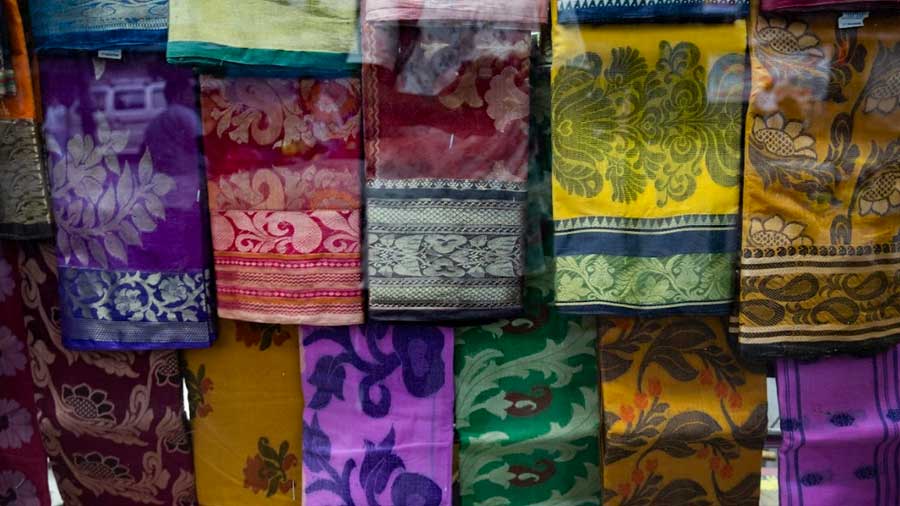 A glimpse of Tantuja's latest collection
Even though Tantuja saris are displayed today in more than 80 showrooms across Bengal, besides being available online, the oldest and most important centre still remains in Shyambazar, about a minute away from the aforementioned Mullickbari on Bidhan Sarani. 
"We have a wide variety of products whose appeal has endured for generations. Be it the jamdani, baluchari, or tangari sarees for women, or the dhotis and lungis for men, Tantuja remains the first choice for thousands of customers year in and year out. In recent times, we have also added Nehru coats and kurtas for men, along with the softest cotton saris to complement our original taant collections for women," describes a representative at Tantuja's Shyambazar counter, which seems modest from the outside but expands curiously after one sets foot indoors.
Coffee o Kobita is the youth haunt
Economy of space, evident in the setting of Tantuja, emerges as a running theme across the length and breadth of Shyambazar. Arguably the best example of making a lot out of very little is Shyambazar's go-to place for youngsters, a multi-cuisine literary cafe called Coffee o Kobita.
Located on Bhupendra Bose Avenue, in close proximity to Shyambazar's branch of the Bake Club, Coffee o Kobita blends the ambience of the hearty North Kolkata adda with the cosmopolitan palate that many young Bengalis have come to take for granted.
"You will not find a place like this easily in North Kolkata. Initially, when we inaugurated this cafe, we were a bit skeptical. But I'm glad to tell you that the people of Shyambazar have embraced this place, especially the younger demographic," reflects Jagannath Das, the manager of the cafe.
Stocked with books, board games, wallpapers, menus in the style of vintage newspapers, and a wall of poetry written by the customers themselves, this five-year-old cafe is the perfect spot to indulge in some food for thought.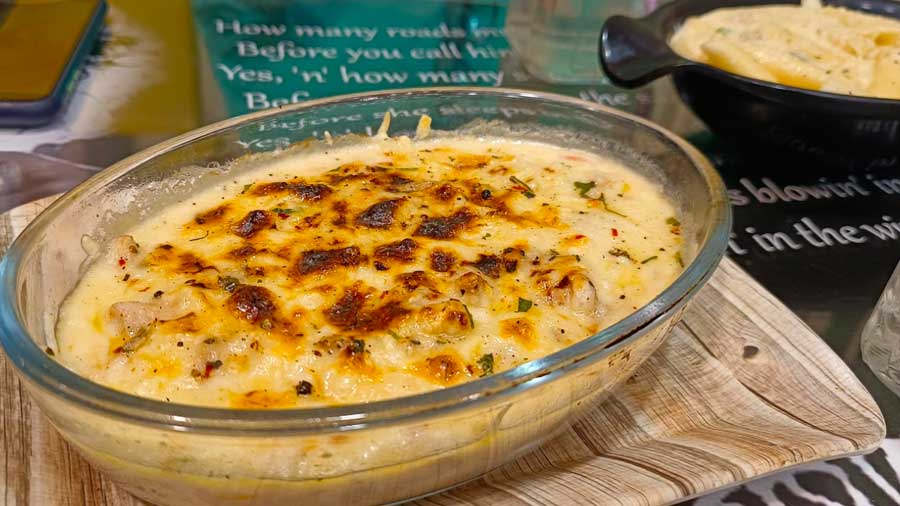 The Chicken Cheese Sicilian at Coffee o Kobita
The gooey Chicken Cheese Sicilian is a winner (Rs 320), as is the melt-in-the mouth chicken pasta in white sauce (Rs 300). Most college students, though, prefer the grilled chicken platter (Rs 350) or the special C.O.K. chicken sandwich (Rs 170).
Sheer energy of Shyambazar
Gargi Chakrabarti, who recently completed her master's in English literature and has grown up in Shyambazar, has naturally been to Coffee o Kobita. It is a place she regards, like the rest of Shyambazar, as "quite accommodating".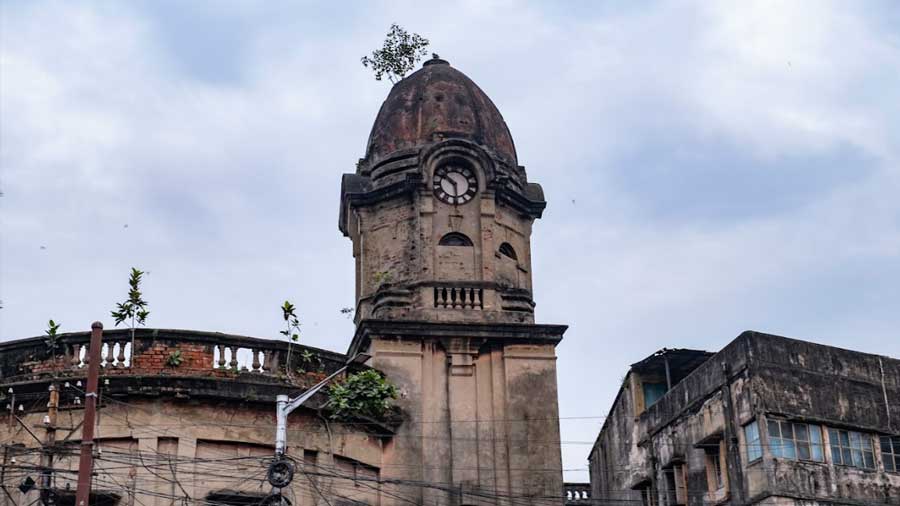 This old clock tower in Shyambazar has become an everyday witness of the commonplace and the unusual
"My mother, who has practically lived her entire life in Shyambazar often remarks on the comforting and reassuring power of spaces in this area of the city," continues Chakrabarti. Like her mother, she too finds Shyambazar bubbling "with the commonplace and the unusual… a place where it's easy to witness a miniature of all sorts of human social activities whose sheer energy never fails to amaze me."