Indian classical music, like most crafts that are hard to master, is an acquired taste. But once it is acquired, it can often evolve into a temperament, even a way of life. In today's world of instant gratification, Indian classical music is an outlier purely on the grounds that it calls for patience and persistence. Not just from the performers, but also from the audience. Walk into a Hindustani or Carnatic music concert and you will feel as if time is being bent by tunes. After half an hour or so of waiting, listening and admiring, your consciousness will seem to slow down. That urgent email or WhatsApp message will not seem that urgent anymore. The combination of raga and tala will transport you into a mindscape where you will notice the rarest subtleties, from how the thumb manoeuvres itself on the tabla to how the lips can tease a flute. The result is not merely refined entertainment, it is an education on harmony and humanity.
"Classical music in the Indian context is about lineage and legacy, about preserving one of our greatest civilisational traditions," says Sanjoy Banerjee, who founded Suromurchhana, a non-profit organisation that teaches Indian classical music and organises classical concerts, in Kolkata in 2007. A distinguished vocalist who has performed across the world as an exponent of the Kirana gharana, Banerjee opened a second chapter of Suromurchhana in New York in 2017-18. Today, Suromurchhana unites the City of Joy and the Big Apple in passing on the richness of Indian classical music to the next generations.
What began as an idea for a single concert gradually evolved into an institution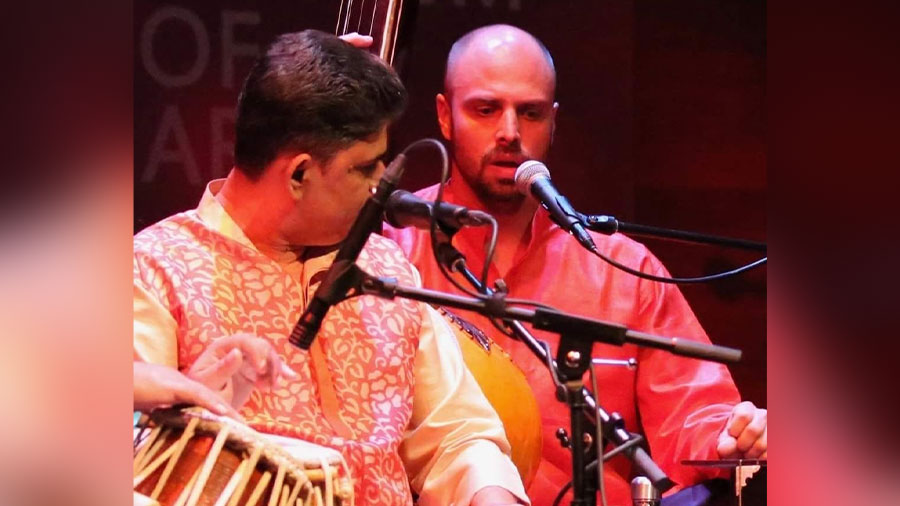 Sanjoy Banerjee (left) and Andrew Shantz performing together
Facebook/Andrew Shantz
Banerjee formed Suromurchhana to pay tribute to his guruji, A. Kanan. In doing so, he was inspired by the vision of another music stalwart, his guruma, Bidushi Malabika Kanan (also the wife of A. Kanan). What began as an idea for a single concert gradually evolved into an institution, with the likes of Subhas Chakraborty (former West Bengal minister) and Kamala Basu (wife of former West Bengal chief minister Jyoti Basu) doing their bit in the initial days to get Suromurchhana up and running. After Suromurchhana had found its feet in Kolkata through the relentless organisational skills of Banerjee and some of his close friends. Banerjee went to the US, where he swiftly built a new group of students and followers. In due course, Americans found a way of understanding Indian culture through Banerjee's efforts to popularise Indian classical music in the land of jazz and hip-hop.
"He's a fearless leader who started teaching me in 2014," says Andrew Shantz about Banerjee. With a degree in jazz piano and an insatiable curiosity about Indian classical music, Shantz was initially drawn to the harmonium, before realising the diversity of the Indian tradition on his first visit to Kolkata in 2008. "Coming to Kolkata made me understand the ancient qualities of what I was learning. Staying in Tollygunge, attending Saraswati puja, even speaking some Bengali added to my experience of India and its music. Not to mention its people," recalls Shantz, who is currently a teacher at Suromurchhana with students in New York City and New Jersey. In 2019, Shantz's 11-year journey of discovering Indian classical music reached its highest note till date, when he performed at Uttam Mancha in Kalighat.
'Learning Indian classical music is one of the greatest privileges of life. It's like seeing how God works'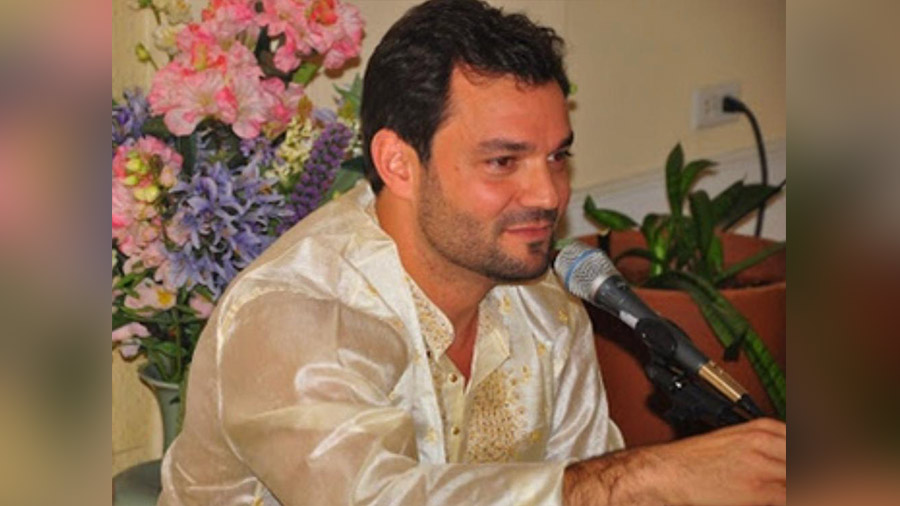 Luis Alvarez first heard Indian classical music at a student dorm in Princeton University
Luis Alvarez
Another of Banerjee's oldest students in the US is Luis Alvarez, a Puerto Rican who has spent the better part of his life in the US. Alvarez's first encounter with Indian classical music came through hearing the "sound of a trance" from the room of a Bengali student at Princeton University. After he moved to NYC, Alvarez came under the tutelage of Banerjee in 2012. "Learning Indian classical music is one of the greatest privileges of life. It's like seeing how God works," says Alvarez, who is currently based in Miami, from where he assists Suromurchhana with its finances. According to Alvarez, Banerjee's genius lies in conjuring the "sweetest sounds", something that made Alvarez invite Banerjee to "come in and play for my son's school in 2013". "I was sceptical as to whether the kids would be able to sit through something they had no idea of. But, throughout the performance, not a single kid moved. My son felt proud of me and the whole event was a testament to the universality of music," narrates Alvarez.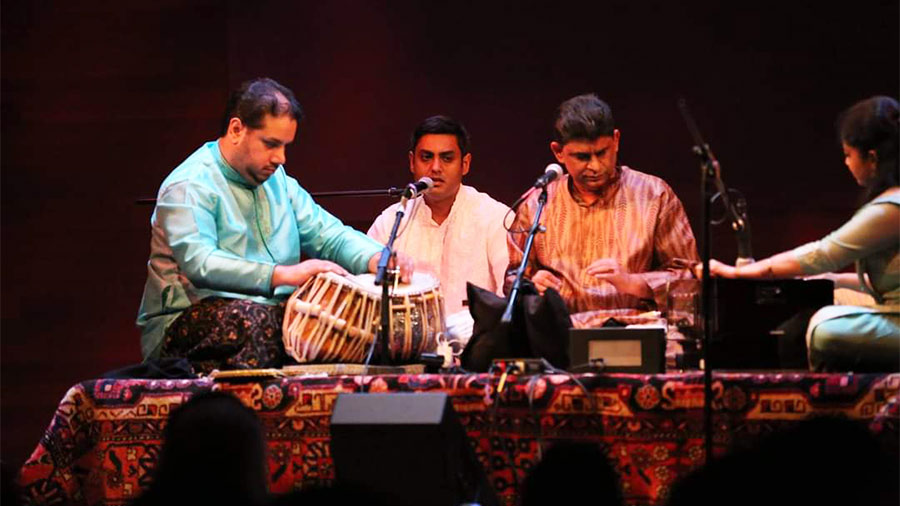 Dibyo Basu (second left) on stage alongside Banerjee
Dibyo Basu
"Sanjoy da changed the way I thought about classical music. He's a teacher who can make learning interesting without making it cumbersome, someone who has great emotional investment in his music but is also a no-nonsense man who believes in getting things done," says Dibyo Basu from New Jersey, who took his first lessons from Banerjee in 2012. Basu's best memory with Suromurchhana is performing alongside Banerjee during an overnight concert in Manhattan, where, as soon as Banerjee had hit the first two notes of his aalap, Basu knew that "we were in for something special". An alumnus of Jadavpur University who came to the US in his early 20s, Basu has two big goals for Suromurchhana in mind: "First, I want us to have a show in Carnegie Hall (in NYC) under the Suromurchhana banner. Second, and more importantly, I want us to spread classical music to the grassroots in India."
'Sanjoy da broke this myth that you have to be born into Hindustani classical music'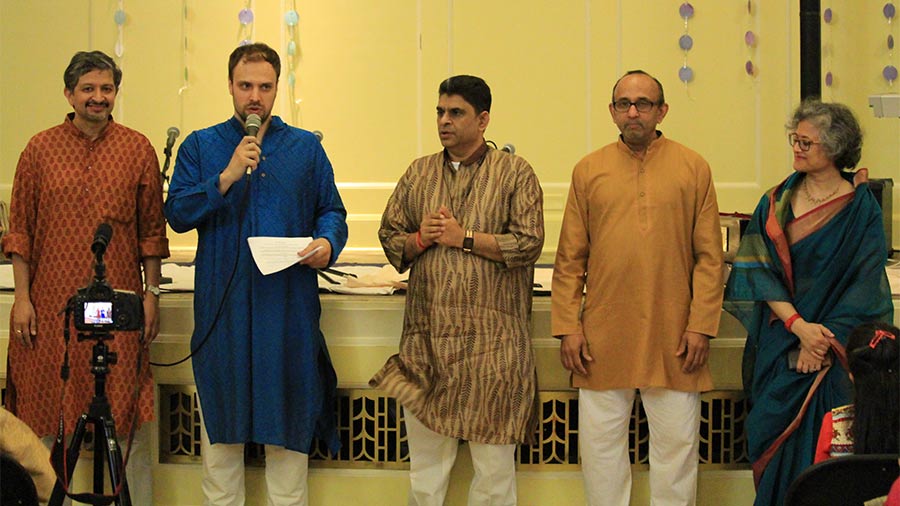 The board members of Suromurchhana, including V.S. Mani (extreme left) and Shampa Chanda (extreme right)
Suromurchhana/Shampa Chanda
In attaining both of Basu's aims, Shampa Chanda and V.S. Mani will be integral. Based in NYC, the wife-husband duo are among the board members of Suromurchhana as well as the biggest admirers of Banerjee. "In the early days of his teaching music in NYC, Sanjoy da would travel for hours just to get to the teaching centre from his house on the outskirts of New York. Seeing his dedication, Mani and I asked him to stay with us. That's when we got to know him better. For me, Sanjoy da broke this myth that you have to be born into Hindustani classical music. I'm not a genius and nor do I aspire to be a music professional, but after years of learning from him, I understand how classical music works," explains Shampa, who will be familiar to the readers of My Kolkata as a New York City urban planner and city commissioner.
An advocate of growing Suromruchhana slowly and steadily — in recent times, the US chapter has gone beyond New York to Boston, Washington D.C. and Connecticut — Shampa was thrilled with the response to two of Suromurchhana's latest in-person events in Kolkata, when a packed Uttam Mancha remained rapt in awe from afternoon to late evening, with people of all age groups taking in the mastery of the likes of Vishwa Mohan Bhatt, Tanmoy Bose, Bickram Ghosh and, of course, Banerjee himself.
"Indian classical musicians are like Olympic athletes. Even the youngsters, who may seem starstruck on their first visit to NYC, become masters when they take to the stage," describes Mani, the self-proclaimed "worst student" of Banerjee, whose tone deafness did not stop him from marvelling at "how the jugalbandi of a sitar and santoor can touch the soul". Responsible for running the "nuts and bolts" of Suromurchhana even though "I can't go beyond an octave and a half", Mani acknowledges the inadvertent role the Covid-19 pandemic played in putting Suromurchhana on the map: "It was a time when in-person concerts were impossible. But we continued to remain active through online performances. Within a span of six weeks, we did a series of online concerts that expanded our reach," says Mani, aware of how Suromurchhana had a therapeutic effect on its audience during one of the most challenging times in modern history.
'The idea of free concerts is very much the norm in Kolkata'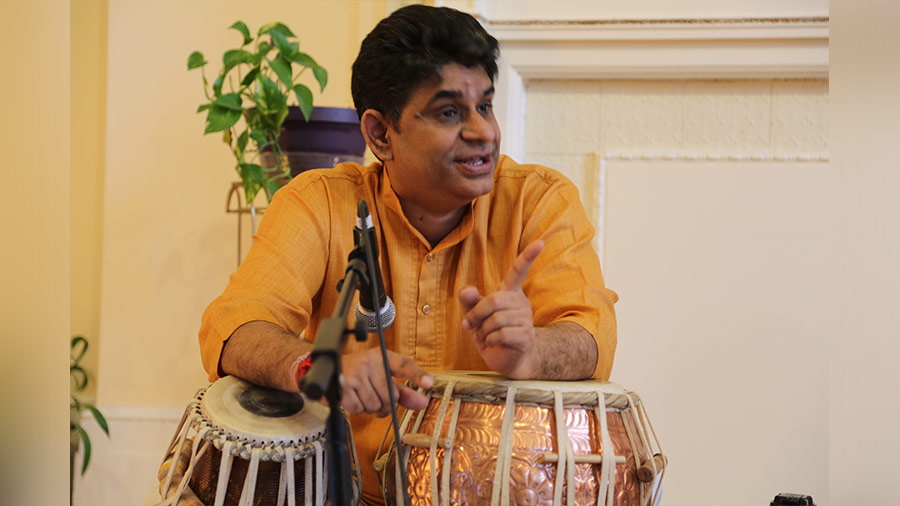 Banerjee feels it is much easier to organise Suromurchhana events in the US than in Kolkata
Suromurchhana/Shampa Chanda
With close to 60 members as part of its organisational structure, Suromurchhana remains largely informal. Its communitarian essence is what makes it easy for new members to join and quickly feel part of something bigger and more meaningful. But, for Banerjee, who splits his time between NYC and Kolkata, hosting events in the City of Joy has its complications: "It's much harder to raise funds. Permissions and delays are aplenty, too. Plus, the idea of free concerts is very much the norm in Kolkata. People don't seem to want to pay to listen to good music. This isn't the case in the US, not even in some other Indian cities where we have done occasional shows, such as Mumbai, Pune or Bengaluru."
Having said that, Banerjee has no plans to move Suromurchhana's Indian base away from Kolkata, which hosts at least two to three Suromurchhana programmes every year, including the Hindustani Khayal Talent Search Contest to identify up-and-coming musicians who can take the tradition of classical music forward. Banerjee and his team are grateful for the "respect, love and support that we've received" and are keen for Suromurchhana "to spread its melody wider and deeper". To help Indian classical music become a cornerstone of Indian culture in the US all the while reviving its standing 8,000 miles away in Kolkata.