Somewhere between living and dreaming, between imagining and manifesting, there is New York City. It is a city that captures the United States of America in all its compelling contradictions, a city whose diverse demography makes it a microcosm of the world.
Many say that one cannot grow out of New York whether one has spent five minutes in it or five years. Shampa Chanda, born in Kolkata and initially raised in Delhi, has grown up in and with New York, having lived there for the past 40 years as a witness to the city's constant transformation.
Chanda first came to New York when her father's posting with the United Nations changed from Afghanistan to America's unofficial financial capital. She went on to complete her higher education in NYC before working as a city planner in various portfolios for various organisations. 
Currently, she is serving as a Commissioner on the NYC Board of Standards and Appeals.
My Kolkata caught up with Chanda to take a deep dive into New York, besides learning what she thinks of Kolkata's cityscape, and much more.
Edited excerpts from a Zoom call connecting a chilly Kolkata morning and a freezing NYC night follow. 
My Kolkata: What does your current role as a New York City Commissioner entail?
Shampa Chanda: I work for a city agency called the Board of Standards and Appeals. It's a quasi-judicial body that deals with land use and zoning development. We've been given the authority, partly on the basis of the US Constitution, to make changes to the underlying regulatory controls that could constrain the development of a site. We are a body of five commissioners who evaluate the claims of applicants (regarding a particular site) independently to assess how regulations may or may not be affecting their rights and arrive at a deliberation. A number of our assessments also become precedents for case laws.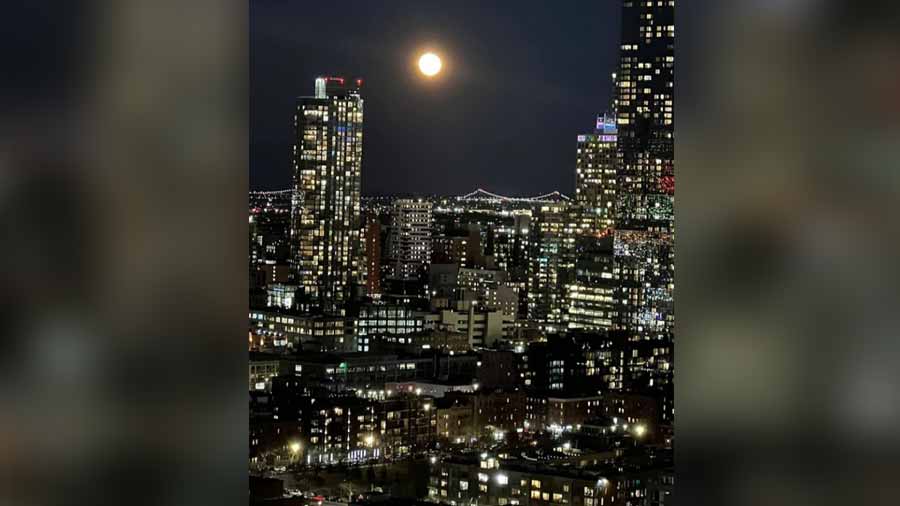 The New York skyline as captured by Chanda
Courtesy: Shampa Chanda
After coming to the US as a teenager, you studied architecture at the City College of New York. How did you get drawn to the subject?
My interest in architecture came primarily from my enjoyment of looking at space. I also had a visual ability to stake out a territory, remember where and how things were, and how I could change them positionally. But it was more of a curiosity, I never thought of it as a profession. It's only much later when some people in my neighbourhood – our parar dadas! – went on to study architecture, did I realise that one could do that.
When I came to the US and started applying to colleges, a lot of them wanted me to have a portfolio, which I had no idea about. Eventually, I applied to City College of New York, which was much more embracing of students' desires to learn without too many impediments by way of qualifications. I managed to get in and didn't look back.
And what was your focus area while studying urban planning at the Massachusetts Institute of Technology (MIT)?
MIT had an international planning programme focusing on housing. For my thesis, I focused on the Lower East Side in Manhattan and studied how the community was adapting to economic and social change in that part of the city.
The central question was looking at the old tenement houses in the area and how they could be rehabilitated. I was trying to understand if the government programmes for empowering the locals financially were successful or not. It was an interesting experience to observe how policy shaped the daily realities of a neighbourhood.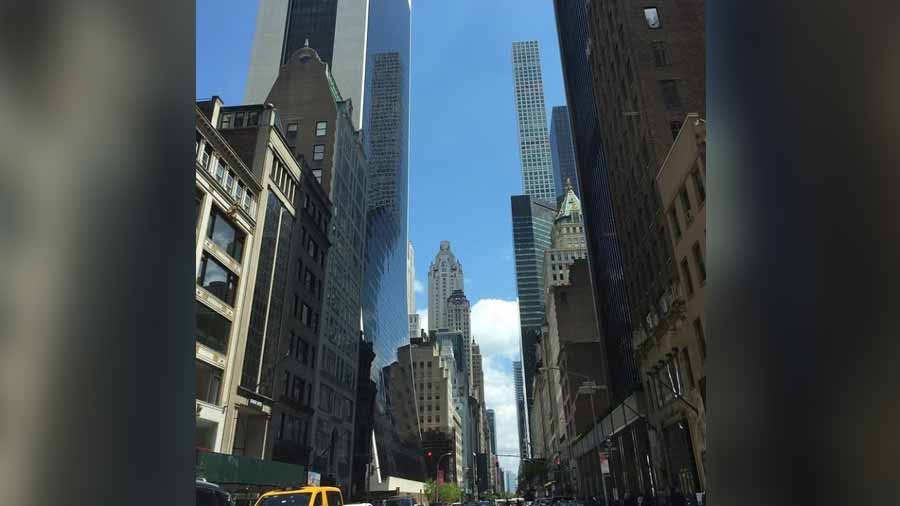 The iconic high-rises without which today's NYC can hardly be imagined
Courtesy: Shampa Chanda
You have lived and worked in New York City for the best part of four decades now. How has NYC changed in all this time?
When I first started taking the subways to go to college, they were graffiti subways. I love graffiti as an artwork, but I don't see graffiti in the subways anymore. Times Square has gentrified, it has been sanitised. As a New Yorker, there's a certain amount of nostalgia you have about the grittiness of New York City, but that has changed. The skylines along the Hudson, all the high-rises have also changed the look of the city.
But the worst part has to be the 9/11 World Trade Center attack. My office is 10 minutes from the World Trade Center. I remember getting out of the metro station (on September 11, 2001) and seeing a massive crowd running out of all the office buildings. When I looked up, I saw both the Twin Towers burning. There was this cloud of smoke that resembled the scene after an atomic bomb explosion. I could never have imagined that such a sight was possible. The noise was deafening, you could hear it from several miles away. Even to this day, I get chills when I think of that… 9/11 changed New York City forever.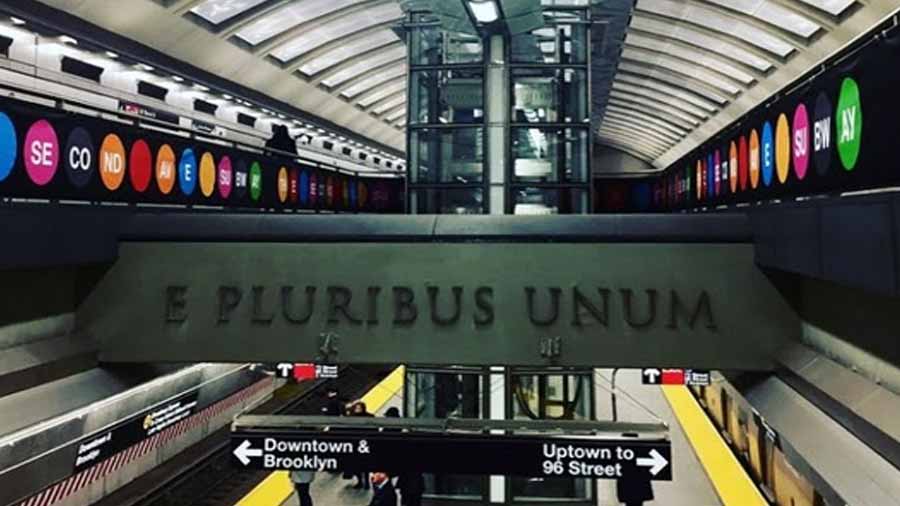 In her student days, the subways were Chanda's most frequent means of transport across NYC
Courtesy: Shampa Chanda
On a different note, what are the most charming things about NYC that one cannot find in a travel guide?
I live in the borough of Queens and some 167 languages are spoken in this borough alone. So there's a huge immigrant population here. There's a subway line in Queens, called the number 7 subway line. Walking underneath this subway line, what I find most beautiful is the sheer variety of food stalls. You go from one block to another and you can see stores that are selling all these different foods and cuisines, from Filipino to Peruvian, from Ecuadorian to Mexican, from Honduran to Nepalese. If you really want to eat, just walk down that road and you'll keep feasting!
What sort of architecture or aesthetic do you prefer for your own place?
I prefer to keep things simple. I like straight lines and believe in function and form complementing each other. But functionality is critical for me. If you don't have a functional space, beautification doesn't matter.
How involved are you in the Bengali community in NYC?
This is where I can fault myself for not being a pakka Bengali! I'm married to a Tamilian, so we don't mix exclusively with the Bengali community. But I keep myself informed about the programmes and events at large in the Indian community, not just among the Bengalis. Only during Durga Puja do I become a thorough Bengali!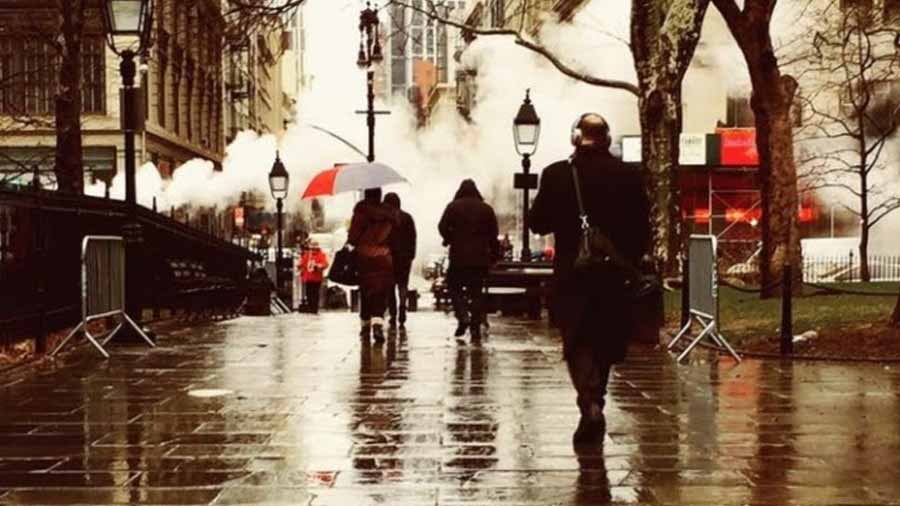 A characteristically wet day in NYC
Courtesy: Shampa Chanda
Have you found any similarities between NYC and any of India's metropolitan cities?
People say New York is a lot like Mumbai. I've not spent enough time in Mumbai to get a sense of the vibe. But if I had to pick one, I'd say Kolkata. That chaotic, crazy, and happening vibe is similar to both cities. In terms of population density, Mumbai is similar, but if you consider the people, culture, and the general vibe, it's more akin to Kolkata.
Speaking of Kolkata, what are your must-dos and must-visits when you are here?
I used to come back to Kolkata to visit my relatives every summer, but then there was a period of time when I couldn't make it. Nowadays when I'm back what I really want to do is to go on heritage tours. Particularly in North Kolkata where a lot of the old buildings are still there. It's unfortunate that they are dissolving in front of our eyes.
I'm also keen on trying out different kinds of food. I have my list of Kolkata places that I've accumulated from YouTube, so I try to tick them off everytime I'm there.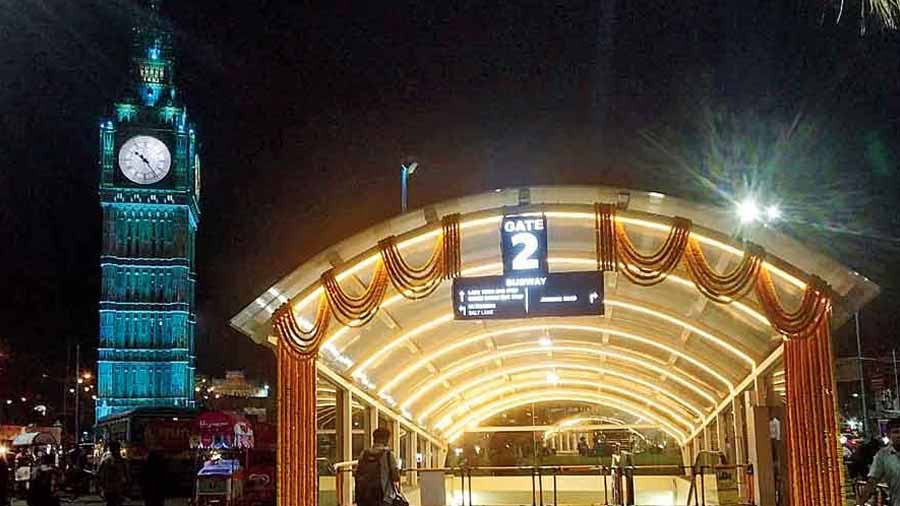 Lake Town's planning and cleanliness have impressed Chanda during her visits to Kolkata
TT archives
Putting on the hat of urban planner and city commissioner, what has impressed you about the cityscape of Kolkata?
I'd think that Kolkata has improved significantly over time in terms of parks, general beautification, even sidewalks. In Delhi, sidewalks exist in name only, but not in Kolkata. People still move around a lot on foot in Kolkata, which I like.
One of the places that stood out in Kolkata was Lake Town. There were these garbage cans that were placed and each of these cans was a character. They were these really impressive, funny characters. They blended in so beautifully with the trees, the colour tones, and the surroundings.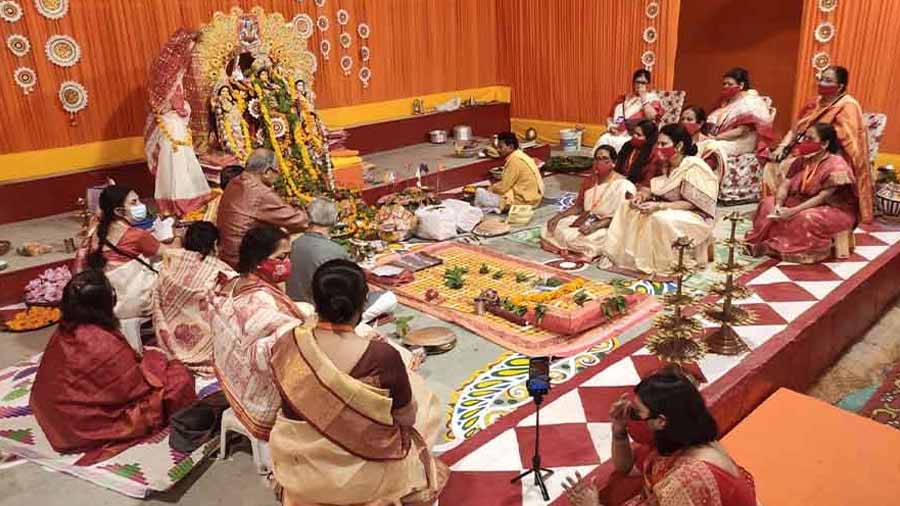 Durga Puja being celebrated in Delhi's Chittaranjan Park
TT archives
Moving on to Delhi, what does Chittaranjan Park mean to you?
Chittaranjan Park was initially known as East Pakistan Displaced Persons (EPDP) colony and my father qualified for residency over there. Back then, it was a jungle. It wasn't safe. To see that area change has been interesting. The one-storey homes have become four-storey flats. The older generations are moving out and the new buyers aren't usually Bengalis. There are some who lament that, but I think it's nice. I don't think we should be clustering within exclusive communities, that's not the spirit of city life.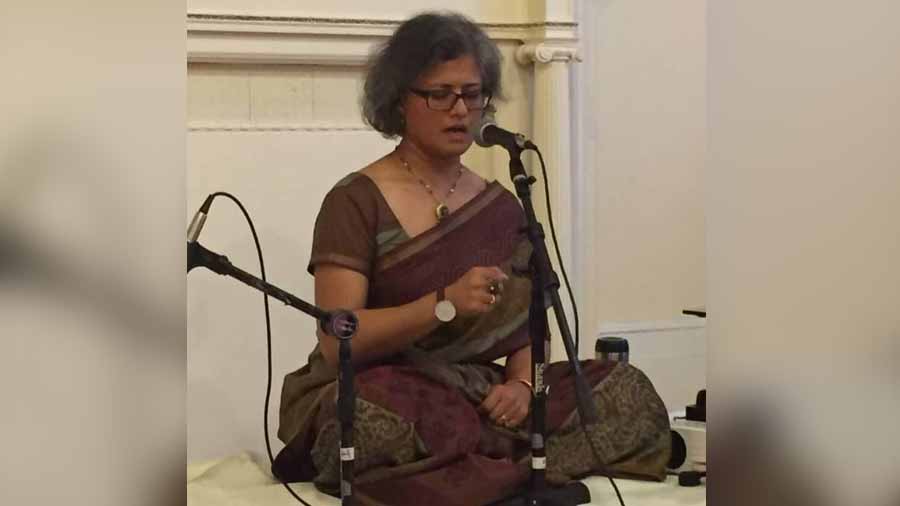 Chanda not only performs, but also promotes Indian classical music in New York
Courtesy: Shampa Chanda
You have a great passion for classical music. How did that come about? And what are your other hobbies or interests?
My parents did their best to give me and my siblings a strong base in classical music. But when I moved to the US, I started appreciating jazz and Latin music. With time, however, I realised I needed a hobby and I began to take training in classical music once more. I'm currently part of an organisation called Suromurchhana set up by my guruji and we keep having events from time to time. I perform as a vocalist and to be able to immerse myself in the endless excellence of Indian classical music is incredible in itself. I also try to promote Indian classical music in New York so that we can build up a community of people who can learn it in the traditional guru-shishya parampara.
Apart from classical music, I enjoy travelling and photography.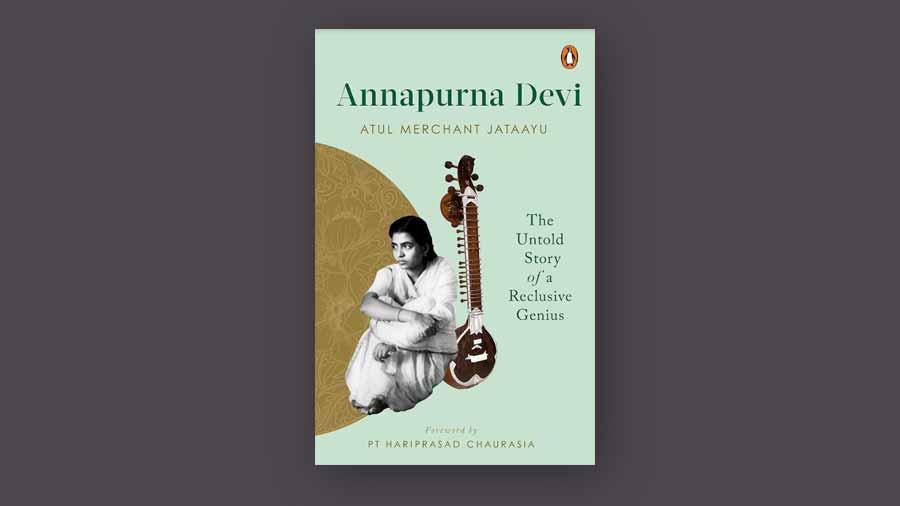 Chanda has been fascinated to read about Annapurna Devi's life
TT archives
Anything that you have been reading lately that you would like to recommend?
I just finished reading My Life In Full by Indra Nooyi and I'm presently reading Annapurna Devi's biography (by Atul Merchant). Everybody knows that Annapurna Devi was a reclusive person, but this book provides such great insights into her through the accounts of her disciples, it's fascinating.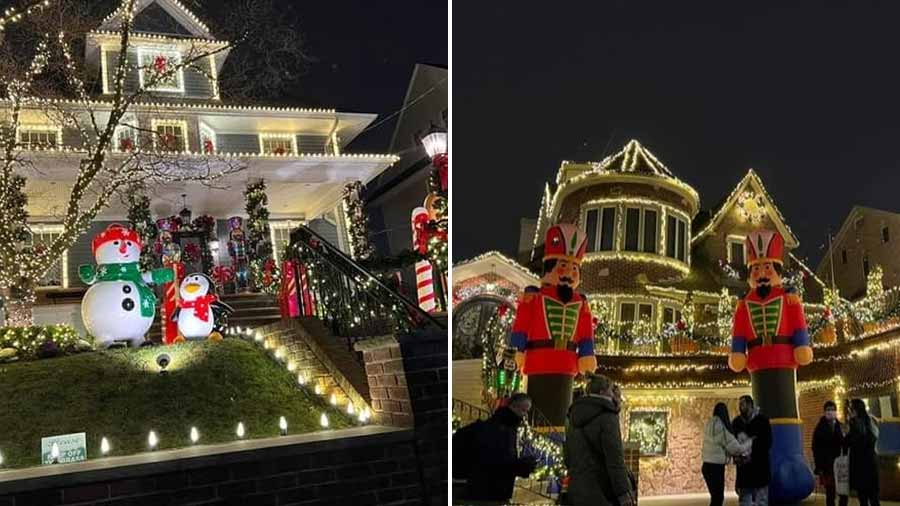 Homes in Dyker Heights lit up during Christmas
Courtesy: Shampa Chanda
Finally, if I as a youngster from Kolkata was about to visit New York City for the first time, what three things, as Commissioner, would you tell me to watch out for or keep in mind?
First, travel as much as you can in the subways and the buses, especially the buses, so that you can get the pulse of the city.
If you're in New York during Christmas, go to Dyker Heights in Brooklyn, where you can see homes being lit up and decorated in the most amazing ways. Of course, go to Rockefeller Centre to see the Christmas tree, see the lights on Fifth Avenue, but don't miss out on Dyker Heights.
And lastly, try and visit as many small neighbourhoods as possible, because that's where you get to see how each ethnic group has created its own niche. You'll find their restaurants, their temples, and their artifacts.
But you'll have to walk a lot. Walking is a big part of discovering New York.