A three-dimensional portrait, the mukhosh, as it is called in Bengal, has been closely associated with folk culture and folklore. An integral part of folk dances, masks have an important place in Bengal's culture and heritage. Based on the region and genre of folk art, masks have evolved to have distinct features.
These pieces of art are generally made of clay, wood, metal, papier mache and spongewood or shola — different regions have their own materials and techniques. Masks are often used in rituals and customs, as they are in performing arts that are a combination of customs and amusement. The mukhosh is used to represent many things from animals to mythical or mythological characters such as buro-buri in Gombhira (Gambhira), Gomira's Krishan-Krishani, the animals and gods of Chhau, etc. Known for their unique craftmanship, these masks are also considered as one of the most coveted decorative items.
Chhau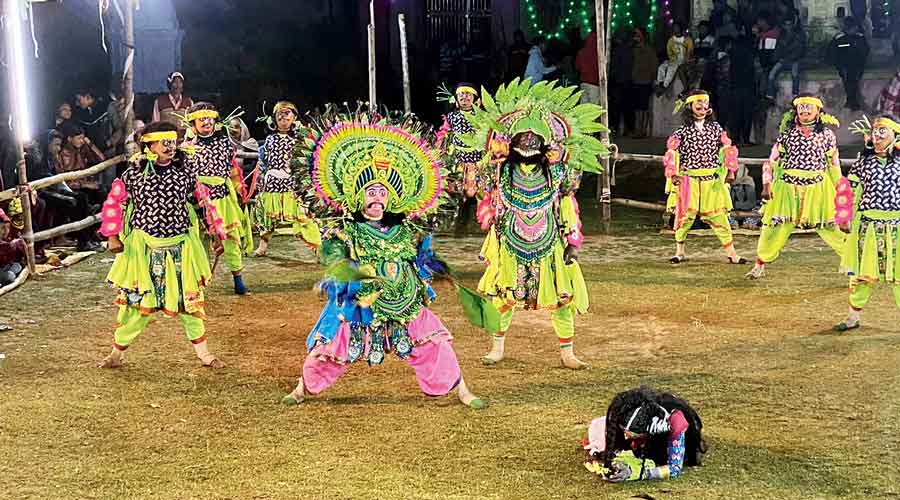 TT Archives
Chhau is perhaps one of Bengal's most famous folk dance forms and is on UNESCO's list of Intangible Cultural Heritage. The home of Chhau in Bengal is Purulia. The Purulia Chhau mask also has a GI tag, and the artisans' village of Charida is where most of these masks are made. Most of the artists making these masks are from the Sutradhar community. They are made with papier mache and cloth, ripped paper, ripped cloth, clay and maida. Traditionally, natural colours were used to paint these masks, but now are sourced from local markets. Chhau masks are usually fashioned after characters from the Ramayana, Mahabharat and the Puranas.
Gombhira
The wooden Gombhira (Gambhira) masks were traditionally made from neem and fig trees, but are made with clay now. Based on mythological characters, and gods and goddesses, these masks are donned by performers of Gombhira, a folk song and dance form popular in Bengal's Malda district. The three-dimensional crown is a unique feature of these masks, and the most attractive and popular Gombhira mask is that of Narasinghi. Made with neem wood, the large mask has a fearsome appearance with big eyes, a long nose, a red lolling tongue and two horns that protrude from two sides of the ears. Other characters that feature on Gombhira masks include Kali, Chamunda, Hanuman, Shiv. The masks are now used sparingly and apart from Narasinghi, most others are made with clay or cardboard.
Rabankata
In parts of Bishnupur, in Bankura district, the folk dance form Rabankata is performed during Durga Puja. It usually features masks of Hanuman, jambuban, Ravan and Indrajit. The dancers wear fringed, almost fur-like loose costumes with various coloured masks — the Hanuman mask is white, Indrajit and Ravan are green and jambuban is black. All the masks are made of wood and are quite heavy.
Gomira and Mukha khela
The Gomira folk dance or North and South Dinajpur features heavy, brightly painted wooden and papier mache masks of gods, goddesses and mythological characters. There are a few variations within the wider dance form of Gomira, the most distinct of which are Gomira and Ram-Vanbas. Gomira masks are usually made out of the wood of the gamar tree, however the masks made in North Dinajpur are made with paper pulp, cloth and clay and layered with spongewood or shola.
Among the smaller pieces or styles within Gomira is the war-dance known as Mukha Khela, or the dance of the masks, where dancers adorn huge masks, usually based on the characters of the Ramayana
The female deity, especially forms of Kali or Chandi, feature heavily in Gomira dances, which are usually based on themes of good versus evil. In South Dinajpur, the tri-headed wooden mask of Mahiraban, is a popular one.
In West Dinajpur, masks of Kali, called mokha, feature in dances that tell the tale of the goddess. These masks are usually enormous and have a fearsome countenance, and have some influence of Tibetan artistic styles. While traditionally made of wood or clay, they are now often made with cardboard. The dances are known as Oporapor.
The tradition of masks and masked dances have a presence throughout the state. Many of these dances are now seldom seen and restricted to their regions, but form an integral part of the state's cultural history. The hills of West Bengal also have their own masked folk traditions like Mahakhali Lakhey, Singhi Chham and others.
(This is not a comprehensive list)