In the past couple of years, bartending has turned into one of the coolest professions to pursue in India and bartenders have become like mini celebrities, who get to interact with hundreds of new faces on a daily basis.
As we raised a toast to celebrate World Bartender Day 2023 (on February 24), head bartenders working at five buzzing bars in Kolkata shared a cocktail recipe each alongside some food for thought.
Amardeep Sinha (The Salt House)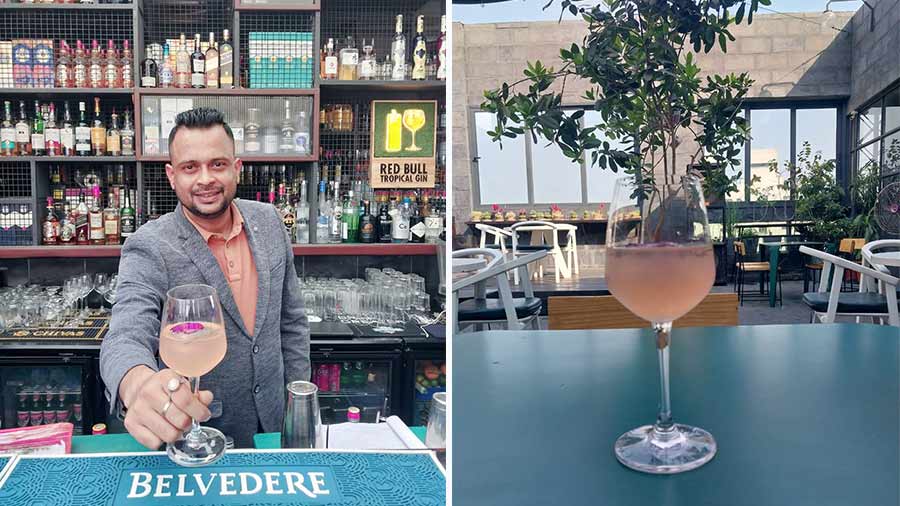 Amardeep Sinha (The Salt House); a glass of ZinGin (right)
Nitin Waghela
Passing on a life lesson to young bartenders, Amardeep Sinha, head bartender at The Salt House, a restaurant on Shakespeare Sarani known for its handcrafted cocktails, said, "A bar is a place where chances of a pilferage are at its highest. Here, one needs to be honest to themselves and their bar, which also is one of the biggest reasons for repeat orders and loyal customers."
ZinGin
On the spur of the moment, Sinha had crafted the ZinGin cocktail for the owners of Salt House, Prachi Saraogi and Saloni Jhunjhunwala, who were looking to be surprised by their head barman. The drink keeps you refreshed and high in equal measurements.
Glass: Red wine glass
Ingredients
30ml gin
60ml Zinfandel rose
15ml Lemon juice
15ml Thyme syrup
Rose petal block ice (or regular ice cubes)
A stem of fresh thyme for garnishing
Method
Add rose petal block ice in a wine glass. Pour 15ml of lemon juice. Pour 15ml of thyme syrup. Mix it well. Then pour 30ml gin (of your choice). Pour 60ml Zinfandel rose. Give a gentle stir for 10 seconds. Add fresh thyme stem. Let the fun be-gin!
Pabitra Das (Roots)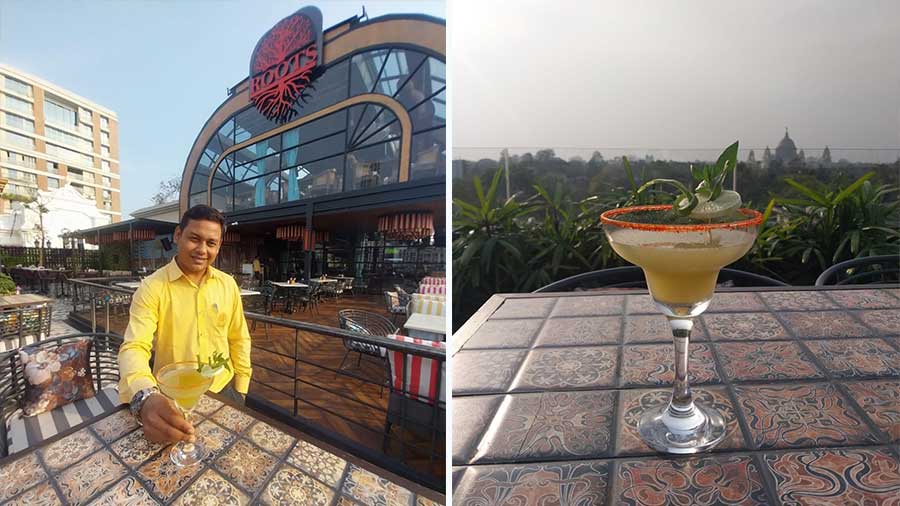 Pabitra Das (Roots); a glass of Gondhoraj Jalapeno Margarita (right)
Nitin Waghela
Pabitra Das, the first head barman at Roots, a gigantic night-club with spectacular cocktails, located at the Exide crossing, is reminded of a time where a customer found a unique way to get his attention. "When I was still working at Shisha Bar Stock Exchange, a regular customer feeling neglected made up an arrow using different coloured straws that pointed towards him!"
Gondhoraj Jalapeno Margarita
While you breathe in this drink, the heady aroma of this hard shaken cocktail slowly floats down your throat, and this is how you would have added another vodka-based cocktail to your drinks-to-recommend list.
Glass: Margarita
Ingredients
30ml Vodka
30ml Tequila
30ml Lime juice
15ml Triple sec syrup
Lime chunks
Mint leaves
Basil leaves
Kaffir lime leaves
Jalapeno
Salt
Chaat masala
Gondhoraj lime
Lime slice for garnishing
Method
Take a shaker. Pour vodka. Pour tequila. Pour lime juice and triple sec syrup. Add lime chunks. Put mint, basil, and kaffir lime leaves. Add jalapeno. Add salt and chaat masala. Muddle it slightly. Squeeze Gondhoraj lime. Add ice and hard shake. Fine strain it into a glass rimmed with salt.
Pooja Dey (Trapeze)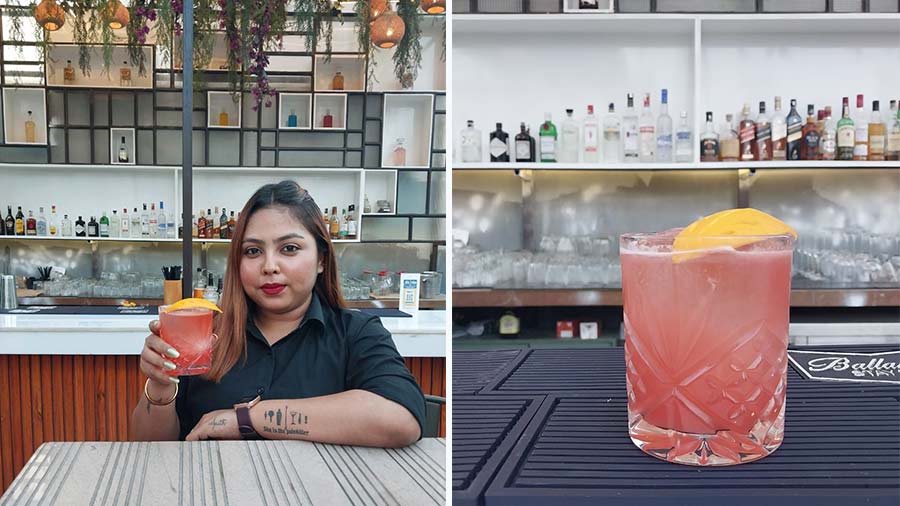 Pooja Dey (Trapeze); The Berried Blush (right)
Nitin Waghela
Sharing a tip for girls looking to get into bartending, Pooja Dey, head bartender at Trapeze on Russell Street, says, "Keeping calm, being level-headed and also knowing when to stand up for yourself will go a long way and is a quality always appreciated by the management."
The Berried Blush
"At the launch party of Hoichoi, a Bengali film-director was looking for a fresh take on a whiskey-based cocktail. That's how The Berried Blush was born," says Dey. This shaken cocktail leaves you with a light buzz and a tendency to reorder it.
Glass: Old Fashioned
Ingredients
60ml Whiskey (Black & White / Jim Beam / Teacher's Highland)
Blackberry - 2 noz
Kaffir lime chunks - 2 noz
15ml Litchi juice
15ml Orange juice
10ml Lime juice
10ml Simple syrup
An orange peel cut leaf-style for garnishing
Method
Chill an old fashioned glass. Take a cocktail shaker, put in 2 black berries and muddle. Add 2 chunks of Kaffir lime and muddle it to enhance flavour. Pour orange and litchi juice, lime juice and simple syrup. Pour whiskey and put in the ice cubes and shake for at least one minute. Double strain and pour the cocktail into the chilled glass. Serve it with a block of ice (optional). Garnish with an orange peel leaf… the drink is ready!
Ripon Biswas (Raasta)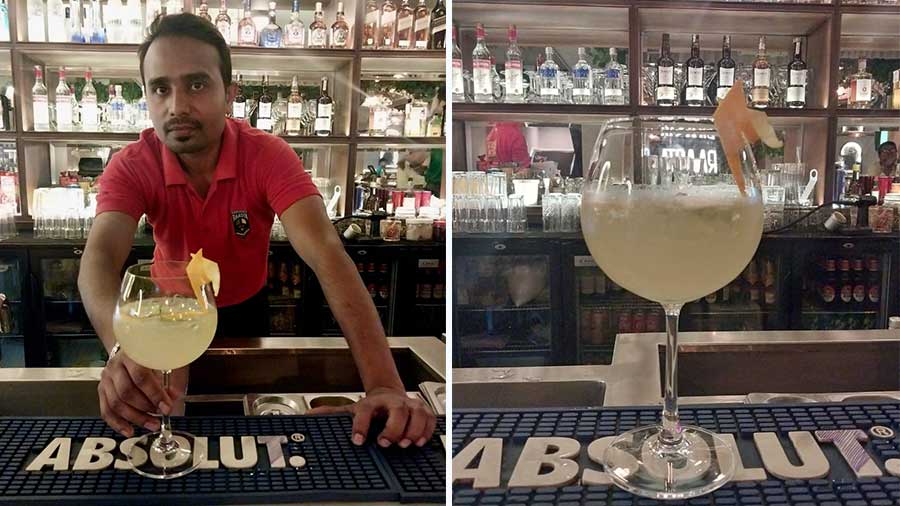 Ripon Biswas (Raasta); a glass of Ginto (right)
Nitin Waghela
Head bartender at the popular chill spot on Park Street, Raasta, Ripon Biswas, says, "The most fascinating bit about our lives is that we wake up everyday with a call to innovate and an intention to surprise both ourselves and the new faces in front of us."
GintoExperience the ultimate autumn delight that will indulge all your senses. This fabulous drink promises to put you in a great headspace.
Glass: Gin Goblet
Ingredients
60ml Gin (brands like Bombay Sapphire, Tanqueray, Jaisalmer, Hapusa)
Lemon grass 1 stick
10ml Passion fruit syrup
15ml Lemon juice
10ml Sugar syrup
Tonic Water
1-2 Lemon slices and orange slices for garnish
Method
Take a shaker. Add all ingredients, excluding the tonic water. Shake well. Strain it into the glass and top up with Tonic Water. Cheers!
Anwit Sarkar (Toy Room)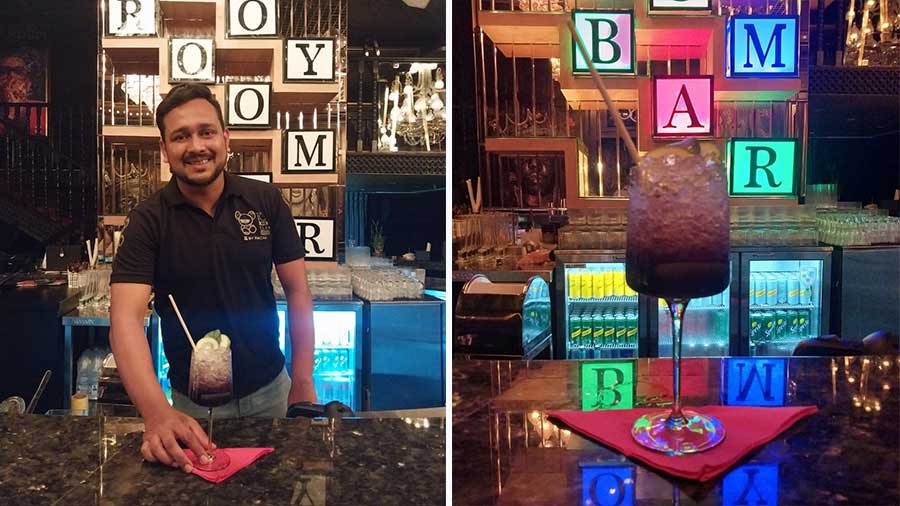 Anwit Sarkar (Toy Room); a glass of Frank's Love (right)
Nitin Waghela
The flaring head bartender at Kolkata's high-energy nightclub Toy Room on Camac Street, Anwit Sarkar, reminisces a time when his presence of mind was tested. "Once a customer approached the bar, looking for an Indian twist to any cocktail. Post which, I created Panarasi, a paan-flavoured gin-based cocktail with hints of gulkand, and betel leaves. Both of these ingredients were lying in front of me back then, so I put them to use."
Frank's Love
The signature cocktail at Toy Room called Frank's Love is a mood enhancer and must be taken only when you want to put the seal of good times on your back.
Glass: Imperial wave wine glass
Ingredients
60ml Elderflower infused vodka
30ml Fresh blueberry puree
Fresh lime chunks 4-5 nos
15ml Fresh lime juice
Soda
Kaffir lime slice and kaffir lime leaf to garnish
Method
Muddle lime chunks in the shaker. Add ice cubes and lime juice. Add blueberry puree. Add the elderflower infused vodka. Shake well and strain into the glass with crushed ice. Top up with soda. Serve immediately