Are waffles healthy? 
"The saying, 'If it's healthy, it will not be tasty', is a misconception many have. When it comes to waffles, we can definitely add a healthy angle to the dish by using alternative ingredients. In fact, once you use the right ingredients, any dish can be made healthy. All you need to do is focus on low-sugar, gluten-free and vegan ingredients," says chef Sunil Chauhan, managing director of FabCafe.
So, on Oatmeal Nut Waffle Day (yes, it's real!), Chauhan, the brains behind Fab India's restaurant chain Fab Cafe, whose menu focuses on healthy ingredients, breaks down a vegan, gluten-free approach to waffles for My Kolkata.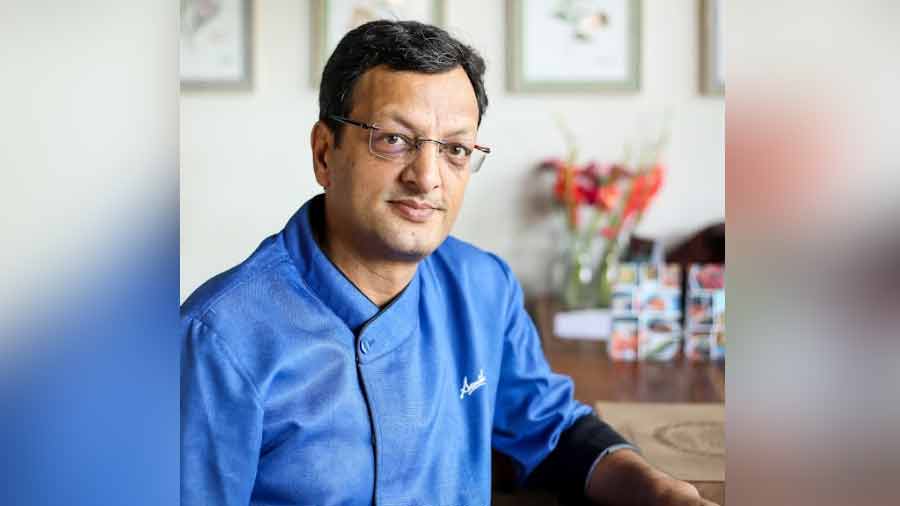 Chef Sunil Chauhan of FabCafe
Tips on how to make your waffles healthy:
While making a waffle, use a three-pronged approach. First, make sure the base flour is gluten-free. Second, try and make it vegan because it is the healthiest approach – substitute butter and cream with coconut milk and plant-based yoghurts. Next, add a dash of oatmeal. As soon as you add oatmeal, you're giving it a healthy angle.
There's no problem adding toppings to a waffle, just make them healthy. Use a dairy-free ice cream (these usually use coconut milk or cashew milk) or a low-sugar syrup like date syrup, coconut sugar or palm jaggery.
If you're not using eggs, substitute it with flax seeds. A good substitute for eggs is essential for your batter to have a nice consistency.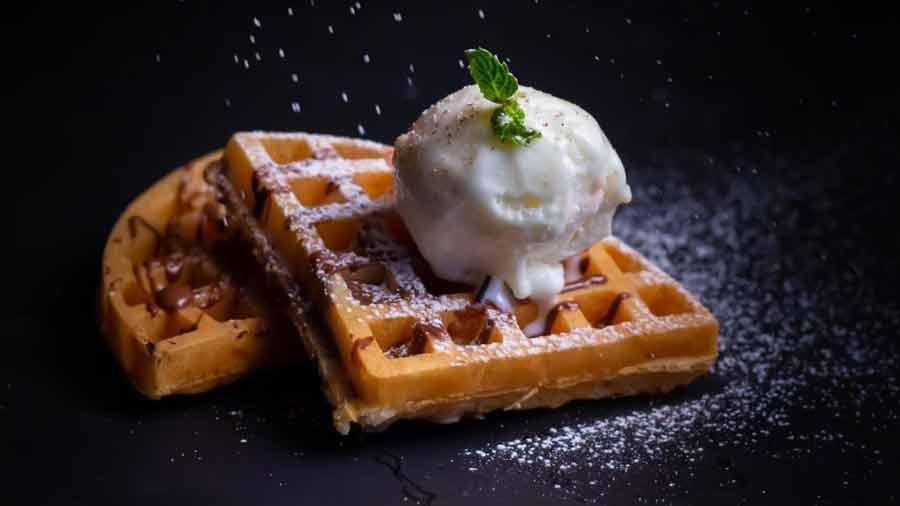 Dairy-free ice creams make for a great vegan waffle topping
Unsplash
Pro tips to take your waffles from average to phenomenal:
Add a little bit of vinegar to the batter. This will make it lighter and make a fluffier waffle
Keep the batter slightly warm. Do not use it cold from the fridge. Room temperature is still manageable, but using a warm batter will get you the best results
If you've wondered why the waffles you make at home are different from the ones you get at restaurants, the answer lies with the waffle iron. A good waffle iron is a must for a good waffle
For the beautiful golden brown hue, a constant medium temperature is necessary
"If you're eating a waffle every morning, I would advise you to make it very healthy. If you're having it once in a while, you can still add healthy ingredients, but you need not be so rigid," says Chauhan.

Chauhan's recipe for waffles that will make you go yum-yum:
Prep time: 15 mins
Cook time: 10 mins
Servings: 2
Yield: 5 to 6 waffles
Ingredients (Can be alternated with healthier options, as mentioned above)
All purpose flour (Maida): 240 gms
Roasted oats: 10 gms
Baking powder: 12 gms
Salt: 1.5 gms
Sugar: 7.5 gms
Eggs: 1
Milk (warm): 3/4 Cup
Yellow butter: 60 gms
Vanilla extract: 1 teaspoon
Cooking Instructions:
In a bowl, mix flour, baking powder, salt, and sugar powder. Set it aside
In a separate bowl, beat egg, stir milk, butter, and vanilla extract
Pour the milk and egg mixture into the flour mixture and beat until blended
Preheat the waffle maker
Pour the batter into a preheated waffle maker and cook until the waffles are golden brown
Serve them with ice cream, mixed fruits, honey, maple syrup or chocolate sauce for a sweet waffle or add a savoury twist with a mix of herbs, cheese, tomato ketchup or salsa or tartar sauce.
Pssst: Make a sandwich using two waffles. All you need to do is replace the bread slices with the waffles, add in your sandwich stuffing and relish it! It's a much healthier option.