For many in Kolkata, some of the best childhood memories are entangled with the Christmas season. Every year, as the city sees a dip in mercury, homes are magically transformed into havens of joy with the prettiest Christmas trees, lines of the three wise men at the foot of beautifully crafted cribs and bursts of stockings, candy canes and mistletoes punctuating pelmets, all with some good ol' Christmas carols as a backdrop.
Over the last couple of years, thanks to the pandemic, the holiday season in the city has seen a sharp decline in spirit with social events pulling back and the need for multiple festive outfits now dangling in the past. However, one element has held its ground — the festive treats! 
Kolkata has always rustled up sweet meats and sinful savouries during the Christmas season and continues to do so even during the pandemic — much to everyone's delight. From colonial favourites like rose cookies, love letters (channa cake) and kalkals to plum cakes with a cheerful punch and a bevy of briny cold cuts, there's a host of festive fare available. Here's a handy list of some of the best grub:
Nahoum and Sons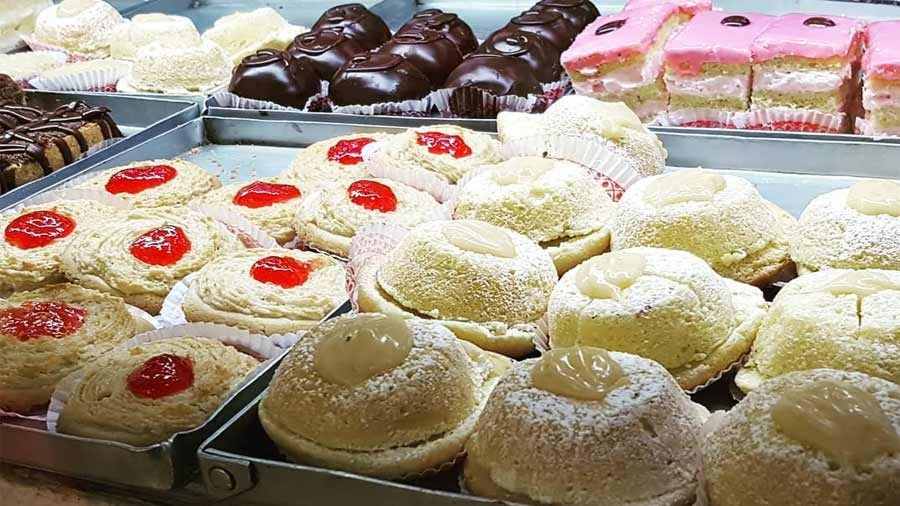 Confectionaries from Nahoum and Sons
@foodlovingdad/Instagram
This quaint Jewish bakery located in the centre of New Market has been a popular pick for festive bakes since its inception in 1902. A variety of scrumptious cakes are available that have garnered quite a reputation in and around the city over the years.
Nahoum's rich fruit cake, special rich fruit cake and light plum cakes are old favourites that have stood the test of time. Their menu also boasts Danish Christmas puddings and mixed pies, which are fruity concoctions made with caramelised apples and raisins drenched in brandy. Seasonal offerings so popular that they turned into regular items, Nahoum's vanilla and chocolate fudge and peppermints circles are luscious treats that will leave you longing for more.
If you visit this rustic market during the holidays, you're sure to witness hordes of people queuing up in lines longer than Pinocchio's nose to get their hands on Nahoum's festive novelties. "We have customers who come from various provinces in and around Kolkata during the festive season to purchase our Christmas goodies," said Jagdesh Chandra Haldar, manager at Nahoum and Sons.
How to order: Queue up!
Saldanha Bakery
This 100-something-year-old bakery, tucked away in a bylane just off Rafi Ahmed Kidwai Road, is catering to Kolkatans with a Christmas menu filled with classic picks and new offerings. "We couldn't leave out grandpa and grandma's favourites — lemon drops and coconut macaroons!" smiled Alisha Alexander, the fourth-generation confectioner at Saldanha Bakery. 
An item that instantly piques interest is the almond iced Christmas log, which is essentially a 'wedding cake'. A rich, buttery juxtaposition of sugary dry fruits cocooned in a thick blanket of almond icing, the cake that is usually reserved for wedding toasts can now be devoured as a tea-time snack. Among their new offerings, a pop pick is the rumball, which is a delectable fist of chocolate, raisins and a generous pour of rum! 
Saldanha's hallmark walnut cake and rich fruit cake is always up for grabs as Christmas looms. This year, a special rich fruit cake snuck onto their menu. It comes in a decorative Christmas-y tin, making for the perfect festive gift for family and friends. Other interesting items that make for cute, luxe gifts are their French macaroons (chocolate, blueberry, strawberry and hazelnut), blueberry muffins and assorted chocolates.
How to order: Visit the charming bakery or call 9830880080.
Nicole's — Where Cakes Become Art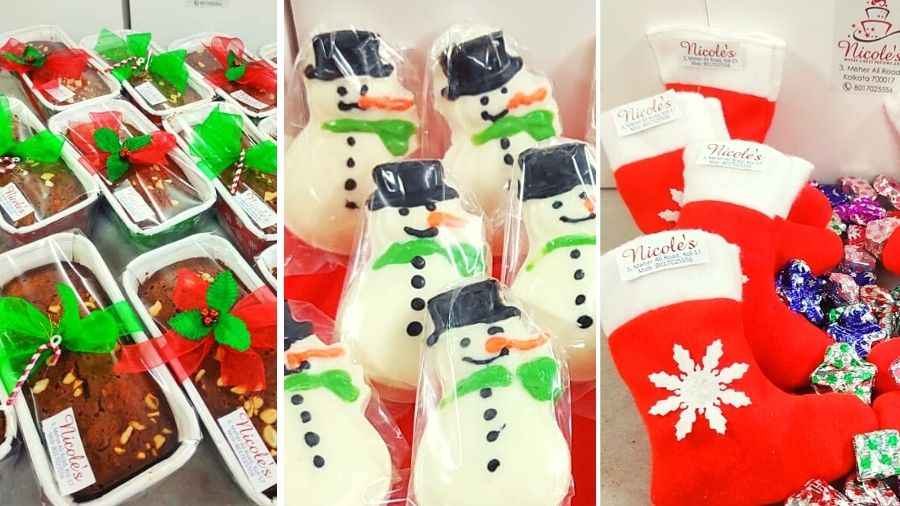 (L-R) Christmas cake, Snowmen chocolates and stockings stuffed with festive goodies.
Nicole's — Where Cakes Become Art
Nicole Vincent set up her bakery at 3 Meher Ali Road in Kolkata five years ago and has been catering an assortment of artisanal bakes to Kolkatans ever since. The best-selling item on her festive menu is a novelty Christmas fruit cake that comes in two varieties — a traditional rum-based cake and a non-alcoholic creation. 
This year, Nicole introduced bespoke cheesecakes to her Christmas menu. One that caught our eye was a creamy delight that heroes a pairing that never gets old  — decadent chocolate and the punchy pirate's drink! 
Nicole's Christmas menu also sees items that make for neat gifts from cutesy pouches of truffles, fudge, and cookies (you can choose between bunches of six and 12) to stockings stuffed with all kinds of baked goodies and lush chocolates. The fudge comes in two variations — milk chocolate and white peppermint chocolate — which hit that sweet spot every time. The chocolates take festive shapes like Rudolph the red-nosed reindeer, Christmas trees, snowmen and Santa Claus, bringing on the good ol' Christmas spirit.
How to order: Call 8017025556 and visit her Facebook page for regular updates.
Simple Cooking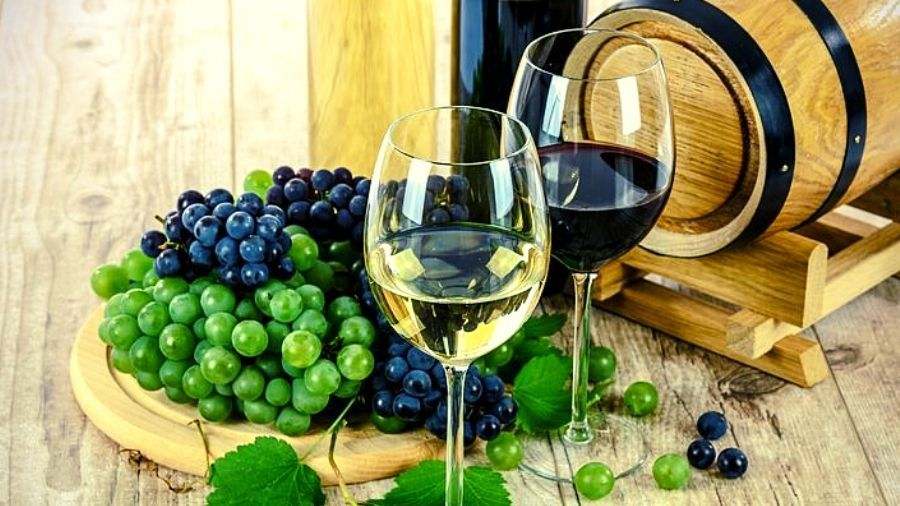 Among many favourites, Simple Cooking's menu boasts three types of wine
Pixabay
Over the last seven-odd years, Michelle from Simple Cooking has catered homemade treats such as rose cookies, kalkals and channa cake to Christmas fetes and winter food festivals across Kolkata.
This year, her menu boasts three types of wines — grape, ginger and raisin — and an assortment of liquor chocolates (whiskey, rum, vodka and gin) with fruity fillings of blueberry, raspberry and coconut. "I follow traditional recipes that have been passed on in my family through generations. These are my grandparent's recipes and they're still going strong," said Michelle.
Simple Cooking also rustles up mouth-watering pork, beef and chicken roasts. The chicken roast comes with a sinful side of stuffing made from baby potatoes, liver, gizzard and a hint of glazed bacon. Rich plum cakes, plain cakes and walnut cakes are also available at this home kitchen.
How to order: Call or message 9903049763 to place an order.
Happy Diners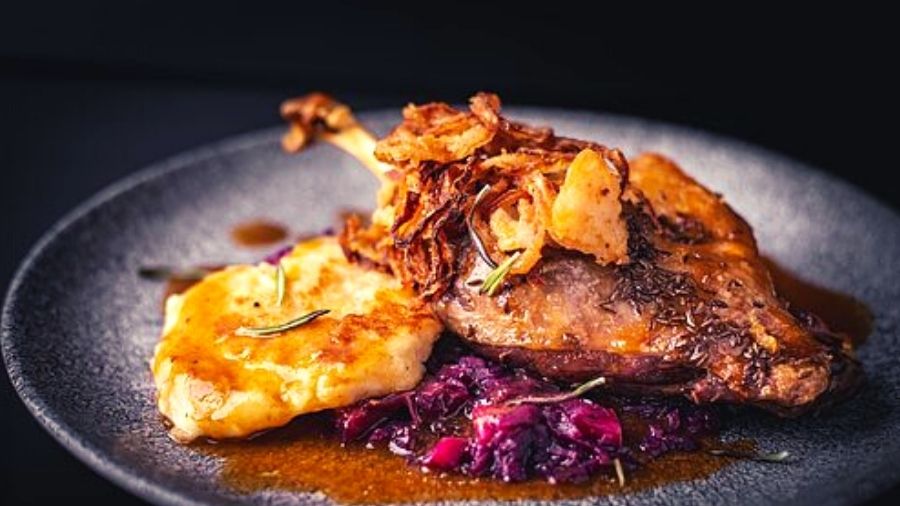 A duck roast
Pixabay
Happy Diners, a home kitchen run by Marilyn Highland and her brother, is famous in Kolkata for their duck roast. This juicy, melt-in-your-mouth, slow-cooked concoction is tossed in herbs and an authentic spice mix and served with a heavenly stuffing punctuated with either pork or chicken ham and salami. The home kitchen recommends the addition of pork collar for a snazzy dash of spice to the dish. If duck doesn't cater to your palate, a chicken variation is available too.
This home kitchen is also famous for its festive potions, especially its pineapple and grape wines. Packaged in glass bottles, the wines have bittersweet earthy notes to them and pack quite the punch. Happy Diners also caters to beef salt meat, Chinese sausages and spiced pork sausages.
How to order: Call or message 9836286481 to place an order.
Mom's Home Kitchen
A kitchenette that whips up a storm of Anglo-Indian delicacies, Mom's Home Kitchen is run by home chef Maria Liao in Picnic Garden. The hero of her Christmas menu is indisputably the zesty salt beef that's created a buzz in the city, selling over 50 kgs of this briny cold cut in 2020!
Salt beef entails a lengthy cooking process. The succulent outcome, however, makes the three-day effort of massaging the spice mix into the meat, salt monitoring, and constant supervision of its surrounding humidity and acidity levels, completely worth it. "We realised that there aren't a lot of options now in Kolkata for people to buy fresh cold cuts. So, we thought it was a good idea to fill that niche," said Maria Liao, the talented home chef.
Mom's Home Kitchen also makes strings of Chinese sausages from scratch using an in-house potion concocted by fermenting black raisins for 11 months, from February to December. These sweet and tangy sausages make for the ideal breakfast companion to a sunny-side-up on Christmas morning. Traditional sweetmeats like marzipan (in various festive shapes and sizes) and rose cookies are also available to satiate those hankering cravings. 
How to order: Call or message 9051184233 to place an order and follow their Facebook page for regular updates.