The shiuli has been showered, the dhaakis are planning the return journey home, and the Pujo Pujo gondho in the air has been preserved in our hearts until it wafts around again next year. 
Whether one is in Kolkata or outside , Durga Puja is a sentiment like no other for Bengalis. In fact, the year I lived in a different country, I sought out the sole Durga Puja in the area, draped my prettiest kantha sari and landed up at the 'pandal.' 
If you're in Kolkata, you're still savouring Durga Puja. However, if you're a probashi Bangali, your Durga Puja experiences are probably different from that of your Kolkata counterparts — Ekadashi is when you're back to the regular grind, no trace of festivities remaining and as a kid you were probably writing school exams until Ashtami. 
Having grown up in Mumbai with probashi Pujos for over a decade, I can say with confidence that there are some experiences associated with Durga Puja that a Kolkata-bashi can never fathom. 
When Kolkata came home (on a plate)
Even in a cosmopolitan city like Mumbai, all things Kolkata (and Bangali), especially when it came to food, were not always as easily accessible as they are now. Durga Puja was the time Kolkata food came home.
I remember when (sometime in the last decade and half) Pujo was the only time we got to feast on Mughlai porotas. It wasn't a great Mughlai porota — Bengali restaurants were rare and young and competition still thin so only a handful of caterers had the Puja-time monopoly for food stalls — but it was 'the taste of home and roots'. And let's not forget the phuchka! I might have grown up with panipuri (and it was great!) but phuchka has always had a special place.
Bengali caterers handpicked by puja committees on the basis of taste and goodwill would have stalls around the pandal grounds churning out all the Bong favourites — chops, rolls, mishti, luchi-chholar dal, basanti polao, kosha mangsho and more.
They still do, but with Bengali eateries mushrooming in the city, the number of caterer-run stalls have decreased, giving way to restaurants serving classic and fusion dishes. Restaurants and chains serving non-Bengali food also joined the mix gradually, and food stalls now showcase everything from Bengali dishes to north Indian fare and Chinese to Continental.
All the 'Bangaliyana'
Growing up in a multicultural city like Mumbai means that your mannerisms and tastes are peppered with various flavours. However, the festive days bring forth all the Bangaliyana.
I grew up in a colony — the huge housing societies built to house employees — and among the nearly 500 families in the staff colony was a sizable population of first- and second-generation probashi Bangalis. What that translates to is a motley gathering for Saraswati Puja, Poila Baisakh, Bijoya Sammelani, etc. What that also means is that during these select few times in the year, the otherwise simmering Bangali-ness makes a bold statement, and the biggest part of the statement are the kids.
Look at any photo on social media from any probashi Pujo, in India or abroad, and there will always be a performance by the little ones. The performance will always include Rabindrasangeet or Nazrulgeeti, the little girls will always be in saris and the little boys in panjabis and they will all be sporting a few select expressions — the 'I am singing/dancing but don't expect a smile' face, the 'what am I doing here' face, and an occasional 'I am very excited to be here' face.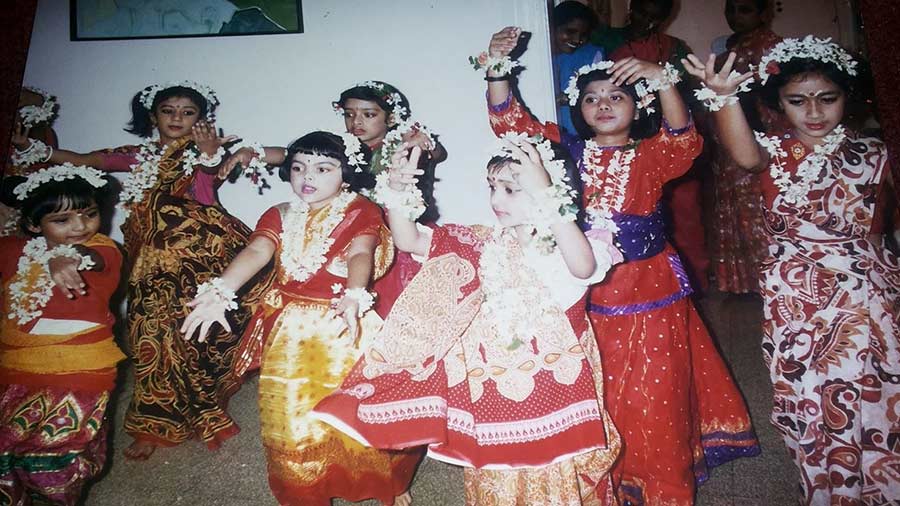 Dance performances at the colony's Saraswati Puja were a production
Courtesy Rumela Basu
The Bangaliyana gets a shot in the arm during Puja though. At a time not so long ago when online shopping was not what it is today, Durga Puja was the time to buy Pujo-special music albums, Bengal handloom saris, terracotta horses, kata-kaaj (cutwork) home linen, etc — think Gariahat and New Market shopping. The stalls have now become pre-festive pop-ups, the sentiments are the same.
Unlike the food, some of these things are still not as readily available outside Kolkata. You cannot walk into a local home decor store in Mumbai, and find a kata-kaaj tablecloth. Online stores and ease of travel notwithstanding, for many this festive time is still when all the Bengali trimmings of their lives are upgraded.
'Kolkata-bashi' vs 'probashi'; theme vs non-theme
It's always easy to spot a non-probashi during Durga Puja, if they have not gone home to Kolkata for that time, that is. They're usually one of two kinds of people — the ones who are bemoaning their existence as a Bangali because "Pujote Kolkata chhara kotha hoye na" or the ones most enthusiastic about planning Puja pandal-hopping because "Ei! Pujote thakur dekhbi na maane!"
In more recent years, there has emerged another way to distinguish the Kolkata migrants. It all revolves around one question: "Ei, what's the theme?"
Unlike Kolkata's grandiose theme pujas that now have a long enough history to warrant a museum or the petition for one, theme pujas are a fairly recent concept for Durga Puja outside the city. From the 2010s, the idea slowly creeped into the consciousness of the puja organisers. The pandals have since changed from a simple tented structure, maybe with chandeliers (think Maddox), to house the idol in the middle of a huge ground; to slightly detailed structures like the facade of Belur Math temple; to more elaborate themes that encompass pandal and idol design — the Powai Bengali Welfare Association had a rajbari theme this year, with the pandal in the form of a thakur dalan.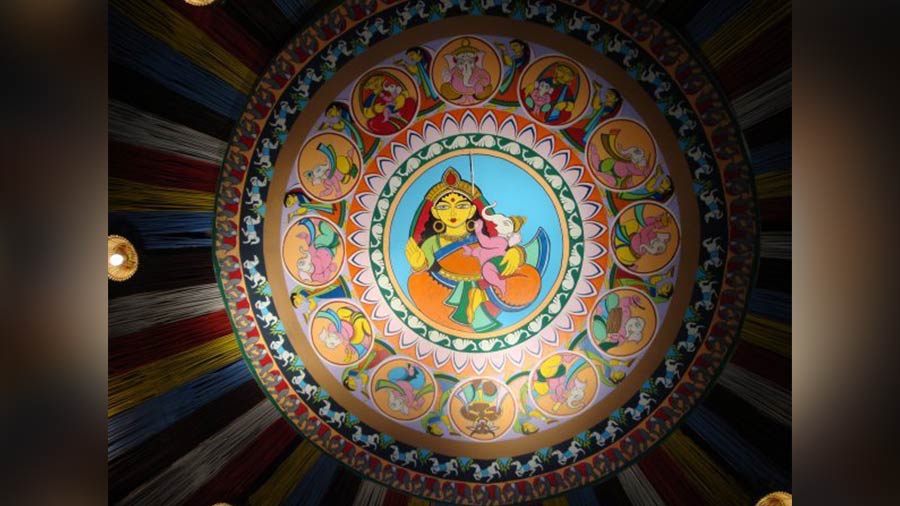 Chembur Durga Puja Association had a Jamini Roy theme for its 2015 puja
Rumela Basu
I have often wondered why the idea of theme pujas has not taken a bigger scale in Mumbai. After all, there are enough sarbojanin Durga pujas going on for long enough in the city to warrant it. Some (mostly older Bombay Bengalis and puja organisers) would say it is because they want to preserve all things traditional about Pujo, others cite the logistics of having to get artists and workers from out of state. Perhaps it is an amalgamation of both.
No matter the reason, one thing I do know is that while themes that show off spectacular art is a fascinating aspect of Puja in Kolkata, the simplicity of a minimalistic theme and a traditional goddess idol added that special touch to all my childhood pujos in Bombay. That's where I first learnt what a daaker shaaj and an ekchala thakur is.
There is a specific Puja for every purpose
Look, when you live outside Kolkata, there isn't a pandal in every gully or a parar pujo and apartment complex pujo around every corner. So, you have your select set of dear — and near (remember Mumbai traffic) — pujas that you make the rounds of every year and you also have a specific purpose for visiting each one of those.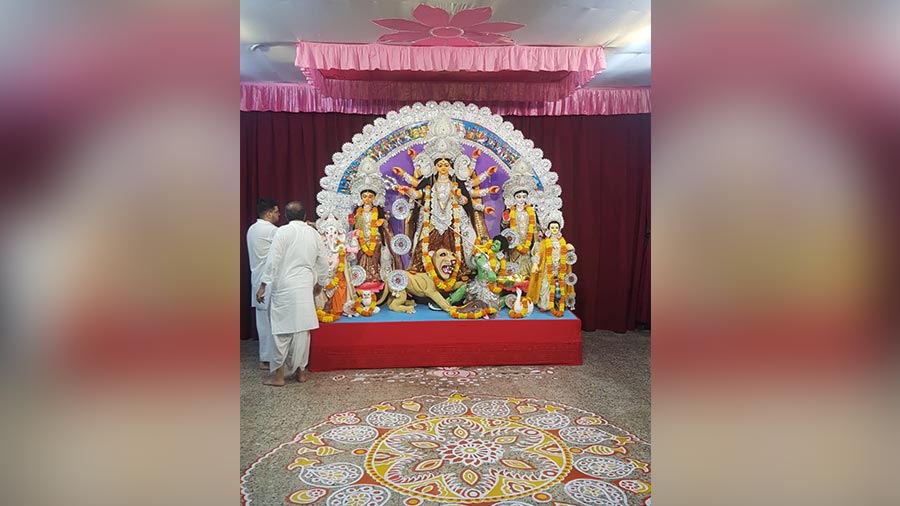 The ekchala Durga idol at Ramakrishna Mission, Khar, in 2022, which has always had the same traditional look
Arpita Samanta
For traditional simplicity and a beautiful aarti, go to Khar Ramakrishna Mission. For all the feels of a baroari pujo, the 93-year-old Durga Bari Samiti Puja at Grant Road's Tejpal Hall is your address. Want to do some star spotting, then make your way to singer Abhijit's Lokhandwala puja or the Mukherjee (Rani and Kajol) family's North Bombay Sarbajanin Durga Puja at Juhu's Tulip Star. To see Kolkata Puja-like light decorations, and artistic 'themes', check out the Durga pujas in Thane. The pujas at Powai, Vashi and Shivaji Park are for eating your heart out, and the one pandal closest to your home or the one that you have a special connection with is reserved for Ashtami bhog.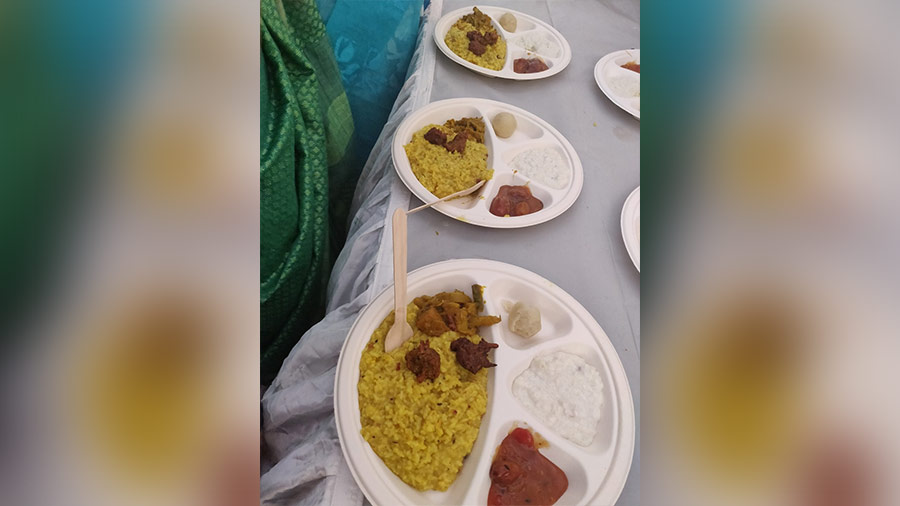 The traditional Ashtami 'bhog' at the Durga Puja at Bhabha Atomic Research Centre's staff colony in Chembur, one of the few to be held within a housing society in Mumbai, 2018
Rumela Basu
For most of us, there was one puja, usually close to our homes, that we had a special connection with. Being among the Bengali families that lived close to the venue of the Durgotsav, every year we would find things in the post from the association — pre-Puja chanda requests, the invitation for the year's Durgotsav complete with a list of cultural functions and competitions for every day, and forms for coupons for Ashtami bhog. Probashi Bangalis are nothing if not loyal to their local pujo, and making your way to the pandal for bhog is just one more way of showing said loyalty.
The little joys of a non-Kolkata pujo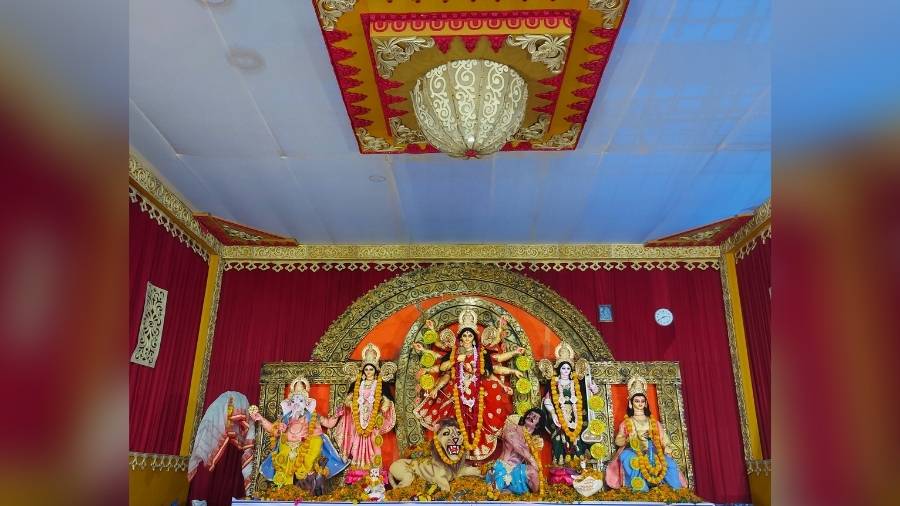 Deonar Bangiya Parishad Durga Puja, 2022
Arpita Samanta
There is no doubt that nothing compares to the spectacle of Durga Puja in Kolkata but having experienced the festival outside the city for years now, there are some definite perks to spending them outside the city as well.
I know that for me, even amidst the joy of pandal-hopping, there are times when the sheer number of people gathering at one spot is unnerving. Now reduce that crowd to about a quarter of its size and you get the number of people in a puja pandal in Bombay. It helps that the city's population is divided between attending Navratri dandiya nights and pandal-hopping. It also helps that many of them arrive at the pandal grounds post work, specifically to eat all the Bengali food — having taken many a friend for said culinary adventure, I can attest to this. This means that when you plan your all-night pandal-hopping itinerary, you have to deal with visitor numbers that oscillate between a regular late office-hour (not 5pm) crowd at VT Station or a weekend crowd at VT Station.
The other perk — and this is perhaps a more personal one — is that this once-a-year dose of all things Kolkata and Bengali makes you appreciate the finer things and quirks of the culture you've inherited. It made me more curious about traditions, more observant of typical — and stereotypical — cultural quirks, and it kept the love of and for Bangaliyana alive.