Walk around London at the height of Durga Puja and several corners of the English capital will remind you of Kolkata. With the expat Bengali population steadily expanding in London since the start of this century, the economic and cultural nervecentre of the UK has grown into one of the primary hubs for Bengal's greatest festival abroad. A key role in the growth of Durga Puja in London has been played by UK-based charity Bengal Heritage Foundation (BHF) and its London Sharad Utsav (LSU), which began in 2009 with 12 families enthusiastic to recreate the spirit of Kolkata's Puja some 8,000 kilometres away.
"Even in 2009, there were a host of pujas happening in London. But none of them had that parar pujo feel that you get back home in Kolkata. That's what we wanted to do with our puja at the Ealing Town Hall (in West London)," said Kausik Bhadra, general secretary of BHF. 
All set to enter its thirteenth year in 2022, LSU, with My Kolkata as digital partner, will comprise 62 families and around 175 people organising the puja this year, the first to be celebrated at full tilt since Covid-19 broke out in March 2020. "Covid meant that we had to drastically downsize our puja in 2020, with only the BHF members attending. Last year, things were more like we're used to, but this year (with all Covid protocols lifted), we're expecting close to 9,000 people over the days of Puja," said another general secretary of BHF, Amit Guha.
Durga idol made by combining the waters of Thames and Ganga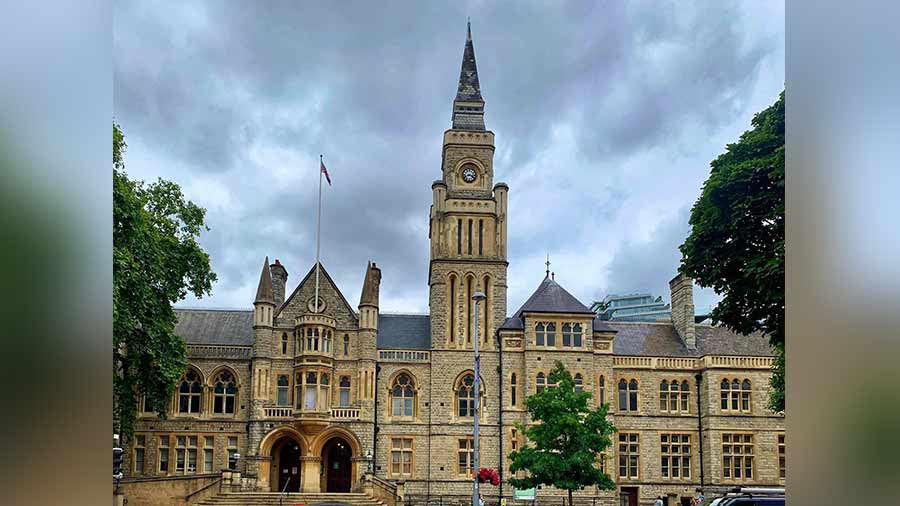 Ealing Town Hall, the venue for LSU since 2009
The first Durga puja in London to worship the goddess with 108 lotuses and diyas as well as the pioneers of kumari puja in the city, LSU's original Durga idol was made by Kumartuli artisans and imported from Kolkata in 2009. Nine years later, it was time for a change, which led BHF to do something unique. "One of BHF's main identifiers is our role as a living bridge between India and the UK. We decided to reflect that through our pratima in 2018. We invited a couple of Kumartuli idol-makers over to London and asked them to make a fresh idol from scratch by using local thatch and straw as well as by combining the waters of Thames and Ganga, the two most important rivers of London and Kolkata, respectively," said Sambrita Das, one of BHF's five female (out of a total of nine) trustees. The product was a "modular Durga" whose head could be changed even as the rest of the body remained intact.
Environmental laws in the UK mean that Durga and her retinue cannot be immersed in water after Vijaya Dashami, which is why LSU's idols are packed off and sent to yellow stage after the culmination of festivities. "Even though we don't have bhashan in the traditional sense, all of us get just as emotional as we would in Kolkata on Dashami, knowing that we won't get to see Maa Durga for another year," said Sambrita, who picked sindur khela and the eve before Puja gets underway as her favourite moments of the festival. For 2022, Sambrita singled out the kola bou snan in Thames (a first for LSU) as the part of Puja she is most excited for.
Thermocol weapons for Durga and the craze of pre-Puja rehearsals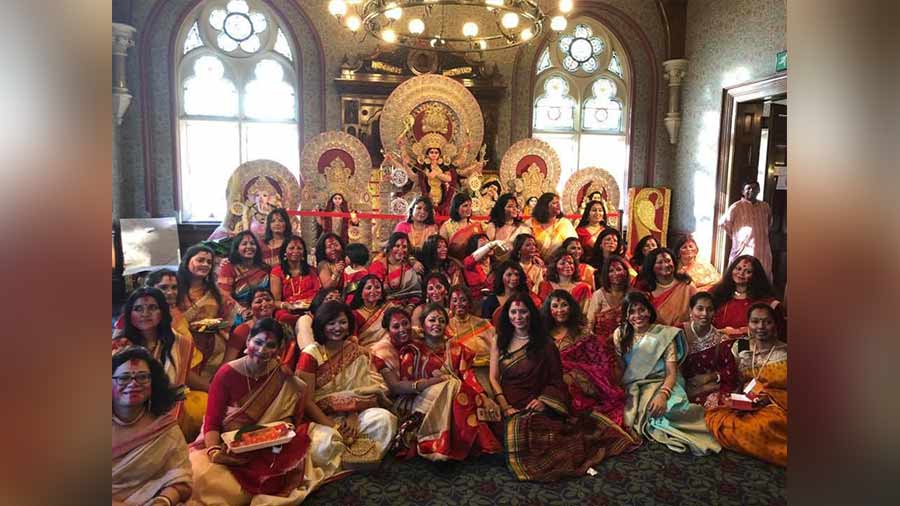 Over time, the number of families involved with LSU has increased from 12 to 62
Kausik, on the other hand, was more specific with his recollection and cited a memory from 2017, when the astras of Maa Durga could not be found. "I don't know how but Durga's weapons had been misplaced. With Puja starting the next day, all 10 hands of the goddess were empty. That's when two girls from our community decided to make their own weapons using thermocol and golden wrapping paper. They worked for eight hours straight and you couldn't tell their weapons apart from real metal ones," said Kausik.
In another example that highlights the commitment of BHF members to LSU, Amit narrated how everyone associated with the puja starts rehearsing for the various cultural programmes weeks in advance. "Every weekend during the last month or two before Puja is spent fine-tuning performances, practising dialogues and making sure that everyone is at their best when the big moment arrives," said Amit, who also reveals the lineup of the cultural programme for 2022 — a performance by vocalist Sayani Palit, dance and drama as well as two special musical celebrations, one on Bollywood chartbusters and the other involving popular Bengali numbers. In the past, LSU's cultural activities have been graced by the likes of Anjan Dutt, Shreya Ghoshal and Babul Supriyo, among others.
Letters of support from the President, PM and the Queen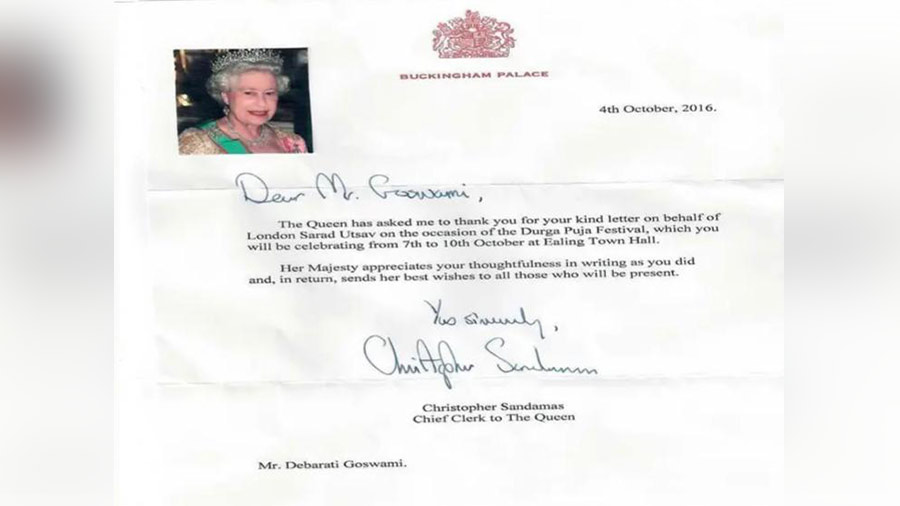 A letter from Queen Elizabeth II, one of the most prized possessions for BHF and LSU
Between 2009 and 2020, LSU's puja was conducted by chief purohit Amiya Bhattacharjee, an engineer who was also an impressive amateur cricketer. "Amiyada was someone who had a great connection with everyone. Even if you were delayed by traffic on Ashtami, he'd arrange for a separate pushpanjali for you. People like him helped all members and visitors feel at home during Puja," said Kausik. Days before last year's Puja, Bhattacharjee passed away, with BHF paying a tribute to him during the 2021 festivities. Stepping into Bhattacharjee's shoes is Panchajanya Ghatak, who works with the National Health Service (NHS) in the UK.
Over time, not only has LSU emerged as one of the biggest and most-loved pujas abroad among the Bengali community, it has also received acknowledgement of its impressive growth in the form of letters of support from former President of India Ramnath Kovind, Prime Minister Narendra Modi and the late Queen Elizabeth II. "The anticipation for our puja keeps growing every year. This year, we started receiving mails from August about the exact dates of the puja. We're expecting visitors not just from London, but all across England as well as from places like Glasgow and Amsterdam," said Amit.
Even though LSU remains BHF's flagship event, the organisation that aims to "promote and preserve the heritage of Bengal in Britain" is active throughout the year, with some of its other noteworthy events being Rabindra Jayanti, Fagun Fest (exhibiting the music and handicraft of Bengal), the Dwarkanath Tagore commemoration and cricket and football tournaments held in association with the British Council and the Indian High Commission in the UK.