… Puja gondho esechhe 
Dhyang kur kur dhyang kura kur badyi bejechhe…
Durga Puja is synonymous with the beat of the dhaak. But what about the people who make the music come alive? 
My Kolkata spoke to two dhaakis from Murshidabad about their passion and challenges. 
The first notes 
Subhas Das and Ganesh Das both learnt to play the dhaak while assisting their fathers with the kashor when they weren't even teenagers. Subhas hails from Berhampore and Ganesh comes from Khaira. 
The first time Subhas played the dhaak was at the Dakshineswar Kali Temple. He was 13 then. It is there that he came to know one of the organisers of the Labony Housing Estate puja in Salt Lake and started playing there at 15, kicking off a decade-long association. 
Ganesh was 12, when his father asked him to keep the beat while he played the dhaak. "Within two months, I started playing with him in Kolkata pujas. And, in a few years, my father said I had surpassed him in skill. After his passing, I decided to play independently," said Ganesh.
Love for the festive beat
It is their deep love for the dhaak, its infectious rhythm and the festive feel it creates that move Subhas, Ganesh and other dhaakis.
"It is true that playing dhaak is our means of livelihood but beyond the opportunity of earning a little extra, we derive a great deal of enjoyment from the festival. It feels like a dream, everytime we come to Kolkata and watch the big city with awe. The best part is that we get to give people so much joy," Subhas said.
Ganesh shares his joy, too, "My mind feels happy and free when I come to Kolkata to play. Even more than playing the dhaak, I just enjoy praying to Maa."
Sealdah, the meeting ground
A dhaaki at Sealdah station
Come Mahalaya, dhaakis from across Bengal arrive at Sealdah station and play the dhaak, filling the air with the festive beats. It is here that puja organisers come to draw up a bargain with the dhaakis.
"Back in the day, almost 5,000 dhaakis would gather there. But the number has been dwindling over the years. You can still find a few every Chaturthi. It is fascinating because Kolkata becomes a meeting ground for dhaakis from every district of Bengal. Pujor shomoy traine loker jayga thake na, shudhu dhaak! (There's no space for passengers on trains during Puja. All you can see are dhaaks everywhere)," said Ganesh.
Career path
Subhas has played at such illustrious pujas like Sreebhumi, Laboni and Hazra Park. He has also travelled to Mumbai and Punjab with his dhaak, and played in the homes of such personalities as Rani Mukherjee, Abhijeet Bhattacharya, Prosenjit and Chiranjeet Chakraborty. This year, he will be at Suruchi Sangha.
Ganesh has played at malls like Lake Mall and Mani Square, apart from bonedi barir pujos in Kolkata. This year, he will be at Jadavpur Club.
Changing times
Much like everything else about pujas, the mode of hiring dhaakis has changed as well. Subhas hasn't been at Sealdah station since 2004, relying instead on bookings via call.
Dhaaki competitions are another way of getting hired by pujas. "Apart from being a lot of fun, it also allows us to learn from other dhaakis. These competitions remind me that there is no end to learning the craft," Subhas said.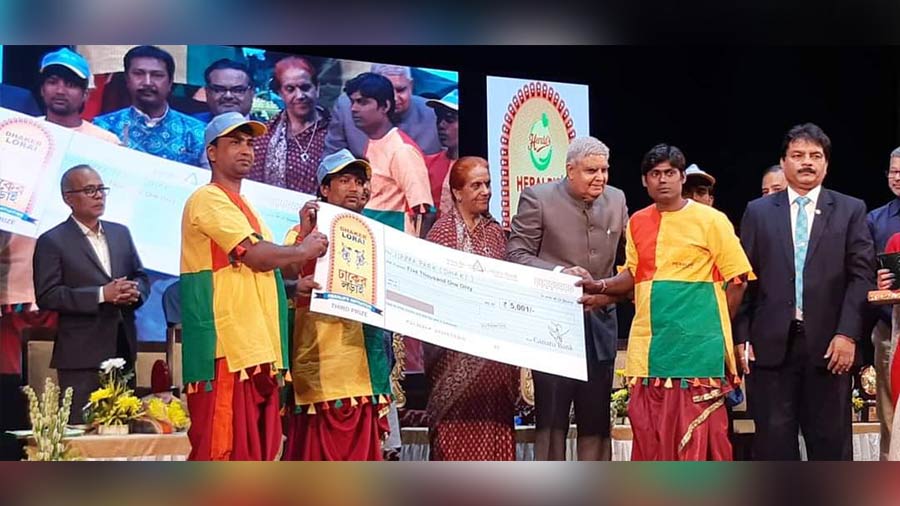 Subhas at a Dhaaki competition. 'Apart from being a lot of fun, it also allows us to learn from other dhaakis.' he said
Many puja committees get contact details of dhaakis from organisers of such competitions.
An added advantage of such competitions is that they often offer an opportunity for dhaakis to meet well-known percussionists and gain mentors. "We gain the mentorship of accomplished percussionists like Tanmoy Bose and Bickram Ghosh, who have been our gurudebs," Subhas said.
For Ganesh, work attracts more work. "Whenever we get new work, people visiting the pandal like to engage with us, often leading to new bookings. In fact, most of my bookings happen after Puja begins. Sometimes, these lucky chances can lead to an association that lasts for years."
Subhas said almost all his celebrity bookings came through referrals. "At Sealdah, I was booked for a puja in Haripada Dutta Lane. Prosenjit was a resident of the area and he got in touch with me. I ended up playing at his house for the next two pujas."
Laluda — the leader of a troupe Subhas played for earlier — took him to singer Abhijeet Bhattacharya's home in Mumbai, setting off another longtime tie. "One Puja, we met Rani Mukherjee and she hired us to play at her pujo the next year!"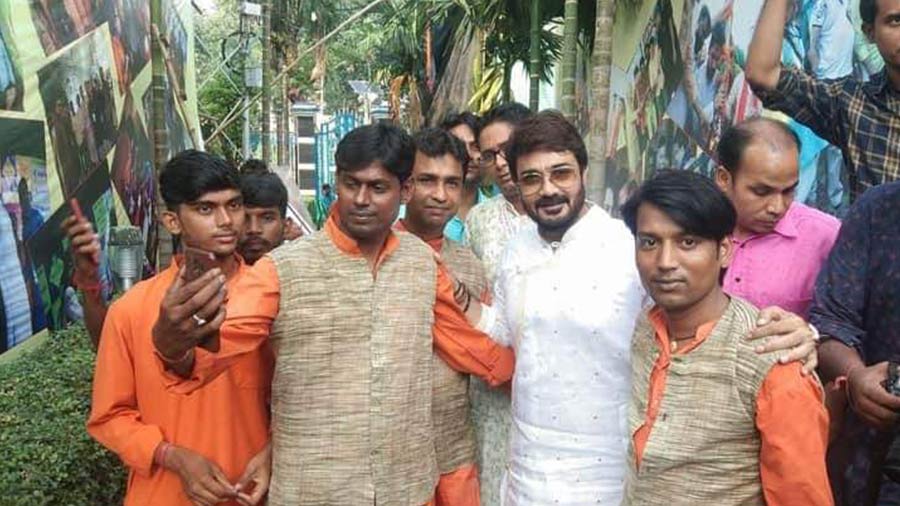 Subhas with Prosenjit Chatterjee
Challenges
But opportunities are limited and luck doesn't favour all dhaakis at all times. has had such luck.
"Even pandals with big budgets can accommodate only 10-12 dhaakis. While talented people will find work at big pandals or celebrity pujas, the lives of the more average dhaakis can be very unpredictable. For most of them, the only chance of getting work is during Durga Puja. The lucky ones will manage to find bookings on Kali Puja and Jagadhatri Puja, too. But most people are never sure if they will find work," Subhas said.
Both Ganesh and Subhas have noticed a decrease in the number of dhaakis coming to the city.
"A lot of people migrated to other parts of the country for better income during the pandemic. The cost of organising pujas has also gone up in the last few years, but people's incomes have not, leading to a cut in the budget allotted for dhaakis. Pujo barchhe, kintu lok barchhena (The number of pujas has increased, but the crowds have not)," Ganesh said.
Pandemic effect
Most dhaakis from Subhas's village couldn't come to Kolkata during the pandemic.
"The trains were not plying and the cops were very vigilant. Luckily, I was sent a car by the organisers at Sovandeb Chattopadhyay's pandal in Hazra Park, but my fellow dhaakis didn't have any means of transport to get to the city," Subhas said.
Ganesh's voice trembles when he remembers how dhaakis in his village struggled to arrange for even one meal a day during the pandemic. Playing dhaak in the village pujas is hardly an option. "There are way too many dhaakis for the number of pujas. The pay is also significantly less than in Kolkata."
Money matters
Subhas brings the numbers into perspective. "A dhaak needs at least Rs 15,000-20,000 to buy and maintain. It takes years to master, and a lot of effort and finesse to play. The cow skin and timbre used in its creation need to be of a certain standard, and there is a lot of intricacy in sewing it together. After putting in so much, if dhaakis have to struggle at Sealdah and still don't find work, it is unfortunate. A lot of people go there and return after Puja without finding work. How will they take care of their families?" Subhas said. "Many dhaakis don't even have the money to buy the skin of their dhaaks and buy it on credit, hoping to earn enough in Kolkata, repay the amount and save money for their families. Many fall into a cycle of debt because of this."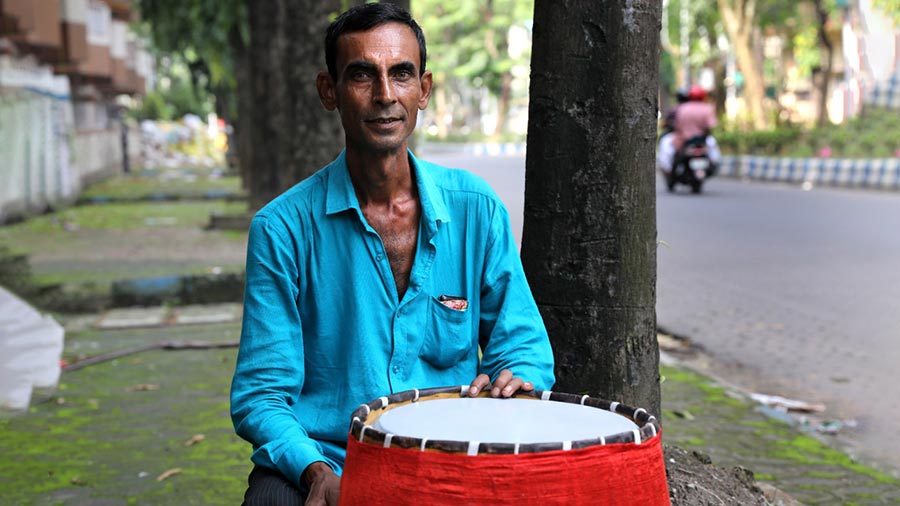 'There are way too many dhaakis for the number of pujas. The pay is also significantly less than in Kolkata,' Ganesh said
Ganesh said the added expenses mean that he can barely save anything from his earnings. "All that I earn from playing the dhaak goes towards educating my kids." The pay itself is not quite secure. Subhas emphasises on the role played by demand and supply, "If a client finds a lot of dhaakis in Sealdah and they are all vying for bookings, they can settle for as low as Rs 2,000 for the entire festival. Then again, if a dhaaki has good contacts and is known to organisers, he can charge as much as Rs 25,000."
The next generation
The uncertainties of the profession have led to the erosion of a 50-year-long dhaak-playing tradition in Ganesh's family. "My grandfather taught my father, who in turn taught me. My kids learnt to play the dhaak from me and my elder son tried playing at some pujas for a year, but couldn't sustain himself because of the seasonal nature of the work. He moved to Jaipur, where he now works at a jewellery shop," he saod.
At Subhas's home, however, the whole family is engaged in playing the dhaak. "My extended family will be playing with me at Suruchi Sangha, although we aren't allowed to bring children because of COVID," he said.
For Subhas, it is very important that his family share his love for the dhaak. "If people don't recognise our importance, how will this craft survive? We are trying our best to keep it alive, but it is important for people to appreciate this art form and understand that our living doesn't come from this, but farming. We do it purely for joy, often leaving our loved ones at home during the festivities. It is only fair that we are compensated so that we can provide them a better life," he said.
Ganesh ends on a hopeful note. "I have absolute faith that despite our struggles, Maa will help us and the music will play on."