Brunch is the new breakfast! Enjoying a large breakfast spread early in the day may not always be in the cards, but you can always brunch in style on the weekends. A mid-morning meal that's simple to make, but still Insta-worthy to flaunt is not all that difficult. Check out these easy, quick, yet delicious brunch recipes for your next fix…
Egg, cheese and potato sandwich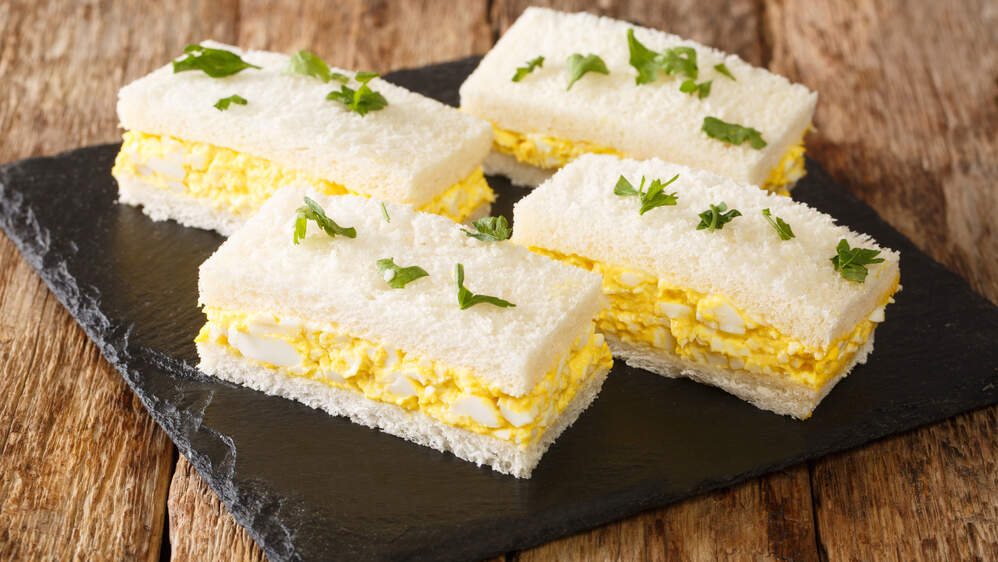 Shutterstock
There's no hangover — from those extra work hours or those extra shots —  that a hearty sandwich and flavourful cuppa can't fix. If bread and eggs are your thing, then this recipe is perfect for you. Creamy, cheesy, but not messy, it's perfect for those running-late-for-work days and lazy mornings. 
Ingredients
Milk bread: 4 slices
Boiled eggs: 3
Boiled potatoes: 2 large
Chopped onion: 1 large
Chopped green chilli: 2
Black pepper powder: 1 tablespoon
Cheese slice: 4
Salt
Recipe
Mash the potatoes with a fork. Grate the eggs. Add salt, pepper, onion and green chillies. Mix well and check seasoning
Slice up the bread according to your preference. Cut the cheese slice into half
Put the first cheese slice on one layer of bread, add filling and cover with another layer of cheese. Cover with the other slice of bread.
Grill if you like or just dig in as is
Loaded omelette with sausage, bacon and vegetables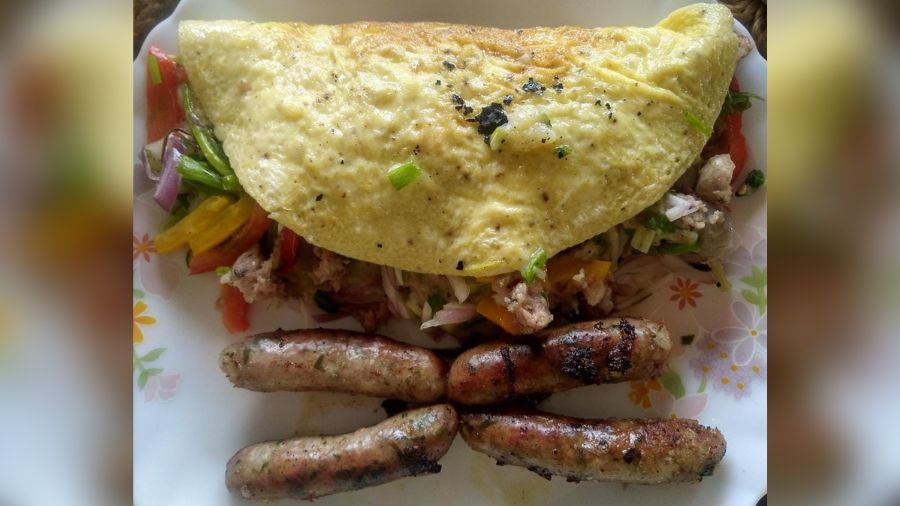 Pooja Mitra
Need a filling and protein-heavy boost to keep you going? This quick recipe for a meat-filled omelette with veggies is ideal for when you need all-day energy. 
Ingredients
Eggs: 5
Bacon strips: 4
Pork/Chicken sausage: 2 large
Pepperoni Salami: 4
Sliced onion: 1 large
Sliced tomato: 1 large
Sliced mushrooms: 3
Chopped green chillies: 2
Spinach: 2 leaves
Black pepper powder: ½ tablespoon
Salt
Oil of your choice or butter
Grated cheese (Optional)
Recipe
Whisk the eggs until foamy with a pinch of salt and black pepper powder. Keep aside
Cook the bacon till crispy
Use the bacon oil to saute the sausages, salami and mushrooms
Chop the sausages and set aside
Saute the whole spinach leaves, till they are soft
Once all the ingredients are ready, add the eggs to the pan and cook for 5-6 seconds
Add the bacon, sausages, salami, onion, tomato, mushrooms, spinach and green chillies
Cover and cook on low to medium heat for 2 minutesFlip or leave the omelette open, or fold in half
Top with some grated cheese, if you like, and cover for another 30-45 seconds for the cheese to melt
Serve hot
Wraps with leftover meat (or paneer)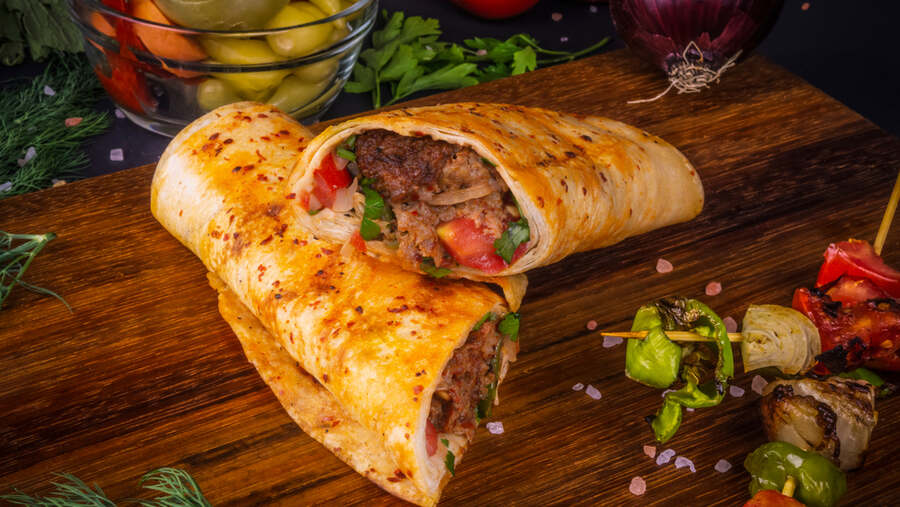 Shutterstock
Have leftover chicken curry or mutton kosha, or maybe some delicious paneer? Turn it into a perfect quesadilla or wrap filling. And, don't forget to #Foodstagram!
Ingredients
Store-bought flour tortillas: 4
Leftover meat curry
Chopped onion: 1 large
Chopped tomato: 1 large
Chopped coriander leaves: 4 tablespoons
Chopped green chilli: 2-3
Cream cheese: ½ cup, small
Black pepper powder: 1 teaspoon
Lime juice: 1 tablespoon
Red chilli flakes: ½ tablespoon
Salt
Recipe
Toast the tortillas lightly 
In a separate bowl, take the leftover meat and remove bones, if any. Mash the meat with a light hand
Add onion, tomato, coriander leaves, green chilli, cream cheese, black pepper powder, salt, lime juice and chilli flakes and give it a mix. Check seasoning.
Add the filling to half of the tortilla and fold to make a quesadilla, or make a wrap. Serve with dip of your choice
Baked avocado pockets with eggs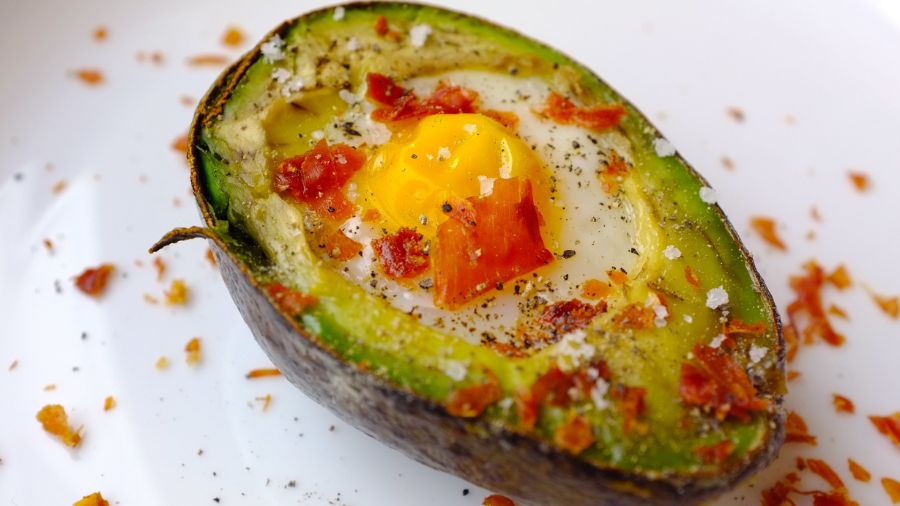 premshree/flickr
For healthy snacking done right, try this avocado recipe that's ready in under 20 minutes.
Ingredients
Ripe avocado: 1
Eggs: 2
Black pepper powder: 1 tablespoon
Red chilli flakes: 1 teaspoon
Chopped coriander leaves: 1 teaspoon
Rock salt
Vegetable oil/ Butter
Recipe
Cut the avocados into halves and deseed
Scoop out a pocket in the middle and crack one egg into each half of the avocado 
Season with salt, pepper and chilli flakes
Grease a baking tray with oil or butter and line the egg-filled avocados on it
Preheat the oven to 220 degrees
Bake the avocado pockets for 8-10 minutes
Serve hot with a generous garnish of freshly chopped coriander leaves
Tip
You can save the scooped avocado for later use — there's always salsa or avocados on toast!
Crepes with eggs, cream cheese and 'lachha' onion filling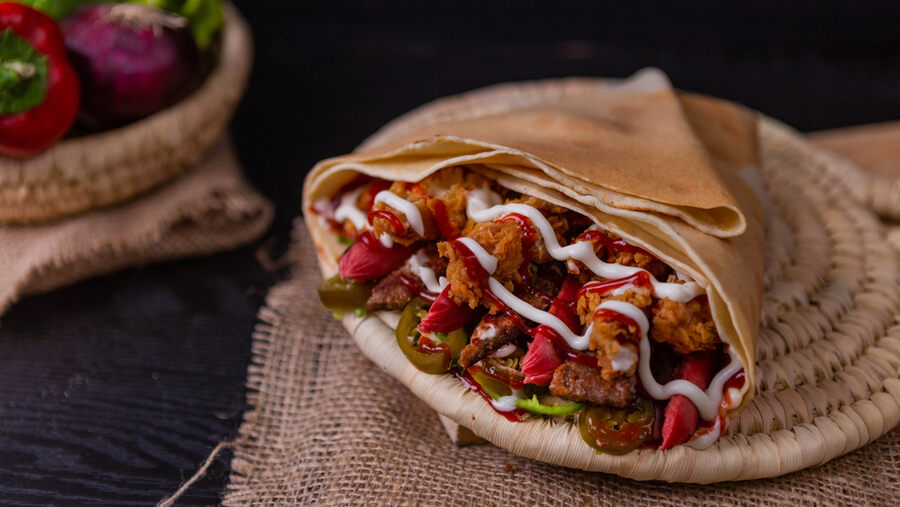 Soft crepes with eggs, gooey cream cheese and hot and tangy lachha onions sounds exactly like the indulgent brunch that it is! A dollop of ketchup on the side and a beverage of your choice, and you're set for a laidback morning, maybe even a nap after. 
Ingredients
For crepe —
All purpose flour: 300 gm
Egg: 1
Full fat milk: ½ cup
Salt
Melted butter/Vegetable oil
For filling —
Boiled eggs (grated): 2
Finely sliced onion: 1 large
Sun dried tomatoes: 2 tablespoon
Chopped green chillies: 2
Kashmiri red chilli powder: ½  tablespoon
Lime juice: 2 tablespoon
Black pepper powder: 1 teaspoon
Cream cheese: ½ cup
Salt
Recipe
For the crepe batter, mix flour, egg, milk and salt in a bowl
Add butter/oil to a nonstick pan, scoop out a big dollop of the batter and spread evenly on the hot pan to make thin crepes. Cook till light brown in colour. 
In another bowl, make a smooth filling with eggs, cream cheese, a pinch of salt and black pepper 
Add tomatoes and green chilli to the filling and let it rest for some time
Add red chilli powder, salt, black better powder and lime juice to the chopped onions. Mix well and refrigerate for 10-15 minutes before using it
Take one crepe each and make a pocket. Add the cheese filling and some onions. Wrap and serve