Kolkata, the city with the oldest operational tramway in Asia, now has a cafe running out of the Gariahat Tram Depot. 
Lying in south Kolkata's Garcha Road, Tram World Cafe officially opened its doors on December 23. 
It is a spot where cross-generational hearts have found common ground in trams, books and love for their city. Unlike most cafes, books are kept under each table and one can either add to the collection or take away what they like without a fee.  
Owner of Tram World Cafe, Akshay Bahri, a gregarious man willing to share his experiences in life, said, "The best discussions take place under the shade of the 200-year-old Banyan tree, which is a part of the charm that exudes from this space."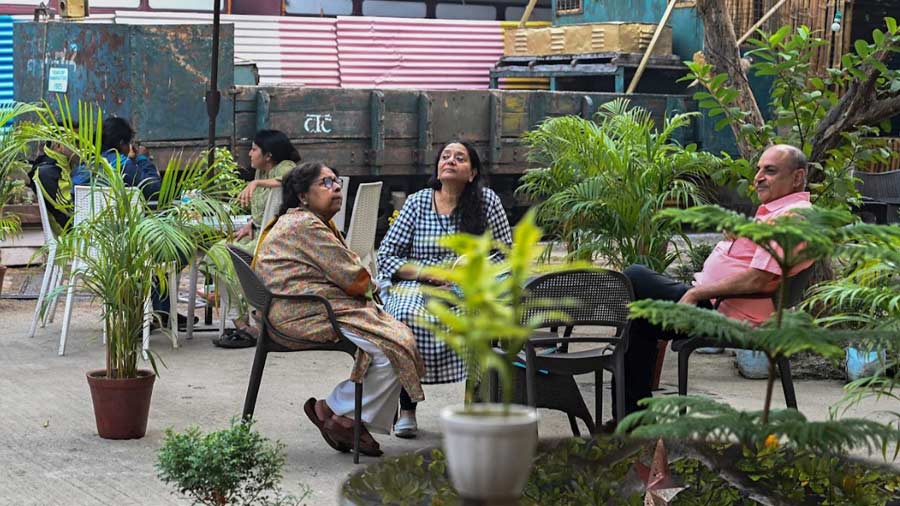 Akshay Bahri with friends at Tram World Cafe
With tram equipment dating back to 1925, greenery all around in the form of a Banyan tree, Supari tree and 200 pots of newly-potted plants, and a variety of food offerings, this eatery has all the ingredients to become the talk of the town.
On track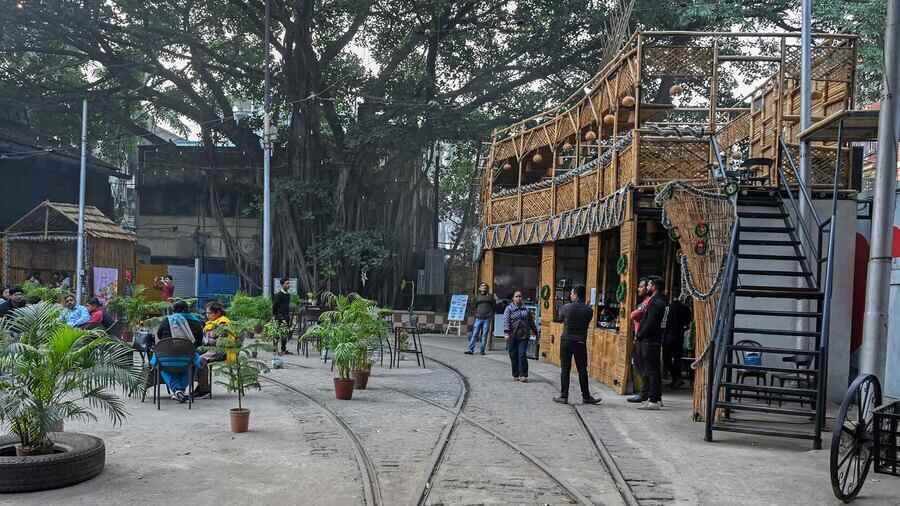 The stalls have been given out to new and old F&B enterprises and the cafe has an upper deck with a bamboo facade — a decor theme that runs throughout the space
The journey of Tram World Cafe started with a conversation between Bahri and the West Bengal Transportation Department.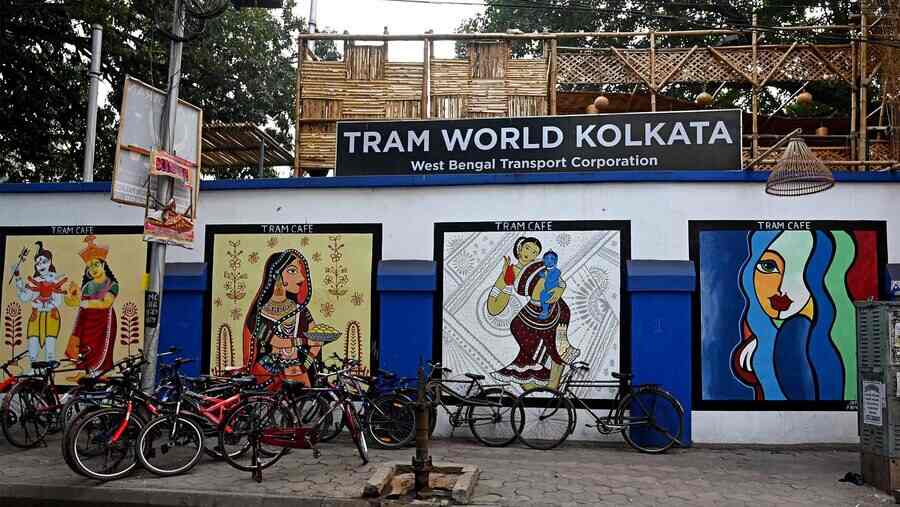 The entry to the cafe is marked by colourful wall art
"They told us about the Tram Museum inside Gariahat Tram Depot. The museum was unable to attract a huge footfall, so the department was looking to lease out their space for a cafe set-up besides the museum," says Bahri, who converts diesel buses to compressed natural gas (CNG) buses.
He pounced upon the opportunity to "uplift the mood of Kolkata".
The space around the cafe is a slice of city heritage with old trams cars (that have been given a new coat of paint) displayed throughout for people to take a look at between their sips of coffee.
An employee of the Gariahat Tram Depot said the depot has kept trams dating back to 1938 as part of their efforts to preserve the past and in celebration of 120 years of the tramways.
The space also lends itself to private parties.
Meals on wheels
Bahri has given stall spaces made with bamboo to a mix of youngsters and veterans in the food and beverage business. The Happy Kona is one such food start-up which brings varying kinds of Gyoza (Japanese dumplings) to the table. The Butter Roasted Gyoza stands out and it comes in two variants — Steamed Soya and Steamed Spicy Vegetable.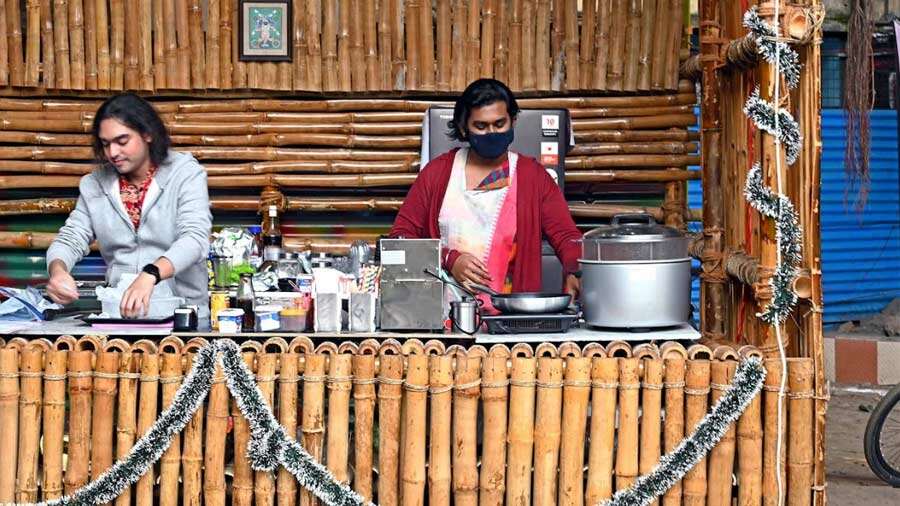 The Happy Kona serves a selection of gyozas and mocktails
The Steamed Soya Gyoza is a crunchy mix of soya nuggets, baby corn and celery, while the Spicy Vegetable option has cauliflower, beans, carrot, babycorn and cabbage, making it a thoughtfully curated choice for the young ones visiting the cafe.
To go alongside your Gyoza, the Berry Patch and Kaffir Lime Ale are playfully hand-shaken drinks that help you soak in the nature-driven open-air atmosphere of the space.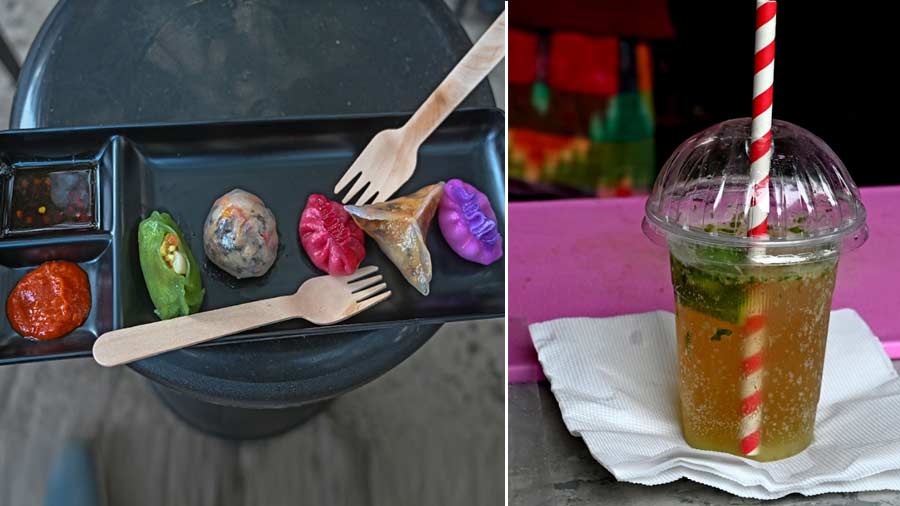 A gyoza platter and the kaffir lime mocktail from The Happy Kona
As you move about to other stalls, Cremewich grabs your attention with its top sellers like Donut Cream Sandwich and Blueberry Cheesecake.
"The Donut Cream Sandwich gives you both warm and cold sensations, while it melts in your mouth," said Ruchika Kedia, owner of Cremewich, which also has an outlet in Sector 1, Salt Lake. On the other hand, Blueberry Cheesecake is made out of handmade vanilla marble, utilising two different coloured cookie dough in its preparation.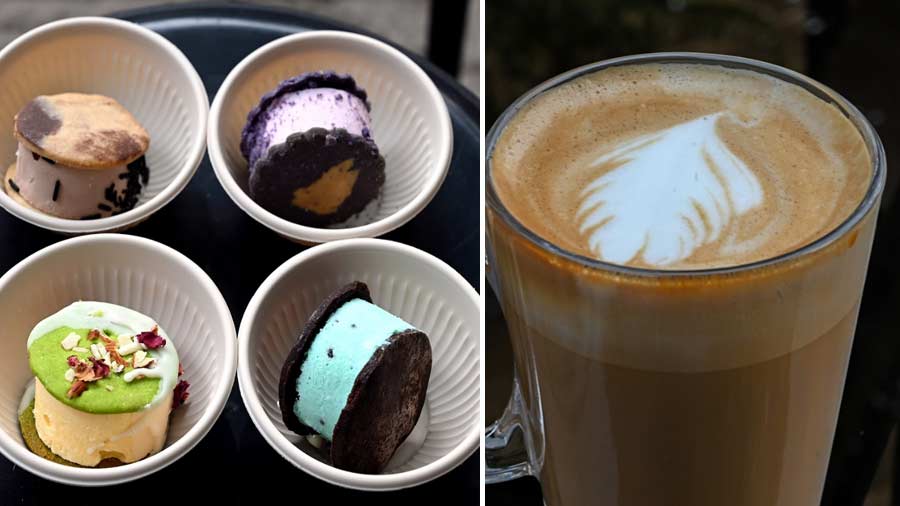 Ice cream sandwiches from Cremewiche and (right) a cappuccino from Craft Coffee
Other city-based eateries Craft Coffee, Dugout, and Royal are also running individual stall spaces inside Tram World Cafe.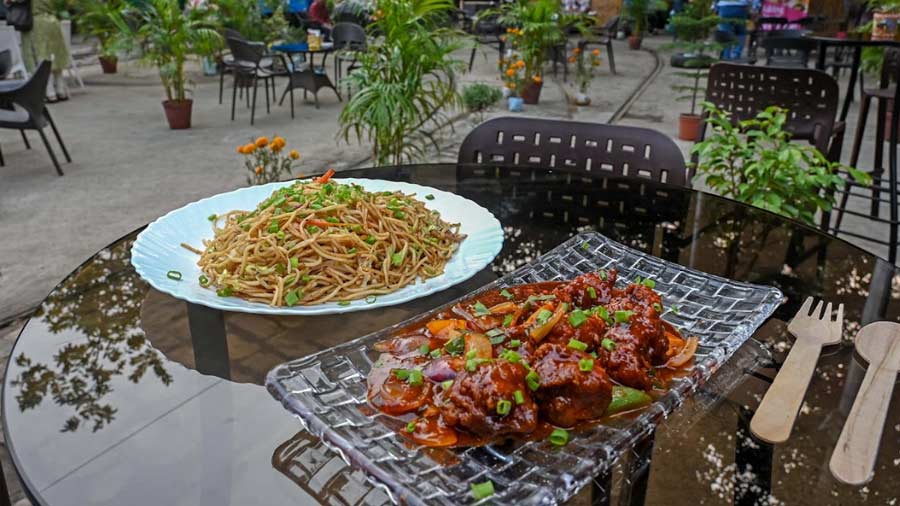 The Dugout has a stall at the cafe
TRAM WORLD CAFE
Opened: December 23, 2022
Timings: 6 am to 10 pm
Category: Theme cafe / Venue for children's parties
Pop picks: Butter Roasted Gyoza from The Happy Kona, Donut Cream Sandwich from Cremewich, the range of beverages from Craft Coffee
Address: 37 Garcha Road, Kolkata- 700019