The creamy kulfi has recently been ranked no.18 and kulfi-falooda no. 36 for the best street food in the world by popular online travel guide TasteAtlas. My Kolkata dug into the story of the sweet treat and checked out Kolkata's streets for the best picks.
Kulfi is an emotion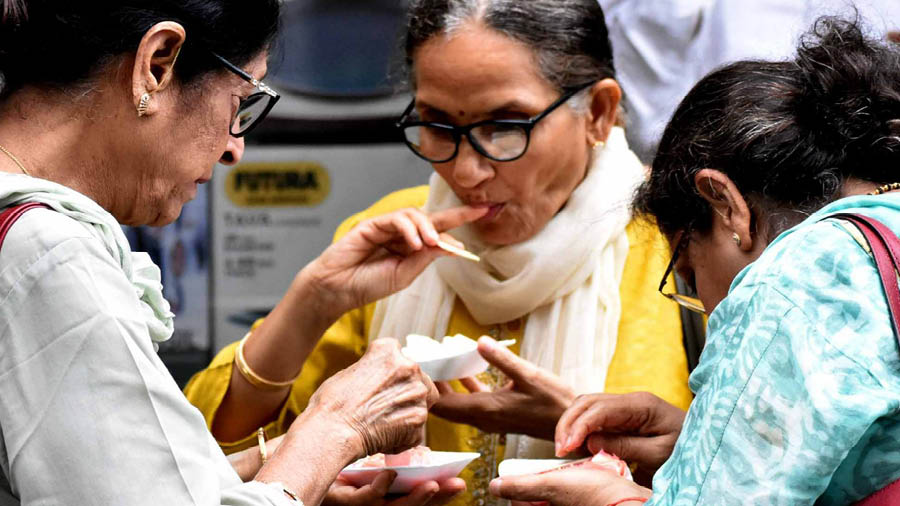 Kulfi and 'kulfi falooda' are popular treats across generations in India
This desi cold dessert has stolen the hearts of generations and continues to do so. The very mention of kulfi transports one back in time. In fact, during my childhood, Durga Puja shopping at New Market almost always ended with a trip to Ralli's or Indra Mahal for some kulfi falooda. I still remember how excited we — my sisters and I — would be by the serving of the creamy kulfi topped with falooda and rose syrup. It was served in a steel bowl with a spoon, and often the spoon slipped out of our hands when attempting to cut the kulfi.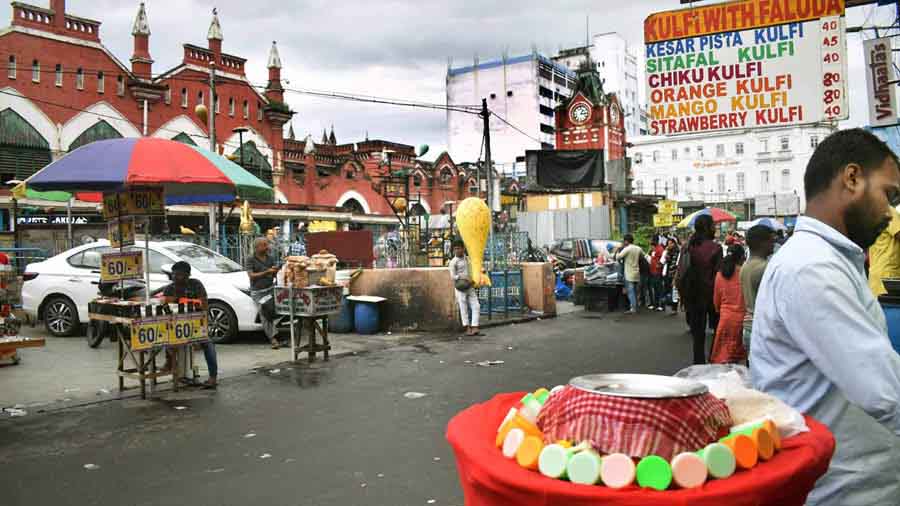 Esplanade area — Lindsay Street, the area around New Market and more — is one of Kolkata's popular spots for kulfi
While these trips to New Market were an annual occurrence, you didn't always have to go to a different part of the city for a serving of this dessert. Every neighbourhood and para had a kulfiwala, who would cycle around with a huge vessel (usually a handi) wrapped in a red cloth, which was filled with crushed ice and kulfis in their moulds. The sweets would be de-moulded and served on shalpata cups – a makeshift plate of leaves stitched together.
Origin story
Kulfi traces its roots to Mughal times, back to the 16th century. Like many other culinary influences of Mughals, which have had a lasting impression on Indian cuisine, kulfi has made its own place and has been adapted to local tastes with the addition of locally available ingredients. The word kulfi comes from the Persian word qulfi, meaning covered cup. In a largely tropical country like India, saltpetre was traditionally used to preserve Himalayan ice. At this age, when everything seems to come out of cold storage, such a refrigeration process is fascinating, more so since many street-side kulfiwalas still make and store their kulfis the same way.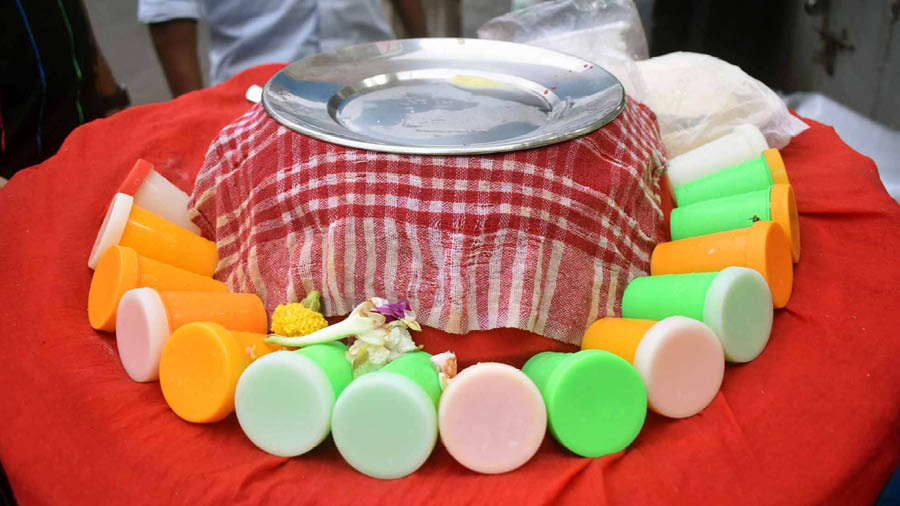 The traditional method of keeping food frozen or cold with a mix of saltpetre and ice is still used by 'kulfiwalas'
The process of making condensed milk or rabri has existed in India for centuries. For a kulfi, this rabri mix is frozen. Traditionally the mould were conical metal containers with lids, that were put inside insulated matkas filled with ice and salt. Now, of course, kulfi moulds come in various shapes, and are made of different things like food-grade silicone or plastic. Originally considered a delicacy of the royals, the kulfi slowly made its way to the masses and with accessibility also gained popularity as a street dessert.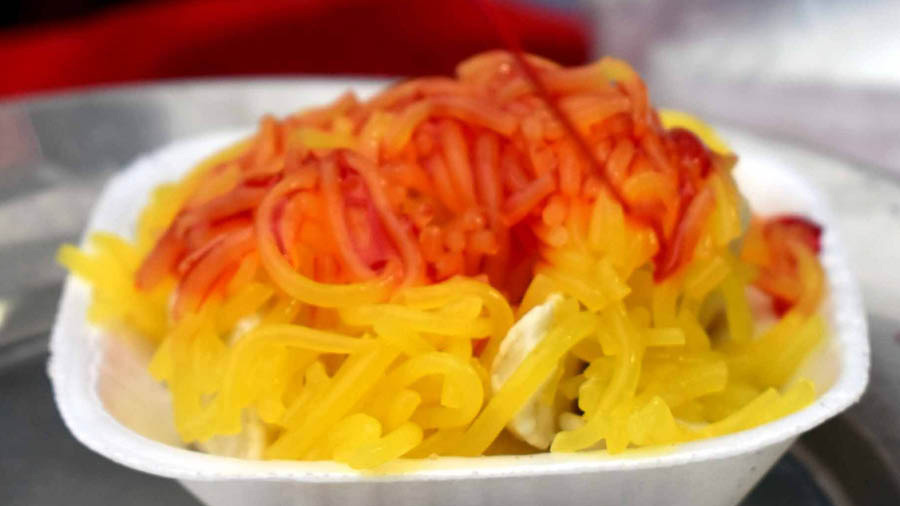 'Falooda' has its origins in Persia, and was brought to India by Persian merchants in the Mughal era
Falooda has its origins in Persia (modern-day Iran). The dessert was brought to India by Persian merchants in the Mughal era. The word falooda comes from the Persian word 'faloodeh' or 'paloodeh', which is from the Persian verb paloodan, meaning 'to refine.' The traditional Iranian cold dessert consists of thin vermicelli-like noodles made from starch, served in a semi-frozen syrup containing sugar and rosewater. Through its journey in India, the Persian faloodeh became falooda and was tweaked with local ingredients like sabja (basil) seeds, milk, sweet syrups and paired with a variety of things like kulfi, ice cream and even custard.
Royal 'bawarchi khana' to the gullies of Kolkata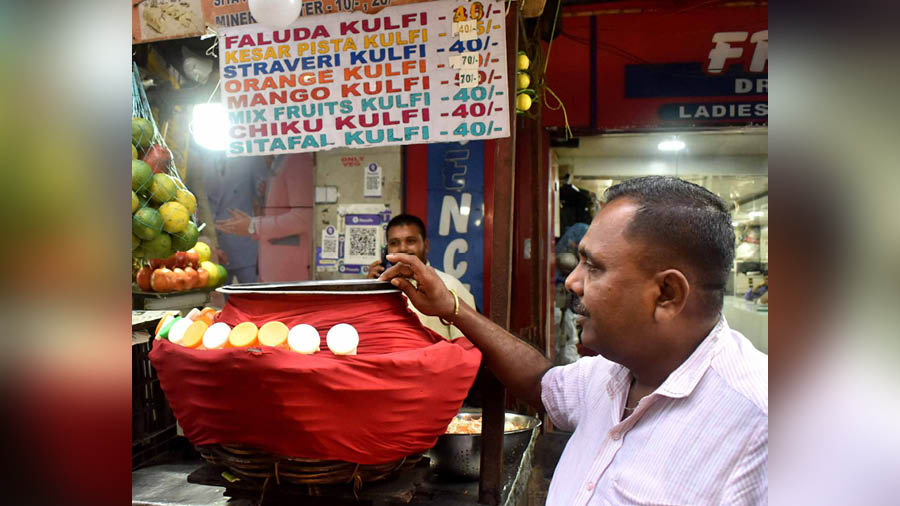 Makhan Sarkar's kulfi stall near Globe cinema
Both kulfi and falooda did not remain confined to the royal kitchens for long. With time they gained popularity among the masses and made their way to stalls and carts on the street becoming a popular street food. The popularity continues till today.
In Kolkata, kulfi is easily available in most corners of the city. Some of the favourite spots are the Esplanade area and Camac Street, especially the stretch in front of Vardaan Market. The lane around Globe cinema on Lindsay Street has a few kulfiwalas who make delicious kulfis and kulfi faloodas. Makhan Sarkar sells kulfi falooda starting at Rs 35. Sandip Kumar, another kulfiwala in this area, stocks a variety of flavours including sitaphal, orange, kesar pista, mango. Santosh Kulfiwala, just opposite Hogg Market, sells different kinds of kulfis. While the kesar pista kulfi costs Rs 40, the orange and mango kulfis cost Rs 100.
While 'malai' and 'kesar pista' are traditional flavours, kulfis and 'faloodas' are now available in an array of flavours, even in street-side stalls
The lane beside Shreeram Arcade also has a few stalls selling kulfi. Brother's Snacks is one such stall where you can savour some kulfi falooda. Many other kulfiwalas can be found on street corners in this area, with their cloth covered matkas or thermocol boxes where kulfis are kept cold with salt and ice.
The magic is in the 'falooda' (and other toppings)
Ralli's in Chowringhee (10D Jawaharlal Nehru Road) serves kulfi with falooda and a generous drizzle of rose syrup. If you are fond of the falooda topping, opt for the special kulfi priced at Rs 85. The regular one is priced at Rs 75. A new introduction at Ralli's is the sitaphal kulfi priced at Rs 85.
'Kulfi falooda' at Ralli's and (right) 'falooda' at Hamidya Hotel
Barnini Maitra Chakraborty
If you are keen to have kulfi after a Mughlai lunch, then drop in at Nizam's, while for a bowlful of falooda with toppings of custard, nuts and rose syrup, head towards the lane connecting Lenin Sarani and The Statesman House. The eateries there are over 75-80 years old and serve some lip-smacking Mughlai dishes, along with some of the best kulfi and faloodas. Hamidya Hotel is one such hotel, which has been serving the desserts for over 80 years, and is the one of the best places to try a bowl of cold falooda. One bowl costs Rs 50.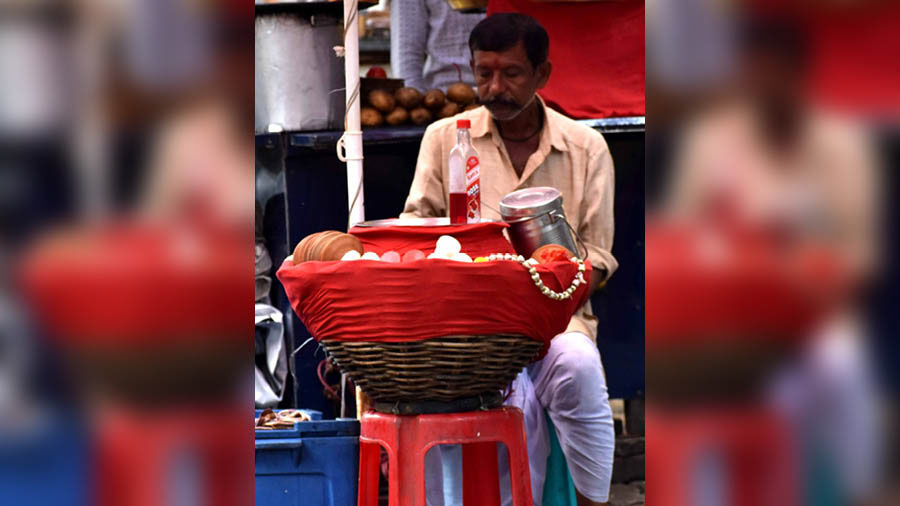 Some street vendors still serve kulfi in traditional earthen or 'shalpata' plates
Moving on to Camac Street, Shibuji offers kesar kulfi at Rs 60 and mango kulfi at Rs 120. Small vendors also have quite a number of flavours to offer like sitaphal, aam and kesar pista to name a few. While the clay matkas or even the shalpata bowls have long been replaced by plastic bowls, the taste of the kulfi remains the same. The kulfiwalas are usually available from noon to 10.30pm and you will never find the place empty. Dipak Kumar Yadav and Nitish Kumar Yadav have been selling kulfi in this area for more than 50 years. Their father started the enterprise and they are continuing it. Munnilal Kulfiwala has also been selling the dessert in this area for years. Though you will find quite a few ice cream vendors, kulfi remains the popular choice with people often stopping by just for a quick sweet treat.
Street to shop
As the polarity of kulfi grew, so did the enterprise of making and selling kulfi. While street eats remain a favourite, the frozen dessert has been adopted by many brands over the years and now, there are even artisanal kulfi brands.
Timings: 12.30pm - midnight
Kolkata now has quite a few brands selling kulfi. Apart from traditional flavours, you will also find new and exciting options. One such is the Bombay Kulfi, which has outlets in Bhowanipore and Southern Avenue. Their most popular offering is the Guava with Chilli, which is a guava-flavoured chakka kulfi cut into bite-sized cubes and served with a sprinkling of chilli powder mix. The place offers around 30 varieties of kulfi including Malai Kesar Pista, Shahi Gulab, Chikoo, Mango, Jamun among others.
A1 Kulfi in Topsia has more than 25 varieties of kulfis to offer. Their speciality is the Mumbai-style falooda, which is a layered drink with flavoured milk, falooda, sabja seeds and ice cream and served in a glass. The mango falooda is a popular pick for summer. Kulfi starts from Rs 30 while falooda starts at Rs120.