The last few years saw an uptick in the fascination for Korean culture, largely due to K-dramas and K-pop. Tucked away on the third floor of New Town's Galaxy Market (near Greenfield Heights), Sonamoo Restaurant is another example of Kolkata's love affair with South Korea. Sadly, like most love stories, this one too threatens to turn tragic.
Named after South Korea's national pine tree, the Sonamoo Restaurant is Jeongsun Noh's labour of love. The hospitality begins with Madam Noh's smile, as she ushers you in. It extends to every nook and corner of the cosy space (packed with souvenirs from her country) and it culminates with her food. This sense of pleasant warmth is in stark contrast to her first tryst with the city. She paints a picture of the night she arrived in Kolkata, in September 2007.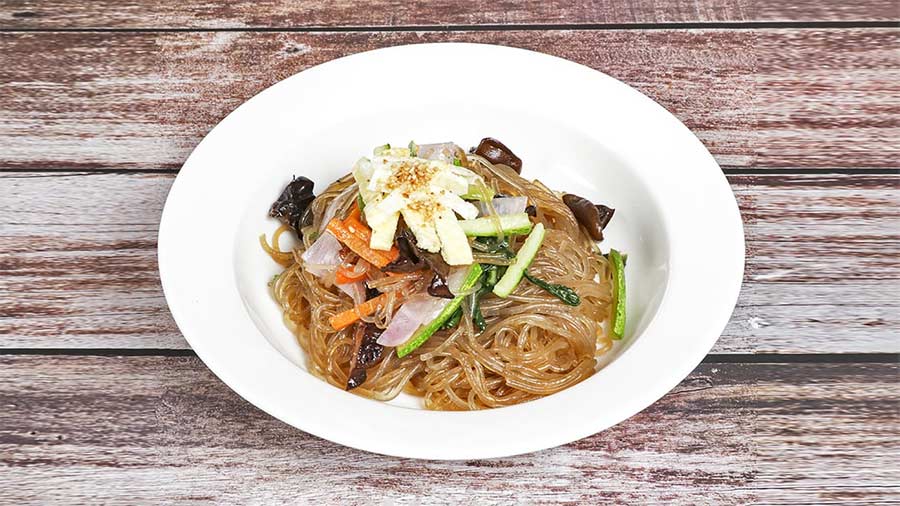 A plate of 'japchae', a savoury stir-fried glass noodle served with veggies
"It was midnight. I was at the airport with my two children. As I left the air-conditioned Arrivals gate to where the yellow cabs were, I was greeted by this rush of warm air and humidity, unlike anything I had ever experienced in my life. I remember thinking, 'Am I crazy to have brought my kids here?'. I was also scared about the weather since South Korea is a cold country," she laughs, rather heavily.
Back then, she had arrived in the city as an educational consultant for Korean students aspiring to study in India. She remembers choosing Kolkata for its affordability. "When I came here, aloo was Rs4 per kilo. We had a driver and maid, along with a decent apartment in Salt Lake. Life was comfortable."
In the middle of sweet reminiscence, she clasps her hand to her mouth, as if something terrible has happened. "I've been talking all this while, but haven't offered you anything!" She jumps from her seat and disappears behind the counter. Barely a minute later, she reappears with steaming cups of Korean instant coffee. The coffee tastes different than any cuppa we've had before. Madam Noh grins and says that she sources the beans from Korea. 
Her quest for authenticity becomes a recurring theme in our conversation. Madam Noh works hard to make sure her eatery isn't serving Indianised Asian food or any other fusion. "We only serve authentic Japanese food, and the Korean Royal Court's cuisine," she tells us. In order to do justice to her vision, she imports not just the coffee beans, but most of her ingredients from South Korea, along with authentic crockery for all the dishes.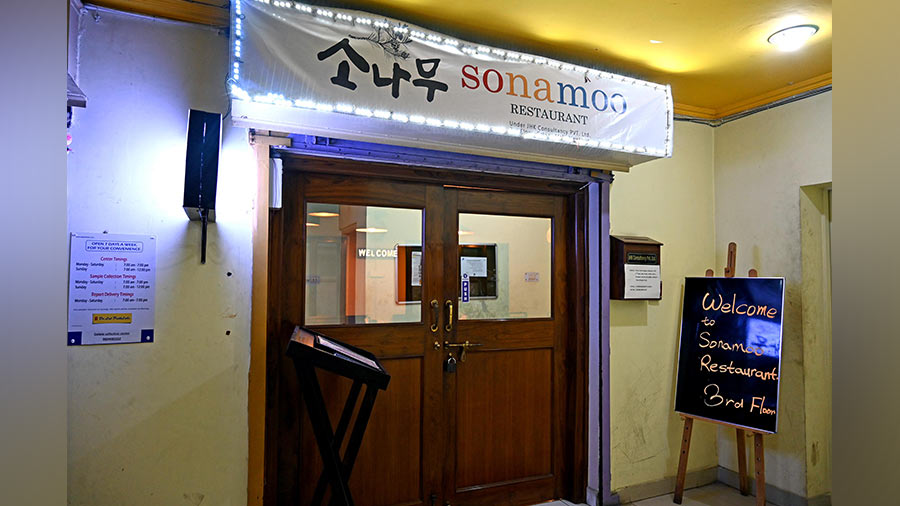 The entryway to Sonamoo
Amit Datta
Sonamoo serves all the Korean classics, like bibimbap, gujeolpan and some authentic kimchi. While bibimbap is a hearty rice bowl topped with sauteed veggies, chilli pepper paste, a fried egg and meat, gujeolpan is an elaborate collection of nine different food items served on a plate, arranged according to colour and ingredients. 'King's food', Noh calls it.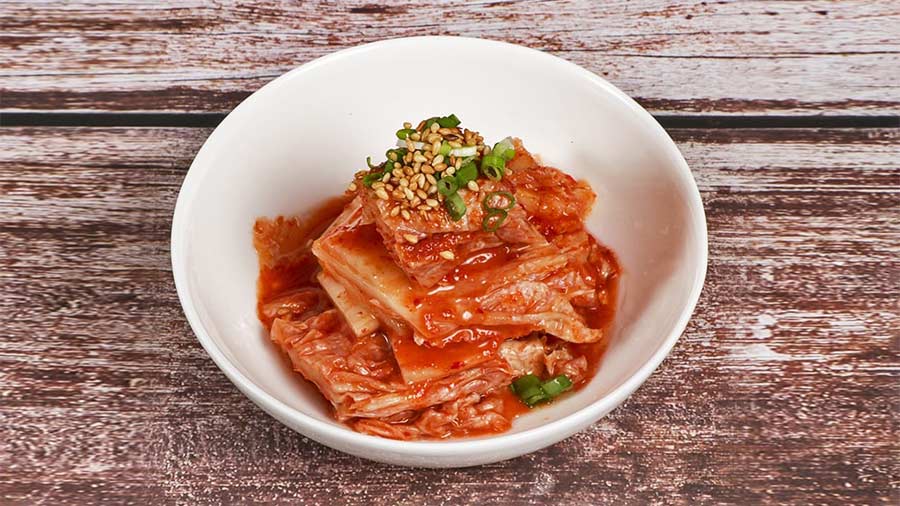 Kimchi is a Korean staple made with fermented veggies and can be enjoyed in various forms, from kimchi chicken to kimchi pancakes.
A wide palate
Madam Noh's mornings start at six as she shops for the day at New Market or Tangra. "The shopkeepers in New Market call me 'Korean Mamata' as they see me fretting for the perfect ingredients every day," she chuckles. She reaches the restaurant by nine and generally doesn't leave before midnight, sometimes even 1am.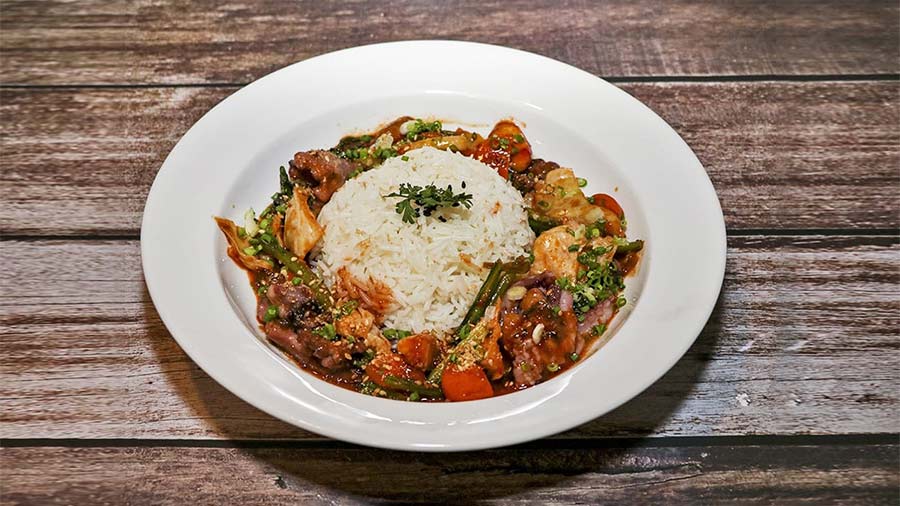 'Muneo Deopbap' (stir-fried octopus)
She rarely gets time for herself since she has only one staff member, and has to do everything herself, from cooking to cleaning. "In Korean food, hygiene is crucial. As per our international training, everyone in hospitality should be capable of performing all duties," she explains. 
Madam Noh tells us that she sees a stark contrast in India where people want to stick to specific roles, which is often a major hurdle to recruiting more people. "Here, chefs only want to cook and look down upon cleaning. I often see that they don't respect me when they realise that besides cooking, I also do the cleaning myself." 
She laments that most potential hires show enthusiasm in interviews, but tend to back out when they realise that Korean cuisine heavily uses pork and beef. "Even if I do chance upon suitable people to hire, the language barrier makes training them very difficult," Noh explains.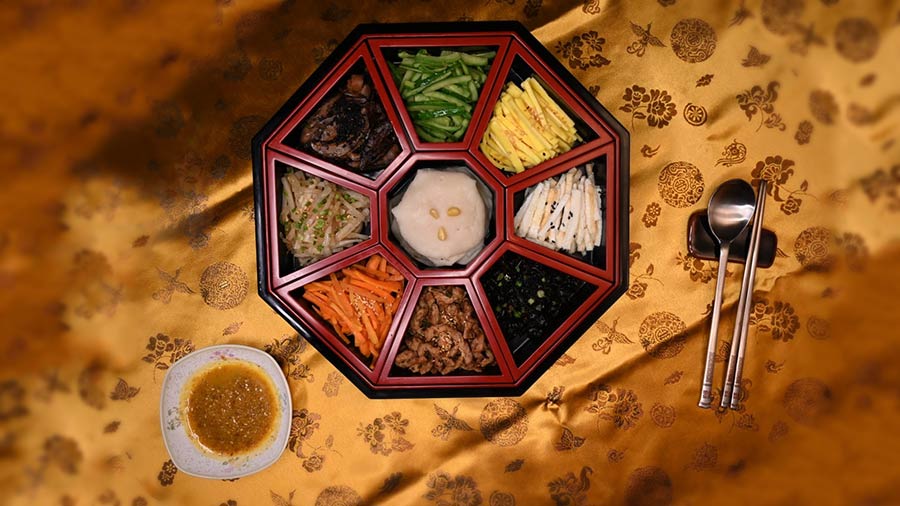 'Gujeolpan' is an elaborate collection of nine different food items served on one plate, arranged according to colour and ingredients
Due to the lack of manpower, not only is working with delivery apps impossible but serving walk-in customers is also pretty difficult. "We can only cater to people who have made reservations a day or two in advance. If I try taking more orders, I'll have to compromise on the quality. Hobe na," she adds.
No cakewalk…
Madam Noh admits that not having a business background has cost her dearly. Not only has she been duped by a partner who expressed an interest in opening a second branch in South City, but the cultural gap has also led to her being cheated financially, more than once.
Margins are far lower for a restaurant without an alcohol licence and her costs are already high because she has to import most of her ingredients. "Cooking is my hobby, something that I give my heart to. But business requires me to work with my mind. I can easily make good food, but making a profit is not easy," she shares.
Noh believes that this cultural dissonance has percolated into her children's lives as well. While her son is currently serving in the South Korean military, her daughter is studying at Pune's Symbiosis International University. They came to Kolkata with her when they were in Class IV and II respectively. Madam Noh's pain is visible when she recounts their initial days at Calcutta International School. 
"When my daughter went into her classroom for the first time, she was gripped by fear and ran out to embrace me. I requested the principal to allow me to attend classes with her for 10 days, to get her adjusted. Once she was settled, the teachers told me that my son wouldn't talk in class. I realised how lonely my children were, and made the same request to the school, this time for my son," she tells us.
Madam Noh further points to how something as basic as handwriting became a cause for dissonance, due to the difference between Korean and Indian English. When they were young, her children barely spoke English and had to perceive whatever teachers wrote on the blackboard as shapes and not words.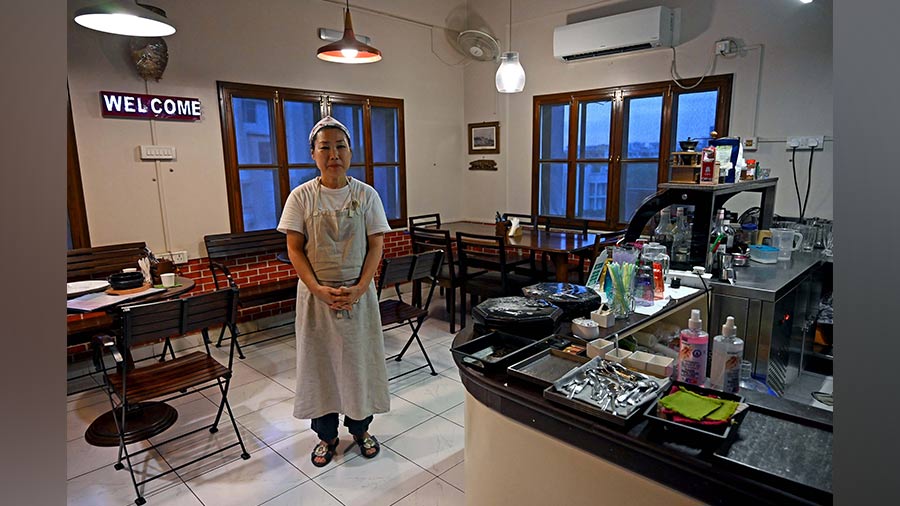 Madam Noh's eatery is surrounded by cultural bric-a-brac
Amit Datta
Now that her kids are grown up, they face a different problem. "My daughter was telling me how her Korean ethnicity clashes with her life in India. She doesn't feel Indian or Korean, but somewhere in the middle. Even though my son lives in South Korea now and his nationality is South Korean, his mentality is Indian. He feels like a stranger too."
The pandemic too has been especially hard on Noh, crippling her income from education consulting. She could only reopen Sonamoo in November 2021, after being shut for over a year. Due to a lack of staff, she is operating just one half of the restaurant and can't accommodate guests onto the rooftop section. The deadliest blow came when she lost her closest friend and mentor to COVID. 
"I thought of surrendering this business several times, but she would always ask me to keep going. Now, I see every day as the last day of the restaurant, as I don't know what will happen tomorrow."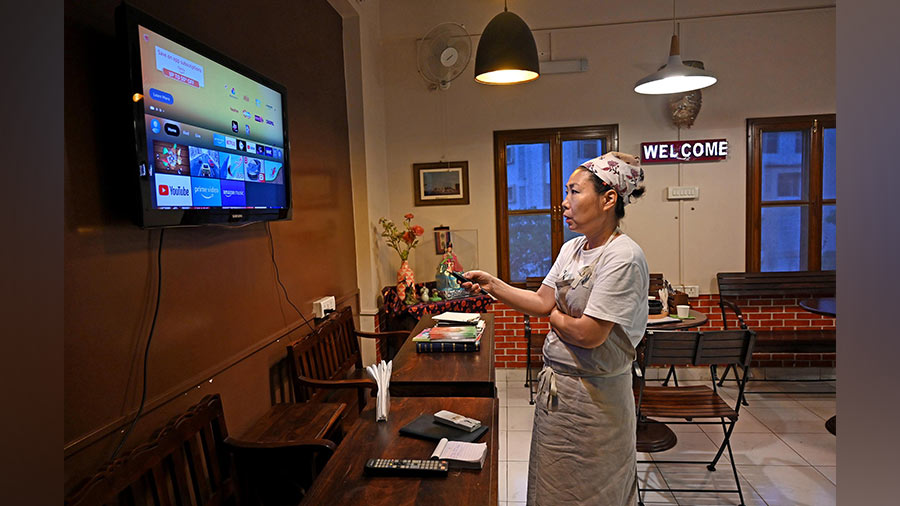 Noh watches TV at Sonamoo
Amit Datta
The helplessness on her face is palpable, as she shares that her visa is expiring in July and she is uncertain about an extension. "The recent regulations have made it very tough to get a business visa. Moreover, visas are generally renewed only if the business clocks in a revenue of Rs1 crore. Every year, I have to go to the visa office and grovel for an extension, promising to touch the required number. I do it because I can't leave my daughter alone in India," she says.
Madam Noh's voice quivers and her eyes moisten before she shakes her head and wipes them clean. She looks at the clock and realises that the rush hour for dinner is about to begin. She walks up to the large TV in the restaurant, and plays a BTS video, before adding, "I pray to Durga every day, hoping that she will help me. I have invested my entire life, and all my money here, in this city. I can't return to South Korea and start again."