Teetu'$ Café in south Calcutta recently launched its new logo to connect with more foodies in the city. They have also introduced a new menu along with the new logo, which gives it a fresh perspective, symbolically as well as conceptually. The present menu has a lot of options in starters which are perfect for a party menu. Many new items have been added to the menu, which includes some delectable mains as well. Teetu'$ Cloud Café also has a weekend special breakfast menu consisting of quintessential Bengali items such as Luchi Chholar Dal, Luchi Aloo Sabji, Dalpuri Aloo Sabji and more.
"Teetu'$ Cloud Café, as the name suggests, is simply a delivery restaurant, with its takeaway counter at the mentioned address. Our brand is named after our inhouse pet, a rescued Belgian Malinois. Inspired by him, our mantra is 'unconditional loyalty, 100 per cent quality'. We have an extensive menu mainly consisting of Asian and Continental cuisine. Apart from this, we have catered to many outdoor events like ad shoot, series shoot, and anniversary parties, to state a few. We also give options of a customised menu," said Ritwik Das, founder and director.
What: Teetu'$ Cloud Café
Where: 801 Madurdaha, Hussainpur, near Anandapur Police Station
Timings: Noon to 10.15pm (Monday to Friday), 8am - 10.15pm (Saturday and Sunday)
Meal for two: Rs 550- plus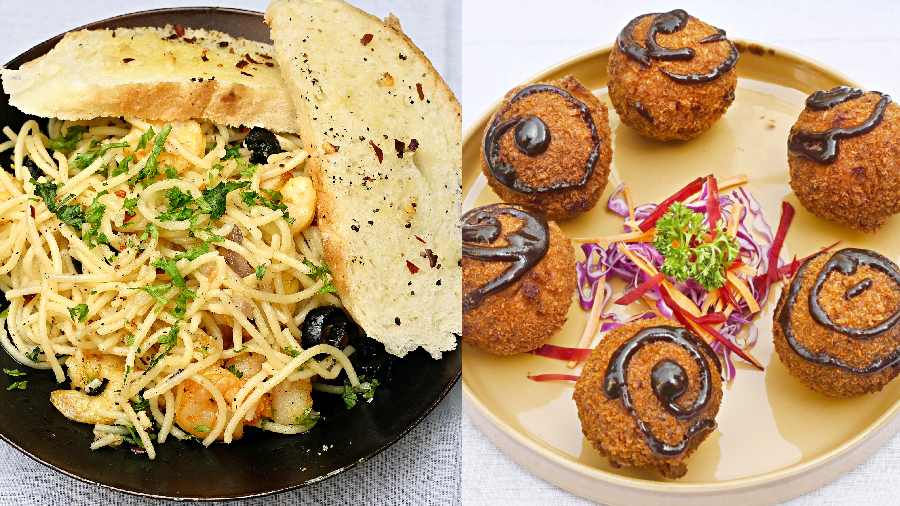 (L-R) Aglio-e-olio, Mozzarella Chicken Meatballs
The garlic-infused and flavorful Shrimp Spaghetti Aglio-e-olio is a dish that never gets old. The simple pasta absorbs the crustacean flavour of the shrimp.
Crispy on the outside with a cheesy filling inside, these Mozzarella Chicken Meatballs are the perfect party starters.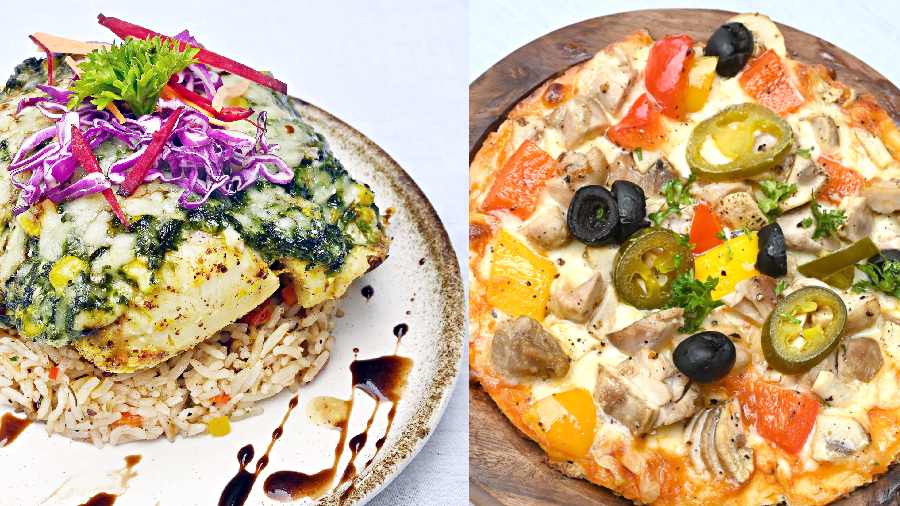 (L-R)Corn-Spinach Fish Steak, Chicken Tuscany Pizza
Corn-Spinach Fish Steak is a complete main course with soft cooked spinach with melted cheese and corn on a bed of seasoned fish steak fillet, served with herb rice.
Chicken Tuscany Pizza made with diced chicken, feta cheese, bell peppers and jalapenos on a light and airy crust is a good option if you're having game night with your buddies.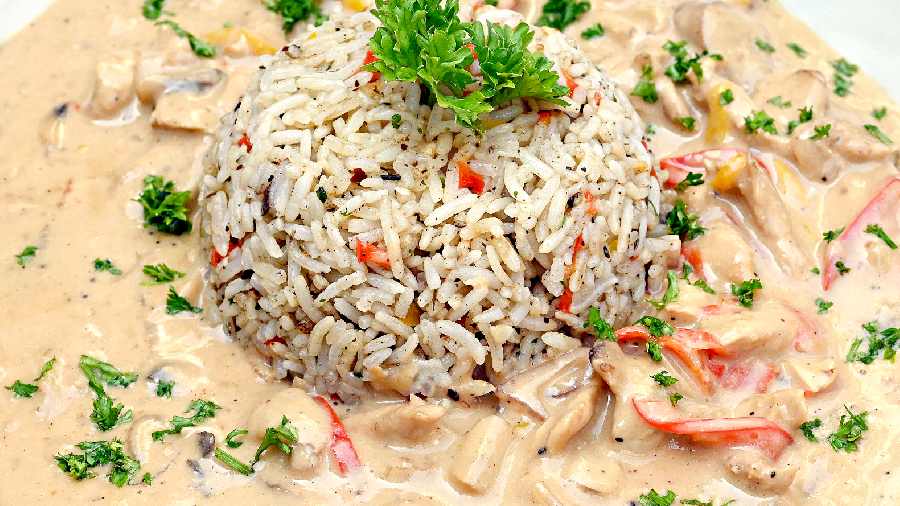 The classic and old-school Chicken Stroganoff in a creamy mushroom gravy served with herb rice, is a perfectly comforting plate.