Social is coming to Kolkata?", "Where is Social opening?" "Has Riyaaz Amlani locked a place?"… These are only some of the questions I have been asked by F&B industry insiders in Kolkata because working closely with this industry, I would be expected to have the answers, but, honestly, I had none. Every year one would hear Social, one of the most popular brands in India owned by Riyaaz Amlani,  managing director of Impresario Handmade Restaurants, would open in Kolkata. So, when I was scheduled to meet Riyaaz, as a part of a talk session organised by NRAI Kolkata Chapter, I was determined to ask him about Social because Kolkata wants to know! "Kolkata is more than ready and by this year I am determined to finalise the place if not open the outlet. I am very excited to come back to Kolkata with Social," he said with an excitement in his voice.
The next one hour, over a lot of puns and banter, The Telegraph chatted non-stop about Amlani's brands, his 21 years in the F&B industry, being lucky and always keeping the passion alive. Excerpts…
Welcome to Kolkata! A city you have been eyeing for a long time...
Kolkata always feels to me like a city that Bombay could have been because it has got so much character and it has got these beautiful monuments but also these busy interesting lanes and bylanes and there's so much food and the culture — I love the coffee shops, I love those Oly (Olypub) type of bars and other cabin restaurants. I like to do things here... I like going into these little places that serve amazing food and have not eaten a bad meal and never will. So yeah, the food scene is amazing.
The people are gorgeous, friendly, and so welcoming. A few years ago I actually stumbled out of a bar at five o'clock in the morning on Tuesday. I think it was The Park. And I was like God, it can't be Kolkata! Love the vibrancy of the city.
Back in time you had mentioned you were set to open three Social in Kolkata. What happened there?
We have been here before. We had Mocha, Smoke House Deli... and we have learned from that experience. Now when we want to come to Kolkata, we want to bring something that's really really special. I want to really make an impression on that. Now the standard is so much higher since the last time when we were here. Now we want to finalise the  space because what happened before has happened. We are trying to find the right company.
Do you have any brand in mind?
Yes, it has to be Social but a special Social, like Hauz Khas Social. It isn't going to be ordinary.
Social is a personal favourite but it has been a brand that has been mercilessly copied all over Kolkata and actually throughout the country. As a brand, how do you stay relevant?
If you are an innovative brand it's your job to be innovative. We were the first in the country to start a coffee shop, Mocha, and then there were more than 8,400 hookah bars in the country that looked like Mocha. Look, there's always someone who made the first Daab Chingri or Kosha Mangsho... we are all innocents standing on shoulders of giants. I think if you can bring your own perspective, you will build on it. It has always been the case, like today's innovation will be tomorrow's industry standards.
You have to accept it instead of saying "yeh copy huya woh copy hua". I don't have a problem with people taking something and adding to it, my problem is people do restaurants for the sake of opening restaurants. One should open a restaurant when you have something to say because it's something that keeps you awake! I am someone who feels restaurants, when you put them out, it's a very public domain. You are literally in a glass house and you are fully exposed to all kinds of scrutiny.
What made you join the F&B industry? You had a very different background.
For me, it was a civic pride. It was love for the city. Back in 2000 in Bombay you didn't have anywhere to go, like restaurants and bars are expression of a city, its people, culture. There were cinemas, Marine Drive, Worli Sea Face, Bandra Bandstand and five star hotels... and nothing else in Bombay. My thought was to create places where people could go and hang out.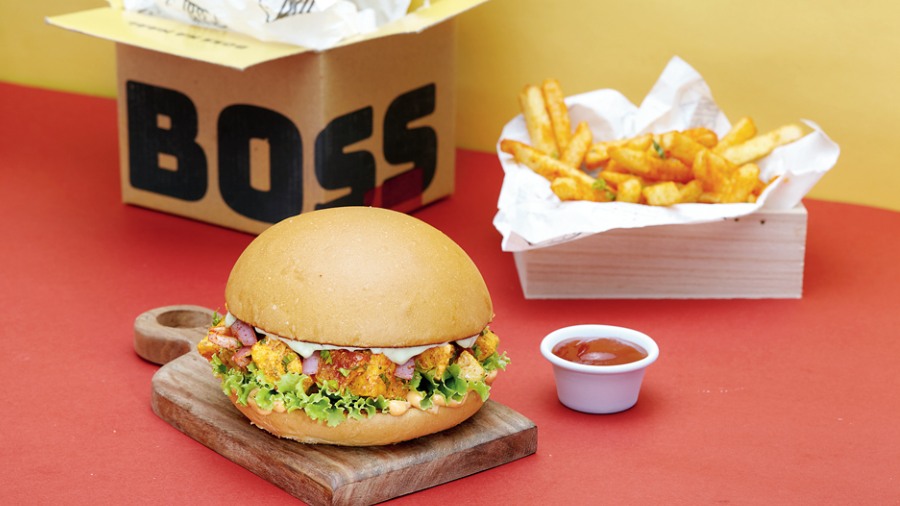 Riyaaz launched BOSS Burger, a cloud kitchen last year in February which is now transforming to Bigger, Bolder and Better Burgers with BOSS Burger 2.0 and delivering across Delhi-NCR, Mumbai, Pune, Chandigarh, Indore, Kanpur, Ahmedabad, Ranchi, Bangalore, Chennai and Gandhinagar.
With no godfather in the industry, was it a struggle for you to make a mark?
No, I stumbled upon it, I mean girtey girtey, but I would say God has been kind to me. I have had more good luck than bad luck. I always think of myself as an idiot at the right place at the right time. That time I realised more than anything else people wanted each other's company, whether they went go-karting or not, they wanted to sit down somewhere, have a good cup of coffee and a sandwich and interact. And, for me, that was the idea.
What's the status with Social in Kolkata?
It has been a little challenging, we had a few close calls, we signed up but things didn't work. Right now we are still trying to find the right property. But we are determined that this year we will be in Kolkata, at least get the place.
With Social, what are the parameters before you lock a venue?
For me, now I want to find the Oly's vibe, that Coffee House vibe where they sit and have those animated conversations. Kolkata Social has to kind of doff its hat to that culture of Kolkata. I don't want to be the imposter trying to come in and appropriate the culture here. I must have read around 16-17 books on the culture of Kolkata. I loved it. One has to dig deep else it will be only Howrah Bridge! The city has so many layers. For Social I cannot do it in a mall. When it's the first one in a city it has to be a standalone venue. I want to open it myself and not get into franchising.
Why so? 
Because you might be putting things —your baby — in somebody's hands. So, a lot of things can go wrong.
Does the stress get to you? With 21 years in the industry do you still get butterflies before opening a place?
Always! I am also way nervous.
From opening Mocha when people told you things like "coffee kaun peeta hai cafe main jaa kar" to now, it has been a helluva journey. What do you attribute your success to?
(Thinks) As I said, I have been a lucky guy, at the right place and right time! I constantly worry about becoming a dinosaur, I can see the comet coming and I am looking at it and it's going to hit and wipe us out. I feel the restaurant business is a young person's game and I feel it needs high energy, you gotta know so much, I feel there are such amazing new concepts now like keto, lactose intolerant, vegan… yeh mere se nahin hota. I'm sorry, I can't! So I feel main dinosaur ho gaya (smiles).
On a serious note, in this industry, no one can take anything for granted. One has to constantly up their game.
What would you say is your biggest learning from the past glorious years?
It's hard to say it in a word, but I think it will be to not get carried away with success and not to take failure to heart. Both are not permanent.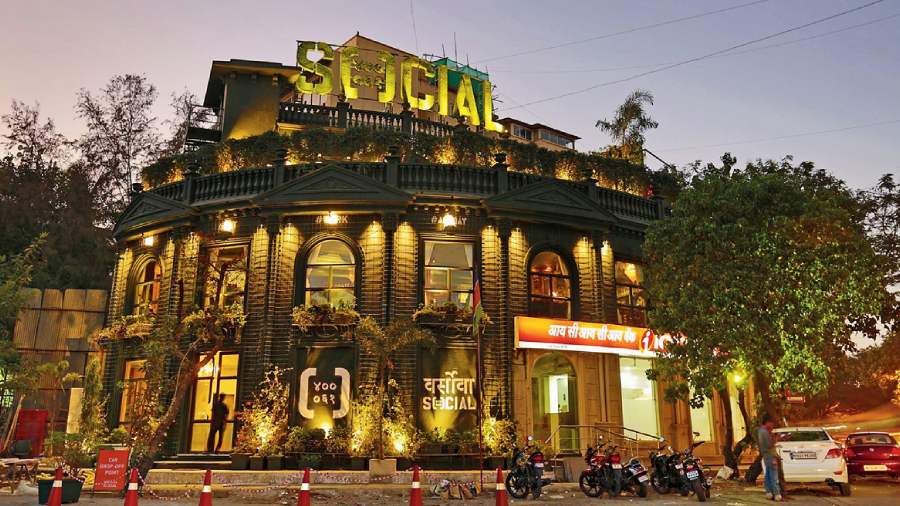 Decoding Amlani's brands:
Social: Is a part of everybody's life. It's a character in your life
Salt Water Cafe: Serves some of the finest food in the country
Slink & Bardot: Sexy
Smoke House Deli: Love
Ishaara: Heart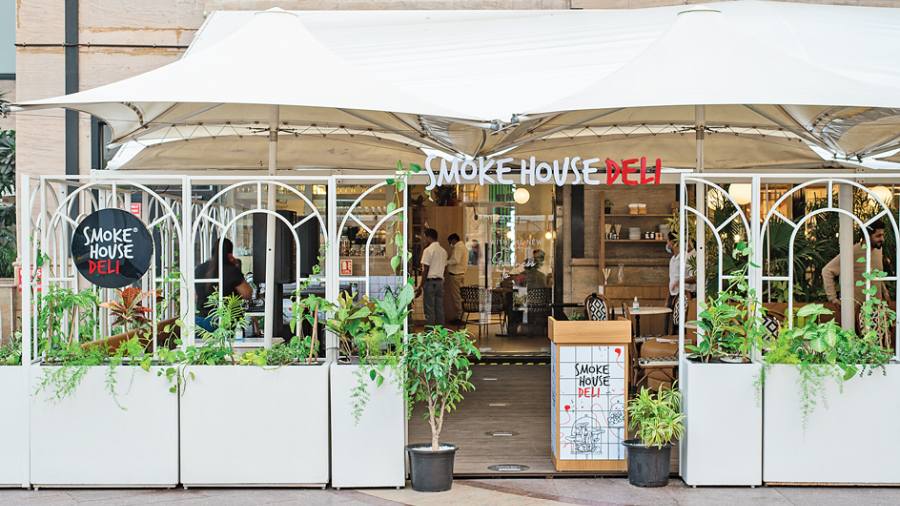 With so many brands under your umbrella, is there anything you want to explore in the coming years?
Abhi toh mujhe Social mein bahut mazaa aa raha hai. Really enjoying it because it's a very honest and almost visceral brand. A brand made for India and Indians and you have to be Indian to enjoy that. We are not trying to be gora, anglicised, or do molecular… you don't need a high IQ to appreciate the food here. Dil se khana dil ke liye. For the first time Indians have embraced Indianess without feeling inferior or shame. We can now celebrate a Western outlook with Indian values. And that's what Social is.
It feels wonderful to see so many talented poetry readers, DJs, musicians, playwrights, bands and artists. With respect to food and drinks [there are] places to visit from Amritsar, Ludhiana and Cuttack, all these places I haven't visited.
Why do you think Kolkata is ready?
It's more than ready! I think mujhe aane mein late ho gaya! Do saal Covid mein chala gaya, but abhi zaroor koshish karunga. Kolkata is a very exciting stage.
Post-pandemic, where you think the F&B industry is standing? 
This is the best time, every company is reporting record numbers. It's a great time to be in the business, people are prospering. The boom is because of the people of India, we have got the highest and youngest population of the world, who are technologically savvy, very aware, and independent with deep-rooted Indian values. That's an incredible skill, which the goras probably do not understand.
What did the unforeseen pandemic teach you? 
Honestly, if you ask me, as a restaurateur I feel in this country we had a lot of net practice. Kabhi GST issue, sometimes highway liquor ban ho gaya, due to political reasons bars were shutting, licences were being cancelled, so we have had a lot of teasers. I think we learnt to be more efficient. To do more with less, embrace technology. It also saw the rise of a lot of trends, cloud kitchens being one. It has also shrunk considerably. The food industry is like an amoeba, it will grow in every way — traditional, modern, Indian, Chinese… everything will grow.
Any trend you feel will catch up here? 
I definitely think people are becoming more aware of what they are putting in their body, from where it's growing or where the food comes from. A lot of people are lactose intolerant, a lot of people are allergic to wheat.… So, I think the industry needs to pay more attention. It won't happen overnight. But it doesn't mean humlog ganda khana chhor denge… we are still going to eat Butter Chicken, but we will ensure the butter is good. Like that…
Any global trend you want to bring here? 
Doing that I feel will be a colonial hangover issue. Now I feel we need to look inward and not outward. Our inspiration is inside not outside, I always feel if you create a place you would like, chances are a lot of other people will like it too. If it resonates with the youth, it will with the others too.
Do you think there is something in the F&B industry that's very downplayed?
Regional food. But it's changing as there are a lot of home chefs who are taking regional food forward with their mother's and grandparent's recipes and making mind-blowing dishes. There is something I would agree with Zorawar [Kalra] that Indian food is the most superior food in the world. It's like you are sitting in a gold mine and you are going and bringing something from elsewhere instead.
You have built an empire now, do your kids understand what you do?
A few days ago my [elder] son Khayaal sent me a manifesto of Social Junior and said, "Papa you need to create Social Junior". He created a logo of Social Junior, he told me it has to have a chhota foosball table and lots of pen, paper and colour pencils so that people can draw, have a make-your-own section, lots of chocolates and more (laughs). I welled up a bit. It was very nice. Now I think for the first time woh bolte hai na, unke liye chhor ke jana hai… woh wala feeling aaya. He has just turned eight on August 3.
My younger son, Danyaal, has registered his own brand name, it's going to be called Danny Delicious! (Smiles) And he is just five years old! If you ask him what kind of food it will have, he will cutely say "delicious food".
See, I always have the thought that what I do shouldn't determine the course of their future, but then whether you like it or not, they become these things when you are not expecting and that a good part [of that] in a weird way it's a good thing.
Who is an ideal foodie?
Anyone with an open mind. Someone who is curious than authority. Foodies should be discoverers! I have seen many who call themselves foodies tell a chef who has devoted his entire life to cooking how to cook a dish. One may have gone to a Michelin star restaurant and they will come back and say with authority how it needs to be done.
Talking about such cheeky people, have you experienced incidents where guests have created trouble out of nothing?
We have actually caught people on CCTV camera putting fish worm in the food, taking their hair and putting it in the food. You know, for anyone in the restaurant business there is secret which I shouldn't tell you but you have a way of extracting things... the secret is the restaurateur is looking for such a disgruntled customer because that is a way of winning that customer for life. How you treat that goof-up can determine how you win them or piss them off. Galti kisiki bhi ho, one should be humble enough to address it and say, "I am so sorry sir, let me fix this for you or change the plate", etc. I am toh looking for trouble and to make that customer mine forever.
What is the first thing you notice when you walk into a restaurant?
(Thinks) Obviously the vibe and atmosphere and how it immediately makes you feel. Then the smell. Every outlet has its own smell and then gradually the little things.
A few days ago my [elder] son Khayaal sent me a manifesto of Social Junior and said, "Papa you need to create Social Junior". He created a logo of Social Junior, he told me it has to have a chhota foosball table and lots of pen, paper and colour pencils so that people can draw... My younger son, Danyaal, has registered his own brand name, it's going to be called Danny Delicious! and he is just five years old! If you ask him what kind of food it will have, he will cutely say "delicious food"
Quick Q&A
Most memorable meal you ate at: Barish mein pakode bheege bheege, ghar ka dal chawal, kathi roll…  it's all about the context and mood.
Fave ingredients: Sweet basil, lemongrass, mustard and galangal.
If you had to host a feast, which celebrity (dead or alive) would you host for?
Doesn't matter whether they are celebrity or not, but they got to be intelligent, from diverse fields, good-spirited people!
Fave restaurant in the world: Sketch in London
A dish you won't get bored of: My mother's dhansaak! I am half Parsi.