September 7 and 8 saw chef Michael Weldon of MasterChef Australia fame make Kolkata's The Oberoi Grand his home. His visit, facilitated by the Australian Consulate-General as part of a four city India tour, packed in quite a bit, including a special pop-up laden with authentic Australian flavours and a tour of the local Bhowanipore market. Weldon took notes about the ingredients of Bengal.
The special pop-up menu was a homage to his country and his style of cooking.
The Telegraph not just trailed him, but also had the chance to try out his dishes. Here's getting you a taste.
"I had a fabulous time in Kolkata. The market and the produce was so fresh and different. It was great to see the sheer variety of ingredients available. For my pop-up, I carried most native Australian ingredients in my bag so as to retain the authenticity of the dishes," said Weldon.
On The Menu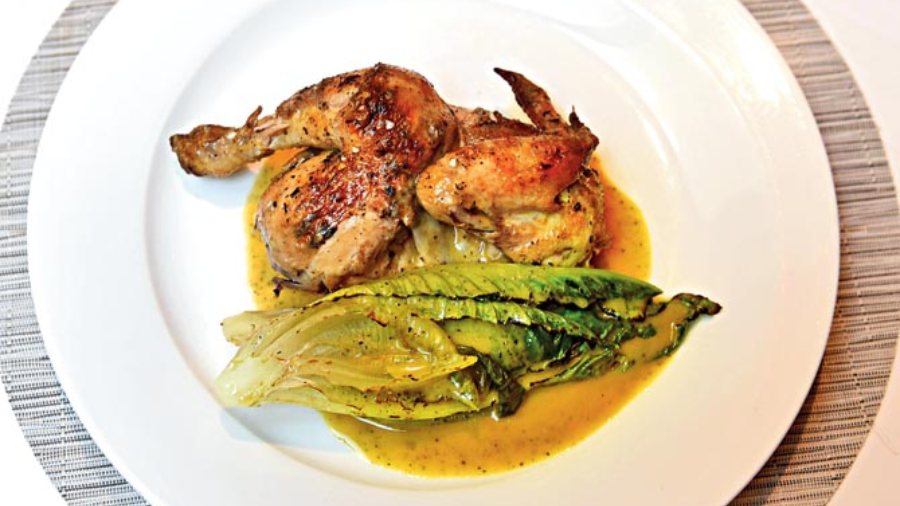 Australian BBQ Chicken: Aussie BBQ chicken with spices such as lemon myrtle, wattleseed and bush tomatoes. The bush tomatoes were added in the jus as well. It had BBQ lettuce too, which was another specialty from down under.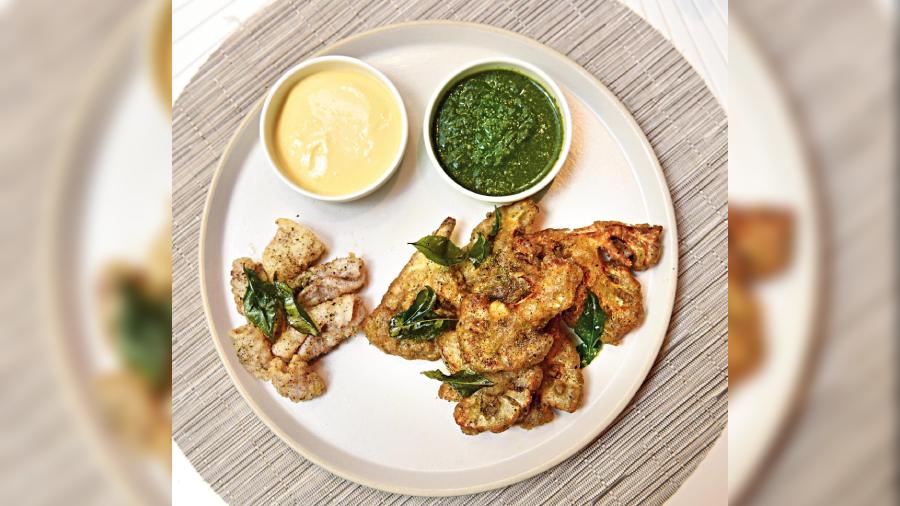 Flour and tempura cauliflower and squid dish: Saltbush and mountain pepper from Australia were used as a seasoning on these fritters. This pub snack from Australia, came with a coriander dressing and lime mayo.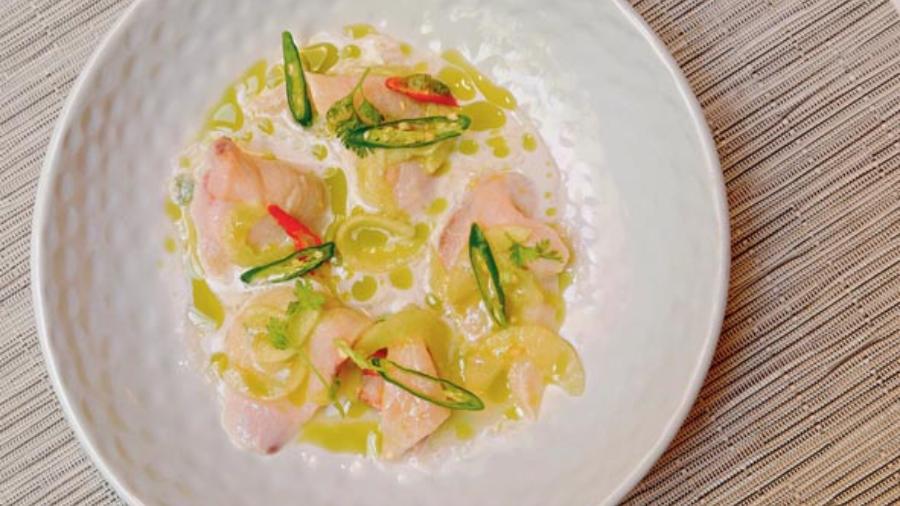 Ceviche: This ceviche used Hamachi fish. The fish was cured for this Australian ceviche. It had lime, coriander and cucumber juice with coriander oil and chilli.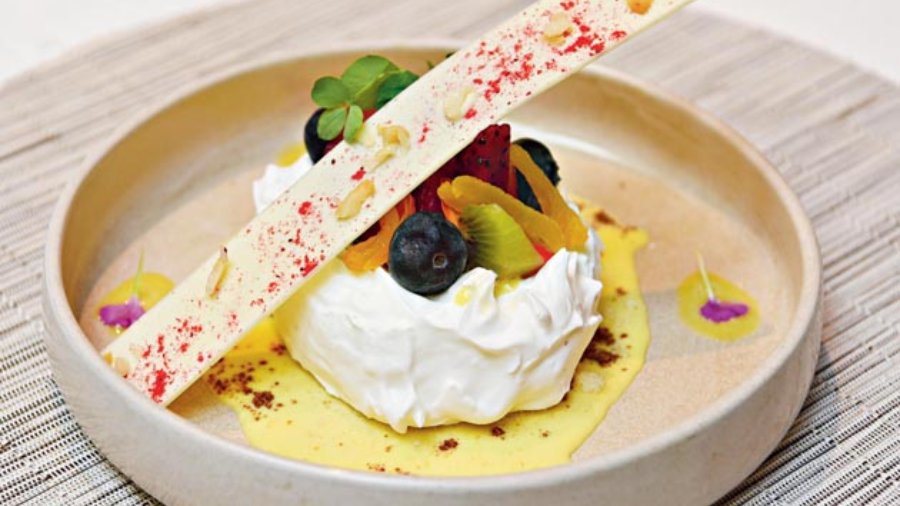 Pavlova: The chefs of The Oberoi Grand and Michael Weldon collaborated on this one. Invented in Australia, the pavlova had meringue at the bottom and mango yoghurt and lots of fruits. It was sprinkled with Davidson plum powder. The beautiful plating and the dash of red was inspired by the Australian red sand and the shape a tribute to the Uluru, a spiritual site.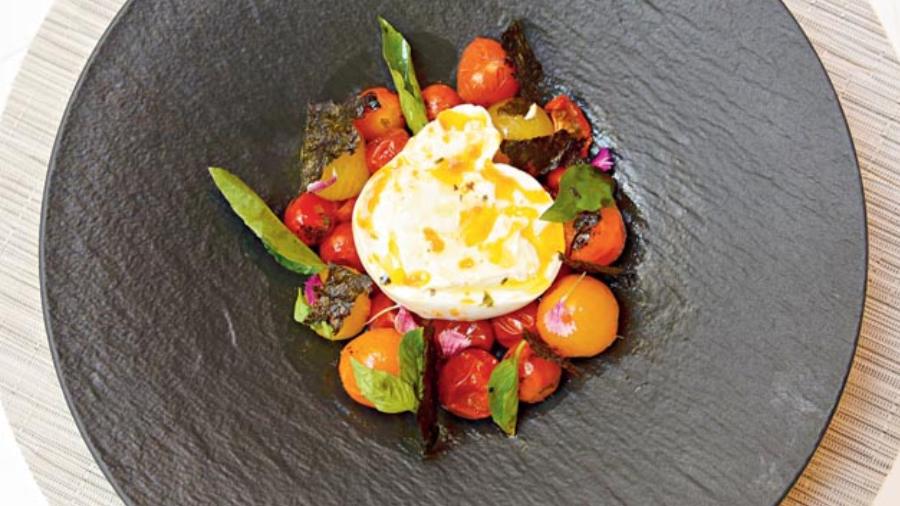 Burrata Salad: This had soft burrata cheese and tomatoes. The bush tomato oil was made of Australian dry tomato, that was like a Sultana raisin, sweet and tangy.
At Bhowanipore Market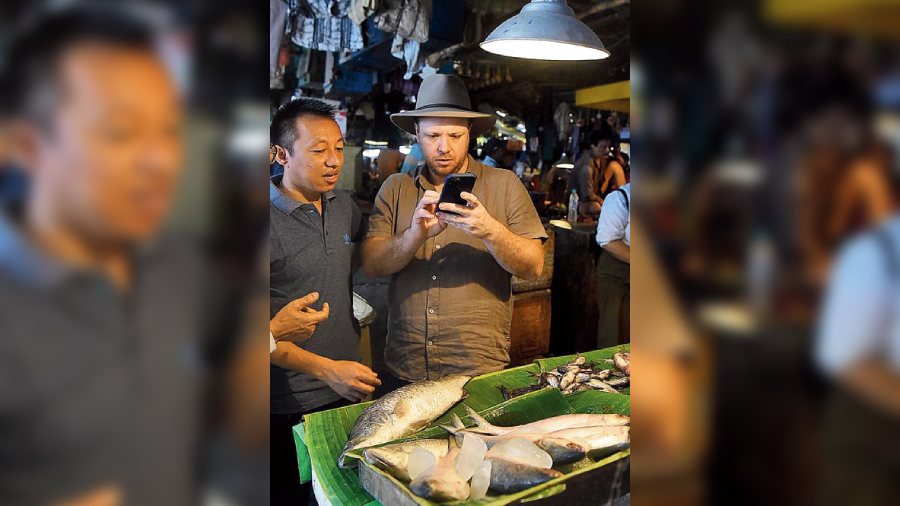 Known for his expertise in seafood, how could he miss capturing the fresh catch of the day?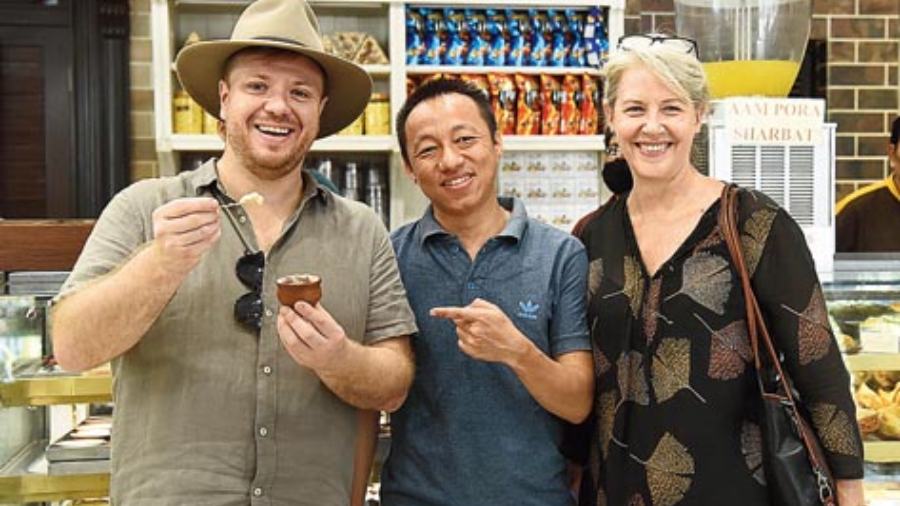 (L-R) Chef Michael Weldon, Kezang Rai, executive sous chef at The Oberoi Grand, and Rowan Ainsworth, Australian consul general, at Balaram Mullick & Radharaman Mullick in Bhowanipore. The Aussie chef gave the Kolkata special mishti doi a try and loved the "earthy flavour".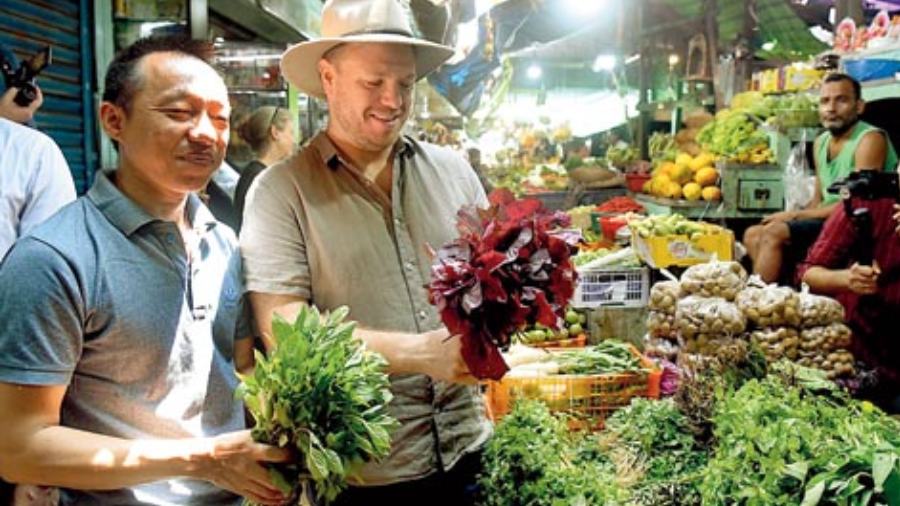 The two chefs checked out some fresh Bengali saag such as the pui saag and the laal saag. "The sheer variety of greens at the market is just stellar," said Weldon.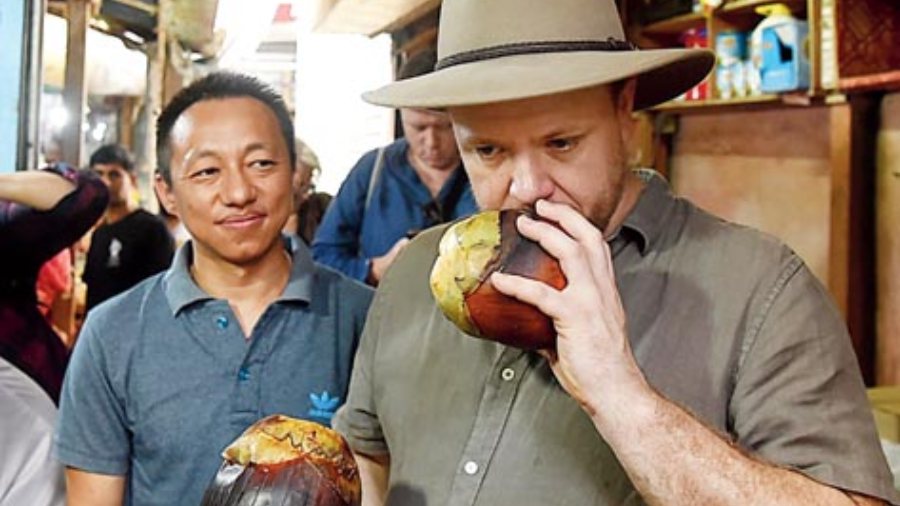 Weldon took in the aroma of taal, a popular Bengali fruit, to gauge its flavour. He incorporated his market visit finds into his pop-up as well.
Pictures: B. Halder